eNews February 8, 2022

Tuesday, February 08, 2022 - 06:00pm
---
This edition of eNews is sponsored by:

Amazon Web Services (AWS) is the world's most comprehensive and broadly adopted cloud platform, offering over 200 fully featured services from data centers globally. Millions of customers—including the fastest-growing startups, largest enterprises, and leading government agencies—are using AWS to lower costs, become more agile, and innovate faster. Read more >
---
In this issue:
Finance
Put it in the law: Don't cut local budgets with grocery tax repeal
Over the next week, the House of Delegates and the Senate will debate and vote on plans to exempt groceries from sales taxes. The price tag in terms of lost revenue? As much as $700 million…Every year!
How this affects localities
If the state does not pick up the tab for exempting groceries from sales taxes, the annual budget cuts will be passed on to Virginia's counties, cities, and towns, who will then be forced to increase property taxes, or cut services like law enforcement and public education.
Action in the Senate
Today, the Senate Finance and Appropriations Committee (SFAC) merged the three Senate bills on grocery taxes into a committee-proposed substitute for SB451 (Boysko), a bill that previously dealt with exempting certain hygiene products from sales taxes.
With SB380 (McDougle), SB571 (Newman), and SB609 (DeSteph) rolled into SB451 (Boysko), the committee debated the substitute which would:
Remove provisions in the legislation to exempt groceries from the 1% local sales tax;
Maintain provisions in the legislation to exempt groceries from the 1.5% state sales tax;
Create a supplementary distribution of general fund revenue to localities to replace roughly $275 million in annual K-12 funding cuts caused by the bill.
However, two concerns began to materialize among SFAC committee members:
If funding cuts to localities are replaced through state budget action, and not by any amendment to law, the General Assembly will be less committed to continuing full revenue replacement to local governments after the end of the current budget biennium.
Major changes to Virginia's sales tax system should not be undertaken without careful consideration of the potential long-term effects.
In the face of these concerns, the substitute to SB451 failed to report by a vote of 7-9.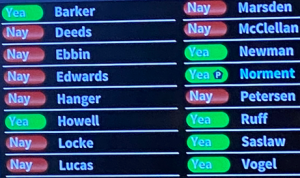 (SFAC vote on SB451 Substitute, Motion to Report)
Ask Senators to protect local budgets in good times and bad
The Senate Finance and Appropriations Committee will continue debating this critical issue on Thursday, February 10th. Please reach out to Senators and ask them to protect public education and local law enforcement by fully replacing any lost funding to localities. Moreover, VML encourages the committee to propose codifying the revenue replacement method in the Code of Virginia, in addition to the state budget, to better protect local governments from experiencing these funding cuts during the next economic downturn.
Action in the House
This week, the House Appropriations Committee will also debate HB90 (McNamara). Unlike the substitute for SB451 (Boysko), HB90 would exempt groceries from both the 1 percent local sales tax and the 1.5 percent state sales tax. In its current form, HB90 would replace only a portion of lost revenue to local governments.
As with the legislation in the Senate, VML is asking Delegates to consider two key principles in their legislation to protect localities from revenue cuts:
Local budgets must be held fully harmless.
Revenue replacement to localities should occur through budget action and an amendment to state law to guard against future budget cuts after the current biennium.
The bottom line – Contact the legislators!
Please reach out to your legislators – Senators and Delegates – to encourage them to take their time when considering major changes to this critical government revenue source; anything worth doing is worth doing right!
VML Contact: Carter Hutchinson, chutchinson@vml.org
Behavioral Services
Jail bills: Updates
On Monday, Feb. 7, a House Appropriations subcommittee tabled HB989 (Runion), which would have created a series of increased state reimbursements to local and regional jails in which state inmates are kept past the date when they should have been transferred to state custody. The subcommittee's action meant that the bill did not come before the full committee. VML supported the bill.
The subcommittee and full committee reported a substitute for HB1053 (Shin) regarding local and regional jail fees and costs. The substitute requires the State Board of Local and Regional Jails to convene a work group to study the reduction or elimination of certain fees associated with inmates in local correctional facilities. The workgroup will include members of the General Assembly, representatives of incarcerated offenders, and certain organizations or companies. Findings and recommendations would be due to the General Assembly by Oct. 1, 2022. VML prefers the substitute to the bill as introduced, which would have eliminated or cut fees imposed in local and regional jails.
Another jail-related bill, HB1341 (Brewer), was tabled by the patron in House Appropriations subcommittee this afternoon with the request that the issue be forwarded to the Behavioral Health Commission.
This bill would have placed new procedures for local and regional jails, and new burdens on community services boards and state hospitals to refer and take in, respectively, any inmate whose screening/assessment by jail staff indicated serious mental illness. VML supports this outcome for the legislation.
VML Contact: Janet Areson, jareson@vml.org
Bill to re-imagine use of Catawba Hospital progresses
On Feb. 7, the House Appropriations Committee reported HB105 (Rasoul), which would require the Virginia Department of General Services and the Department of Behavioral Health and Developmental Services to study the feasibility of transforming Catawba Hospital into a state-of-the-art facility at which a continuum of substance abuse treatment and recovery services, including long-term, short-term, acute, and outpatient services would be provided in addition to behavioral health and other services currently provided to geriatric individuals in need of mental health care. The report would be due to the General Assembly by Dec. 1, 2022. VML supports the bill.
VML Contact: Janet Areson, jareson@vml.org
Education
School construction bills: Update
In the House
HB252 (Simonds) would create a data reserve tool to identify and collect information on the accurate ages of school buildings in the Commonwealth. This tool would help to better funnel funds to school buildings that need it the most.
HB253 (Simonds) would increase the maximum loan amount a locality can use for school construction and modernization from $7 million to $25 million. This legislation came as a recommendation from the Commission on School Construction and Modernization.
HB254 (Simonds) would establish a School Construction Fund and Program to be used to provide grants to localities. This program would be funded in part by future revenues from the casino gaming industry
All three pieces of legislation were heard by the House Appropriations Elementary and Secondary Subcommittee where they were laid on the table because Chairman Davis informed the members that a larger piece of legislation encompassing all school construction bills will be introduced next week.
VML looks forward to closely reviewing the larger piece of legislation mentioned by Chairman Davis when it is available.
In the Senate
SB471(McClellan) is the Senate companion bill to HB253 which would increase the Literary Fund loan amount available for use. This legislation was heard by the Senate Finance and Appropriations K-12 Subcommittee this afternoon where the bill was reported out of subcommittee on a vote of 5-0 with an amendment. The amendment would conform the language regarding the Literary Fund to match the language in the introduced budget.
VML will continue to monitor the legislation relevant to school construction.
VML Contact: Josette Bulova, jbulova@vml.org
Unexpended school funds bills: Update
SB481 (McClellan) would codify the ability for local governing bodies and school boards to enter into a collaborative agreement to properly allocate any unexpended funds at the end of a fiscal year. Currently, any unexpended school funds at the end of the year are returned to the local governing body unless the locality chooses to allow the funds to remain with the school division. This legislation codifies the ability to enter into such agreements.
SB276 (Stanley) would codify the same agreement as SB481.
These two pieces of legislation have varying language but achieve the same goal and are permissive in nature.
Status
VML Contact: Josette Bulova, jbulova@vml.org
Local Government Legislation
Cybersecurity reporting requirement bills: Update
HB1290 (Hayes) and SB764 (Barker) would require all public bodies to report any known incidents that compromise and the threaten the security of the public body's information technology systems to the Fusion Center within 24 hours from when the incident was discovered. Additionally, this legislation would create a work group that would meet even as the requirements of the legislation are enacted.
Status of the legislation
HB1290 passed out of the House by a vote of 93-7 and is now awaiting crossover.
SB764 passed out of the Senate by a vote of 40-0 and is now awaiting crossover.
VML will continue to update members on this issue and looks forward to serving on the work group.
VML Contact: Josette Bulova, jbulova@vml.org
Public notices by localities bill passes out of House Rules Committee
HB1131 (Williams) Virginia Code Commission; work group to review public notices required to be published by localities.  This is a VML, VACo, Press Association bill to gather the various types of local government public notice provisions set out in the code. The group shall review:  the varying frequency for publishing notices, the number of days required to elapse between publications, and the amount of information required in the various notices. The Code Commission is to submit a report by November 1, 2022. This bill is being sent to the House Appropriations Committee.
VML Contact: Michelle Gowdy, mgowdy@vml.org
Bills reported out of the Senate Local Government Committee
SB85 (Stanley) City of Martinsville; city reversion; sunset. Despite serious opposition this unfortunate bill passed out of Senate Local Government Monday morning. Henry County and the City of Martinsville had a legally binding voluntary settlement agreement and followed the recommendations of the Commission on Local Government before Henry County decided to break the agreement. This bill inserts the General Assembly into a process that is set out very clearly in the Virginia State Code and was followed appropriately.
SB446 (Boysko) Broadband service; new residential and commercial development. This bill creates a study of stakeholders to evaluate local and state policies, procedures, or ordinances about the expansion of high-speed broadband in new residential and commercial development. The Department of Housing and Community Development with assistance from the Commission on Local Government and the Broadband Advisory Council will host this study and report the findings before September 30, 2022.
SB732 (Lewis) Comprehensive plan; climate resilience. This bill adds to the comprehensive plan the following: "Shall consider strategies to address climate resilience in order to anticipate, prepare for, respond to, and adapt to changing conditions and hazardous events."
Charter bills that passed through Senate Local Government:
VML Contact: Michelle Gowdy, mgowdy@vml.org
Bills reported out of the House General Laws Committee
HB384 (Davis) State and local employees; freedoms of conscience and expression. This proposed legislation states that employees of any unit of local government shall not be penalized for failing to speak a message if it would violate the employee's deeply held beliefs, values, or conscience. The legislation does not include persons appointed to a position. There was a substitute which attempted to narrow the scope of "speech" to say that "speech" does not include any obligation of an employee to communicate lawfully required directives, notifications, warnings or disclaimers or requirements essential to the carrying out of an employee's job duties.
HB307 (Freitas) Virginia Freedom of Information Act; estimated charges for records. The substitute provided during the meeting states that before searching for records a public body must notify the requestor in writing that there could be a cost to the production of the records and offer to create a cost estimate if asked. The costs incurred in providing the estimate can be included in the overall charges.
VML Contact: Michelle Gowdy, mgowdy@vml.org
State Fair Labor Standards Act legislation moving forward
HB1173 (Ware) and SB631 (Barker) both provide that government employers are subject to the Fair Labor Standards Act. As such, these bills deal with the issues created by recent state legislation regarding public employers giving compensatory time. HB1173 has passed the House floor. SB631 was reported by the Senate Commerce and Labor committee, but rereferred to Senate Finance and Appropriations.
Related legislation
SB331 (Reeves), which would have allowed employees to serve as volunteers for a city or town, was stricken by Senator Reeves. HB61 (McGuire) would have had the same effect as SB331. It is yet to be heard in the Commerce and Energy Committee of the House. HB1017 (Guzman) adds travel time to hours worked and is on Tuesday's Senate Commerce and Labor docket.
VML Contact: Mark Flynn markkflynn@gmail.com
Catalytic converter theft bills make headway
SB729 (Ruff), which now incorporates Senator Spruill's SB41, makes it a Class 1 misdemeanor (up to a year in jail, $2,500 fine) to "assist, aid or abet" another in the theft of a catalytic converter, the value of which is less than $1,000. The bill further puts guidelines on junk yards and others receiving such converters. The bill was reported by the Senate Judiciary Committee.
HB740 (Bell) makes theft of any catalytic converter a Class 6 felony (one to five years in jail, $2,500 fine) and damaging a vehicle where the total damage cost exceeds $1,000, the same Class 6 felony. The House Courts committee reported the bill.
VML Contact: Mark Flynn markkflynn@gmail.com
May elections bills on the docket tomorrow morning
Two bills would allow local governments to hold May elections for mayor and council: HB1082 (Leftwich) and HB1109 (LaRock). The law moving all elections to November was enacted in the 2021 Special Session 1. Both bills are on the House Privileges and Elections Subcommittee #2 docket, for Wednesday, Feb. 9th at 7:00 A.M.
VML Contact: Mark Flynn markkflynn@gmail.com
Historic district and monument bills would expand challenges to board decisions
HB1210 (Hope) and SB206 (Petersen) were filed to expand the persons who have standing to challenge a decision by a locality's historic district board.  In committee, HB1210 was narrowed significantly. SB206 still allows pretty much any citizen of the locality to sue over a decision.
VML's opinion is that the wide-open approach is inappropriate and will lead to numerous, costly lawsuits whenever some citizen is upset about removing a statue, or declaring an old building a monument, etc.  SB206 was sent to the Senate Judiciary Committee.
VML Contact: Mark Flynn, markkflynn@gmail.com
Opportunities
White House Office of Intergovernmental Affairs: Engagement opportunities
As part of its ongoing partnership with leagues, the White House Office of Intergovernmental Affairs invites local officials and staff to speak virtually about federal and local priorities. Localities are welcome to let the Office of Intergovernmental Affairs know if there is an upcoming engagement that would be appropriate for their representatives join in the coming weeks and months.
Additionally, to ensure that you receive updates from the White House and the Biden-Harris Administration, the Office has created a sign-up form for local leaders to stay updated on announcements, activities, and engagement opportunities.
Use this link to sign-up for the White House Office of Intergovernmental Affairs Engagement List.
Additionally, all elected officials, staff, and associations are also invited to join the Office's Weekly Intergovernmental Affairs Update Call, typically every Thursday at 4:00pm ET. Sign up here.
Office of Intergovernmental Affairs Contact: Gabe Amo, Special Assistant to the President and Deputy Director, Gabriel.F.Amo@who.eop.gov