eNews February 5, 2021

Friday, February 05, 2021 - 06:18pm
In this issue:
Elections
Contact Delegates about bill that would mandate November local elections
Other election bills with undesirable local impacts continue to move forward
SB 1157 (Spruill) which would mandate that all elections, including local elections, be held in November has passed the Senate and has most recently been referred to the House Committee on Privileges and Elections.
VML urges our members to reach out to the members of the House of Delegates to request that SB1157 be rereferred to the Committee on Counties, Cities and Towns, based on the bill's impact on local charters. (See below for quick links to "Email All" legislators).
Mayors David Meyer of Fairfax City and Linda Colbert of the Town of Vienna have written an excellent op-ed on why localities should retain the option of holding elections in May. This op-ed was printed in today's edition of the Richmond Times-Dispatch. Read it online here.
HB 1890 (Price) / SB 1395 (McClellan) are the House and Senate versions of the Voting Rights Act of Virginia, which would effectively require all localities to submit to preclearance for any changes to election practices, procedures, or districts, have passed out of their bodies of origin. Unlike preclearance bills from prior years, HB1890 and SB1395 will apply to all localities, expands the definition of covered practices, and holds individual registrars, electoral board members, and officers of election accountable for any mistakes.
VML opposes these bills and encourages members to reach out to members of both the House and Senate to share their concerns.
Option to "Email All" legislators
The below links will open a new message in your default email client and populate the "To:" field with the appropriate email addresses. (Note: The option to email all Delegates requires sending two separate emails, broken out by last name, due to the large number of recipients).
If your email client is Outlook:
All other email clients:
Note: The links are different because Outlook uses a semicolon between multiple email addresses. Most other clients use a comma between multiple email addresses.
When using the "Email All" option, please be aware:
It may take several seconds to populate a new email message with the email addresses after clicking the link.
This functionality does not work for Outlook client on mobile devices.
VML Contact: Jessica Ackerman, jackerman@vml.org
Budget & Economy
Sunday is Budget Day!
Before you turn on your TV to watch the Super Bowl Sunday evening, those who take a sporting interest in the state budget will want to turn on their computer to watch the House and Senate budget-writing committees present their proposed amendments to Governor Northam's December budget bill.
How to watch
Budget events will begin at 1 p.m. on Sunday when the House Appropriations Committee (HAC) presents its amendments and will continue at 3 p.m. when the Senate Finance and Appropriations Committee presents its amendments.
The House Appropriations meeting agenda and meeting link will be listed on the HAC website.
The Senate Finance & Appropriations meeting agenda and meeting link will be listed on the SFAC website.
What to expect
The two committees use a similar format for their Sunday meetings. Each will present their recommendations by subcommittee. The subcommittee reports contain a brief analysis of the issues the panels faced along with a spreadsheet and (sometimes) the budget amendments often referred to as "half-sheets."
Each subcommittee report is posted to the Committee's website concurrent to its presentation.
It's important to note that the subcommittee reports, including any amendments unveiled on Sunday, are not the final word for each committee. Any amendment could be modified or dropped, or new amendments not included in Sunday's subcommittee reports could emerge when the full details of all amendments are posted. If the two committees follow long-established precedent, then the official half-sheets will not be released until Tuesday. The official budget amendments will be available online.
On Thursday, the House and Senate will debate, vote, and ratify their amendment packages.
After each chamber approves their budget amendment package, the senior members of the money committees will hold a budget conference. The purpose of this conference is to reconcile the spending and policy differences. It is highly likely that the reconciliation process will spill over to the Special Session called yesterday by Gov. Northam.
The bottom line
We have a long way to go before state budget development concludes. Stay vigilant.  Your help will be needed.
VML contacts:  Jessica Ackerman, jackerman@vml.org; Janet Areson, jareson@vml.org; Neal Menkes, nmenkes@vml.org; Mitchell Smiley, msmiley@vml.org
Local taxing powers preserved
You can breathe a sigh of relief – for now.
The General Assembly acted last week and this week to rein in two proposed constitutional amendments and two bills that would have had major implications for local finances.
SJ 297 (Bell) would have given the General Assembly the authority to exempt from taxation property owned by certain veterans' and service members' services organizations. Under a constitutional change approved by the voters in 2002, the authority for granting such tax exemptions rests with the affected local governments.
Status: The bill was passed by indefinitely in the Senate Finance and Appropriations Committee.
HJ 614 (King) would have expanded the state's authority to provide real property tax exemptions for surviving spouses of members of the armed services who died while serving or who died from a service-connected disability or illness. The state constitution provides tax exemption rights to surviving spouses of armed services members who were killed in action.
Status: The proposal was left in a House Privileges and Elections Subcommittee.
HB 2308 (Brewer) would have increased from 75 acres to 200 acres that any association or post of the Veterans of Foreign Wars, American Legion, Spanish War Veterans, Disabled American Veterans, or any similar association of veterans of the Armed Forces of the United States chartered by an act of Congress may hold.
Status: The bill patron agreed to a floor amendment that requires the tax exemption process to follow §58.1-3651 rather than §58.1-3607. This means the affected local government rather than the General Assembly is authorized to grant the property tax exemption.
SB 1326 would have required cities and towns to join regional cigarette tax boards by January 2026 or forfeit the authority to impose tobacco taxes.
Status: This week, the Senate approved a floor amendment stripping this requirement from the measure. As a result of the Senate action, the bill affects only counties, although Amherst, Arlington and Fairfax are also exempt. The bill patron is expected to seek an additional amendment to remove all counties from the requirement to join a regional cigarette tax board.
VML Contact: Neal Menkes, nmenkes@vml.org
Senate reaches "Peace in the Valley" on tax conformity
But the House may be headed in a different direction
Yesterday the Senate unanimously adopted SB 1146 after a floor amendment was accepted to increase certain deductions from $50,000 to $100,000 that Virginia taxpayers could take on their income tax returns. The effect of this and other amendments approved by the Senate Finance and Appropriations Committee pumped up the foregone revenue from $34.2 million in FY 2021 and $7.5 million in FY 2022 to an estimated $67 million and $113.7 million, respectively, in fiscal years 2021 and 2022. That's roughly $180 million of which only $41.7 million was recognized in Northam's budget proposal.
For its budget package, the Senate money committee will have to find additional revenue or spending reductions to pay for the tax relief.
A substitute for HB 1935 was adopted yesterday by the House of Delegates. The Virginia Department of Taxation estimates the revenue loss as $9 million in FY 2021 and $69.7 million in FY 2022. This is in addition to the $34.2 million in FY21 and $7.5 million in FY22 already assumed in the Northam budget bill.
The House amendment would allow unincorporated businesses that receive the federally funded tax-exempt loans and grants to deduct up to $25,000 rather than the Senate-approved limit of up to $100,000.
Final passage of the amended HB 1935 is expected today. The outcome of the negotiations between the House Finance and Senate Finance and Appropriations Committee will affect the joint budget deliberations.
VML Contact: Neal Menkes, nmenkes@vml.org
Meager January job gains boost President Biden's economic stimulus bill efforts
While the national unemployment rate dropped to 6.3 percent in January, the U.S. economy generated just 49,000 new jobs. The country has recovered over half of the 22 million jobs lost last year between February through April. Economic growth in the last quarter of 2020 was just 1 percent.
President Biden is proposing a $1.9 trillion stimulus plan that would extend unemployment benefits through September, as well as provide a $1,400 stimulus check for many Americans. It would also raise the minimum wage, increase the child tax credit, provide rental assistance, and provide money for nutrition programs, while setting aside hundreds of millions of dollars in aid to state and local governments.
After 15 hours of floor debate, the U.S. Senate approved a budget resolution unlocking the "reconciliation" process — the budget tool Democrats are readying to enact the president's $1.9 trillion coronavirus relief proposal with just 51 votes in the Senate.
Assuming the House approves the Senate's effort, a total of 25 committees across both chambers will get to work writing the legislative and financial muscle to enact Biden's plan. Biden's desire for quick action may take longer than he wishes.
Here in Virginia the figure for seasonally unadjusted initial claims in Virginia last week was 18,177. While still elevated compared to recent months' trends, the latest claims figure was a decrease of 135 claimants from the previous week. Continued weeks claimed totaled 67,337, which was a 0.1 percent increase from the previous week and more than twice as large as the continued claims figures from last year.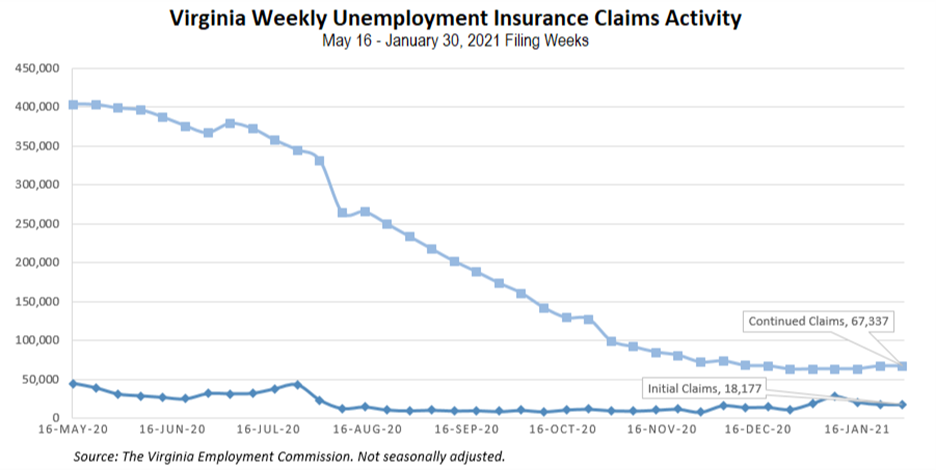 VML Contact: Neal Menkes, nmenkes@vml.org
Qualified Immunity
Qualified Immunity bills defeated, headed for studies
Thanks to everyone who worked to defeat SB1440 (Surovell), the Senate qualified Immunity bill! It was truly a group effort. The bill will be studied over the summer in the civil subcommittee of the Senate Judiciary.
As a reminder, the House qualified immunity bill, HB2045 (Bourne), was defeated earlier and will be studied at the Virginia Crime Commission over the summer.
VML Contact: Michelle Gowdy, mgowdy@vml.org
Marijuana Legalization
Both chambers have now acted upon proposals for marijuana legalization
Today, the House passed their marijuana legalization measure, HB 2312 (Herring) by a vote of 55-42 and the Senate passed their legalization measure SB 1406 (Ebbin / Lucas) by a vote of 23-15.
Each version has undergone significant revisions since introduction and each version now pre-empts the local option entirely and will allow retail sales across the Commonwealth. However, there were some revisions favorable to localities including clarification of local option taxation by ordinance of up to 3 percent on retail sales. Also, clarification on local zoning authority in both bills leaves localities with more authority to control retail facilities via local zoning which had been pre-empted entirely in earlier drafts. The Senate version allows localities to opt out of retail marijuana/cannabis sales by citizen-initiated referendum while the House version does not offer this option. The Senate proposal also requires a statewide, non-binding referendum on the question of marijuana/cannabis legalization to be on the ballot during the November 2021 election.
The big picture
As a reminder of what these bills establish:
Allow for the licensed cultivation, distribution, and sales of retail marijuana/cannabis for personal consumption by adults over the age of 21.
The industry would be regulated by an independent agency responsible for licensing and regulating the marijuana/cannabis industry.
As many as 400 retail licenses would be available with a portion of those licenses reserved for businesses that meet criteria for a social equity category of licensing.
The state would collect a 21 percent tax on retail sales in addition to local option taxes, retail and local sales taxes for a total rate of 30 percent.
Localities retain local sales tax and any local option taxes with the state's share of revenues going to various purposes including at-risk pre-k, addiction treatment and prevention, and public health funding.
The General Assembly is debating how to create the state agency that would regulate the industry. It would also include a board of medical and addiction specialists to guide decisions regarding the products retailers would be allowed to sell as well as adjust retail practices based on various data after legalization. It is expected that legal retail sales would not begin for several years contingent upon how quickly the regulatory agency and associated boards, regulations, and operations are established. It is expected this groundwork would take several years with retail sales beginning in 2024.
Yet to be determined is when it will be legal for adults over the age of 21 to possess up to one ounce of marijuana/cannabis, though this could be as soon as July 1, 2021. Each bill proposes allowing legal cultivation of fewer than 4 total plants of marijuana/cannabis per household with questions remaining over whether personal cultivation will be allowed indoors only or indoors and outdoors.
VML position
VML continues to advocate for local option to allow localities to opt in to retail sales and protect local authority with regards to retail operations. We encourage members to continue to advocate for these principles in your conversations with your General Assembly delegation.
VML Contact: Mitchell Smiley, msmiley@vml.org
Health & Human Services
Update on Health & Human Services bills of interest
SB 1185 (Dunnavant) would increase auxiliary grant payments by 50 percent.
Status: Passed by indefinitely by Senate Finance & Appropriations
SB 1133 (Sutherlein) would create pilot sites for public school systems to plan for use of CSA funds for certain special education services.
Status: Passed by indefinitely by Senate Finance & Appropriations.
SB 1313 (Mason) provides for limited use of CSA funds for children leaving private day special education programs for public school; creates workgroup to develop plans for transferring special education private day funding responsibility from the Office of Children's Services to Virginia Department of Education.
Status: Substitute passed by Senate; communicated to the House.
HB 2117 (Van Valkenberg) is similar to the original version of SB 1313 (above).
Status: Passed the House and referred to Senate Education & Health Committee.
SB 1362 (Lewis) would require employers to report on outbreaks of COVID-19 in workplaces with 50 or more employees to the Virginia Department of Health during a public health emergency and for VDH to make that information available to the public, as well as information when the outbreak has concluded.
Status: The Senate has engrossed the substitute, which now includes the Senate Finance & Appropriations "clause" that states that the bill would not go into effect unless funded in the budget.
HB 1963 (Bagby) would codify the existing funding formula for the Virginia Department of Health state-local cooperative health budget. Would also require VDH to biennially review the local matching fund amounts for each county and city and determine if match amounts should be revised as a result of changes to the county's or city's revenue generation capacity; this information and recommendations would be communicated to the Governor and the General Assembly.
Status: The bill passed the House and has been referred to Senate Education & Health Committee.
HB 1989 (Aird) would require Virginia Department of Health to develop and implement a system for sharing information regarding confirmed cases of communicable diseases of a public health threat in real time with emergency medical services agencies during a declared public health emergency. Also allows sharing of the information with the Emergency Medical Services Advisory Board and regional emergency medical services councils upon request.
Status: The bill passed the House and has been referred to Senate Education & Health Committee.
VML Contact: Janet Areson, jareson@vml.org
Governor calls on all public-school divisions to offer in-person learning by March 15
Governor Northam announced his goal this morning to have at least some in-person learning opportunities available in every Virginia public school district by March 15. During his latest press conference, Governor Northam cited new findings from the Centers for Disease Control and Prevention (CDC), as well as statewide trends indicating both significant learning loss and increased mental and behavioral health issues, to prioritize getting students back into classrooms.
Per the announcement, a more detailed announcement will be released "soon" outlining more detailed plans around the development of state guidance. Today's briefing did not include a direct mandate for all schools to open.
During the same press conference, Governor Northam and State Superintendent James Lane also announced that the state would work with localities to offer expanded in-person learning opportunities throughout the summer. Both Governor Northam and Secretary Lane acknowledged that the needs of each school district will vary, as local experiences and practices during the pandemic have varied widely across the state. However, they pointed to both the most recent distribution of federal funding and the anticipated increase in state revenue as potential funding sources to support programming.
Click here for the full press release.
VML Contact: Jessica Ackerman, jackerman@vml.org
Opportunities
Encourage 7th graders to submit entries for VML's "If I Were Mayor" Essay Contest
Let your local middle school know about this great opportunity!
Every year, the Virginia Municipal League (VML) is pleased to award deserving 7th grade essayists across the Commonwealth with a cash prize, an official plaque, and recognition. If you know of a 7th grade class from a member locality that should participate, send this link to a teacher or principal:
2021 "If I Were Mayor" essay contest description and instructions here >
This year's theme is "What I've Learned" and we are asking students to tell us what has worked for them, and what hasn't, during a school year like no other.
Read the full description here >
Prizes and Recognition
Regional winners selected from around the state will each receive a $150 cash prize and plaque. One statewide winner chosen from the regional winners will receive a $250 cash prize and plaque. The runner-up from the region that receives the statewide award will become that region's winner.
Winning essays will be featured in the May issue of VML's magazine Virginia Town & City.
How to enter
All entries must be received by end of day on Monday, February 22nd. There are 2 ways to submit your entry:
Fill out and submit our online form available here >
You can do this yourself or you can have your teacher or someone else help you. Copy and paste your essay into the "Essay" box in the form. After VML receives your entry, your teacher will get a confirmation email.
OR
Mail your essay with a filled-out paper entry form (see back of this flyer) attached to:
VML, Attn: 7th Grade Essay Contest
P.O. Box 12164
Richmond, VA 23241
Who is eligible?
Any 7th grade student living and/or attending school in a VML member locality (Full list available here).
VML Contact: Rob Bullington, rbullington@vml.org