eNews February 19, 2021

Friday, February 19, 2021 - 06:04pm
In this issue:
Budget
Plateful of spending and tax issues await budget conferees
Size of tax relief pits House and Senate budget packages against each other
This week Gov. Ralph Northam shook up the budget conference before it could even officially begin. His communication to the General Assembly's money committees that an additional $730.2 million ($410.1 million in FY21 and $320.1 million in  FY22) would be available provoked an outburst of cries and clamoring for more spending, more tax relief, and more deposits to the state's cash reserves.
A closer look: Part 1
For those who attended VML's January 11 budget overview, you may remember the PowerPoint slide that the Deputy Secretary of Finance, Joe Flores, presented on the ups and downs of the 2020-2022 biennial revenue forecast. That slide has been updated to reflect the Northam Administration's mid-session forecast. The chart shows that this week's new revenue numbers still leave the Commonwealth some $700 million to $800 million below the revenue estimates adopted by the General Assembly in March of 2020.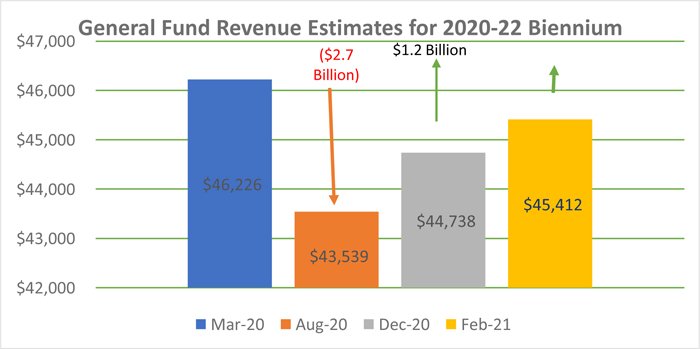 A closer look: Part 2
It is important to examine the basis for Gov. Northam's revenue revisions. The governor's letter to the money committees also included an explanation of the changes.
There are four assumptions driving the revenue changes:
There has been no significant change to the national economic outlook since the December forecast was released.
Sales tax model was updated to include all three quarters of 2020 sales tax data during the pandemic – including a robust holiday shopping season.
All other changes reflect "money in the bank" adjustments, meaning the revisions are based on actual deposits and not on projections.
The revision recommends no change to individual income taxes as there are numerous unknowns on taxpayer behavior for filing, when vaccination efforts for COVID-19 become more widespread, when significant rehiring may begin, and whether non-wage income gains last year will continue through this year. In addition, job growth in the Commonwealth remains anemic.
It is also important to realize that the increases in tax collections include sources usually considered by state revenue officials as "volatile", meaning the amounts fluctuate from year to year. These volatile revenues include non-withholding income taxes, corporate income taxes and recordation taxes. Non-withholding collections are 28.5 percent higher than last year's collections. The official estimate called for a 4.4 percent increase. But the revised revenue forecast does not include this revenue source.  Corporate income tax collections are 39.3 percent greater than last year's collections at this point and well-ahead of the 19.9 percent official estimate. Recordation taxes are 37.5 percent greater than last year's collections and almost three-times greater than the 13.6 percent official revenue estimate.
Sales taxes are considered more reliable by the state's forecasters and are the only revenue source acknowledged in the FY22 revisions. Collections are up 6.5 percent. The estimate predicted a 2.6 percent annual decline. That is a spread of over 9 percent.

What happens next?
Action shifts today from the money committees to the House and Senate floors. The objective is to meet today's deadline set by the General Assembly on the first day of Session to move the budget bill and the revenue bills conforming the state tax code with federal statutes to conference. Floor action will focus on rejecting the other body's amendments, insisting on their own versions of the budget and revenue bills, and requesting that the bills go to conference. It is likely to be a long legislative day.
Budget amendments to support/oppose
The tables linked below identify the House and Senate budget amendments that VML members may want to contact their delegations to support or oppose.
Please note, the tables are not all inclusive. For example, neither the House nor the Senate proposed additional funding for the 599 program.
VML staff will provide more detailed information early next week.
VML Contact: Neal Menkes, nmenkes@vml.org
The Week in Legislation
Bills that met their fate this week!
SB1384 (Surovell) Virginia Public Procurement Act; local arbitration agreements. Allows a participating locality, for any procurement solicitation or contract exceeding $10,000 for goods and services, to require the bidder or offeror to disclose certain information regarding pre-dispute arbitration clauses, defined in the bill, in employment, civil rights, and consumer disputes, and provides that a locality may consider the policies and practices related to arbitration of each bidder and offeror. The bill also provides that a participating locality shall require the bidder or offeror to provide written or electronic submissions to allow the locality to ascertain (i) whether the bidder or offeror requires persons with whom it is in a work relationship or prospective work relationship to sign or otherwise enter into a contract containing a pre-dispute arbitration clause that would cover an employment or civil rights dispute and (ii) whether the bidder or offeror requires consumers to sign or otherwise enter into a contract containing a pre-dispute arbitration clause that would cover a consumer or civil rights dispute as a condition of purchasing products or services, downloading mobile applications, or using websites. The bill authorizes a participating locality to cancel, terminate, or suspend, in whole or in part, the contract of any contractor that has violated a provision of the bill and to declare the contractor ineligible for further contracts with such locality for up to five years.
Status: This bill failed to report.
HB1996 (Murphy) Virginia Public Procurement Act; determination of responsibility; local option to include criteria in Invitation to Bid. Allows localities to include in the Invitation to Bid criteria that may be used in determining whether any bidder, not just any bidder who is not prequalified by the Virginia Department of Transportation as under current law, is a responsible bidder.
Status: This bill was passed by indefinitely.
SB1171 (Norment) State and Local Government Conflict of Interests Act; disclosure requirements; industrial development authorities and economic development authorities. Requires the executive director and members of each industrial development authority and economic development authority, as created by the Industrial Development and Revenue Bond Act, in a locality with a population in excess of 25,000 or in a region serving more than one locality that, in the aggregate, has a population in excess of 25,000 to file a Statement of Economic Interests (SOEI) with the clerk of the local governing body as a condition to assuming office and thereafter annually on or before February 1. Current law requires all executive directors and members of industrial development authorities and economic development authorities, as created by the Industrial Development and Revenue Bond Act, to file a SOEI.
Status: This bill was laid on the table.
VML Contact: Michelle Gowdy, mgowdy@vml.org
Health & Human Resources
Action on HHR bills this week
House Appropriations reported a substitute for SB1302 (McPike) which would designate the crisis call center called for in the Marcus Alert law (2020 special session) and administered by the Department of Behavioral Health and Developmental Services (DBDHS) as the 9-8-8 Crisis Hotline Center as part of the National Suicide Prevention Lifeline. The call center would comply with federal rules/guidelines, as would the community care teams and mobile crisis teams responding to calls.
The funding source would come from an increase in wireless E-911 surcharges and prepaid wireless E-911 charges. The patron told the committee that he worked out potential issues with the Federal Communications Commission (FCC) to ensure that Virginia would not lose grant funding from using the E-911 surcharge increase as a funding source for this program.
The committee also reported SB1328 (Mason) which would create a state Kinship Guardianship Assistance program to facilitate child placements with relatives and fictive kin to ensure permanency for children. The bill sets eligibility criteria for the program, requirements for kinship guardianship assistance agreements, and payment allowances to kinship guardians. Funding would come through the Children's Services Act (CSA), which means that the state and local governments would pay the cost of the program.
Senate Education and Health Committee reported HB1963 (Bagby) which sets into the Code of Virginia the long-established state-local cooperative health budget formula, including the local match floor and ceiling (18 and 45 percent).  It would also require VDH to biennially review the local matching fund amounts and determine if adjustments were necessary because of changes to a locality's revenue generation capacity. This information would be reported to the Governor and General Assembly.
House Education Committee reported SB1313 (Mason) and the Senate passed a substitute to HB2117 (VanValkenberg) that conformed it to SB1313. These are the now-identical bills that set out the rules for the time-limited use of Children's Services Act (CSA) funds in public school special education settings and set up a process for a workgroup to develop a plan to transfer private day special education funds from CSA to the Virginia Department of Education. The workgroup would include local government representation.
Senate Finance and Appropriations reported a substitute for HB1989 (Aird), which calls for the Virginia Department of Health (VDH) to set up a system to share with local emergency medical services (EMS) agencies real time information about confirmed cases of a communicable disease related to a public health emergency. The committee added an enactment that would allow this to go forward only if federal grant funding through the CDC is obtained and is sufficient to fund the costs for VDH to establish and implement the system and pay a year's worth of operational costs.
Senate Rehabilitation and Social Services reported HB2065 (McQuinn), which would require the Virginia Department of Social Services and Department of Medical Assistance Services to convene a work group to develop a plan for a three-year pilot Produce Rx program to create incentives for greater consumption of qualifying fruits and vegetables by eligible individuals whose health care provider recommends such consumption. A report on the workgroup's activities and elements of its plan would be due Oct. 1, 2021, to the House and Senate budget committees.
House Rules reported SJR293 (Spruill) that would request the Joint Commission on Health Care to study data regarding assisted living and auxiliary grants and develop a blueprint for implementing recommendations that will allow for a more realistic system of addressing housing and care needs.
Governor Ralph Northern signed into law HB2333 (Bagby) and SB1445 (Dunnavant) from the 2021 regular session that requires the Department of Health to establish a program to enable eligible health care providers to volunteer to administer the COVID-19 vaccine to Virginia residents during the state of emergency declared by the Governor. The bill defines health care providers; directs creation of a registration process for these volunteers; sets training requirements related to vaccine administration; and requires VDH to establish a process by which entities, including medical care facilities, hospitals, corporations, businesses, pharmacies, public and private institutions of higher education, localities, and other entities, may volunteer their facilities as vaccination sites. It also authorizes public and private higher education institutions to volunteer the use of their employees, students, technology, and facilities to VDH and local health departments for data processing, analytics, and program development related to the COVID-19 vaccine. Finally, the bill permits localities with fire departments, emergency medical services departments, and volunteer rescue squads to establish and staff vaccine administration clinics.
VML Contact: Janet Areson, jareson@vml.org
Opportunities
"If I Were Mayor" Essay Contest for 7th graders deadline is March 1
VML encourages all eligible 7th graders to submit their essays before the March 1st deadline for the chance to win up to $250, a plaque and recognition in our magazine.
Let your local middle school know about this great opportunity!
Every year, the Virginia Municipal League (VML) is pleased to award deserving 7th grade essayists across the Commonwealth with a cash prize, an official plaque, and recognition. If you know of a 7th grade class from a member locality that should participate, send this link to a teacher or principal:
2021 "If I Were Mayor" essay contest description and instructions here >
This year's theme is "What I've Learned" and we are asking students to tell us what has worked for them, and what hasn't, during a school year like no other.
Read the full description here >
Prizes and recognition
Regional winners selected from around the state will each receive a $150 cash prize and plaque. One statewide winner chosen from the regional winners will receive a $250 cash prize and plaque. The runner-up from the region that receives the statewide award will become that region's winner.
Winning essays will be featured in the May issue of VML's magazine Virginia Town & City.
How to enter
All entries must be received by end of day on Monday, March 1st. There are 2 ways to submit your entry:
Fill out and submit our online form available here >
You can do this yourself or you can have your teacher or someone else help you. Copy and paste your essay into the "Essay" box in the form. After VML receives your entry, your teacher will get a confirmation email.
OR
Mail your essay with a filled-out paper entry form (see back of this flyer) attached to:
VML, Attn: 7th Grade Essay Contest
P.O. Box 12164
Richmond, VA 23241
Who is eligible?
Any 7th grade student living and/or attending school in a VML member locality (Full list available here).
VML Contact: Rob Bullington, rbullington@vml.org
Invitation for law enforcement professionals to participate in panel discussions
VML partner organization Polco has begun hosting a weekly panel conversation with local government leaders around the challenges of engagement during COVID. These have proven successful in gathering, and sharing perspectives, ideas, and creative solutions with other leaders in local government.
Recently, the group initiated weekly panel conversations focused on understanding and managing community expectations on local police service delivery. Each panel, held every Tuesday, includes three leaders in local law enforcement. Three topics are discussed:
What role should the community play in guiding or influencing the delivery of local police services?
What strategies do you use for managing community expectations?
What tools and methods do you use to understand residents' expectations and priorities regarding local police services?
The intent is to gather perspectives and share them with others facing the same challenges.
VML encourages any leaders in law enforcement who might like to participate on one of the panels to let us know and we will help facilitate your involvement.
VML Contact: Rob Bullington, rbullington@vml.org
Grant training opportunities coming in March
The Metropolitan Washington Council of Governments, Grant Writing USA and other regional partners are offering two online training opportunities in March with discounts available for officials and staff from VML member localities.
Step #1: Write a Successful Proposal and Find the Funding
March 9-10, 2021, 9:30 – 4:30 ET
Attend this two-day grant writing workshop and you'll learn how to find grants and write winning grant proposals.   Beginning and experienced grant writers from city, county and state agencies as well as nonprofits, K-12, colleges and universities are encouraged to attend.
Virginia Municipal League members and their staff are eligible for a special tuition rate of $425 which includes two days of terrific instruction and downloadable class materials in PDF format. Please use the discount code "ASSN" to receive this $30 discount off full price at registration.
Registrants have unlimited access to on-demand replays through April 9, 2021. Full details and registration are here.
Step #2: Learn the Current Grant Management Guidelines Stay in Compliance, Survive an Audit
March 30-31, 2021, 9:30 – 4:30 ET
This two-day grant management workshop is for grant recipient organizations across all disciplines. Attend this class and you will learn how to stay in compliance with pre-COVID and new grant management requirements. This class is suitable for beginning and experienced grants administrators.
Virginia Municipal League members and their staff receive a special tuition rate of $565. Please use code "ASSN" to receive this $30 discount off full price at registration. This program includes downloadable class materials in PDF format.
Registrants have unlimited access to on-demand replays through April 30, 2021. Full details and registration are available here.
Attend both classes and receive $70 off your combined tuition. Groups of 5 or more receive a $50 discount per person.  Discounts for Grant Writing USA alumni, nonprofits, and some associations are available.
Checks, cards, and purchase orders are welcome. City, county, and state agencies have 30 days after the live class to pay.
Grant Writing USA Contact: Janet Darling, janet@grantwritingusa.com