eNews February 13, 2018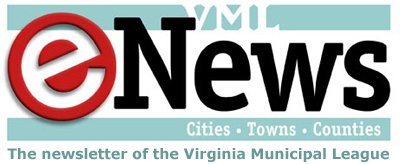 Tuesday, February 13, 2018 - 03:59pm
In this issue
House and Senate release budgets on Sunday: Support budget amendments now!
Wireless infrastructure bills—please continue to help!
House, Senate take different approaches to Medicaid
March 1 deadline for Council on Aging 2018 best practices awards
House and Senate release budgets on Sunday: Support budget amendments now!
There's time for one last push for good budget amendments before the House and Senate release their versions of the 2018 (caboose) and 2018-2020 budgets this Sunday, Feb. 18.
The following are budget amendments VML worked on, several in cooperation with local governments partners. Please let your members of House Appropriations and Senate Finance know your support for these items this week.
Environmental Quality
Transportation
Increases street maintenance funding. Item 453#3s (Wagner)
Education
Increased support for at-risk students. Several amendments have been introduced to increase the maximum additional funding to be provided to schools educating low-income students.  Currently the additional per-pupil support ranges from one to 13 percent, depending on schools' percentages of students eligible for free lunch.  Item 136 #8h (Carr), Item 136 #9h (Aird), Item 136 #10 (O'Quinn), Item 136 #1s (Norment), Item 136 #12s (McClellan)
Eliminates the cap put on the number of support positions that the state funds. The cap was put in place during the recession. Item 136 #14s (McClellan)
Human services
Eliminate local Medicaid match for the Children's Services Act (CSA). Localities do not pay any portion of the state Medicaid match on any other services than CSA, which is a federal/state program. Item 282 #3s (Lucas).
Change the local match paid for special education wraparound services through the Children's Services Act to the community-based rate from the basic rate. This would lower the match rate paid by localities. Item 282 #5h (Bell, Richard P.)/Item 282 #4s (Hanger).
Streamline Medicaid enrollment for incarcerated adults and juveniles so that inpatient hospital costs could be covered under Medicaid, thereby saving costs for medical care in adult and juvenile facilities. Item 73 #7h (Ingram)/Item 73 #8h (LaRock)/Item 67 #1s (Dance) (Compensation Board); Item 307 #3h (Ingram)/Item 307 #4h (LaRock)/Item 307 #7s (Dance) (DMAS); Item 391 #31h (Ingram)/Item 391 #32h (LaRock)/Item 387 #1s (Dance) (Dept. of Corrections); Item 413 #2h (Ingram)/Item 413 #3h (LaRock)/Item 412 #1s (Dance) (Dept. of Juvenile Justice)
Public safety
Provide a 13 percent inflation adjustment for per diem payments for local- and state-responsible inmates Jail per diems, and direct that per diems be adjusted annually for inflation. Item 66 #3h (Gooditis)/Item 67 #2s (Barker)/Item 67 #3s (Ebbin).
Broadband/Telecommunications
VML contacts: Janet Areson, jareson@vml.org, Neal Menkes, nmenkes@vml.org
Wireless infrastructure bills: Please continue to help!
HB1258 (Kilgore) / SB405 (McDougle) are the wireless bills that eliminate most local control over the installation and operation of new wireless structures. These are the bills VML has continued and will continue to oppose. Your calls and the resolutions local bodies have adopted are beginning to have an effect—there were 41 "no" votes on the House floor. Please continue to push your Delegation to vote "NO!"
Delegate Lee Ware was kind enough to put an amendment on HB1278 that requires that the companies report their expansion of service in unserved areas. It is imperative that we fight to retain the amendment, which is a transparency measure. The industry argues the bills will result in an expansion of services and the amendment isn't necessary. It is.
If you have not passed a resolution or written a letter in opposition to these bills– please do so immediately! And don't forget to send a copy to VML (e-mail@vml.org).
Talking points and template for resolution.
HB1427 (Kilgore) / SB823 (McDougle) are companion bills to HB1258 and SB405. These bills cap the fees for use of localities rights-of-way. Last year localities were successful in retaining the ability to negotiate rights-of-way fees and VML is vehement that localities should retain this authority. Again, please contact your Delegation to OPPOSE these bills. The Senate version only passed the floor by one vote today. Statewide fees are not likely to be in tune with actual costs, they will not account for the differences in the cost and availability of professional services throughout the state, and there is no rationale for the preferential treatment for the wireless industry.
Finally, consider submitting an op/ed on this legislation. Please feel free to share this with anyone that you deem appropriate, but especially your Delegation.
VML contact: Michelle Gowdy, mgowdy@vml.org
House, Senate take different approaches to Medicaid
More than $400 million in general fund savings is riding on Medicaid expansion. The budget presented by former Gov. Terry McAuliffe includes the savings based on expansion covering just under 400,000 uninsured Virginians. The savings to the general fund use October 2018 as the implementation date for expansion and assume no work requirements or other major administrative costs for the program.
Recent actions taken by the House of Delegates and the Senate could substantially affect the state budget's spending and revenues, putting at some degree of risk programs of interest to local governments.
The House has approved HB 338 (Miyares), a bill to require the Virginia Department of Medical Assistance Services (DMAS) to apply for a waiver from the federal Centers for Medicare and Medicaid (CMS)to allow Virginia to implement a Medicaid-work requirement initiative called the "Training, Education, Employment, and Opportunity Program." This program would allow abled-bodied, working-age adults to enroll in Medicaid if they abide by the education/training/work/community participation requirements contained in the program.
The Northam Administration asserts that the federal waiver application process could take somewhere between 18 to 24 months. If that is the case, the start date for Medicaid expansion could be pushed back to July 2019.
The House program would not apply to adults already qualified for Medicaid due to a disability or already enrolled in a Medicaid waiver program; those residing in an institution or determined to be medically frail; individuals diagnosed with a serious mental illness; adults over 65 years of age; former foster youth under 26 years of age and anyone under 19 years of age enrolled in secondary education; pregnant and postpartum women; and individuals who serve as the primary caregiver for a dependent, such as a child or an adult with a disability.
The work/community participation requirements would increase over time, starting with five hours a week for the first three months of enrollment, up to at least 20 hours per week after 12 months in the program. Areas with unemployment rates equal or greater than 150 percent of the state average may have work requirements waived, but individuals in those areas would still be required to participate in training, education, or other community opportunities.
The bill does not clarify how case management and support services would be implemented, but an analysis by the Joint Legislative Audit and Review Commission (JLARC) assumes a model in which additional case management services would be provided by local Department of Social Services staff. JLARC estimates the local fiscal impact in FY2019 to range from $2.3 – $7.4 million; and from $4.8 – $15.6 million in FY2020. JLARC assumes that the support services for training/employment could be subsumed by current workforce development program. Depending on how case management services were funded, the administrative costs would likely reduce the total amount of general fund budget savings.
Taking a different approach, on Feb. 12, the Senate Finance Committee reported on a split vote (10 to 6) a substitute for SB 915 (Dunnavant), to create the Priority Needs Access Program. This bill would focus on amending a Medicaid demonstration project (the Governor's Access Plan, or GAP) to increase the income eligibility threshold from 100 to 138 percent of the federal poverty level; expand program eligibility to individuals with a diagnosis of mental illness, substance use disorder, or life-threatening or complex chronic medical condition; include in the benefit package inpatient and emergency room care; and include this demonstration project in the Commonwealth Coordinated Care Plus managed care program. Participation would be capped at 20,000 individuals. The bill would also require funding of services under three current Medicaid waiver programs for more than 2,000 people with intellectual and developmental disabilities who are on waiting lists.
The program would use a new hospital provider tax to pay some of the costs of this expansion of GAP. However, the proposed program would not make Virginia eligible for the enhanced federal Medicaid match under the Affordable Care Act. In return for the hospital tax, the bill would increase the reimbursement rate paid to hospitals for serving patients in this program.
And unlike the House program, the Senate program does not include any work/education requirements for participants.
Finally, the Senate bill includes some additional requirements, such as creation of a statewide alternative transportation program for adults and children who are subject to temporary detention orders; that DMAS ensure that children in Medicaid/FAMIS program are screened for adverse childhood experiences; and that the Department of Aging and Rehabilitative Services expand neurobehavioral services used to help people with brain injuries in returning to work/community living and avoid inappropriate institutionalization.
These competing plans and their respective cost components will be imbedded in the House and Senate budgets to be revealed this weekend.
VML contacts: Janet Areson, jareson@vml.org; Neal Menkes, nmenkes@vml.org
March 1 deadline for Council on Aging 2018 best practices awards
March 1 is the deadline for entries to the Commonwealth Council on Aging's 2018 Best Practices Award Program, funded by Dominion Energy. Now in its 13th year, this awards program is targeted to organizations that serve our aging population. As organizations struggle to meet the challenges of serving a rapidly aging population during a time of tight budgets and growing demand, the Commonwealth Council believes we need to share our best practices and applaud our successes.
Awards will be given to innovative programs and services that help older adults to age in the community. This invites an opportunity to recognize creativity in services that foster "Livable Communities" and "Home and Community Based Supports" – from transportation to housing, from caregiver support to intergenerational programming. The Council believes the door is wide open for creative best practices.
The Council is pleased to offer monetary awards to the top winners: the first place program will receive $5,000; second place, $3,000; and third place, $2,000. The Council will also recognize three honorable mention programs.
Instructions, nomination forms, and information on previous Best Practices Award Winners are on the Virginia Division for Community Living-Aging Services Boards and Councils website https://www.vda.virginia.gov/boardsandcouncils.htm under the What's New! heading. Nominations for the 2018 Awards must be received by 5pm on March 1, 2018.
---
VML legislative staff and assignments
Michelle Gowdy – Local government authority, planning and zoning, legal matters, housing, Freedom of Information, telecommunications and technology. mgowdy@vml.org; 804-523-8525
Janet Areson – Health and human services, and the state budget. jareson@vml.org; 804-523-8522
Mike Polychrones – Environment, land use, natural resources, elections and transportation policy. mpolychrones@vml.org; 804-523-8530
Neal Menkes – Taxation and finance, the state budget, transportation funding, retirement, education funding and community and economic development. nmenkes@vml.org; 804-523-8523
Roger Wiley (under contract) – Courts, criminal law, civil law, and procurement. roger@heftywiley.com; 804-780-3143
Chris LaGow (under contract) –Insurance and workers' compensation. chris@lagowlobby.com; 804-225-8570