eNews February 12, 2021

Friday, February 12, 2021 - 06:09pm
In this issue
Action Alert
Oppose bill mandating November elections for localities immediately
SB1157 could be heard as early as Monday
This past Wednesday (Feb. 10), SB1157 (Spruill) passed through the House Committee on Privileges and Elections along party lines. SB1157, which would mandate that all localities hold their local elections in November rather than May, will next appear on the House floor, likely early next week.
Please continue to reach out to legislators and urge them to oppose the imposition of a statewide mandate overriding local charters. We need to keep letting them know that there are a significant number of localities who prefer to have the choice of when to hold their local elections.
Contact information for delegates as well as "Email All" options are available here >.
Talking points are available below.
When calling, if you need to leave a message, we suggest stating at the start that you oppose SB1157 and strongly support maintaining the local option for May elections.
When emailing, we suggest including "Oppose SB1157 – Keep local option for May elections" in the subject line of your email to ensure greatest visibility.
There was a great deal of contentious debate during Wednesday's Privileges and Elections Committee meeting. Local government representatives from several VML member localities made excellent points in opposition to the legislation when speaking before the Committee.
Supporters of the bill made points to counter those of the local government representatives.
Click herefor a brief example of one such counter argument expressed near the close of the meeting.
For a link to the full Committee meeting, please see the Wednesday, February 10thPrivileges and Elections archived video click here.
Talking points
SB1157 unilaterally overrides the charters of localities with May elections, setting a dangerous precedent for local governance and for the ability of residents to participate in local policymaking.
Currently, 28 other states allow for the separation of local elections from those for either state or federal offices, whether those elections are held in another month or even on a different date in November.
The inherent partisanship that arises in the discussion of elections when they coincide with partisan state and federal elections will all but exclude federal employees from running for local office. According to the Office of Personnel Management, more than 72,500 federal civilian employees live in Virginia, along with another 115,000 active-duty service members.
From the standpoint of accessibility for working residents, the date of an election held outside of November is no longer a barrier, between early voting, no-excuse absentee voting, and the impending arrival of the permanent absentee voter list.
Separating local elections from those for higher offices allows local campaigns to focus more specifically on local, nonpartisan issues without distractions from partisan national and statewide topics.
Holding local elections outside of November makes entry into local government for first-time candidates more accessible, keeping costs lower and providing more time for local media to dedicate to covering local campaign points. Personal finances and fundraising capacity should not be barriers to running for local elected office.
Burying local candidates at the bottom of a long list of federal and state candidates on a November ballot increases the likelihood of reelection for incumbent local officials based on sheer name recognition alone.
VML Contacts:  Jessica Ackerman, jackerman@vml.org; Michelle Gowdy, mgowdy@vml.org
Budget & Economy
State revenue re-forecast expected next week
Non-withholding, corporate and sales tax collections post strong year-to-date showings
Total general fund revenues fell 2.4 percent in January, mainly due to one less deposit day for payroll withholding. The decline was less than expected due to strong growth in individual non-withholding payments, corporate estimated payments, sales tax collections, and recordation taxes. On a fiscal year-to-date basis, total revenue collections rose 6.0 percent through January, well ahead of the annual forecast of a 1.2 percent increase.
The Virginia Leading Index rose 0.8 percent in December after rising 0.8 percent in November. All four components – the U.S. Leading index, future employment, initial claims for unemployment, and auto registrations – improved for the month. The indexes for all eleven metro areas increased in December.
However, employment and job growth remain challenging. For the filing week ending February 6, the figure for seasonally unadjusted initial claims in Virginia was 14,203. The latest claims figure was less than the previous week and reflects a slight decrease in the continued weeks claimed category.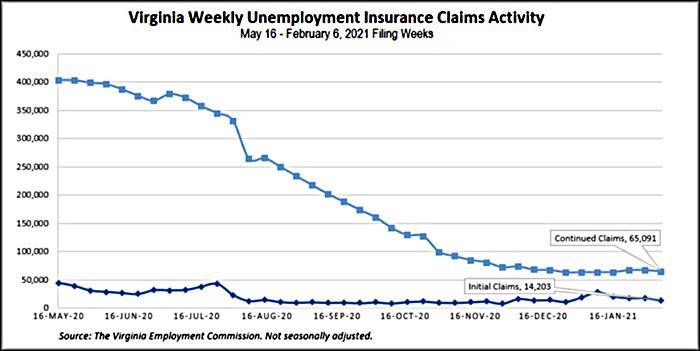 In Virginia, payroll employment fell 4.4 percent in December from December of last year. According to the Federal Reserve Bank of Richmond, since December 2019, Virginia employment was down by 177,900 jobs. The most jobs were lost in leisure and hospitality (73,200 jobs), followed by education and health services (39,100 jobs). Payroll employment increased by only 800 net new jobs.
A closer look at year-to-date revenue collections
What is behind the strong collections?
The answer is not payroll withholding.  Year-to-date, collections have risen 0.3 percent from the same period last year, behind the annual estimate of 2.7 percent growth. Given the employment numbers for 2020 it is not surprising.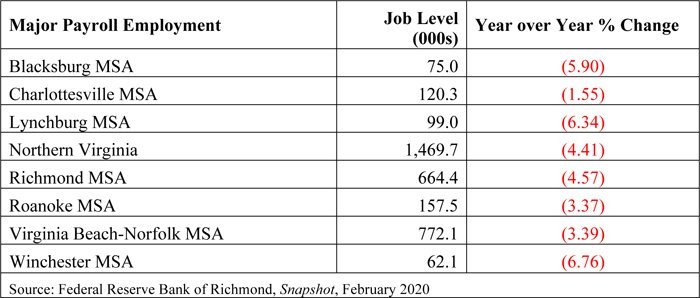 In addition to actual job losses, the labor force participation rate (meaning the percentage of adult Virginians who potentially could work) is stagnant even as the unemployment rate improved.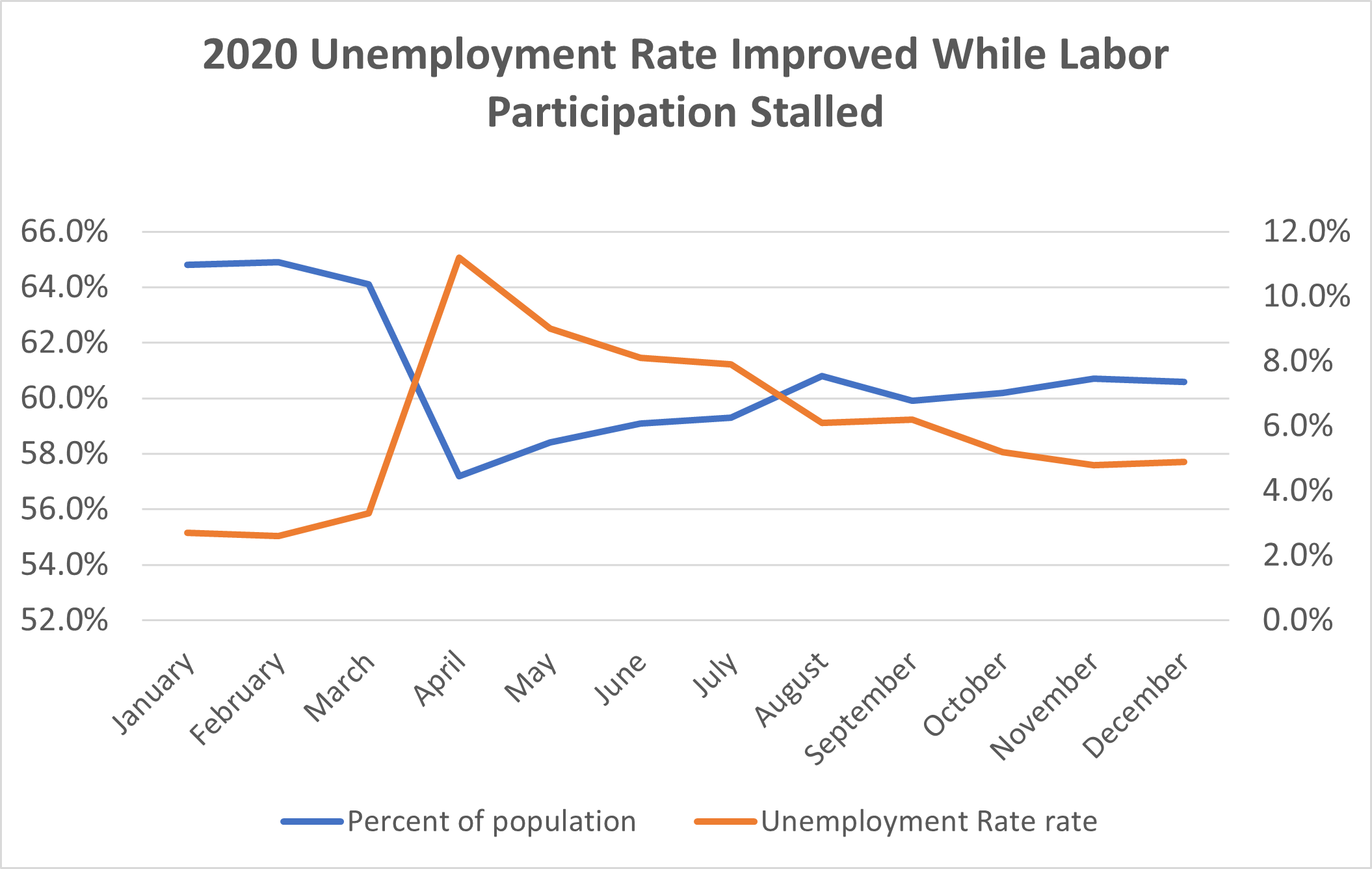 Individual income taxes for non-withholding, in contrast, have been very strong. December and January are significant months for collections from this source. Receipts of non-withholding for the two-month period of January-December increased 14.7 percent from last year.
Year-to-date, collections grew by 28.5 percent, well ahead of the annual estimate of a 4.4 percent increase. January collections in non-withholding totaled $576.2 million which was 11.9 percent higher than last January's numbers. This revenue source makes up almost 20 percent of all general fund revenues.
Sales tax collections total over 16 percent of state general fund revenue. The holiday shopping season brought in 5.4 percent more sales tax revenue than last year. On a year-to-date basis, sales and use taxes have climbed 6.5 percent ahead of the state estimate calling for a 2.6 percent decline. That is a spread of over 9 percent and is one of the factors that will lead to a revenue reforecast.
Corporate and recordation taxes have also posted well above official estimates.  Although each comprises roughly 2 percent of total state general fund revenue, corporate collections on a year-to-date basis have increased 39.3 percent compared with the forecast of 19.9 percent growth. Recordation taxes are up 37.5 percent over last year's collections and well ahead of the official forecast calling for 13.6 percent growth.
More money is always better…right?
The Northam Administration will send a revised revenue forecast to the General Assembly just as the Senate and House budget conferees begin their deliberations next week. Having more money can make the conference easier (but not always).  Issues driven by policy, personalities and politics are not necessarily swayed by an influx of greenbacks. Stay tuned.
VML Contact: Neal Menkes, nmenkes@vml.org
Marijuana Legalization
Marijuana legalization bills move towards a Conference Committee
Reading the budget tea leaves provides some insight
The legislation related to marijuana legalization continues to move towards a conference committee where the House and Senate appointed conferees will meet to reconcile the differences between each chamber's proposal. Since HB2312 (Herring) and SB1406 (Lucas) have passed out of their respective chamber of origin and are now being considered by the opposite chamber, the bills are simply being conformed to the version that passed each chamber without substantive modifications thus far. This process is typically pro forma in nature and rarely involves substantive amendments. So far there have been no significant discussions or amendments regarding either HB2312 or SB1406.
So, is there anything new to report?
With the release of the House and Senate budgets this week, we have another way to glean insights as to how the marijuana legalization may occur. For example, each bill supports the creation an independent regulatory agency for the regulation of retail marijuana sales as well as funding for other costs associated with legalizing marijuana.
The House Budget authorizes a line of credit (Item 3-2.03 #1h) for the creation of the primary independent regulatory agency proposed by Del. Herring's HB2312 (as passed by the House) as well as $5,000,000 (Item 479 #4h) for costs incurred by the expungement of criminal records related to past marijuana crimes.
The Senate Budget authorizes funding for the creation of the Virginia Cannabis Control Authority (Item 479 #1s) as well as the expungement of criminal records as part of the Senate's legalization legislation. The Senate's budget also includes funds (Item 427 #1s) for training the Virginia State Police to detect, enforce, and train local police on techniques to detect driving under the influence of drugs, including marijuana.
Furthermore, the budget items reflect the different approaches being proposed by each chamber to end the prohibition on marijuana possession and retail sales. The House is clearly focused on expungement while the Senate is concerned both with expungement and public safety. The approaches also differ as to whether the new regulatory agency (discussed above) will be established using a line of credit from the Commonwealth or general funds.
To sum up: the Budget will play a significant role in determining important details of how the legislation takes shape in Conference particularly with regards to expungements, public safety training, and the establishment the independent regulatory agency called for by both bills.
VML Contact: Mitchell Smiley, msmiley@vml.org
The Week in Legislation
Bills reported out this week that have passed committees in both chambers
The bills of interest to localities listed below were reported out of committees this week and have now passed committees in both the House and the Senate.
HB1931 (Levine) Virginia Freedom of Information Act; electronic meetings. Authorizes a public body after adopting a written policy to conduct through electronic communication means a meeting for which, on or before the day of the meeting, a member of the public body holding the meeting notifies the chair that such member is unable to attend the meeting due to a family member's medical condition that requires the member to provide care for such family member, thereby preventing the member's physical attendance.  Participation in an electronic meeting by a member of a public body due to the inability to attend because of a personal matter is limited each calendar year to two such meetings, which is current law, or 25 percent of the meetings held that calendar year rounded up to the next whole number, whichever is greater.
HB1811 (Helmer) Virginia Public Procurement Act; preference for energy-efficient and water-efficient goods. Provides that in the course of procuring goods, if a public body receives two or more bids for products that are Energy Star certified, meet Federal Energy Management Program (FEMP) designated efficiency requirements, appear on FEMP's Low Standby Power Product List, or are WaterSense certified, such locality is encouraged to select among those bidders.
HB1849 (Simonds) Virginia Board of Workforce Development, Department of Labor and Industry, and Department of General Services; apprenticeship training programs; report. Directs the Virginia Board of Workforce Development (the Board), the Department of Labor and Industry (DOLI), and the Department of General Services (DGS) to review the availability of registered apprenticeship programs in the Commonwealth and evaluate the capacity to build a program that would require contractors engaged in construction contracts with public bodies to participate in apprenticeship training programs for each trade or classification of employees engaged in the construction contract. The bill also requires the Board, DOLI, and DGS to evaluate whether a requirement to limit public procurements to bidders with registered apprenticeship programs would assist the construction industry in meeting its workforce needs. The bill permits the Board, DOLI, and DGS to convene a stakeholder advisory group as part of its review. The bill requires the Board, DOLI, and DGS to complete its review and complete any advisory group meetings by September 1, 2021, and to submit to the Governor and the General Assembly an executive summary and a report of its findings and recommendations.
HB2031 (Aird) Facial recognition technology; authorization of use by local law-enforcement agencies and public institutions of higher education. Allows a locality or a public institution of higher education to authorize a local law-enforcement agency or campus police department to purchase or deploy facial recognition technology, which is defined in the bill. The bill prohibits a local law-enforcement agency or public institution of higher education currently using facial recognition technology from continuing to use such technology without such authorization after July 1, 2021.
HB2046 (Bourne) Virginia Fair Housing Law; unlawful discriminatory housing practices. Prohibits any locality, its employees, or its appointed commissions from discriminating (i) in the application of local land use ordinances or guidelines, or in the permitting of housing developments, on the basis of race, color, religion, national origin, sex, elderliness, familial status, source of funds, sexual orientation, gender identity, status as a veteran, or disability; (ii) in the permitting of housing developments because the housing development contains or is expected to contain affordable housing units occupied or intended for occupancy by families or individuals with incomes at or below 80 percent of the median income of the area where the housing development is located or is proposed to be located; or (iii) by prohibiting or imposing conditions upon the rental or sale of dwelling units, provided that the provisions of this subsection shall not be construed to prohibit ordinances related to short-term rentals.
HB2085 (Askew) Emergency Services and Disaster Law; local and interjurisdictional emergency operations plans. Requires local and interjurisdictional agencies to include provisions in their emergency operations plans to ensure that such plans are applied equitably and that the needs of minority and vulnerable communities are met during emergencies.
SB1469 (Barker) Establishing an Opioid Abatement Authority. Establishes the Opioid Abatement Authority. The Authority, with the assistance of the Office of the Attorney General, would administer the Opioid Abatement Fund, which would receive moneys from settlements, judgments, verdicts, and other court orders, or related agreements, concerning claims regarding the manufacturing, marketing, distribution, or sale of opioids that would be used to provide grants and loans to Virginia agencies and certain localities for the purpose of treating, preventing, and reducing opioid use disorder and the misuse of opioids in the Commonwealth.
SB1471 (Dunnavant) Alcoholic beverage control; local special events license. Allows the Board of Directors of the Virginia Alcoholic Beverage Control Authority to increase the frequency, duration, and designated area of events held under a local special events license upon the request of a locality after adoption of an ordinance allowing such increases. Under current law, localities are limited to holding 16 events per year under such license, with each event lasting no more than three consecutive days, except during the effective dates of any rule, regulation, or order that is issued by the Governor or State Health Commissioner to meet a public health emergency and that effectively reduces allowable restaurant seating capacity. The bill also increases the state and local license fees for local special events licenses issued pursuant to a local ordinance.
SB1275 (Marsden)* Workers' compensation; presumption of compensability for certain diseases. Provides that the occupational disease presumption for death caused by hypertension or heart disease will apply for salaried or volunteer emergency medical services personnel who (i) have at least five years of service (ii) are operating in a locality that has legally adopted a resolution declaring that it will provide one or more of such presumptions and (iii) meets any minimum hours worked requirements established in such resolution. The provisions of the bill do not apply to any individual who was diagnosed with hypertension or heart disease before July 1, 2021.
* This bill was referred to the House Committee on Appropriations. HB1818 (Heretick) the companion bill passed out of appropriations unanimously.
SB1334 (Edwards) Pilot program for broadband capacity; municipal broadband authorities. Expands the existing broadband pilot program to allow for the participation of municipalities and government-owned broadband authorities in order to provide broadband service to unserved areas of the Commonwealth.
SB1375 (Saslaw) Workers' compensation; presumption of compensability for COVID-19. Establishes a presumption that COVID-19 causing the death or disability of firefighters, emergency medical services personnel, law-enforcement officers, and correctional officers is an occupational disease compensable under the Workers' Compensation Act. The bill provides that the COVID-19 virus is established by a positive diagnostic test for COVID-19, an incubation period consistent with COVID-19, and signs and symptoms of COVID-19 that require medical treatment and only applies to a person who was diagnosed a person who was diagnosed with the COVID-19 virus and whose death or disability on or after March 12, 2020 and whose death or disability caused by infection from the COVID-19 virus was after March 12, 2020 and prior to December 31, 2021.
SB1413 (Boysko) Provision of broadband capacity by Phase I or Phase II electric utilities. Makes permanent the pilot program under which a Phase I or Phase II electric utility is permitted to petition the State Corporation Commission to provide broadband capacity to unserved areas of the Commonwealth. The bill expands the program to allow for the participation of municipalities and government-owned broadband authorities. The bill provides that investor-owned electric utilities may recover costs of and revenue generated from providing broadband capacity that serves as an electric grid transformation project in areas unserved by broadband, as defined in the bill. The bill also consolidates the State Corporation Commission petition approval process into one hearing.
SB1298 (Bell) Tourism improvement districts. Authorizes any locality to create a local tourism improvement district plan, consisting of fees charged to businesses and used to fund tourism promotion activities and capital improvements. Under the bill, the locality is authorized to contract with a nonprofit entity to administer the activities and improvements.
SB1309 (Ebbin) Local stormwater assistance; flood mitigation and protection. Authorizes grants from a local Stormwater Management Fund to be used for flood mitigation and protection measures that are part of a comprehensive flood mitigation and protection plan adopted by the locality, and requires such grants, where practicable, to prioritize projects that include nature-based practices. Current law allows such funds to be used only for the construction, improvement, or repair of a stormwater management facility or for erosion and sediment control.
VML Contact: Michelle Gowdy, mgowdy@vml.org
Health & Human Resources
House Health, Welfare & Institutions Committee moves bills forward
On Thursday, the House Committee on Health, Welfare & Institutions reported SB1307 (Dunnavant) which would direct the State Board of Medical Assistance Services to amend its state plan to provide for payment of qualifying medical services delivered to Medicaid-eligible students by school divisions whether or not the student has an individualized education plan (IEP). The services covered would include those covered under the state plan or by the Early and Periodic Screening, Diagnostic, and Treatment (EPSDT) program. Currently school divisions pay for such services. The legislation also includes a provision for payment of services provided through telemedicine services.
The Committee also reported and referred to House Appropriations a substitute for SB1302 (McPike), regarding the development and funding of a statewide crisis call center to be administered by the Virginia Department of Behavioral Health and Developmental Services (DBDHS) that was mandated by legislation passed during the 2020 Special Session. Under SB1302, this call center would be designated as the 9-8-8 crisis hotline center for purposes of participating in the National Suicide Prevention Lifeline.  DBHDS would be required to ensure that the crisis call center, community care teams, and mobile crisis teams comply with any applicable requirements of the National Suicide Hotline Designation Act of 2020.
The bill would increase the wireless E-911 surcharge (from $.75 to $.94) and increase the prepaid wireless E-911 charge (from $.50 to $.63) and deposit part of the additional amount charged to a separate account (the Crisis Call Center Fund) to fund the establishment and administration of the call center. The remaining increase would be distributed to PSAPs.
A potential wrinkle remains with the legislation in terms of Federal Communications Commission (FCC) rules regarding E-911 funding sources and use. The patron hopes to get guidance from the FCC to ensure there is no conflict in his bill that would jeopardize federal E-911 grant funds.
VML Contact: Janet Areson, jareson@vml.org
ABC notification bill reported
The Senate Rehabilitation and Social Services Committee reported HB2131 (Lopez) which would add the chief administrative officer of a locality to the list of persons who may be sent notice of certain license applications by the Board of the Virginia Alcoholic Beverage Control Authority. The bill would also expand the definition of criminal blight, for which the locality may require a property owner to take corrective action, to include a condition on the property that endangers public health or safety and is caused by (i) the regular presence on the property of persons in possession of controlled substances and (ii) the discharge of a firearm under certain conditions.
VML Contact: Janet Areson, jareson@vml.org
CSA oversight bill reported
Senate Rehabilitation and Social Services reported and referred to Senate Finance & Appropriations HB2212 (Plum) which would require the Office of Children's Services to (i) regularly monitor local performance measures and child and family outcomes; (ii) use audit, performance, and outcomes data to identify local programs that need technical assistance; and (iii) work with local programs that are consistently underperforming to develop a corrective action plan for submission to the Office and the State Executive Council for Children's Services. This bill includes recommendations from the Joint Legislative Audit and Review Commission (JLARC) report on CSA released in November 2020.
VML does not have a position on the bill; the Office of Children's Services already oversees and audits local programs and this bill, if funded through the budget, would give that office more resources to not only oversee local programs but potentially provide greater technical assistance to local programs.
VML Contact: Janet Areson, jareson@vml.org
Public Safety Committee reports body camera, emergency management bills
Today, the House Committee on Public Safety unanimously reported and referred to House Appropriations SB1119 (Reeves), which would create a special non-reverting fund to be known as the Body-Worn Camera System Fund to assist state or local law-enforcement agencies with the costs of purchasing, operating, and maintaining body-worn camera systems. The 2020 Special Session included budget language and funding for one-time grant funds for this purpose; this legislation would create a permanent fund which would need to be funded by the state.
The committee also reported today SB1296 (Spruill) which would require the Virginia Department of Emergency Management (VDEM) to establish a permanent Emergency Management Equity Working Group to ensure that emergency management programs and plans provide support to at-risk individuals and populations disproportionately affected by disasters (this may include people with disabilities or limited mobility, with limited English skills, without access to transportation, etc.).
This follows legislative efforts during the last few sessions to create greater outreach and inclusion for state and local emergency response efforts. The Virginia Department of Health, in cooperation with VDEM, currently operates an equity workgroup as a part of its COVID-19 response.
VML Contact: Janet Areson, jareson@vml.org
Resources & Opportunities
"VML Voice" podcast first episode now available
Have you heard? VML has its very own podcast called The VML Voice. Each episode will explore a different locality or issue, but the focus will always be on Virginia and the local governments that make the Commonwealth work for everyone.
You can check it out and subscribe to The VML Voice here >.
The first episode, "Petersburg: How to Save a City, Part 1", is now available.
Episode 1, Part 1 overview
In the fall of 2016, the City of Petersburg was on the precipice of a major financial crisis. Two weeks ahead of a million-dollar payroll, the City held only $75,000 in funds. Tax collections were below 60%, water utility rates were below competitive market rates, and the Treasurer's office was under scrutiny by the FBI. The city had a six-million-dollar deficit and a Standard and Poor's bond rating of BBB-.
By the summer of 2020, the city had increased its fund balance to $8 million and was operating at a $4 million per year positive cash flow. Davenport and Company, the city's financial advisor, called the turnaround "as great as any we have witnessed in 40 years."
How did it happen? The VML Voice talks to several of the local officials and staff who played a part. In Part 1, we talk about the dark days of the crises and the herculean effort needed to save the city. Part 2 (coming soon) will look at some recent good news for the city, hopes for the future, and its unique and flourishing real estate market.
VML Contact: Rob Bullington, rbullington@vml.org
"If I Were Mayor" Essay Contest for 7th graders deadline extended to March 1
Everybody gets busy, especially students. So, VML is giving Virginia's 7th graders a little more time to get their essays submitted for the chance to win up to $250, a plaque and recognition in our magazine.
Let your local middle school know about this great opportunity!
Every year, the Virginia Municipal League (VML) is pleased to award deserving 7th grade essayists across the Commonwealth with a cash prize, an official plaque, and recognition. If you know of a 7th grade class from a member locality that should participate, send this link to a teacher or principal:
2021 "If I Were Mayor" essay contest description and instructions here >
This year's theme is "What I've Learned" and we are asking students to tell us what has worked for them, and what hasn't, during a school year like no other.
Read the full description here >
Prizes and Recognition
Regional winners selected from around the state will each receive a $150 cash prize and plaque. One statewide winner chosen from the regional winners will receive a $250 cash prize and plaque. The runner-up from the region that receives the statewide award will become that region's winner.
Winning essays will be featured in the May issue of VML's magazine Virginia Town & City.
How to enter
All entries must be received by end of day on Monday, March 1st. There are 2 ways to submit your entry:
Fill out and submit our online form available here >
You can do this yourself or you can have your teacher or someone else help you. Copy and paste your essay into the "Essay" box in the form. After VML receives your entry, your teacher will get a confirmation email.
OR
Mail your essay with a filled-out paper entry form (see back of this flyer) attached to:
VML, Attn: 7th Grade Essay Contest
P.O. Box 12164
Richmond, VA 23241
Who is eligible?
Any 7th grade student living and/or attending school in a VML member locality (Full list available here).
VML Contact: Rob Bullington, rbullington@vml.org