eNews Feb. 7, 2020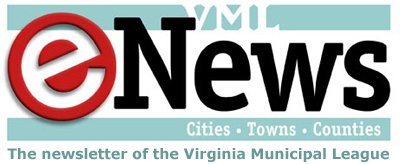 Friday, February 07, 2020 - 04:47pm
In this issue:
Local Government Legislative Day
It's time to make your voice heard on proposed budget amendments
One week from this coming Sunday, the House and Senate will present their amendments to the introduced budget for FY2021-2022 (HB/SB 30) and to the FY2020 (HB/SB29) budget.
This means that local officials need to register their support for budget amendments as soon as possible.  The Legislative Day Bulletin contains a list of all of the budget amendments sought by VML and its local partners. In talking with legislators, reference the item numbers of the proposed amendment(s) and reasons why the amendment is important to your community. The Legislative Day Bulletin has talking points for each of the amendments we worked to have introduced.
Senate and House directories are available here >.
VML Contact: Janet Areson, jareson@vml.org
Local Government Legislative Day
VML 2020 Local Government Legislative Day bulletin available
VML's policy team updated members on numerous legislative items they have been working on during the first 30 days of the 2020 General Assembly. These were divided into the following categories:
Budget
Finance
General Government
Transportation
Environment and Agriculture
Economic Development and Land Use
Education and Health & Human Resources
The full bulletin is available for download here >.
Please note – The status of legislation may have changed since the bulletin was created. You can use the links to each bill in the bulletin to find out its current status. See the "Legislative updates" [LINK] section below for up-to-date information on of several important bills.
Additionally, VML has created contact lists for all House and Senate members. Those documents, with active links to their email addresses are also available here >.
VML Contact: Rob Bullington, rbullington@vml.org
Governor Northam outlines how his proposals will help local government
VML President Tommy Smigiel introduces Governor
More than 400 local government leaders from across the Commonwealth gathered at the Omni Hotel in downtown Richmond on February 6th to learn about legislation and issues before the 2020 General Assembly. VML President and City of Norfolk Council Member Tommy Smigiel kicked off the event by noting that Local Government Legislative Day is "the day for all of us learn how the decisions being made by the General Assembly might affect us; and it's a day to make our voices heard."
The Honorable Governor Ralph Northam then took the stage to express his appreciation for local government leaders. Singling out Smigiel, Northam recalled that is was at an event in Norfolk many years prior – also attended by Smigiel – that he was first urged to run for Senate, thus launching the political career that led to his Governorship. "So, if you don't like anything that I'm proposing to the Assembly this year," he quipped, "you should talk to Tommy Smigiel about that!"
From there the Governor, proceeded to outline his vision for the 2020 legislation. He acknowledged that his idea to eliminate car inspections wasn't faring well ("it has a fever" he observed), but he expressed optimism for the overall transportation legislation proposed by his administration. He noted, however, that while transportation was a big issue for NOVA and the Tidewater regions, a bigger concern for rural areas in the Southwest and Eastern Shore was access to broadband internet. He discussed promising legislation to bring broadband access to those areas.
Governor Northam celebrated Virginia's recent #1 ranking among states to do business in but emphasized that if we want to stay #1 the most important thing will be to guarantee a ready supply of workers trained for 21st century skills…which means investing in education! He outlined his proposals for K-12 education and spoke of his wife's passion for early childhood education.
Before wrapping up, Governor Northam also spoke of his passion for increasing Virginia's renewable energy resources – especially wind and solar – as well as his support for equal taxing authority for counties and towns.
President Smigiel, in thanking the governor, noted that he had personally experienced Governor Northam's consideration for local leaders. "After I was elected to council, I got a call from then Senator Northam," he remembered. "We were in the same district and I thought it was to congratulate me, but instead it was to let me know his trash hadn't been picked up!"
Smigiel went on the describe how the next time the Senator called he left a message, again about his trash but "it wasn't a trash day for us, so I knew it was a joke." And the third time the Senator called? "It was to thank me for the work I was doing on council," recalled Smigiel. "As local leaders we don't get a lot of calls just to say, 'thank you,' and I really appreciated that."
VML Contact: Rob Bullington, rbullington@vml.org
Regimbal encourages local government leaders to get excited about the budget
In his address to the VML's Local Government Legislative Day attendees, Jim Regimbal of Fiscal Analytics pointed to several items that claimed should make local governments excited about the proposed 2020 budget. These included the surplus money set aside from previous years which has created a generous reserve for the Commonwealth. Additionally, conservative revenue forecasts mean that in all likelihood the 2020 General Assembly will have more money to allocate with less risk than in prior years. Regimbal cited these and other factors as cause for more optimism by local governments than he has seen during his 35 years of examining Virginia budgets.
The problem? Everyone wants some of the money! So, Regimbal advised local leaders to talk to their delegates to make sure that money was allocated for programs that would most benefit localities. These included:
Education funding; K-12 programs in particular
State employee salaries
Legislation benefitting 599 related items
Jail per diems (which Regimbal noted have remained unchanged for decades)
Mental health programs
SLAF and related funding
Broadband
Housing
It's not often that financial analysts use the word "exciting," but that's just the word Regimbal used in closing: "This is all exciting," he exhorted, "so get out there and make sure localities get what they need!"
VML Contact: Rob Bullington, rbullington@vml.org
Legislation updates
Support revenue from plastic bags bills going to localities!
Several bills were introduced this session to reduce the impact of plastic bags on landfills and state waters. The strategy for these bills continues to evolve.
In the House, HB1151 (Lopez) was reported out of the House Finance Committee on a 12-10 vote on Wednesday. The bill allows for localities to impose a tax on single-use plastic bags. The bill, however, would direct the revenue to go to the state. The local revenues would be allocated to the Virginia Water Quality Improvement Fund and the Virginia Natural Resources Commitment Fund.
HB534 (Carr) imposes a statewide $.05 fee on all single use plastic bags. Revenues are collected by the state and directed to the Water Quality Improvement Fund and the Litter Control and Recycling Fund. HB 534 was reported to the full house this week an passed by for the day earlier today.
Keep the revenue local!
We urge you to contact your delegates to support amending the bills so that local governments receive a portion of the tax revenue.
Key Points:
The decision to ban these materials or to impose a fee or tax is better suited for local elected officials who understand the needs of their communities, including environmental issues.
Any fee imposed by a locality should remain in that community and be dedicated to address local environmental challenges.  It is bad fiscal policy for one level of government (the state) to usurp another's revenues.
One Senate plastic bag bill remains
The Senate Finance and Appropriations Committee stumbled last week in coming up with a workable proposal. The remaining bill – SB11 (Ebbin) – remains in the Senate Finance and Appropriations Committee.
VML Contact: Michelle Gowdy, mgowdy@vml.org
Collective bargaining bills move forward
The House of Delegates is moving forward with legislation that would repeal the prohibition on collective bargaining by public employees while the Senate is considering a bill that would permit localities to adopt ordinances to allow their employees to bargain collectively.
In the House, HB582 (Guzman) repeals the existing prohibition on collective bargaining by public employees. The bill creates a "Public Employee Relations Board" that would determine bargaining units and provide for certifications and decertification elections for bargaining representatives of state and local government employees. HB 582 has passed the House.
In the Senate, SB 939 (Saslaw) gives the authority to local governments to adopt ordinances to allow collective bargaining by their employees. Employees in those localities would continue to be prohibited from striking. SB 939 has passed out of the Senate Finance and Appropriations Committee.
Reasons to oppose these bills
VML has a long-standing and very direct position on collective bargaining in our General Laws Policy Statement, which is debated and adopted each year at our annual business meeting. The statement is:
VML opposes:
Any attempt to impose collective bargaining or 'meet and confer' requirements for public employers or employees; and
any attempt by the federal government to stipulate grievance procedures for state and local employees, such as the police officers bill of rights. Please contact your member(s) of the Senate to urge the defeat of this bill.
Key Points:
Efforts to impose collective bargaining and public unionization will increase the cost of government and impose more bureaucracy in local government operations. This means that employee relations will be more adversarial.
Local governments are not like private businesses which do not have to disclose compensation decisions and whose board members are not available to employees regarding budgetary and compensation decisions – other than through unions.
Local governments, unlike private businesses, are accountable to taxpayers. Taxpayers can and do approach their local governing bodies about employee compensation – particularly teachers and public safety personnel.
Local governments are required by the Code of Virginia to have approved grievance procedures, to provide certain benefits and provide transparency in their governing processes and procedures.
The bills would require collective bargaining even if only 30 percent of employees had joined a union. This means that 30 percent of employees can force collective bargaining on the entire organization or component thereof.
The state board charged with administering the act would have only three members: One management representative, one union representative and one member of the public. There would be no guarantee that local governments would be represented on the board.
VML Contact: Michelle Gowdy, mgowdy@vml.org
DJJ facility mandate bill carried over
The Senate Finance & Appropriations Committee has carried over to 2021 SB1033  (Locke),  which would have imposed new requirements for the size and location of Department of Juvenile Justice facilities. Those requirements would have driven up operating costs for the agency, which would then potentially affect funding for the statewide network of community-based programs and contracts with local and regional juvenile detention facilities.
In carrying over the bill, it was stated that Committee staff (i.e., Public Safety & Capital Outlay) would examine the issues in the bill. VML provided input that led to the bill being carried over.
VML supports this action by the Committee.
VML Contact: Janet Areson, jareson@vml.org
Important actions by the Senate Rules Committee this week
Passed by indefinitely – SB188 (Peake) that would require that legislation with a negative local fiscal impact be filed no later than Dec. 15 immediately preceding the first day of a regular session of the General Assembly; any bills filed after that date with a negative fiscal impact could be ruled out of order by the House or Senate Rules Committee. Members of the committee said that this requirement would effectively push back the filing deadline for bills and was unworkable in that way.
Until a few years ago, a requirement existed that bills with a local government fiscal impact had to be filed by the first day of the General Assembly session. VML supported that very reasonable requirement and opposed its abolition.
Reported – SB996 (Edwards) that would give a Capitol Police officer who is the handler of a detector canine concurrent jurisdiction with law-enforcement officers of another jurisdiction that request assistance in the detection of firearms, ammunition, explosives, propellants, or incendiaries. A representative of the Capitol Police testified that they get requests from local governments to help with a search of schools or other facilities for potential explosives or weapons.
VML Contact: Janet Areson, jareson@vml.org
Rescue squad bill clears committee
SB1088 (Stuart) was reported out of Senate General Laws and Technology this week. This bill says that if an emergency medical services agency that is dissolving possesses property that was purchased using public funds, the property shall be offered to a city of county served by the emergency medical services agency to be used for life-saving purposes.
VML Contact: Michelle Gowdy, mgowdy@vml.org
Local option for monuments bill amended
HB1537 (McQuinn) provides that "a locality may remove, relocate, or alter any monument or memorial for war veterans located in its public space, regardless of when erected." Currently, localities are not permitted to take these actions. The bill was amended in the House Counties, Cities and Towns Committee this morning, but the substitute is not available yet.
The Senate version SB183 (Locke) passed out of committee earlier this week.
VML Contact: Michelle Gowdy, mgowdy@vml.org
Utility easements bills still in play
HB 831 (Carroll Foy) / SB 794  (Lewis) attempt to allow broadband in utility easements without just compensation.  While the bills have different provisions at this point the goal is the same and that is to expand broadband by using existing easements without just compensation.
HB 831 is out of committee and headed to the House floor. SB 794 has passed the Senate.
VML Contact: Michelle Gowdy, mgowdy@vml.org
Announcements
Wood elected to VML Executive Committee
Through a vote held by VML's Executive Committee on February 6, Derrick Wood, mayor of the Town of Dumfries, was selected to fill a vacant position on the committee. Mayor Wood will serve as an At-Large Member until October 2020 when the original term expires.
Change in census procedure threatens local counts
A change in the reporting of 2020 census data poses big problems for local governments, according to information recently released by the Weldon Cooper Center for Public Service. The U.S. Census Bureau will be using a mathematical procedure called "differential privacy" prior to the release of sub-state information (region, county, city, town).
According to the Census Bureau's current plan for the 2020 Census, an accurate headcount will only be available at the state level (in order to serve the fundamental purpose of congressional re-apportionment). The headcounts for counties, cities, and towns, as well as population characteristics, such as age, gender, race/ethnicity will be injected with data noise so that no individual information can be reconstructed. None of the sub-state numbers would be actual counts, but rather a proxy. The Cooper Center outlines these issues:
Redistricting data will be inaccurate, both in terms of the actual size of the voting age population in each census block and their racial characteristics. Majority-minority districts could lose their status, and the reverse could also come to pass.
Funding equity across localities will be severely impaired. While federal dollars to each state will be equitable because the state population will reflect the actual census count, money going to each community and program will not, as their population totals will be distorted. The targeted population of each funding program could artificially become smaller or larger, undermining program effectiveness and resources.
Many federal, state, and local statistics will produce inconsistent, unreasonable results, as they rely on the census count as a benchmark. Health, education, and criminal justice, for example, heavily rely on age-, gender-, race-specific census data to derive statistically sound rates that may be compared over time. The noise injection will make such rates incomprehensible and comparisons across geography and time meaningless.
Government services will be significantly impacted. Housing, transportation, emergency management, to name just a few, need accurate census data for planning, budgeting, and program delivery.
An example of the possible impact: An opinion piece written by Qian Cai, the director of demographics at the Cooper Center Demographics, points out that analysis found that the total number of girls ages 15-19 in the city of Emporia was decreased from the actual 185 to only 30. Applying this number to the teen pregnancy rate for Emporia increased the rate from 10 percent to 66 percent.
The Weldon Cooper Center has conveyed its concerns to Governor Northam and is planning an information session on the topic to be held in Richmond sometime in March.
Questions can be directed to Qian Cai, qian.cai@virginia.edu or Meredith Gunter; meredith.gunter@virginia.edu at the Weldon Cooper Center.
A reminder from DHR regarding state vs. local historical markers
The Virginia Department of Historic Resources (DHR) manages the state historical marker program, which began in 1927 and today consists of more than 2,600 of the iconic silver-and-black signs with the COV seal in a triangle on the top of the marker.
State code authorizes DHR's governor-appointed Virginia Board of Historic Resources (VBHR) to designate new historical markers, which DHR staff propose on behalf of marker sponsors during the VBHR's quarterly meetings.
Increasingly, many localities are establishing a local historical marker program, which DHR encourages since not all marker topics proposed to the VBHR meet the program's requirement that a topic be of regional or statewide significance.
However, while DHR is supportive of local marker programs, it is important that the local authority designating such a program be aware of state laws that require VBHR approval of any local marker programs, or of any individual historical markers erected by the governing body of a locality.
The sections of the Code of Virginia guiding these actions are § 10.1-2209 and § 10.1-2210.
The intent of these laws regarding local marker programs is to clearly distinguish between a state and local program and thereby protect the integrity of the state program, while supporting and encouraging local historical marker programs.
DHR requests that localities that have created local marker programs or those that are considering initiating such a program, please contact DHR's James Hare, director of DHR's Survey and Register Division, so that arrangements can be made to ensure that localities are in accordance with state law.
You can reach James Hare at (804) 482-6445 or jim.hare@dhr.virginia.gov.