eNews Feb 5 2016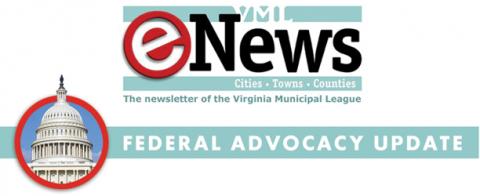 Friday, February 05, 2016 - 09:45am
Bills threaten to limit use of proffers
Bills that would limit the use of proffers are making their way through the legislature.  HB770 (Gilbert) is on the floor of the House and could come up for a final vote as early as Friday.  An amended version of SB549 (Obenshain) was reported from committee on Feb. 2nd.
VML has met with the Homebuilders on several occasions in an effort to maintain the current proffer system.  During our discussions, we have been able accomplish the following amendments to the original proposed bills:
Parks can be included as an offsite proffer (under the original bill, builders could not offer a park as an offsite improvement).
The phrase "Specifically and Uniquely Attributable" has been changed to "Directly Attributable" which allows for more flexibility.
Historic, economic development/revitalization, noise attenuation and flood zones have been added as allowable conditions under the architectural standard portion of the bill.
Language has been added to clarify that the bill is prospective only.
The original bill said attorney fees would be assessed; the amended version says they may be assessed.
VML will continue to work with the Homebuilders on other aspects of the bills.  Please refer any questions to VML General Counsel Michelle Gowdy at mgowdy@vml.org.
VML contact: Michelle Gowdy, mgowdy@vml.org
Legislature seeks audio recordings and minutes for all closed meetings
Action Needed: OPPOSE HB800 on audio recordings and minutes of closed meetings
Who to contact: your local delegates
HB800 (Morris) – Virginia Freedom of Information Act; audio recording of closed meetings required.  This bill was amended at the General Laws Subcommittee last week to add a provision that minutes also have to be kept.  Several parties opposed the bill arguing that it would have a chilling effect on discussions in closed session and may result in litigation to review such records, but the bill was passed unanimously. The bill will be heard Tuesday in the full General Laws Committee. Please contact your local legislators on this matter.
Good DSS bill needs local help on the Senate floor
Local governments will need to weigh in with their senators to get Senate approval of SB 417 (Vogel), a bill to allow local social services workers to continue to file administrative paperwork (e.g., foster care reviews, permanency planning) with the juvenile and domestic relations courts.
VML supports SB 417, which was introduced to put into the Code of Virginia language to allow local social services staff to file certain petitions with the courts.  This had been a regular practice with a number of local social services offices until a complaint was filed with the State Bar last summer.  It turns out that while the Code allows certain state DSS employees (i.e., child support enforcement) to file petitions, there was no language authorizing local workers to file petitions.  Since we are a Dillon Rule state, the General Assembly needs to provide this authority to local social services offices.
The bill squeaked out of Senate Rehabilitation and Social Services Committee this morning, and is headed to the Senate floor, where it is likely the opponents will try to get it killed.  In comparison, a similar bill, HB 589 (Campbell) flew out of both the House Courts of Justice Committee and the full House.
Talking points:
This is permissive legislation – it does not require local governments that currently use a contract attorney or city/county attorney office to perform this administrative function to stop performing this role.
This gives local social services staff the same permission already granted to state social services staff to file certain petitions.
These petitions are Supreme Court-approved routine forms with boxes that social workers check off and file with the court offices to start the process going – after the court reviews the petitions, the attorneys then take over working on the cases with the court.
This helps local social services offices, particularly those in localities with contract attorneys, who would have to get (and pay) those attorneys to go to the court offices to file administrative papers (we have been told that the Courts generally do not allow such papers to be faxed in).
If this permission is not granted by the General Assembly, a large number of routine administrative matters with the courts will become more costly for the localities and drawn out for the affected parties and social services offices.  State DSS estimates it would affect about 16,000 petitions annually.
What you can do:
If your local social services office files petitions with the J&DR court, please call or write your senator to ask them to support SB 714 on the Senate floor.
VML contact:  Janet Areson, jareson@vml.org
House BPOL bills bottled up for the year
House Finance Subcommittee #3 tabled a bill (HB 217) last Friday to freeze BPOL and machinery and tools tax rates as of January 1, 2016.  The measure would have forced an even greater reliance on real property and personal property taxes.
In the Senate, the Finance Committee last week passed by SB 218, a bill to exclude wages, salaries, and other benefits paid by a staffing firm to an independent contractor who receives a Form W-2 or Form 1099 and is working for the use of the staffing firm's clients pursuant to a professional employer organization services or temporary help services contract from the gross receipts of the staffing firm for the purposes of the Business, Professional, and Occupational License ("BPOL") Tax.  An identical bill (HB 545) was carried over until next year by a House Finance Subcommittee earlier this week.
With the demise of these three bills, local business taxes are probably safe until next year's session.  There is however one last bill that could affect local taxes.  HB 214 would create a joint subcommittee to perform a one-year study on reforming state and local taxes. The bill does not require local government members to serve on the subcommittee.  This bill, which is in a House Rules subcommittee, is not expected to be reported.
House panel pushes GO Virginia initiative
Having expressed on Monday an unease over the state's apparently voracious appetite for state spending on business incentives, the House Appropriations Committee on Wednesday enthusiastically endorsed two bills (HB 834 and HB 846) for a new initiative to foster economic growth through greater cooperation among local governments, higher education and business.  Next stop for the measures is House floor.
HB 834 establishes the Virginia Growth and Opportunity Board and the Virginia Growth and Opportunity Fund for regional economic and workforce development projects. The bill provides that regional councils, to be certified by the Board, will be established across the Commonwealth consisting of representatives of government and the business and education communities. Such regional councils can apply for grants that are collaborative projects in their region enhancing private-sector growth, competitiveness, and workforce development.   A portion of the grant funds may be used to support initial organizational efforts of each regional council such as capacity building. In addition, a portion will be awarded on a population basis and a portion on a competitive basis.
Gov. McAuliffe's budget bill includes $5.5 million in FY 2017 and $20.0 million in FY 2018 for the Virginia Growth and Opportunity Fund.   Budget language specifies that of the amounts provided, (i) $5.5 million the first year and $5.5 million the second year will be used to support organizational and capacity building activities of the regional councils, (ii) $6.2 million the second year will be allocated to qualifying regions on a population basis, and (iii) $8.3 million the second year will be awarded to regional councils on a competitive basis.
SB 449 is the companion bill to HB 834, and is awaiting action in the Senate Finance Committee.
HB 846 creates the Virginia Collaborative Economic Development Performance Grant Fund. Two or more localities that collaborate and adopt a collaborative economic development plan will be eligible for grants from the fund over a period of six years if the collaboration results in the location or expansion of a company in Virginia that (i) creates at least 200 new jobs with average salaries at least 25 percent higher than the average wage and (ii) makes a capital investment of at least $25 million. The total amount of the grant applied for would not exceed the total investment of the localities in executing the collaborative economic development plan, and each annual installment of the grant may not exceed 50 percent of the total annual amount of personal income tax withheld by the certified company from the newly created jobs. Of each annual installment of the grant, 100 percent will be distributed to the participating localities in accordance with the terms of the collaborative economic development plan.
If the bill is enacted it would mark the first time that localities directly share in the income taxes resulting from an economic development project.
The Senate companion measure – SB 459 – is in the Senate Finance Committee.
House subcommittee kills redistricting reform bills
Five bills addressing various aspects of redistricting reform were put in a block and tabled this week at a meeting of the Elections Subcommittee of the House Privileges & Elections Committee.
VML testified in support of the bills and in support of redistricting reform. Some of the bills included respect for political boundaries (such as cities, towns, counties, precincts) as a criteria for the General Assembly to follow in redistricting. Other groups testifying in support included OneVirginia2021, the chambers of commerce in Richmond and Northern Virginia, the League of Women Voters, the Virginia Education Association and others.  No one spoke in opposition to HB 26 (Sullivan), HB 247 (Ward), HB 303 (Rasoul), HB 553 (Minchew) and HB 555 (Landes).
Del. Mark Cole said that the bills were "premature" since the General Assembly would not undertake redistricting until after 2021. He moved to table the bills in a block, and the motion was approved by voice vote.  While the subcommittee vote was not recorded, and the votes were somewhat inaudible, it appeared that Dels. Ransone, Cole, Fowler and Adams voted to table, while Dels. Sickles, Landes and Torian voted against tabling.
The Senate has passed three bills, but will face an uphill battle in the House.
VML contact: Mary Jo Fields, mfields@vml.org
Party payment for primaries tabled
Legislation that would have required political parties to reimburse localities for the cost of conducting primary elections was tabled Feb. 4 in a House Privileges and Elections subcommittee.  Del. Lee Ware said he submitted HB 13 because it was not fair that cities and counties have to bear the cost of holding the elections.  VML testified in support of the bill.
VML contact: Mary Jo Fields, mfields@vml.org
One party ID bill tabled in House
A bill requiring that candidates for local governing bodies who are nominated by a party be identified on the ballot with a party label was tabled Feb. 4 in a House Privileges and Elections Subcommittee meeting.  It appeared that only one member, Del. Mark Cole, voted against tabling HB 375 (Pogge).  Subcommittee votes are not always recorded, and it can be difficult to hear the votes, but it appeared that Delegates Rush, Miyares, O'Bannon, O'Quinn, Rasoul and Murphy voted to table.  VML testified against the bill, and appreciates the votes to table.
The patron of the other party ID bill in the House did not come to the subcommittee. The subcommittee is meeting Monday, Feb. 8.  Hopefully HB 258 (LaRock) will meet the same fate as HB 375.
On the Senate side, SB 767 (Suetterlein) will be on the Senate floor for second reading on Feb. 5, and should be open for debate and final vote on Monday, Feb. 8.  Four years ago, similar legislation died on the Senate floor, but that is no indication of the outcome of the bill this year.  Local officials who wish to keep their elections on a non-partisan basis are urged to get in touch with their Senators to express their opposition.
VML contact: Mary Jo Fields, mfields@vml.org
Policy to support installation of bike lanes in urban areas advances
A measure to provide urban localities transportation dollars for bike lanes, SB 669 (Alexander), passed unanimously in committee and is now headed to the Senate floor.
Under current law, when a city or town converts existing pavement into a bike lane, they lose money. This is because annual maintenance payments to localities that own their roads is calculated by "moving-lane-miles" for cars, not people. So when a city converts a travel lane to a bike lane the state maintenance dollars are reduced. SB 669 removes this financial disincentive by declaring that bike lanes qualify for annual maintenance funds provided that no more than 50 moving-lane-miles (or three percent, whichever is less) of the locality's total number of moving-lane-miles are converted.
VML supports securing mainstream transportation funds for non-motorized improvements and policy changes that result in construction of complete streets and improved bicycle and pedestrian infrastructure within the existing right of way.
Staff Contact: Joe Lerch, jlerch@vml.org
Expansion of tax credits for pre-K defeated
Legislation to allow the educational improvement scholarships tax credit program to be expanded to include non-public preschool programs was defeated in House Finance Committee on Feb. 1.  HB 1019 (Massie) failed to report on a 10-yes, 12-no vote. VML took no position on the bill but has concerns about this tax credit program in general, as the tax credits result in fewer dollars going to the state general fund, which supports core state services.
VML contact: Mary Jo Fields, mfields@vml.org;  Neal Menkes, nmenkes@vml.org
Sanctuary bills on the floor
At least four bills that would forbid and punish so-called "sanctuary" localities have been reported from committee and are on the House and Senate floor.  At least one would make a "sanctuary" locality liable for any personal or property damage caused by an illegal alien within their boundaries (like crashing an airplane into a building), even if that person wasn't actually living in that locality.
Sanctuary localities are communities that approve ordinances or policies to restrict or otherwise do not support the full federal enforcement of immigration laws within their boundaries.  While there are no such localities in Virginia, some groups, like the Virginia Association of Chiefs of Police, believe the bills could still cause problems, such as reporting of crimes.
These are the bills currently on the floor:
SB 270 (Garrett)
SB 705 (Black)
HB 1039 (Pogge)
HB 481 (Marshall)
What you can do:
Tell your House and Senate member that we do not have so-called sanctuary localities in Virginia but the language is so broad that they could cause problems for any locality.  For example, who determines whether or not a locality is fully supporting federal immigration enforcement?  Does abiding by federal laws that forbid asking about a person's legal status (i.e., public school enrollment) put localities at risk?
VML contact:  Michelle Gowdy (mgowdy@vml.org); Kimberly Pollard (kpollard@vml.org)
Health insurance credit increase defeated
A bill that would have increased the health insurance credit for state-supported local employees was passed by indefinitely in Senate Finance Committee on Feb. 2.  SB 5 (Stanley) would have cost the 100+ political subdivisions that have elected to provide a health insurance credit for their employees more than $6.1 million in FY17. VML testified against the bill due to the fiscal impact.
VML contact: Mary Jo Fields, mfields@vml.org
Requirement to post check register defeated
Legislation that would have required localities to post their check registers according to a particular format was passed by indefinitely in Senate General Laws on Feb. 1.  Some localities reported that their current software programs would not accommodate the requirements included in SB 500 (Sturdevant). VML had expressed concerns to the patron about the difficulties localities would have in implementing this bill.
VML contact: Michelle Gowdy, mgowdy@vml.org
Charter school constitutional amendments on House, Senate floor
Constitutional amendments to allow the state Board of Education to authorize the start-up of charter schools are on the floors of the House and Senate, and slated to be up for final vote on Monday, Feb. 8.  In the House, the legislation is HJR 1 (Bell, Robert) and HB 3.  In the Senate, the legislation is SJR 6 SJR 93 and SB 588 (Suetterlein and Obenshain).
VML does not have a position on the amendments.
VML contact: Mary Jo Fields, mfields@vml.org
Watch List
A quick snapshot of other bills introduced this week that could affect local governments. VML staff contact: Kimberly Pollard, kpollard@vml.org
Public Safety
Summary: HB 853 (Cline) would have repealed photo red technology for all localities in Virginia.
Action: The bill failed to report from Militia and Police committee on a vote of 12-9.
Studies – Schools
Summary: HJ 50 (Webert) requests the Department of Education determine, for each of the 95 localities that have adopted ordinances, to provide for the use value assessment and taxation of certain real estate and recalculate the Composite Index of Local Ability to Pay for each locality.
Action: The resolution was reported from a House Rules subcommittee 3-1.
Staff contact: Kimberly Pollard, kpollard@vml.org