eNews Feb. 28, 2020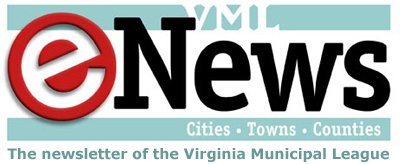 Friday, February 28, 2020 - 05:52pm
In this issue:
Public Health
Where should Virginia localities turn for Coronavirus information?
The Virginia Department of Health (VDH) is tracking the outbreak of Coronavirus (COVID-19) and has posted Virginia-specific information on its website (no confirmed cases in Virginia as of this writing) as well as links to the U.S. Centers for Disease Control (CDC). The CDC offers helpful basic informational items for the general public.
VDH held a conference call earlier today with a wide array of public and private stakeholders to provide background on the virus and how and where it is spreading. For local government leaders, it was made clear that their best sources for the most up-to-date information are their local health directors and emergency managers.
VML Contact: Janet Areson, jareson@vml.org
Elections
Redistricting update: It still hasn't happened
Raising the hopes of redistricting reform supporters, the House Committee on Privileges and Elections made a last-minute addition of SJ18 (Barker), the Senate's redistricting amendment, to the agenda for its Friday meeting. However, as the meeting began, Chairman Lindsey explained that the Committee would take no action on the amendment but would simply discuss its merits with the patron. Upon request from the Governor, the Committee instead postponed the final vote until a special Monday morning meeting, allowing the Administration to work with House and Senate leadership on a way to move toward a final product.
VML continues to support redistricting reform and the SJ306 amendment, which passed both the House and Senate during the 2019 session.
SJ306 is in keeping with VML's General Government Policy Statement, which includes this position on redistricting:
VML recognizes that while redistricting is a political process, the process should be conducted with the end goals of ensuring a strong and responsive representative form of government that enables citizens with communities of like interest to influence election outcomes through participation in the political process.
VML supports redistricting reform, including the use of a non-partisan independent commission to draw state legislative and Congressional lines based on specified and consistent criteria, including insofar as possible preservation of the integrity of existing city, town, county and precinct lines.
VML Contact: Jessica Ackerman, jackerman@vml.org
Legislative updates
2020 legislative session groans towards the finish line
With just eight days remaining before the General Assembly is scheduled to adjourn sine die, a daunting workload weighs heavily on legislators.
Friday morning's legislative "scorecard" promises another incredibly busy week ahead, and that's without taking into consideration the possibility of a protracted conference on the state budget bill.
Here are the numbers.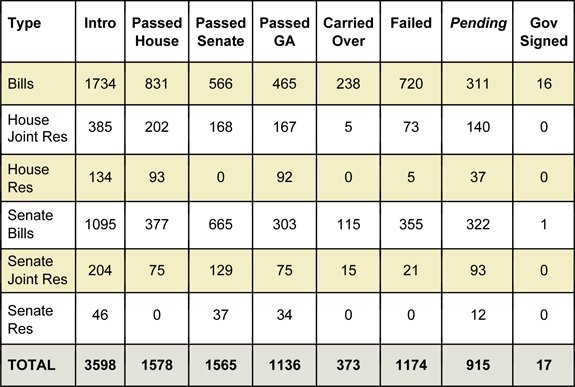 Budget conferees named; conference set to begin
This week, the Speaker of the House and the chair of the Senate Finance and Appropriations Committee selected their respective budget conferees. Staff from the two money committees will begin to brief the House and Senate conferees on the multiple issues that need to be resolved. Conferees will also have to decide if or how the economic impact resulting from the coronavirus should be accommodated. If Wall Street's reaction to the virus is an indicator, then the spending recommended in the budget conference report could be markedly less than the amounts recommended by both the House and Senate money committees on Sunday, February 16.
Those interested in the executive branch's reaction to the upcoming budget conference should read Governor Northam's Letter to General Assembly Budget Conferees.
Surviving VML budget amendments need your support!
During the first week of the legislative session, VML prepared and persuaded legislators to introduce nine budget amendments to Gov. Northam's budget proposals. These amendments included both policy language and spending on items affecting broadband deployment, state actions to claim proceeds from the Communications Sales and Use Tax, jail per diems, K-12, local vehicle registration authority, and urban road maintenance payments.
Unfortunately, most of these amendments were not accepted in either the House or Senate budget packages. However, a few were adopted, and VML urges members to contact their delegations and the budget conferees to support them.
These include:
The struggle continues
VML is working with other organizations to persuade budget conferees to adopt positions to reduce the unfunded liability in the Teacher Retirement Fund and increase state support for the Stormwater Local Assistance Fund and public libraries. To that end, VML will provide on Monday a detailed review of the House and Senate budget packages and speaking points on critical issues. Stay tuned.
VML Contact: Neal Menkes, nmenkes@vml.org
Local governments notch a win: Water and sewer service charge bill carried over!
Thank you for your help
In a surprise move on Thursday by the House General Laws Committee, SB826 (McDougle) was carried over to 2021 without being listed on the docket for the day nor with the patron in attendance.
This is the bill that would've taken away the authority of local governments to collect delinquent water and sewer charges above $300 from a property owner if a tenant is delinquent and reasonable collection efforts have been made. Prior to being carried over, the bill had been amended to only include residential properties.
VML Contact: Michelle Gowdy, mgowdy@vml.org
Surovell refuses to abandon his shopping cart (bill) and meets with success
Senator Surovell has had a mini-shopping cart in his office this year to raise awareness of his bill SB631 which would allow localities to adopt an ordinance to make it unlawful to leave or abandon a shopping cart on property that is outside the premises of such shopping cart.
The goal of Senator Surovell's mini-shopping cart (which was not abandoned, just on display) was to finally get the legislation passed…and it did! But it only applies to Planning District 8.
Under the passed bill, a notice of the violation must be sent to the shopping cart's owner prior to assessing the cost of the removal of the shopping cart.  There is also a civil penalty of up to $500 for a person who violates the ordinance.
VML Contact: Michelle Gowdy, mgowdy@vml.org
Good FOIA bill meets an unfortunate fate
HB321 (Levine) died in Senate General Laws and Technology last night and was referred to the Virginia Freedom of Information Advisory Council to be studied.
This bill would have allowed a member of a pubic body to participate in a meeting electronically if they were unable to attend a public meeting due to a serious medical condition of an immediate family member. It also changed the number of meetings that this option could be exercised from two meetings per calendar year to two meetings or 10 percent of the meetings, whichever is greater.
VML Contact: Michelle Gowdy, mgowdy@vml.org
Bills reported out by the Senate General Laws and Technology Committee
Virginia Public Procurement Act. HB1078 (Hope) deals with contracts for architectural or professional engineering services and allows the public body to include a proposer's employment of persons with disabilities to perform the specifications of the contract as a factor in evaluating a proposal.
Health insurance program for local government employees; transit companies. HB1106 (Hudson) adds employees of a transit company (a public service corporation wholly owned by a locality, or combination of localities that provides public transportation services) to the definition of employees of local government for the purposes of the Commonwealth's health insurance program for local government employees.
VML Contact: Michelle Gowdy, mgowdy@vml.org
Architectural and engineering term contracts bill reported
The House General Laws Committee reported SB368 (Bell), a procurement bill that decreases the population threshold from 78,000 to 50,000 for a locality to qualify for the exceptions from the $150K single-project fee limit for architectural and professional engineering term contracts and the $750K annual aggregate total limit for all such projects.
VML Contact: Michelle Gowdy, mgowdy@vml.org
Actions taken by the House Counties, Cities and Towns Committee this morning
Monuments. SB183 (Locke) was conformed to HB1537 (McQuinn) which will be heard in the Senate Local Government Committee on Monday. Both bills allow localities to remove, relocate, contextualize, cover or alter any monument of memorial in the locality's public property. It is fully expected that these bills will go to conference where the two main issues to be decided will be: 1) whether the Virginia Department of Historic Resources is involved in the process, and 2) whether a two-thirds vote of the public body is required as part of the process. Simply put, the Senate bill has more "hoops" for a locality to jump through than the House version.
Affordable housing. SB834 (McClellan) is the Senate companion to HB1101 (Carr) which allows a locality to adopt an affordable housing ordinance and use the provisions in the bills. The bills allow zoning ordinances to provide flexibility in density, waivers of parking and fees, a local housing fund and other items to incentivize affordable housing.
VML Contact: Michelle Gowdy, mgowdy@vml.org
Senate Education & Health Committee reports amended water testing bill
The Senate Education and Health Committee reported a substitute version of HB1257 (Rasoul) regarding potential new and complex water testing requirements. The bill's new provisions include a delayed enactment of Jan 1, 2022, with a report on the status of research related to maximum contaminant levels for perfluorooctanoic acid and perfluorooctane sulfonate and other perfluoroalkyl and polyfluoroalkyl substances to be submitted to the chairs of Senate Education and Health and House Health, Welfare and Institutions by Nov. 1, 2020. A final report to those committees is due by Oct. 1, 2021.
VML Contact: Janet Areson, jareson@vml.org
Charter bills reported out this week
City of Norfolk, Town of Bluefield, Town of Brodnax, Town of Scottsville, City of Charlottesville, Town of Blacksburg, City of Richmond, Town of Middleburg, Town of Elkton, Town of Dayton, City of Virginia Beach, City of Hopewell, Town of Blackstone, and the Town of Abingdon.
VML Contact: Michelle Gowdy, mgowdy@vml.org
Transportation
Transportation omni-bus legislation in conference
The House and Senate have appointed members to a conference committee to iron out the significant differences between Speaker Filler-Corn's HB1414 and Senator Saslaw's SB890 which passed their respective chambers. The Senate version provides greater funding levels for Rail and Transit while the House version provides greater funding levels for Maintenance operations. The House version also includes numerous safety ordinances that are not reflected in the Senate version.
On Monday, we will publish a full summary of the differences between the two bills along with items for which you may want to voice support or opposition to the conferees.
VML Contact: Mitchell Smiley, msmiley@vml.org
More time to pass eScooter ordinances is in the works
HB465 (Del. Keam) provides localities more time to develop ordinances regarding electric scooters than allowed under current law. The emergency legislation, which takes effect as soon as the Governor signs it, extends the date by which localities can enact ordinances regulating electric scooter from Jan. 1, 2020 to Oct. 1, 2020.
This legislation should reach the Senate Floor early next week.
VML Contact: Mitchell Smiley, msmiley@vml.org
Pedestrian safety legislation advances unanimously
HB1705 (Del. Korey) requires that drivers must stop when yielding to pedestrians in crosswalks and other pedestrian crossings. This legislation clarifies existing law which only requires that drivers yield to pedestrians. Data collected by the State has shown that pedestrian deaths have been increasing in recent years.
This legislation is heading to the Senate floor early next week having advanced from the Transportation Committee of each chamber.
VML Contact: Mitchell Smiley, msmiley@vml.org
Traffic incident management vehicle legislation fails
HB983 (Del. Delaney) would have authorized traffic incident management vehicles to be equipped with flashing warning lights and to be exempt from certain traffic regulations at, or en route to, the scene of a traffic accident.
After hearing concerns raised by local public safety organizations about allowing more types of vehicles to use sirens and lights on the roads of the Commonwealth, this bill met the same fate as other Traffic Incident Management legislation introduced in the Senate.
HB983 died in Senate Transportation Committee Thursday evening.
VML Contact: Mitchell Smiley, msmiley@vml.org