eNews Feb. 25, 2020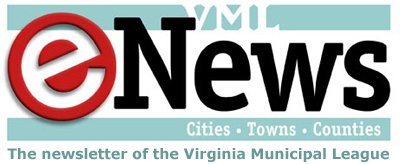 Tuesday, February 25, 2020 - 04:54pm
In this issue:
Action Alerts
Preclearance legislation passes Senate Privileges and Elections Committee
Action now shifts to the Finance and Appropriations Committee; call to oppose!
Today, the Senate Committee on Privileges and Elections passed HB761 (VanValkenburg) with a delayed enactment of Jan. 1, 2022.
HB761 would effectively reinstate aspects of Section 5 of the U.S. Voting Rights Act of 1965, which had required certain localities and states to preclear changes to district boundaries, election timing, polling places, etc. with the U.S. Department of Justice. All state and local elections in Virginia had been subject to Section 5 before it was deemed unconstitutional in 2013; however, HB761 would only apply to localities with at least two minority populations that each make up 20 percent or more of the constituency. Under the bill, the state Attorney General in consultation with the Department of Elections would determine which localities met the criteria in the bill.
Concerns
An unintended consequence of the preclearance requirement includes (but is not limited to) that it could prevent localities from being able to implement legitimate changes to items like polling locations that would otherwise have improved overall accessibility to voting.
Action requested
VML strongly encourages members to contact senators who serve on the Senate Finance and Appropriations Committee to oppose this bill:
Howell (Chair) | Saslaw | Norment | Hanger | Lucas | Newman | Ruff | Vogel | Barker | Edwards | Deeds | Locke | Petersen | Marsden | Ebbin | McClellan
Key points
Not only would HB761 add to the costs and time required for localities to make even minor election changes, but the proposed timing requirements could pose serious unintended consequences for local elections.

Whereas Section 5 of the Voting Rights Act applied to both state and local elections in Virginia, HB761 applies a different set of standards to localities than to the state.

HB761 imposes more stringent standards than did the federal government, without the possibility of localities being able to apply for waivers based on the demonstration of fair election practices that had been in place under Section 5.
VML Contact: Jessica Ackerman, jackerman@vml.org
City managers and/or clerks: Please complete our city council member salary survey
Bill to remove city council salary caps defeated (for now)
HB1108 (Hudson) would have removed the cap on the salaries of City Council members. The bill met with some heat Monday in the Senate Local Government Committee where it was defeated 7-Y to 7-N. However, Chairman Lewis made a point to indicate that they would meet next Monday and that the bill was still in the committee.
VML is working with stakeholders to develop reasonable alternatives (i.e. raising the caps) should they be needed.
We have created a survey to gather information on how much Virginia cities pay in annual salary to their council members and whether the salary is by ordinance or charter.
The link to this survey was sent to city managers and/or clerks yesterday afternoon.
The information your locality provides in the survey will assist greatly in our efforts.
Survey Contact: Rob Bullington, rbullington@vml.org
Legislation Contact: Michelle Gowdy, mgowdy@vml.org
Utility easement bills in violation of state constitution need your attention
Please contact your legislators and the Governor to request amendments
In their current form, SB794 (Lewis) / HB831 (Carroll Foy) violate the state Constitution by allowing broadband and communications companies to access occupied communications and electric facilities without notice or compensation to the landowner.
Two news outlets now report that the Office of the Attorney General has told the patrons that the bill will most likely be unconstitutional. The Senate bill was voted out of the House earlier today.
Action
Amendments to request of legislators and the Governor include:
Notice to the landowner
Just compensation
Contact information:
VML fully supports the expansion of Broadband when it is constitutional.
VML Contact: Michelle Gowdy, mgowdy@vml.org
Support the substitute to the local government meetings bill
Please let senators know we support the wonderful substitute to SB941 (Locke), which allows any local government board, commission or authority to adopt a resolution which fixes the day to which a regular meeting may be continued if weather or hazardous conditions dictate moving the day of the regular meeting.
This bill goes on to state that all hearing and other matters previously advertised will be conducted at the continuing meeting without additional advertising. Yeah!
VML Contact: Michelle Gowdy, mgowdy@vml.org
Transportation
Can humans co-exist with these mobile "Terminators"?
SB758 (a.k.a. "the robot bill") delivers 500 lbs. of unfunded state mandates superseding local control over sidewalks.
As outlined in SB758 (Marsden), delivery robots traveling at 10 mph would be permitted on Virginia's sidewalks and roadways (under 25 mph where no sidewalk is available), could weigh up to 500 lbs.* (without packages), and would not be required to avoid pedestrians, baby strollers or children riding bicycles. It is important to note, that these provisions make this law unique nationally by not requiring that these devices yield to pedestrians.
*Fun fact: As previously reported in eNews, hammerhead sharks also weigh in at 500 lbs.!
Is this the price of progress? 500 lbs. of mobile metal zooming down your sidewalk!
Will the state pay for any damages to local sidewalks or will this be another cost for locals to bear?
The Senate unanimously passed SB758 and it has also passed the House overwhelmingly.
(Check out this light-hearted promotional video produced by a leading package delivery company. In it, we see a robot resembling a behemoth-sized toaster on wheels make its way through a small town to a perfectly manicured suburban neighborhood. It avoids a sprinkler, goes up and down some porch steps, traverses a steep hill and avoids the same sprinkler on its way out of the neighborhood – just like a person! Which begs the question: What advantages do citizens get from delivery robots that they don't get from delivery people?).
Now, time for some SB758-inspired memes!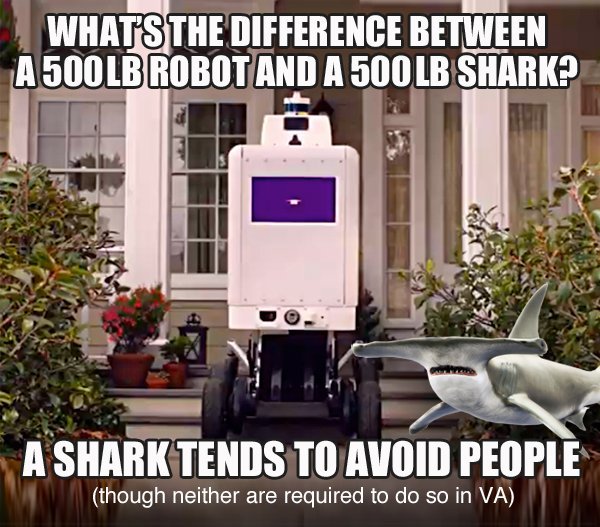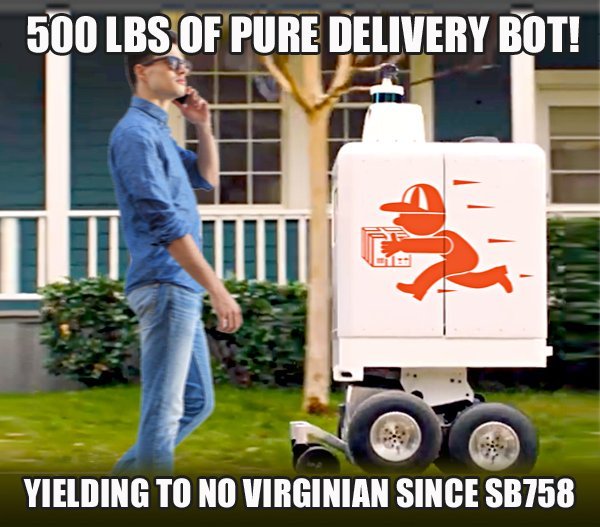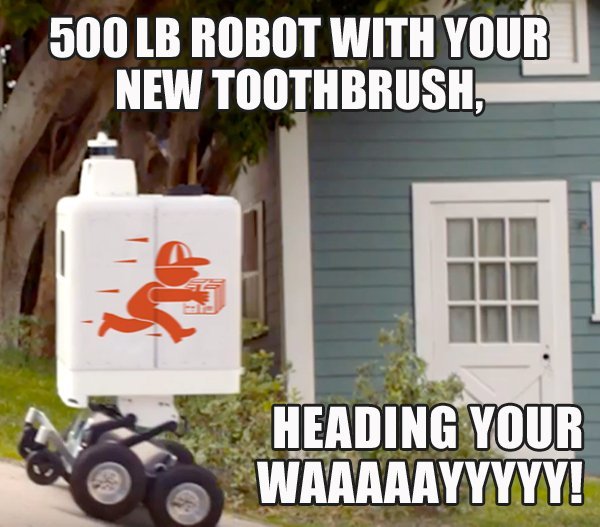 VML Contact: Mitchell Smiley, msmiley@vml.org
Finances
Senate committee supports veterans' vehicle tax exemption
The vote on HJR103 could have been a "Profiles in Courage" moment but the Senate Finance and Appropriations Committee flubbed it, resorting to long practiced muscle memory to require localities to pay for political issues and policies unrelated to local responsibilities and obligations.
HJR103 is a proposed constitutional amendment that will be on this year's election day ballot. The amendment would exempt eligible permanently disabled veterans from paying personal property taxes on automobiles and pickup trucks. The amendment would restrict the exemption to only one veteran-owned vehicle per family.
The Senate Finance and Appropriations Committee earlier in the session had referred HJR103 to a special Veterans Benefits Subcommittee for review along with similar Senate measures. Prior to cross-over, the committee had carried over to the 2021 Session those similar Senate measures.
The Senate Finance and Appropriations Committee's policy reversal is another legislative initiative this session that will end up increasing the cost of business for local governments.
VML Contact: Neal Menkes, nmenkes@vml.org
Health and Human Services
House Committee on Health, Welfare, and Institutions reports bills
The House Committee on Health, Welfare, and Institutions reported the following bills on Feb. 25:
SB566 (Edwards) which would give protection to any individual not otherwise authorized to administer naloxone or other opioid antagonist who in good faith administers the overdose reversal treatment to a person believed to be experiencing, or about to experience an overdose.
SB602 (Hanger) which would establish procedures for handling situations in which a provider of transportation for a minor or adult subject to a temporary detention order cannot begin the transport, or once underway, cannot continue with the transport (e.g., mechanical breakdown or other complicating situation) and therefore must turn over the transport to another provider. In the case of trips underway, the law enforcement agency in the jurisdiction in which the transport is disrupted would assume responsibility for the transport.
VML Contact: Janet Areson, jareson@vml.org
Judiciary reports local authority weapon bill
On Feb. 24 the Senate Judiciary Committee reported an amended version of HB421 (Price) that gives local governing bodies authority to set policies about carrying of weapons, ammunition, etc., in local government buildings and facilities, portions of buildings used by local governments, in local parks, and during certain events. The amended version of HB421 conforms the bill with SB35 (Surovell).
VML supports local flexibility on setting policies affecting their buildings and facilities.
VML Contact: Janet Areson, jareson@vml.org
Legislation of Interest
Minimum wage bills conformed; expected to proceed
HB395 (Ward) was conformed to SB7 (Saslaw) regarding minimum wage. SB7 would set the minimum wage at $9.50 per hour beginning in January of 2021 through July of 2022 and then escalate it thereafter through July 1, 2024. By 2024 wage regions will be established and minimum wage will be set by those regions.  The Commissioner of Labor and Industry will establish the adjusted minimum wage thereafter.
It is expected that these bills will go to conference.
VML Contact: Michelle Gowdy, mgowdy@vml.org
Bills on the Governor's desk
Board of zoning appeals; dual office holding. SB292 (Deeds) / HB370 (Bell) allow a board of zoning appeals member to also be an appointed officer of election. This legislation was signed by the Governor earlier today.
Virginia Public Procurement Act; small purchases. HB452 (Murphy) / SB650 (Boysko) raise the small purchase limit from $100,000 to $200,000 in the Virginia Public Procurement Act for single or term contracts for goods and services other than professional services. This bill is on the Governor's desk and he has until March 2nd to sign. It is expected that he will.
Bills coming out of the Senate Commerce and Labor Committee
Workers' compensation; employer to notify employee of intent. HB46 (Carter) requires an employer whose employee has filed a claim under the Workers' Compensation Act to advise the employee whether the employer intends to accept or deny the claim or is unable to make a determination because the claim lacks information. If there is a lack of information, the employer shall so state and identify the information needed. Denying the claim requires providing the reasons for doing so. This information must be provided within 30 days of the Commission ordering this communication.
This bill passed the committee Monday with a unanimous vote.
Collective bargaining for public employees. HB582 (Guzman) was the collective bargaining bill that repeals the existing prohibition on collective bargaining by public employees and creates a "public employee relations board" that would determine bargaining units and provide for certifications and decertification elections for bargaining representatives of state and local government employees.
HB582 was conformed to Senator Saslaw's SB939 which is optional and gives the authority to local governments to adopt ordinances to allow collective bargaining by their employees. Furthermore, it ONLY applies to local government employees. Striking is still prohibited.
These bills will go to conference.
VML Contact: Michelle Gowdy, mgowdy@vml.org
Bills that have passed both chambers
VML Contact: Michelle Gowdy, mgowdy@vml.org
Bills currently on the floor in one of the chambers
Solar energy
Virginia Freedom of Information Act:
FOIA officers; training and reporting requirements. SB138 (Stuart) clarifies that regional public bodies need to designate a FOIA officer and place contact information on the website. The FOIA officer also must be trained once every 2 years. Both training and contact information must also be provided to the Freedom of Information Advisory Council.
Training requirements. SB139 (Stuart) states that "local elected officials" shall include constitutional officers for the purposes of FOIA and requires that training for local officials shall be in-person or online.
Cost estimates; response time. SB153 (Stuart) codifies the current understanding of FOIA for the time period being tolled while a cost estimate is being calculated. If a requester asks for a cost estimate the time for the locality to respond is tolled until the estimate is provided. Also, if a cost estimate exceeds $200 an advance may be required.
Virginia Public Procurement Act:
Architectural and professional engineering term contracts. SB487 (Bell) increases from four to five the number of renewals on an Architectural/Engineering term contract. Increases the limit for localities from $6M to $8M.
Statute of limitations on performance bonds; construction, architectural, and engineering contracts. SB607 (Norment) /HB1300 (Hurst) is a compromise with the state which sets the state statute of limitations on construction, architectural and engineering contracts at 15 years and performance bonds at 5 years.
Zoning:
Administrators; notice of decisions and determinations. SB589 (Hanger) allows a zoning ordinance to include a provision which requires the zoning administrator to provide notice to adjacent properties when the zoning administrator determines that a use could impair requirements for a residential drinking well.
Development approvals. SB647 (Boysko) allows a locality to include in their zoning ordinance the option of allowing a development of a specific property to transfer jurisdiction in a friendly manner and to continue to operate under the same approvals, terms, provisions and condition for an orderly transition.
Insurance for certain retired employees of political subdivisions. SB349 (Lucas) / HB1385 (Leftwich) are identical bills allowing localities to extend insurance benefits to retired employees of political subdivisions.
Collection of town taxes by county. SB649 (Boysko) / HB1534 (Samirah) authorizes the board of supervisors of any county that has adopted the urban county executive form of government (i.e. Fairfax County) to enter into agreements with towns located partially or wholly within such county for the collection and enforcement of real or personal property taxes by the county official responsible for the assessment and collection of taxes.
Removal of dangerous roadside conditions; local option. SB225 (Stuart) / HB284 (Cole, J.G.) authorize a locality to create an ordinance requiring an owner to remove vegetation that obstructs a driver's line of sight if the property is within 5 feet of any public right-of-way; if the owner fails to take action after notice, the locality can remove the vegetation. This bill has now passed both houses.
Water and sewer service charges; tenant or lessee. SB826 (McDougle) was amended to include only residential properties but limits the ability of a local government authority to collect delinquent water and sewer charges above $300 from a residential property owner if the tenant is delinquent and reasonable collection efforts have been made.
Local arbitration agreements; disclosure of certain information. SB645 (Surovell) allows a locality in any procurement for goods and services except for construction, construction-related, transportation construction, or transportation-related construction to require the bidder or offeror to disclose certain information regarding pre-arbitration dispute clause and consider each bidder or offeror's policies and practices related to arbitration.
Installation of certain facilities by developer; reimbursement. SB360 (Cosgrove) / HB1191 (Heretick) Sates that a locality may adopt an ordinance which allows a developer to build water and sewer facilities that are larger than needed for their project and the locality may reimburse for the cost of the extra capacity. HB1191 failed to make it out of the House, but the Senate version lives on.
Annual local audit; enforcement; civil penalty. HB760 (Aird) provides an enforcement mechanism if a locality that is late in completing its required audit fails to give proper notification of the delayed audit. Such enforcement may include a writ of mandamus and a civil penalty of between $500 and $2,000.
Cemeteries; grass cutting. HB1688 (McQuinn) allows a locality to adopt an ordinance that requires owners of land used for the interment of human remains to cut the grass, weeds or other foreign growth at such times as the governing body may prescribe. If reasonable notice by the locality is given, the locality may remove the grass, weeds or foreign growth and assess the cost and expenses to the landowner. It is not applicable to an individual, family or church.
Donation by locality of in-kind resources to certain volunteer or nonprofit organizations. SB465 (Reeves) / HB343 (Bell, R.) deal with in-kind resources for volunteer firefighting and emergency medical services agencies and can include contract management services for capital projects, assistance in preparing requests for information, bids, or proposals and budgeting services.
Comprehensive plan. SB746 (Bell, J.) / HB726 (Reid) extends the time by which a governing body approves or disapproves a locality-initiated comprehensive plan amendment from 90 days to 150 days.
VML Contact: Michelle Gowdy, mgowdy@vml.org