eNews Feb. 25, 2019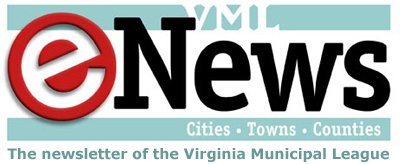 Monday, February 25, 2019 - 03:59pm
In this issue:
The short session was long on amendments to the Commonwealth's biennial budget
As usual, some amendments will help local governments, and some will not at all be helpful. Here are a few highlights from the conference report. A more detailed summary of the budget will be sent to VML members later this week.
Public Safety:
No changes made to state assistance to local law enforcement (HB 599 funding)
Language was adopted to require cities and counties whose law enforcement agencies use body worn cameras (BWCs) to either comply with funding a ratio of one entry-level commonwealth's attorney for every 75 BWCs, or to come to an agreement with their commonwealth's attorney office as to assistance with funding for the additional workload resulting from the use of BWCs. A study of the issue will continue with additional "stakeholders" including the Virginia Supreme Court, staffs from House Appropriations and Senate Finance committees, and DCJS.
Language was adopted to continue the Jail Mental Health Pilot Program through FY20.
Transportation:
Language was adopted directing VDOT and the Transportation Secretary to establish a work group to consider the long-term viability of motor fuels taxes.
A one-year transition was authorized before implementing a new allocation methodology for transit funding.
The $75 million proposed by Gov. Northam for the Transportation Infrastructure Bank was eliminated.
Health and Human Resources:
Language supported by VML was adopted regarding the timing of the potential use of state funds to assist Community Services Boards (CSBs) whose Medicaid reimbursements fall short of projections this fiscal year and to track reimbursements into FY20.
The $1.5 million proposed by the governor for the Health Department to purchase additional vaccines was eliminated.
Conferees added $2 million to the $1 million in the Introduced Budget for permanent supportive housing services for persons discharged from state behavioral health hospitals.
Natural Resources:
Language adopted in last year's budget establishing a voluntary fee for DEQ to expedite the review of stormwater review permits for land disturbance acreage equal to or greater than 100 acres was expanded to include any Virginia Stormwater Management Program authority.
The proposed $50 million for the Stormwater Local Assistance Fund was eliminated. The conferees did approve up to $10 million in bonds in FY20 for the Fund's purposes.
Public Education:
A language amendment permits the use of At-Risk Add-On funds to hire testing coordinators and licensed behavioral analysts. This is intended to align with HB1729, which requires public school counselors to spend at least 80% of normal school hours providing direct services to students, a key feature of the House's school safety package.
Total At-Risk Add-On funding increases by $10.6 million (a 1.5% increase) in FY19 and $14.3 million (a 2% increase) in FY20.
The amended 2018-2020 Budget adds $12 million in FY20 to support the state's share of an overall reduction in the counselor-to-student ratio in public schools. This aligns with HB2053, which changes the Code of Virginia to implement the first year of a previously proposed three-year phased plan to significantly reduce school counselor staffing ratios.
A total increase of $72.8 million will support a 2% salary raise for SOQ instructional and support positions across the state. Distribution of funds is contingent upon individual localities certifying that they will implement a separate 2% salary increase by September 1, 2019. Importantly, any increase above 3 percent provided in the first year cannot be applied to the additional 2 percent salary increase in FY20.
Following the expiration of a $10 million federal grant that had supported the Virginia Preschool Initiative, the amended budget will backfill $6.1 million from the original amount, leaving participating localities to match the remaining funds at maximum LCI of 0.4 in FY20 and 0.5 in future years.
A $35 million increase in the Literary Fund will support school construction projects. Of the increase, $30 million will provide school construction loans for projects on the First Priority Waiting List, while the remaining $5 million will support an interest rate subsidy program for school divisions with a local composite index (LCI) at or below 0.4.
Economic Development:
Provides an additional $1.5 million each year, bringing total state support for the Housing Trust Fund to $7 million each year.
Provides $15 million in FY20 for the Virginia Telecommunication Initiative to accelerate broadband deployment in unserved areas of the state.
Pumps up second-year funding by $1 million for Real Property Improvement Grants, which are managed through the Enterprise Zone Program. FY20 funding would total $14.5 million.
Finance:
Did NOT adopt a language amendment that would have required the Secretary of Finance to submit legislation in the 2020 Session to basically exempt new machinery and tools from M&T taxes for up to five-years.
Deposits $97.5 million in FY20 to the "Rainy Day" Fund and $127.3 million in FY20 to the Revenue Reserve Fund. These deposits, along with existing balances, will raise total reserves to over a $1 billion by the end of this biennium.
The full budget conference report is posted on the General Assembly's website.
VML contacts: Jessica Ackerman (jackerman@vml.org); Janet Areson (jareson@vml.org); Neal Menkes (nmenkes@vml.org)
Good news: Local governments can conduct FOIA training
The conference report for SB1431 (Obenshain) gives local government attorneys the authority to conduct code compliant FOIA training. The bill was in conference because the Senate wanted the training to be done only through the FOIA Council. However, as passed by both houses, the final bill requires local elected officials to complete Freedom of Information Act training, either by the local government attorney or through the FOIA Council website, within two months of taking office and once every two years while they are in office. No penalty shall be imposed for failing to complete a training session. The bill also eliminates the three-day notice requirement for a hearing alleging an open meeting violation of the act. The bill has a delayed effective date of July 1, 2020.
VML Contact: Michelle Gowdy, mgowdy@vml.org
FOIA penalties bill made worse!
SB1554 (Surovell) allows (but does not require) a court to add an additional penalty when:
An improper closed session was held, and the local government attorney was present at the time of certification; or
A public record cannot be produced because it was altered or destroyed in order to avoid FOIA provisions.
The bill was in conference because the House had removed a section that added additional penalties related to closed meetings. The version that passed both bodies on Saturday allows the court to impose an additional penalty of up to $1,000 if a closed meeting certification was done in the presence of an attorney but was not a legal closed session.
VML Contact: Michelle Gowdy, mgowdy@vml.org
Bills of interest: Final status report
Bill Number(s)
Description
Status
HB1733 / SB1214

 

School boards; local law-enforcement agencies, memorandums of understanding
PASSED
HB2053

 

School boards; staffing ratios, guidance counselors
PASSED
HB2609 / SB1130

 

School resource officers; compulsory minimum training standards
PASSED
HB1811 / SB1341

 

Handheld personal communications devices; use while driving
DIED
SB1768
Handheld personal communications devices; use of devices in highway work zones, penalty
PASSED
HB2718 / SB1716

 

Interstate 81; Interstate 81 Corridor Improvement Fund created
PASSED
HB1918 / SB1598

 

Corrections, Board of; minimum standards for health care services in local correctional facilities
PASSED
HJ615 / SJ306

 

Constitutional amendment; redistricting
PASSED – Locals not included
SB1087

 

Election districts; requirements for precincts, remedying split precincts
PASSED
HJ676 / SJ278

 

Constitutional amendment; personal property tax exemption for motor vehicle of a disabled veteran
PASSED
HB1700
Budget Bill
PASSED
SB1403
Eminent domain; eliminates specific provisions for assessment of costs in certain proceedings
DIED
SB1404
Eminent domain; costs for petition for distribution of funds, interest rate
DIED
SB1431
Virginia Freedom of Information Act; training requirements for local elected officials
PASSED
SB1554
Virginia Freedom of Information Act (FOIA); violations and civil penalties
PASSED
HB1913
Subdivision ordinance; sidewalks
PASSED
HB2141
Local services districts; broadband and telecommunications services
PASSED
HB2755
Conservation easements; comprehensive plan
DIED
SB1494
Firefighters and Emergency Medical Technicians Procedural Guarantee Act; breach of procedures
PASSED
HB1700
Budget Bill
PASSED
VML Contact: Michelle Gowdy, mgowdy@vml.org
Jail health standards bills approved
HB 1918 (Stolle)/SB 1598 (Dunnavant), which started as companion measures and then converged after Senate action, were approved by the House and Senate late last week.  The conference committee agreement brought the bills back to their original intent, which was to direct the Board of Corrections to develop statewide minimum standards for health care services (health, mental health, pharmacy, etc.) provided by and within local and regional jails. Furthermore, the legislation creates procedures for enforcing those standards. The conference committee did not move forward with amendments made to the Senate bill that would have required jails to screen and assess inmates for developmental and intellectual disabilities.
VML Contact: Janet Areson, jareson@vml.org
Transportation round up
Here's a look at what happened with transportation bills of interest:
Vehicles on sidewalks & the ADA
HB1786 (Hurst) clarifies that any locality or other public entity may allow power-driven mobility devices to be ridden or driven on sidewalks in accordance with the Americans with Disabilities Act and other state and federal laws.
Parking enforcement and parking fines
HB1818 (Delaney)and SB1044 (Black) authorize any county or town with a population of at least 40,000 to contract out their parking enforcement (Issuing parking tickets); cities of 40,000 or more already have this authority. The bills were amended by the Senate to limit parking fines to no more than $75.  The bills were sent to a conference committee, which removed this amendment.
Towing fees
HB1865 (Fowler) and SB1567 (Marsden) authorize localities statewide to adopt ordinances setting maximum towing fees of $150.
Motorized scooters
HB2752 (Pillion) authorizes localities to regulate the operation of companies that rent scooters or motorized skateboards. If a locality wants to regulate these companies, it must pass an ordinance or take some other governing body or administrative action by January 1, 2020. After that, a company is free to operate without local regulation in a county, city, town, or political subdivision unless and until the locality or political subdivision adopts an ordinance or takes some other official action (e.g., initiates a pilot program).
Immobilization devices for parking violations
SB1432 (Obenshain) allows for the use of devices other than "boots" (such as vehicle "barnacles") to immobilize vehicles for parking violations.
Supplemental operating funds for mass transit providers
A new allocation formula for mass transit operating grants will go into effect this year and will reduce state funding for some localities. HB2553 (Thomas) and SB1680 (Mason) will ease the transition to the new formula by providing supplemental (one-time) funds to those systems losing state money.
Changes to restrictions on driving while using a cellphone die
HB1811 (Collins) and SB1341 (Stuart) sought to strengthen the law that restricts individuals from using their cell phones while driving; legislators were unable to agree on revisions to the law, and both bills died.
VML Contact: Bernie Caton, bcaton@vml.org
Natural Resources round up
Here's a look at some natural resource bills of interest:
Grants for wastewater conveyance structures
HB1822 (Bulova) authorizes the Department of Environmental Quality award grants to small sewage treatment plants so that they can pipe their partially treated sewage to a larger plant for advanced treatment (such as nutrient removal).
Dogs running at large in packs
Current law allows localities to adopt ordinances prohibiting dogs from running at large. SB1367 (Norment) exempts hunting dogs from such a prohibition. The bill also exempts from such an ordinance dogs used for hunting and requires the locality to include in the ordinance a fine of up to $100. Revenues from these fines must be used by the locality to support animal control.
Removal of coal ash
SB1355 (Wagner) and HB2786 (Ingram) are identical bills that require the owner or operator of an electric utility plant's coal ash pond or landfill to remove the coal ash by recycling it for beneficial use or depositing it in a permitted and lined landfill that meets certain federal standards. The coal ash removal must be completed within 15 years measure requires that any owner or operator beneficially reuse no less than 6.8 million cubic yards in aggregate of such removed CCR from no fewer than two of the sites. Such a closure project shall be completed within 15 years. If the coal ash is removed from the site, it must be done so in a way that minimizes any adjacent properties and surrounding communities.
Loans & grants for riparian buffers
HB2637 (Webert) authorizes the State Water Control Board to give localities, individuals, or financial institutions working with localities, loans and grants from the Virginia Water Facilities Revolving Fund to construct or renovate facilities to implement agricultural best management practices to prevent water pollution.
Special assessments for land preservation
HB2365 (Knight) allows localities that have use value assessment and taxation ordinances to include in their ordinances a provision that limits the annual increase in the assessed value of eligible property to a specified dollar amount per acre.
Local stormwater management funds
HB1614 (Cole) allows any locality to create a local Stormwater Management Fund with appropriated local funds to provide grants to property owners for stormwater management projects on property that is already developed.
Animal care-adequate shelter & tethering
SB1025 (Spruill) and HB1625 (Orrock) set certain requirements for the protection of animals from heat and cold. HB1625 also sets new requirements for the tethering of animals (other than agricultural animals).
Bills that did not survive
Grants to MS4 Localities for Stormwater BMPs – SB1328 (Hanger) would have allowed the Department of Environmental Quality to award grants to local governments (general smaller localities) that are not regulated under municipal separate storm sewer system (MS4) permits to design and implement stormwater best management practices. The bill was passed by the Senate but was defeated in the House.
Disposable Plastic Bags – Various bills (HB1669-Carr; HB2095-Guzman; SB1070-Ebbin; SB1116-Petersen) were defeated that would have placed taxes, or allowed localities to place taxes, on disposable plastic bags.
VML Contact: Bernie Caton, bcaton@vml.org
Upcoming lecture: Cultivating neighborhoods & small-scale development
Do you want to learn more about how you can become a small real estate developer for a project in your neighborhood?  Are you an advocate or local leader looking to encourage better buildings in your community? The Virginia Department of Housing and Community Development and the Virginia Main Street Program, in partnership with Virginia Housing Development Authority are sponsoring lectures by Bernice Radle, Founder of Buffalove Development for those who want to learn more about the Incremental Development Alliance.
3 lecture locations available:
Attendees will also learn more about and the upcoming workshop on May 16, 2019 presented by the Incremental Development Alliance, a national nonprofit working to build local wealth in neighborhoods through ground-up real estate development.
Contact: Joy Rumley – Virginia Department of Housing and Community Development,  joy.rumley@dhcd.virginia.gov