eNews Feb 24, 2017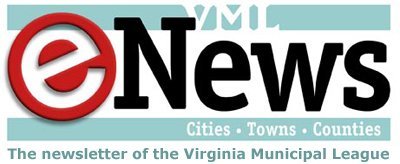 Friday, February 24, 2017 - 02:45pm
Budget bill up for adoption 
The House and Senate are poised to put the finishing touches on HB 1500, the bill amending the 2016-2018 budget. VML is preparing a detailed overview, but here is an overview of amendments of major interest from the conference report:
The proposed House amendment reducing HB 599 funding during this fiscal year and next was not included in the conference report.
Funding is included for a two percent salary increase, effective Aug. 1, 2017, provided that the governing authority of such employees use the funds to support salary increases for these employees: locally-elected constitutional officers; general registrars and members of local electoral boards; full-time employees of locally-elected constitutional officers; and full-time employees of community services boards, Centers for Independent Living, secure detention centers supported by juvenile block grants, juvenile delinquency prevention and local court service units, local social services boards, local pretrial services act and comprehensive community corrections act employees, and local health departments where a memorandum of understanding exists with the Virginia Dept. of Health.  Funding was also included for the Career Development Program for constitutional officers and for compression pay for sheriff and jail deputies.
Funding is included for the state share of a two percent, effective Feb. 15, 2018, for SOQ-covered positions. School divisions will need to certify that they have provided or will provide an increase of at least two percent at some point during the 2016-18 biennium. In other words, at least two percent in fiscal year 2017 or at least two percent in fiscal year 2018, or via two separate increases in each fiscal year together add to at least two percent.
Funding is included to restore $7.0 million for Go Virginia, for a restoration of half of the cuts in the introduced budget.
A workgroup to examine the costs and quality of private day school placements for special education students funded through the Children's Services Act (CSA) was included in the report.  The workgroup will be facilitated by the staff of the House and Senate budget committees.
VML contacts: Janet Areson, jareson@vml.org; Neal Menkes; nmenkes@vml.org; Mary Jo Fields, mfields@vml.org
Water win! Thanks to all who contacted house members!
SB1569 (Reeves) is a bill that would have changed the sewer and water connection fee standard from "fair and reasonable" to "practical and equitable."   This bill was voted down on the House floor Thursday afternoon.  Thank you to everyone who contacted their House members! You can see the vote here.
Broadband bill diluted
HB2108 (Byron) Broadband bill that is now in the hands of the Governor.  This bill has been diluted and is no longer as troubling.  The Governor had originally threatened to veto this bill.
Short-term rental bill affirms local authority
SB1578 (Norment) – Barring gubernatorial amendments, the Short Term Rental bill is finally complete!  This bill affirms localities authority to regulate short-term rentals and VML encourages you to take action to do so.   The short term rental companies will be back next year and our goal will be to show them that localities can properly regulate this industry without the state's help.
FOIA bills passed and failed
HB1587 (Campbell) – Unless the applicant or owner of property requests the records, all construction and engineering plans for single-family residential dwelling units submitted to comply with the Statewide Fire Prevention Code and the Uniform Statewide Building Code are not subject to disclosure under FOIA.  The bill has passed both houses.
HB2402(Morris) – The failed bill stated that if a court finds an employee willfully violate FOIA, the locality could terminate the employee for cause.  Delegate Morris was not in attendance at the subcommittee, but the bill was still recommended to the full Senate General Laws and Technology.  However, the committee failed to report the bill at its Feb. 20 meeting.
Jail death review bill amended again
SB 1063 (Deeds), a bill originally aimed at the responsibility of the State Board of Corrections to review deaths in local and regional jails, has been changed through the session, with the latest proposed change in the form of a floor substitute offered on the House floor on Feb. 22.  The substitute offered by House Appropriations Chair Chris Jones rewrote the bill to one that sets out criteria for members of the State Board of Corrections.  These criteria include having a member who is a former sheriff or superintendent of a jail or prison, someone employed by a public mental health services agency with training or experience with individuals with mental health issues who are involved with the criminal justice system, and the state inspector general.  The floor substitute was approved by the House, rejected by the Senate, and is now in conference.
VML contact:  Janet Areson (jareson@vml.org)
Extensions for housing crisis
HB1697 (Marshall) extends the time for approval of various land use permits in order to address the housing crisis went to a conference committee.  The time for various land use approvals was extended through July 1, 2020.
Civil noise ordinance penalties
SB926 (Petersen) allows a locality the ability to authorize the Chief Law Enforcement Officer to enforce civil penalties for noise ordinance violations.  The bill has passed both houses.
GIS – Photogrammetrists bill failed
HB2145 (LeMunyon) would have required that most GIS work could only be done by licensed land surveyor photogrammetrists. The bill failed in Senate General Laws this week.
Bill regarding transient occupancy taxes on overnight stays at state parks dies
HB 1681, which would have allowed a city or town to impose transient occupancy taxes on cabin rentals and campgrounds in state parks under the control of the Virginia Department of Conservation and Recreation, was recommitted from the Senate floor to the Senate Finance Committee and is dead for the year.
VML staff contact: Neal Menkes (nmenkes@vml.org)
2017 Virginia General Assembly votes to go to the dogs (and cats)
HB 1477 gives localities the option to provide for a lifetime dog or cat license and also sets the maximum fee charge of $50.00. The bill in its original form would also have required microchipping the pet in order to obtain the license, however, in disagreement between the House and Senate, that provision was stricken. The bill is local option only and does not require any locality to change its current method for licensing of family pets. The text and bill history is can be viewed here.
VML contact: Mike Polychrones mpolychrones@vml.org
Real estate tax exemption in conference
A constitutional amendment (SJR 284-Stuart) that originally would have expanded the current real property tax exemption for surviving spouses of military personnel killed in action to the surviving spouses of those who died in a combat zone is in conference. The Senate has rejected the House substitute for SJR 284, which simply would allow surviving spouses of those killed in action to keep their exemption for their principal place of residence even if they move. This House substitute is identical to that contained in HJR 562 (Miyares), which has already passed both houses.
VML contact: Mary Jo Fields, mfields@vml.org
Other constitutional amendments move forward
In addition to HJR 562, three other constitutional amendments have been approved by both bodies. If approved again in the 2018 session, the amendments will go before the voters in the 2018 November general election.
HJR 545 (Head) and SJR 295 (Vogel), granting the General Assembly the authority to override regulations;
HJR 693 (LaRock), creating a transportation trust fund and prohibiting diversions from the fund except by a supermajority vote.
SJR 331 (Lewis), granting localities the authority to partially exempt real property in areas subject to recurring flooding in which flooding abatement, mitigation, or resiliency efforts have been undertaken.
VML contact: Mary Jo Fields, mfields@vml.org
Education legislation recap
Virtual schools
HB 1400 (Bell, R. P.) and SB 1240 (Dunnavant) would create a statewide virtual school as a state agency. The bills are on the way to the Governor. The administration opposed the bills, so a veto is likely.
Regional charter schools
HB 2342 (Landes) and SB 1283 (Obenshain) would allow the State Board of Education to establish regional charter school divisions that would then operate regional charter schools. The bills have passed their respective houses and are on the way to the Governor, who is expected to wield a veto pen.
Voucher-like bill
HB 1605 (LaRock) would establish a parental choice educational savings account program whereby parents could receive 90 percent of the state Standards of Quality funding allocated for students in the resident school division. The bill passed the Senate and is on its way to the Governor, who vetoed similar legislation last year.
School discipline
Three House and three Senate bills that would have placed limits on the number of days students could be suspended or expelled and made other changes to student discipline all died.
VML contact: Mary Jo Fields, mfields@vml.org
Optional defined contribution retirement plan in conference
HB 2251 (Jones) requires the Virginia Retirement System to establish an optional defined contribution plan for state and local government employees. The Senate added a reenactment clause requiring the bill to be reenacted in the 2018 session, and an enactment clause that says the bill would not go into effect unless the funded status of the other VRS retirement plans reached 95 percent. The House has rejected those amendments and the bill is in conference.
VML contact: Mary Jo Fields, mfields@vml.org