eNews Feb. 22, 2019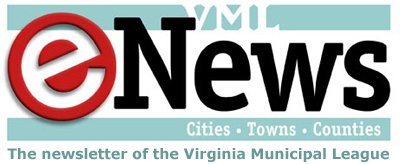 Friday, February 22, 2019 - 03:48pm
In this issue:
Several issues remain in limbo
Stay tuned for a wrap-up eNews next week
With the House indicating that they will be meeting through Sunday, the final details of the budget still being decided, and several bills of keen interest to localities in conference, we will be providing a full report in a special edition of eNews next week.
VML Contact: Michelle Gowdy, mgowdy@vml.org
Funding agreement for I-81 improvements falls through
Legislation (SB1716-Obenshain, and HB2718-Landes) was passed that seeks to move forward on an Interstate 81 Corridor Improvement Plan—although no funding was provided. These identical bills create an Interstate 81 Committee, made up primarily of state and local elected officials, and directs the Committee to recommend a funding source for I-81 projects prior to the 2020 General Assembly Session.
Although efforts were made this week to find a funding source for the I-81 Corridor improvements (an increase in truck registration fees and taxes on diesel fuels), these efforts failed.
VML Contact: Bernie Caton, bcaton@vml.org
Supreme Court decides excessive fines case against states and local governments
The State and Local Legal Center points out that as a practical matter it is unclear how much difference the recent Supreme Court opinion on forfeitures makes because before this decision defendants could make excessive fines arguments under state constitutions. The Center has supplied this summary of the decision:
In a unanimous decision in Timbs v. Indiana the Supreme Court held that the Eighth Amendment's Excessive Fines Clause is "incorporated" or applicable to the states and local governments. Indiana sought to forfeit Tyson Timbs' Land Rover which he used to transport heroin. The trial court concluded the forfeiture was unconstitutional under the Eighth Amendment's Excessive Fines Clause because the value of the vehicle well exceeded the maximum statutory fine for the felony Timbs plead guilty to.
The Indiana Supreme Court held the Excessive Fines Clause doesn't apply to the states. In an opinion written by Justice Ginsburg the Supreme Court disagreed holding that the Excessive Fines Clause is incorporated by the Due Process Clause of the Fourteenth Amendment. The Excessive Fines Clause is "fundamental to our scheme of ordered liberty" and "deeply rooted in the Nation's history and tradition" because it traces its "venerable lineage" back to at least the Magna Carta in 1215, was reaffirmed in the English Bill of Rights in 1689, and adopted almost verbatim from there in the Eighth Amendment.
When the Fourteenth Amendment was adopted in 1868, 35 of the 37 states prohibited excessive fines. Today "all 50 States have a constitutional provision prohibiting the imposition of excessive fines either directly or by requiring proportionality." The protection against excessive fines has been necessary "throughout Anglo-American history" because "exorbitant tolls undermine other constitutional liberties."
EPA soliciting committee nominations
The EPA is seeking nominees for Spring 2019 appointments to its Local Government Advisory Committee (LGAC) for LGAC members and for the Small Community Advisory Subcommittee (for communities under 10,000). The group anticipates filling 10-12 vacancies in 2019.
For details about qualifications and requirements, view the Notice of Request for Nominations.
Send the requested information along with the nominees' name, full resume, and short biography to Frances Eargle, Designated Federal Officer for the LGAC at Eargle.Frances@epa.gov with subject header of LGAC MEMBERSHIP 2019.
Nominations are reviewed on an ongoing basis. However, to be considered for May 2019 appointments, nominations should be submitted by March 15, 2019.
Helpful resources:
Contact: Fran Eargle, (202) 564-3115
Grant writing workshop being held near Richmond
Henrico County Division of Fire and Grant Writing USA will present a two-day grants workshop April 18-19, 2019. This training is for grant seekers across all disciplines.  Attendees will learn how to find grants and write proposals.
Click here for full event details.
Beginning and experienced grant writers from city, county and state agencies as well as nonprofits, K-12, colleges and universities are encouraged to attend.
Virginia Municipal League members and their staff will receive a special tuition rate of $425 which includes everything: two days of instruction, workbook, and access to Grant Writing USA's Alumni Forum wit tools, discussions and more than 200 sample grant proposals. Use discount code "VAASSN" to receive the $30 discount off full price at registration.
Multi-enrollment discounts and discounts for Grant Writing USA returning alumni are also available.  Tuition payment is not required at the time of enrollment.
Contacts: Janet Darling (Grant Writing USA),  janet@grantwritingusa.com /  Anna M. McRay, VaPEM (Henrico County Division of Fire), mcr@henrico.us