eNews Feb 19 2016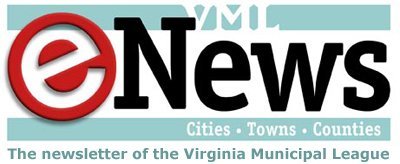 Friday, February 19, 2016 - 10:15am
Budgets to be released Sunday
When Gov. Terry McAuliffe released his budget proposals back in December, it was just the beginning of the budget approval process.  Now that the House and Senate budget-writing committees have had a chance to review the Governor's budgets (HB/SB 29 to cover the remainder of this fiscal year, and HB/SB 30, the budget for the 2016-18 biennium), both committees will release their own versions of these budgets.  This will happen on Sunday, Feb. 21.
While it is budget release day, the real details of each committee's budget proposals will not become clear until Tuesday afternoon, when the listing of every budget amendment adopted by each committee will be released on-line.
On Thursday, Feb. 25, each chamber will take up consideration of their version of the budget.  There will be discussion and debate, and then each chamber will vote to accept (or not) its version of the budget.
VML will provide a brief summary of Sunday's budget release, and then provide a more detailed review of the budget amendments of interest later in the week.  Stay tuned!
VML contact:  Janet Areson jareson@vml.org
House budget chief offers preview of Sunday's amendments
In a floor speech made Thursday to members of the House of Delegates, House Appropriations Chairman Chris Jones set the table for this Sunday afternoon's budget action.  He confirmed salary raises for state employees will come in FY 2017 rather than in FY18 as proposed by Gov. Terry McAuliffe.  Jones also said the raise would exceed the 2.0 percent salary increase included in the introduced budget.  The House amendment package is not likely to include salary raises in the budget's first year for teachers.  The McAuliffe budget proposal includes $83.3 million in FY 2018 for a 2.0 percent salary raise, based on a matching contribution by locals.
The House amendments will also diverge from Gov. McAuliffe's $2.4 billion bond package, slashing the package by almost $1.0 billion to a smaller total of $1.5 billion.  The Governor's recommendation calling for $59.0 million in bonds to finance Nutrient Removal Grants will be included in the House bond package.  Planning money is also included for the construction of a juvenile correctional center in Chesapeake to replace aging state facilities.
Although expressing concerns over the prospects of continued economic growth in Virginia, Chairman Jones endorsed the Governor's decision made earlier in the week to not change the revenue forecast.  McAuliffe's mid-session revenue assessment adjusted individual revenue sources based on actual collections but retained the aggregated bottom line.
The House Appropriations and Senate Finance Committees will release their budget reports on Sunday, but the actual budget amendments will not be finalized until next Tuesday with each chamber debating and passing their amendment packages on Thursday.
VML contact: Neal Menkes, nmenkes@vml.org
Redistricting bills to be heard in House subcommittee
Several bills that would reform the current redistricting process by adding criteria for redistricting or by creating an advisory commission to draw political lines will be heard Tuesday, Feb. 23, in the Elections Subcommittee of House Privileges & Elections.  The members of the subcommittee are Ransone, Landes, Fowler, Adams,  Sickles, Torian, Cole
Earlier in the session the subcommittee tabled House versions of these bills, and is likely to table these:
VML contact: Mary Jo Fields, mfields@vml.org
Action Alert: Call House P&E members to OPPOSE party ID bill
A Senate bill to require political party identification on local ballots for candidates nominated by a political party was recommended for reporting by a House subcommittee on Feb. 18.
SB 767 (Suetterlein) now goes to the full House Privileges and Elections Committee, which is scheduled to meet next Friday, Feb. 26, at 9:30 a.m.
Please call or email your member of the committee in opposition to the bill.
House Privileges & Elections:
Cole, Ingram, Jones, Albo, O'Bannon, Miller, Landes, Hugo, Ransone, O'Quinn, Minchew, Rush, Fowler, Adams, Miyares, Sickles, Rasoul, Lindsey, Murphy, Torian, Price, Boysko
Talking points:
Requiring party identification will increase partisanship at the local level to the detriment of the operation of the city, town or county.
Partisan local elections will mean that federal employees in most parts of the state will not be able to hold local office.
If a party decides to have a primary, the local government has to pay for it, and the cost of elections is increased.
VML contact: Mary Jo Fields, mfields@vml.org
Action Alert: Call House Courts subcommittee to OPPOSE extensive liability bill
Action needed: OPPOSE SB 746 (Wagner), which would make state and local governments and their employees liable for intentional actions by employees beyond their inspection or civil enforcement responsibilities.
Deadline: Call delegates by Monday morning, Feb. 23.  The bill will be heard Monday afternoon, one-half hour after adjournment.
Who to contact: House Courts of Justice Subcommittee on Civil Law: Habeeb, Kilgore, Loupassi, Minchew, Leftwich, Campbell, Miyares, Toscano, McClellan, Krizek
As introduced, SB 746 (Wagner) made state and local employees who perform any sort of inspection or civil enforcement activity personally liable if their actions are later found by a court to be beyond the scope of their authority.  The Senate amended the bill to make it even worse, by making the employer – the state or local government – financially responsible for the "intentional acts" of their employees.  As one senator said, attorneys are always looking for a pocket and state and local government employees are not known to have deep ones. The bill was also amended to define "intentional acts."
Talking points:
This sweeping measure:
Attempts to intimidate employees from taking legitimate steps to protect public safety and health.
Will make hiring and retention of good employees in civil enforcement positions very difficult.
Creates enormous potential cost for local governments to defend employees sued under its provisions.
Is unnecessary because federal law already provides a remedy for state and local employees who act in bad faith to violate a citizen's rights.
VML contacts: Roger Wiley, roger@heftywiley.com; Michelle Gowdy, mgowdy@vml.org
Fostering futures bill needs support
SB 436 (Favola) which would authorize the Commonwealth to extend foster care services to youth between the ages of 18 and 21, was reported from the House Health, Welfare, and Institutions (HWI) Committee today and was re-referred to the House Appropriations Committee.  A few weeks ago, a companion bill, HB 203 (Lingamfelter) followed a similar path to House Appropriations Committee and did not progress any further.
This bill would help the young people who otherwise do not have any family support to keep them in school, housed, and fed until they become more fully independent.  It would also help localities, some of whom provide some services to segments of this population through the Children's Services Act (CSA) but allowing the state to access federal funds to help pay for some of these services.
What you can do: 
Contact the members of House Appropriations to express support for this bill, which would help the state and localities to access federal funds to pay for services to this population and keep these young people in school and on track to independence and brighter futures.
VML contact:  Janet Areson (jareson@vml.org)
Notice of claims bill improved
The current law on notice of claims is that notice of claim of an injury (such as a trip and fall on a sidewalk, as one example) has to be filed within six months of the occurrence (Va. Code Section 15.2-209).  VML sent out an alert on Feb. 2 urging opposition to SB 611 (Wagner), which proposed confusing changes to the notice requirement.
The bill was approved by the Senate, however, and sent to the House.  The House Courts of Justice Civil Law Subcommittee on Feb. 17 recommended approval of SB 611 (Wagner), but only after adopting amendments that clarify who in the locality could receive the actual notice.  The amendment specifies that "Failure to provide such statement shall not bar a claim against any county, city, or town, provided that the attorney, chief executive or mayor of such locality, or any insurer or entity providing coverage or indemnification of the claim, had actual knowledge of the claim within six months after such cause of action accrued."
This is an improvement from the original vague language which said "provided that such locality, or any insurer or entity providing coverage or indemnification of the claim."
The bill is supported by the Virginia Trial Lawyers Association. It will be before the full House Courts of Justice Committee next week.  VML and VACo continue to work on the bill.
VML contact: Roger Wiley, roger@heftywiley.com
Proffer bills moving through legislature
SB 549 (Obenshain) and HB 770 (Gilbert) are the bills that change how localities can use proffers in conditional zoning cases.
The House Counties, Cities and Towns Committee reported SB 549 today and it will be on the House floor next week.
HB 770 will be heard Tuesday afternoon in Senate Local Government.
Discussion is taking place on whether the Governor could assist with some minor amendments, but it is clear that the General Assembly is not amenable to many more changes.
VML contact: Michelle Gowdy, mgowdy@vml.org
Prohibition of leave time for public employee dies on floor
Legislation (SB 737-Obenshain) that would have prohibited public employers from awarding paid leave or work time to their employees to work for a professional association, labor union, or labor organization died on the Senate floor on Feb. 16.
VML contact: Michelle Gowdy, mgowdy@vml.org
Charter school update
The Senate defeated a proposed constitutional amendment to allow the state Board of Education to authorize the establishment of charter schools while the House of Delegates has voted in support of the amendment.
SJR 6 (Obenshain) was defeated by a 19 yes, 21 no vote on Feb. 15.  Here is the listing of how members voted:
YEAS–Black, Carrico, Chase, Cosgrove, DeSteph, Dunnavant, Garrett, McDougle, Newman, Norment, Obenshain, Reeves, Ruff, Stanley, Stuart, Sturtevant, Suetterlein, Vogel, Wagner–19.
NAYS–Alexander, Barker, Chafin, Dance, Deeds, Ebbin, Edwards, Favola, Hanger, Howell, Lewis, Locke, Lucas, Marsden, McEachin, McPike, Miller, Petersen, Saslaw, Surovell, Wexton–21.
A second Senate version of the amendment (SJR 93-Obenshain and Suetterlein) was defeated on a 20-20 vote, with Senator Dance switching her vote.
Meanwhile, the House of Delegates passed its version of the constitutional amendment.  HJR 1 (Bell, Robert) was passed on a 52 yes, 47 no vote.  The resolution is likely to be heard on Tuesday in the Senate Privileges and Elections Committee.
The House and Senate also took different actions regarding bills to make some changes in the current process for approving charter schools and for implementing the constitutional amendment, if it were adopted. The House version (HB 565-Lingamfelter) was sent back to committee, killing it for the session.  The Senate passed SB 734 (Obenshain) and the bill now goes to the House Education Committee.  The part of SB 734 pertaining to charter schools approved by the state Board of Education goes into effect only if the constitutional amendment (HJR 1) is put before the voters and approved in the November election. This part of the bill is problematic as it would allow the state Board of Education, an appointed body, to dictate the distribution of local tax dollars to charter schools.
VML contact: Mary Jo Fields, mfields@vml.org
LODA reform bill watered down
Savings from legislation on the Line of Duty Act program will be delayed under the substitute bill adopted by the House of Delegates.  HB 1345 (Jones) now goes to the Senate Finance Committee.
Under the substitute bill, current LODA beneficiaries will keep their full benefits, and will not be required to move to Medicare at age 65. Instead, only those employees who become eligible for LODA benefits on or after July 1, 2017 will be required to make this change. The major cost savings in the original bill came from requiring some current LODA beneficiaries to move to Medicare at age 65.  Now those savings will not be realized until some years down the road.
The attached chart prepared by the Joint Legislative Audit and Review Committee (with the addition of a note from VML) compares the changes in the substitute for HB 1345 with the provisions in the current program.
VML contact: Mary Jo Fields, mfields@vml.org