eNews Feb. 14, 2020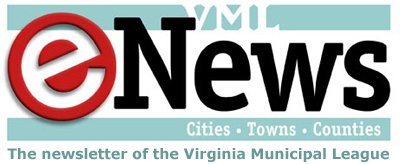 Friday, February 14, 2020 - 04:38pm
In this issue:
Action Alerts
Oppose public defender mandated payment bill
Contact Senate Judiciary Committee members to oppose HB869
HB869 (Bourne) would require the governing body of any county or city that elects to make a discretionary supplement to the compensation of the attorney for the Commonwealth, or any of their deputies or employees, above the salary of that officer, deputy, or employee, to also proportionately supplement the compensation of the public defender, or any of their deputies or employees, commensurate with the compensation to the Commonwealth's Attorney office.
This would take effect for any supplement made on or after July 1, 2020, meaning that it directly affects local budgets now under development.
The bill passed the House by two votes and has been referred to the Senate Judiciary Committee.
Action requested
VML urges local governments to talk to their members on Senate Judiciary Committee as soon as possible about the problems with the bill:
Edwards (Chair), Saslaw, Norment, Lucas, Obenshain, McDougle, Stuart, Stanley, Chafin, Deeds, Petersen, Surovell, McClellan, Boysko, Morrissey
Key points
VML opposes this bill for the following reasons:
Commonwealth's Attorneys are independently elected, Constitutional officers. Public Defenders are state employees. Requiring local governments to fund state employees sets a dangerous precedent.

It creates a precedent for the General Assembly to direct a local governing body's discretionary funding decisions.

Despite the bill's intention to be purely prospective, it lacks clarity about grandfathering current local salary supplements for Commonwealth's Attorney offices or how those supplements would be affected if a public defender's office opens in a locality that previously did not have one.

The bill lacks clarity on how to properly address the Commonwealth's Attorney offices or Public Defender's offices that are shared by multiple local governments.

The bill lacks clarity on how to handle the different position classes in Commonwealth's Attorney and Public Defender's offices.

The Commonwealth must fund its statutory commitment to its Constitutional offices (including Commonwealth's Attorneys, Court Clerks, Sheriffs, etc.) and increase funding to its state operated and funded Public Defender offices. A number of localities have stepped in with discretionary funding for Constitutional offices and Public Defender offices because of the state's chronic underfunding of these offices; this should not become a mandate.
VML Contact: Janet Areson, jareson@vml.org
Oppose bills allowing use easements without compensation or notice
Call before or as early as possible Monday morning
SB794 (Lewis) / HB831 (Carroll Foy)  will allow broadband and other communications services to occupy existing or future easements already occupied by electric distribution or communications facilities without notice to the landowner.
This will mean that a broadband company can use some easements without notifying the property owner or making any compensation.
Action requested
HB831 (Carroll Foy) has been sent to Senate Commerce and Labor. We urge you to contact your member of that committee in opposition to the bill:
Saslaw (Chair), Norment, Newman, Obenshain, Lucas, Spruill, Edwards, Deeds, Barker, Marsden, Ebbin, Lewis, Surovell, Mason, Bell
SB794 is the Senate counterpart to HB831. It has been sent to the House Labor and Commerce Committee. We urge you to call the members of that committeee to oppose SB794:
Ward (Chair), Sullivan (Vice Chair), Kory, Keam, Lopez, Lindsey, Bagby, Heretick, Mullin, Bourne, Guzman, Ayala, Gooditis, Kilgore, Byron, Ware, Marshall, Wilt, Webert, Ransone, O'Quinn, Head
Key points
In essence these bills allow for the taking of private property, in direct contradiction with Article I, Section II of the Virginia Constitution, which states that "No private property shall be damaged or taken for public use without just compensation to the owner thereof."

Broadband will not be expanded because if it is not financially profitable the companies will not expand service.

Profit making companies will be able to use easements that were paid for by tax dollars for their business.
Additional context
Loretto v. Teleprompter Manhattan CATV Corp. questioned whether a New York law required a landlord to permit a cable TV line to be run. The case states that:
"The fact that the state wished to provide a public service is of no consequence. This is a taking because the landlord had no choice but to surrender a portion of his building…"
The situation with SB794 is the same, the landowner would have no choice but to surrender a portion of his property to a private company.
VML Contact: Michelle Gowdy, mgowdy@vml.org
Oppose collective bargaining mandate bill
Call before or as early as possible Monday morning
Having passed the House last week, HB582 (Guzman) will be taken up by the Senate Commerce and Labor Committee Monday. This bill is a mandate which repeals the existing prohibition on collective bargaining by public employees and creates a "Public Employee Relations Board" that would determine bargaining units and provide for certifications and decertification elections for bargaining representatives of state and local government employees.
VML opposes this bill.
Action requested
We urge you to oppose the bill by calling the members of the Senate Commerce and Labor Committee:
Saslaw (Chair), Norment, Newman, Obenshain, Lucas, Spruill, Edwards, Deeds, Barker, Marsden, Ebbin, Lewis, Surovell, Mason, Bell
Key points
Efforts to impose collective bargaining and public unionization will increase the cost of government and impose more bureaucracy in local government operations. This means that employee relations will be more adversarial.

Local governments are not like private businesses in the following important ways:

Budgetary decisions, including budget actions affecting public employee compensation, are done in public with required public notice.

Budget proposals are available for public review and public comment.

The people who make the decisions about budgets – the elected officials – are accountable to their residents.

This is the opposite of private businesses, which do not have to disclose compensation decisions and whose board members are not available to employees regarding budgetary and compensation decisions – other than through unions.

Local governments, unlike private businesses, are accountable to taxpayers. Taxpayers can and do approach their local governing bodies about employee compensation – particularly teachers and public safety personnel.

Local governments are required by the Code of Virginia to have approved grievance procedures, to provide certain benefits and provide transparency in their governing processes and procedures.

The bills would require collective bargaining even if only 30 percent of employees had joined a union. This means that 30 percent of employees can force collective bargaining on the entire organization or component thereof.

Wages, hours, and other terms and conditions of employment would be subject to collective bargaining.

The union would have to be given up to 30 minutes to address new employees and employees would be required to attend.

Union representatives would have the right to meet with employees during the workday and the right to communicate with employees through the employer's email system.

The state board charged with administering the act would have only three members: One management representative, one union representative and one member of the public. There would be no guarantee that local governments would be represented on the board.
In the Senate, SB939 gives the authority to local governments to adopt ordinances to allow collective bargaining by their employees. Employees in those localities without such ordinances would continue to be prohibited from striking. The bill has passed the Senate and is awaiting assignment in the House.
VML Contact: Michelle Gowdy, mgowdy@vml.org
Health & Human Services
Health department bill creates concerns
SB 993 (Locke) would remove the requirement that the state health commissioner and local health district directors hold medical degrees and instead allow someone with a master's degree or doctoral degree in public health to serve in that capacity. The bill did not come from a legislative study or from the Administration.
The bill sounds like it could save a local department money by allowing them to hire someone other than a medical doctor to lead the department. However, the health department would still require a medical doctor either on staff or on contract to fulfil functions referenced throughout the Code of Virginia and state regulations. Not every local department has more than one medical doctor on staff – in fact, 22 local health districts have just one medical doctor, and that is the director. A medical doctor is particularly important at times of public health emergencies, such as a pandemic, and a contract doctor would not necessarily be able to devote full time attention to a local department during such times.
VML would be less concerned with the bill if, at the very least, the local department references were removed.
VML Contact: Janet Areson, jareson@vml.org
Drug court bill continued to 2021
SB 819 (Morrissey) that would allow a locality to move forward with establishing a drug court even if no state funding was available and would allow a person access to a local drug court even if their locality did not offer one was carried over to 2021 in the Senate Judiciary Committee.
VML Contact: Janet Areson, jareson@vml.org
Budget
Sunday, Budget Sunday
Don't miss your chance to support VML' s preferred budget amendments
On Sunday, Feb. 16, the House and Senate budget-writing committees will release their amendments to the budgets proposed by Governor Ralph Northam in December (the 2021-22 biennial budget – HB30/SB30 and the remainder of FY20 HB29/SB29).
The information released on Sunday should mostly just hit the highlights of each Committee's efforts, broken down by each of their subcommittees. These subcommittee reports will be posted that day on the state budget website on Virginia's Legislative Information System (LIS). They will not include all the detailed amendments (particularly language amendments) for each subcommittee. The detailed information on all the amendments will be available by Tuesday afternoon and posted on the state budget website on LIS.
On Thursday, each chamber will debate and approve their respective versions of the budget.
VML will provide pertinent details via eNews after the Sunday budget meetings, and additional details once all the amendments are made available.
Action requested
There's still time – but not much – to weigh in on amendments with your members. Do it today!
The Legislative Day Bulletin contains a list of all of the budget amendments sought by VML and its local partners. In talking with legislators, reference the item numbers of the proposed amendment(s) and reasons why the amendment is important to your community.
VML Contacts: Janet Areson, jareson@vml.org; Neal Menkes, nmenkes@vml.org
Northam delivers another $300 million to money committees
Gov. Ralph Northam showered the House Appropriations Committee and the Senate Finance & Appropriations Committee with a special Valentine's Day "box of chocolates" filled with $292.5 million for the general fund budget in this fiscal year.
According to an article in the Richmond Times Dispatch, $112.3 million of the extra money will be required for deposit to the state's Revenue Stabilization Fund ("Rainy Day Fund") leaving $180.2 million for discretionary action by the General Assembly.
State coffers depend significantly on income tax revenue and more than half of the new money ($154 million) from today's gubernatorial announcement comes from non-withholding income taxes paid by self-employed workers and investors who sell stock subject to capital gains taxes.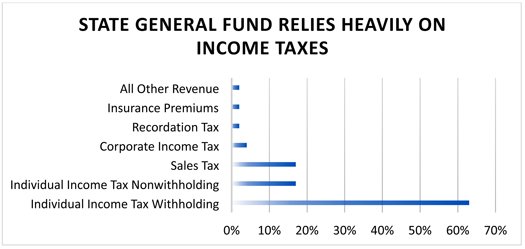 The revenue numbers released earlier in the week show general fund collections increased by 8.7 percent in January, driven by broad-based growth in payroll withholding, sales taxes, recordation taxes, and especially by a surge in non-withholding payments. On a fiscal year-to-date basis, total revenue collections are up 8.4 percent through January, well ahead of the current annual forecast recognizing 1.9 percent growth. (Note – It wasn't until December of last year that the Northam Administration raised the official forecast from 1.2 percent to 1.9 percent.)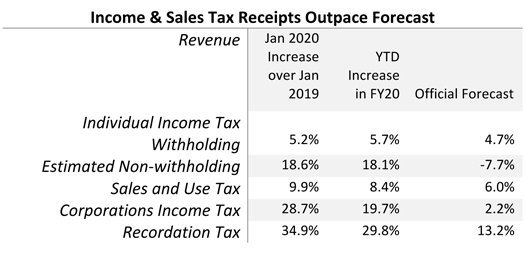 As the General Assembly tackles a final budget for the upcoming biennium, it may prove difficult for legislators to maintain a fiscal conservative approach in an expanding state economy.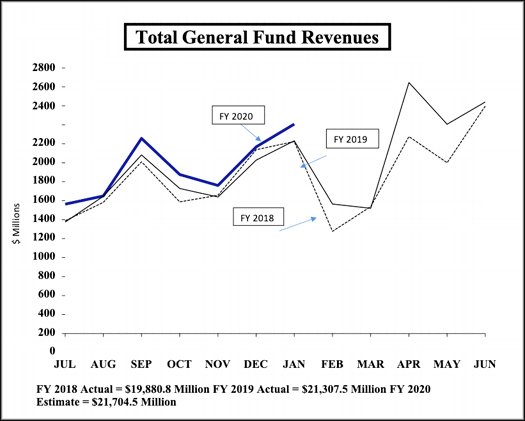 VML Contact: Neal Menkes, nmenkes@vml.org
The week in legislation
Companion bills moving toward passage
SB269 (Bell) / HB722 (Reid) provide a Freedom of Information Act exemption for financial and proprietary records submitted with a loan application to a locality for the preservation or construction of affordable housing that is related to a U.S. Department of Housing and Urban Development or the Virginia Housing Development Authority application until such time as the records are released by one of those two entities. SB269 is on the House floor and HB722 is on the Senate floor.
SB650 (Boysko) / HB452 (Murphy) increase the small purchase threshold from $100,000 to $200,000 in the Virginia Public Procurement Act for goods and services other than professional services and non-transportation related construction. SB650 is on the House floor and HB452 is on the Senate floor.
SB341 (Locke) / HB890 (Sickles) change the threshold for construction management projects from $10 million to the threshold established in procedures established and adopted by the Secretary of Administration. SB341 is going to the House floor and HB890 is on the Senate floor.
SB380 (McPike) / HB1201 (Tran) allow localities to include in an invitation to bid criteria that may be used to determine whether a bidder who is not prequalified is a responsible bidder. These criteria may include history or good faith assurances, participation by the bidder and any potential subcontractors in apprenticeship training programs, or maintenance by the bidder and any potential subcontractors of records of compliance.
Any determination that the low bidder is not responsible that uses factors listed in the invitation to bid as a basis for its decision shall be presumptively considered an honest exercise of discretion. SB380 was reported by the House General Laws Committee.  HB1201 is in Senate General Laws and Technology Committee.
SB708 (McClellan) /  HB921 (Jones) require a housing authority required to submit an application to the U.S. Dept. of Housing and Urban Development to demolish, liquidate or otherwise dispose of a housing project to provide notice to the Virginia Department of Housing and Community Development, any agency responsible for administering tenant-based rental assistance and each tenant of the housing project. There are timelines and specific criteria that must be included in the notices. SB708 was reported from the House General Laws Committee. HB921 is in the Senate General Laws and Technology Committee.
VML Contact: Michelle Gowdy, mgowdy@vml.org
House bills pass both chambers
Except for HB505, the following House bills have passed the Senate and will soon be working their way to the governor's desk.
HB106 (Cole, M.L.) provides for a civil penalty when enforcing visible numbering on building ordinances.
HB150 (Samirah) allows certain localities to impose a civil penalty not exceeding $500 per month on owners of derelict residential property that have not submitted a plan to renovate or demolish the derelict structure as required.
HB370 (Bell) authorizes a member of a board of zoning appeals to also serve as an officer of election.
HB406 (Subramayam) changes the annual deadline for local submittal of comparative report of local government revenue and expenditures to the Auditor of Public Accounts from November 30 to December 15 and the statement of the Auditor of Public Account showing in detail the total and per capita revenues and expenditures for all localities for the preceding fiscal year from January 31 to February 15.
HB585 (Guzman) allows a locality to incorporate transient-oriented development into its comprehensive plan for the purpose of reducing greenhouse gas emissions through coordinated transportation, housing and land use planning.
HB505 (Knight) provides that once the circuit court has served an allowance of a writ of certiorari in response to a petition from a party aggrieved by a board of zoning appeals decision, the board of zoning appeals shall have 21 days to respond. The Senate adopted a floor amendment so the bill will have to go back to the House.
VML Contact: Michelle Gowdy, mgowdy@vml.org
A House zoning bill goes down in the Senate, but…
…the Senate version lives on in the House!
HB632 (LaRock) went down in the Senate Local Government Committee this week. The Senate counterpart, SB647 (Boysko) has been assigned to the Land Use Sub-Committee of the House Counties, Cities and Towns Committee. SB647 provides for the transfer of certain development approvals when a property moves from one jurisdiction to another and includes a grandfather clause.
VML Contact: Michelle Gowdy, mgowdy@vml.org
Announcements & Opportunities
Apprenticeship showcase to be held in Richmond
The Department of Labor and Industry invites all interested individuals to attend the "Everybody Builds Virginia" apprenticeship showcase to be held Wednesday, March 25 from 4 pm – 7 pm at the Chester­field Career and Technical Center.
The free event will feature:
Employers: Ready to meet attendees. Little to no experience required.
"Day in the Life" career experts: Learn what it's like to be a part of a diverse and creative work environment from experts in the ­field.
Resources: For employees, employers, and potential apprentices alike to learn about OSHA, Labor Law, business associations, and Career & Technical Education.
Registration is requested but walk-ins are welcome.
Registration and additional information are available here >
For more information contact Patricia Morrison, Director of the Division of Registered Apprenticeship with the Department of Labor and Industry, patricia.morrison@doli.virginia.gov
2020 Juvenile Justice Improvement Grants available
The "2020 Juvenile Justice System Improvement Title II Grant" makes federal funds available for projects under the Juvenile Justice and Delinquency Prevention (JJDP) Act Title II Formula Grants Program from the U.S. Office of Juvenile Justice and Delinquency Prevention (OJJDP).
Please be aware that:
Local units of government are eligible applicants under the solicitation.
Funding can support juvenile justice system improvements, new prevention and intervention programs, or enhancement or expansion of existing programs.
Programs must be evidence-based.
The grant period is for limited-focus, time-limited projects over 12 months, July 1, 2020 – June 30. 2021.
Examples of areas for potential funding include:
Programs that provide alternative interventions for status offenders (CHINS) / priority to localities changing practices to come into compliance with the reauthorized JJDP Act, specifically reducing or eliminating detention of status offenders (including those who violate valid court orders).
Community and home-based alternatives to incarceration including crisis intervention, respite care, and shelter care programs to divert youth from entering system involvement including restorative justice programs, teen/youth courts and mediation.
The full announcement is available here >
For questions, contact DCJS Grant Coordinator Ed Holmes, 804-786-4576