eNews December 4, 2020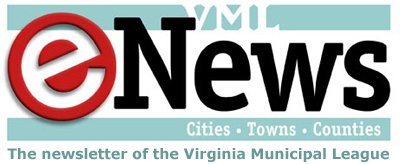 Friday, December 04, 2020 - 05:29pm
In this issue:
Opportunities
VML Newly Elected Official Conference January 6 registration open
Registration is now open for the next VML Newly Elected Officials Conference being held virtually on January 6, 2021 from 10:00 AM – 3:00 PM.
This event is being offered free of charge to officials and staff of VML member localities.
Registration and details are available here >.
VML's Newly Elected Officials Conference provides a valuable opportunity for both new and seasoned public officials to learn from speakers with extensive experience working with local government officials. Furthermore, the conference offers an excellent opportunity to learn what it takes to succeed and how to avoid common pitfalls as an elected official.
VML Contact: Jessica Ackerman, jackerman@vml.org
NLC Community Resilience grant program now accepting proposals
The National League of Cities 2021 Leadership in Community Resilience program is now accepting proposals from cities seeking additional funding for resilience-related projects. Each city selected for the 2021 cohort will receive $10,000 in financial support, and customized support from both NLC and the Resilient Cities Network (formerly 100RC).
The deadline for applications is December 23, 2020.
To learn more, find FAQs and apply click here. Check this page for more info on past projects.
NLC Contact: Anna Marandi, Senior Specialist, marandi@nlc.org
Norfolk Southern licensing options now available through RailPros
Norfolk Southern assists utilities, municipalities, and other parties by offering fiber optic installation opportunities throughout its 22-state network and pipe and wire licensing options along 19,500 miles of rights of way.
To make the process of obtaining utility occupancy licenses for wireline and pipeline projects more efficient and accessible, Norfolk Southern has retained RailPros to manage its wire and pipeline program.
RailPros offers a new, innovative, and transparent online permit and management system to handle utility permitting and coordination processes. RailPro's cloud-based, web-enabled right-of-way management software allows applicants to upload attachments, send messages, obtain real-time status updates, execute agreements, and coordinate field services.
Those interested in initiating the process, should complete the online application and submit the applicable fees. It is advisable to look into the licensing fees associated with your project well ahead of making budgeting decisions since operating costs and Federal regulations need to be taken into consideration.
For more information and links to apply, visit the Norfolk Southern application page here >. Or reach out to Norfolk Southern directly with questions about potential projects before you apply.
Norfolk Southern Contact: Tim Bentley, Regional Vice President – Government Relations, Timothy.Bentley@nscorp.com
Utilities
VAMWA templates available for budget impacts on municipal utilities and moratorium on disconnections
The following templates were shared by the Virginia Association of Municipal Wastewater Agencies and are intended to provide an efficient starting point for localities considering implementation issues. Use the linked title to view/download the template:
Model Resolution for Moratorium Exemption Under 1% Test – This VAMWA template is a draft starting point that may save VAMWA Members time in devising their individual resolutions. Elements highlighted in yellow are mandatory elements (do not delete) from Paragraph 7.f. of Item 4-14 of the controlling Appropriation Act Amendments. Non-highlighted language is example optional context that is potentially desirable for conveying background, need and positive intent.
Model Fiscal Agent Agreement for CARES Funding – This VAMWA template is a draft starting point that may save VAMWA Members time in devising individual fiscal agent agreements. DHCD's COVID-19 Municipal Utility Relief Program requires that any CARES funding award to a Town or Authority be disbursed through a partnering City or County serving as the Fiscal Agent with the Virginia Department of Accounts for the receipt and pass-through of funds. The template is drafted for an Authority; if used by a Town instead, replace Authority references accordingly. Although this template has been reviewed by DHCD, VAMWA Members who use it are encouraged to have your individual agreement prepared by or with the advice and counsel of your legal counsel.
VML Contact: Mitchell Smiley, msmiley@vml.org
FOIA
Freedom of Information (FOIA) Council meets
The FOIA Council met this week and took up a hefty agenda.*
*Note: There are no links to the bills in the agenda because there was a lot of editing during the meeting; the legislation prior to the meeting can be found here where the expected patrons are listed. You can monitor each patron's bill list here as the final drafts are posted by clicking on the patron's name.
First up on the agenda was the issue of phishing which entailed two suggested bills, the first one deals with the protection of personal contact information provided to a public body, its members or employees for the purpose of enrolling in electronic communications; the second deals with protection during general correspondence.
The Council recommended only the first bill (related to protection of personal contact information for the purpose of enrolling in electronic communications) and included  an "opt-in" so that if a person would like to have their personal contact information shared, they would have to tell the public body, member or employee that it can be shared. Currently the law is an "opt-out" for the sharing of this information.
It is expected that Delegate Heretick will carry this legislation.
The Council also took up the issue of electronic records on two general topics:
First – Allow a public body to conduct a meeting through electronic communication means if, on or before the day of the meeting, a member of the public body holding the meeting notifies the chair of the public body that he is unable to attend due to a serious medical condition of an immediate family member that prevents the member's physical attendance. The council recommended removing the word "serious."
The proposed legislation limits electronic participation in an electronic meeting due to a personal matter or the serious medical condition to either two meetings per calendar year or 25 percent of the meetings held that calendar year rounded up to the nearest whole whichever is greater. There must be a physical quorum present at the meeting and the public body must have a written policy allowing for participation of members by electronic means.
This was recommended by the FOIA Council and Delegate Levine will carry the proposed legislation.
Second – Put into the state code a provision for public bodies to have the ability to meet electronically to conduct their normal business if there is a state of emergency declared by the state or locality.  Providing public notice, access and otherwise complying with FOIA is still required along with allowing public comment if that is normally received.
VML, VACo, the Virginia Press Association and the Virginia Coalition for Open Government provided draft legislation that was ultimately recommended. Delegate Sullivan will carry the proposed legislation.
Lastly, the FOIA Council took up criminal records disclosure. The purpose of this legislation is to add criminal investigative files to the types of records that are required to be released.  Under the current law the release of these records is discretionary. The proposed legislation defines criminal investigative files as well as criminal incident information. Also, law enforcement or the Attorney for the Commonwealth have the ability to petition a court of record to withhold specific records if it is likely to jeopardize an ongoing investigation or cause certain other harms.
The FOIA Council recommended this legislation and we expect that Delegate Hurst will carry it.
VML Contact: Michelle Gowdy. mgowdy@vml.org
Transportation
VDOT/VDH Walkability/Active Transportation Locality Survey due by December 18
The Virginia Department of Transportation (VDOT) and Virginia Department of Health (VDH) are asking localities to complete their Walkability/Active Transportation – Locality Survey by December 18, 2020.
The organizations are leading a State Engagement Model (StEM) to further develop active communities to advance active transportation, health equity, and transportation justice. The purpose of this survey is to learn from local/regional agencies about current practices, resources and tools being used, and further needs in order to successfully develop plans, policies and projects that improve active transportation, transportation justice, health equity, and overall health outcomes.
VML members are encouraged to collaborate with other staff representing your local agency to complete this survey.
VDOT Contact: Stephen Read, Highway Safety Planning Manager, stephen.read@vdot.virginia.gov
Health & Human Services
Just the facts: COVID numbers, vaccine plans, and tabletop exercise materials
The rising numbers around COVID-19 in Virginia and across the country are concerning and the news coverage can be overwhelming. If you take comfort in facts, both the Virginia Department of Health (VDH) and the Virginia Hospital and Healthcare Association (VHHA) provide up-to-date numbers on their website that give you the essential data about COVID-19 in Virginia.
The VHHA dashboard
VHHA's dashboard provides the daily status of COVID-19 in Virginia hospitals including current numbers of diagnosed cases, hospital bed and ICU bed usage and capacity, and ventilator usage and availability.
View the VHHA dashboard here >.
While Virginia hospitals continue to have sufficient capacity, they have faced, and continue to face staffing challenges, in part because of staff testing positive for the virus. The coming vaccines will help, and indications are that Virginia will follow federal guidelines giving initial priority for vaccines to health workers as well as residents of long term care facilities.
The VDH website
The VDH website includes a wide range of information, including statewide, regional and locality data regarding COVID caseloads as well as information about testing sites, guidance for the communities, workplaces and schools, and information about the COVIDWISE app.
View the VDH website here >.
To see a PowerPoint with up-to-date data on testing in Virginia, go to VDH's emergency preparedness page where you will find links to the most recent reports. This page also includes a link to a presentation and materials for a local tabletop exercise on planning and conducting a vaccination campaign. The exercise is intended to be conducted with community partners and can be scaled to the size of the community/communities involved.
VML Contact: Janet Areson, jareson@vml.org
Marcus alert planning group to be formed; nominations due December 15
The 2020 Special Session passed legislation creating a new statewide mental health crisis alert system (named the Marcus alert system) and crisis response infrastructure.
Work on system planning and development will begin in January and run through at least next December. The Department of Behavioral Health and Developmental Services (DBHDS) is the lead agency and will coordinate the process in cooperation with the Department of Criminal Justice Services (DCJS).
DBHDS this week posted a link to a nominations form for anyone interested in serving on a statewide stakeholder group. The deadline for applications is December 15, 2020. DBHDS encourages stakeholders across mental health, development services, law enforcement, emergency management, substance abuse, racial equity, social justice, and other social and rehabilitative services, including those for youth, to apply to serve on the stakeholder group. Please be aware that only 20 people will be chosen for this group.
DBHDS also sent to community services board (CSB) directors additional information about the implementation process and a community checklist for potentially participating in the first round of five CSBs/regions to implement the new crisis response and crisis services system by December 2021.  All localities will be phased in for implementation by 2026.
VML Contact: Janet Areson, jareson@vml.org
Broadband
Broadband Advisory Council discusses VATI study
The Virginia Broadband Advisory Council met today to discuss the study included in the state budget requiring them to:
"…assess updating the Virginia Telecommunication Initiative (VATI) to allow for public broadband authorities to apply directly for VATI funds without investment from the private sector. The Department of Housing and Community Development on behalf of the Council shall submit feedback on the potential impacts of this policy change to the General Assembly before the 2021 session."
After considering three options they voted for Option C (Permit public broadband authorities to apply under a pilot program) as listed in their agenda.
Option C states the following:
"The Broadband Advisory Council may recommend the General Assembly consider directing the Department of Housing and Community Development create a pilot program within VATI, with awards not to exceed 10 percent of total available VATI funds in FY22, to which public broadband authorities may apply without investment from the private sector."
The Council also discussed potential legislation related to broadband that includes railroad crossings, affordability, pole attachments, unserved/underserved and mapping.
VML Contact: Michelle Gowdy, mgowdy@vml.org
Economy & Budget
Economic outlook remains mixed
Check the response that best describes the economy:
__ Recovering,
__ Continuing to Decline,
­­__ Doing both Simultaneously
In remarks delivered to the House Committee on Financial Services earlier this week, Federal Reserve Chairman Powell told the congressmen that "economic activity has continued to recover from its depressed second-quarter level. The reopening of the economy led to a rapid rebound in activity, and real gross domestic product, or GDP, rose at an annual rate of 33 percent in the third quarter."
However, Chairman Powell noted that in recent months the pace of improvement has moderated.
Household spending on goods, especially durable goods, has been strong and has moved above its pre-pandemic level. In contrast, spending on services remains low largely because of ongoing weakness in sectors that typically require people to gather closely, including travel and hospitality.
Chairman Powell pointed out that the federal government's role in the recovery, thus far, was critical.  The overall rebound in household spending is due, in part, to federal stimulus payments and expanded unemployment benefits, which provided essential support to many families and individuals. With a new Administration just weeks away from taking office in Washington, it is questionable if there will be a "honeymoon" truce accepted by the political parties to develop compromise proposals to reinvigorate public services, provide safety net protections for individuals and families, and stimulate business activity.
An unequal impact
According to Powell: "In the labor market, more than half of the 22 million jobs that were lost in March and April have been regained, as many people were able to return to work. As with overall economic activity, the pace of improvement in the labor market has moderated…The economic downturn has not fallen equally on all Americans, and those least able to shoulder the burden have been hardest hit. In particular, the high level of joblessness has been especially severe for lower-wage workers in the services sector, for women, for young workers, and for African Americans and Hispanics. The economic dislocation has upended many lives and created great uncertainty about the future."
Long-term unemployment of 27-weeks or longer is skyrocketing.  Many workers seeking employment will find themselves navigating a choppy labor market. COVID is abruptly taking out a swath of jobs that were thought to be comparatively resilient, in services that require personal contact with customers. And the jolt has landed squarely on workers with little or no education beyond high school, toiling in the low-wage service economy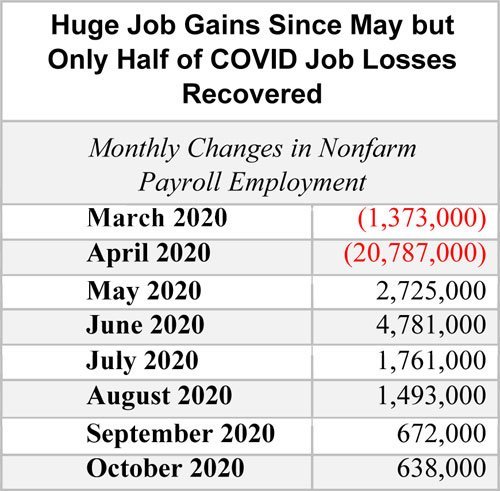 Powell continued to emphasize that the outlook for the economy is extraordinarily uncertain and will depend, in large part, on the success of efforts to keep the virus in check. A full economic recovery is unlikely until people are confident that it is safe to reengage in a broad range of activities.
So how does Virginia's economy compare with the rest of the country?
Choose the best response:
 __ Better
 __ Worse
 __ Not Sure
On the job front for the filing week ending November 21, the figure for seasonally unadjusted initial claims in Virginia was 12,234. The latest claims figure was an increase of 1,146 claimants (or 10.3 percent) from the previous week and rose to its highest level in nearly a month.
The continued weeks claimed totaled 81,138, which was a 4.7 percent decrease from the previous week, but 63,597 higher than the 17,541 continued claims from the comparable week last year. Although a deceleration, this drop indicated a continuation of its recent declining trend. The continued claims total is mainly comprised of those recent initial claimants who continued to file for unemployment insurance benefits during the COVID-19 pandemic.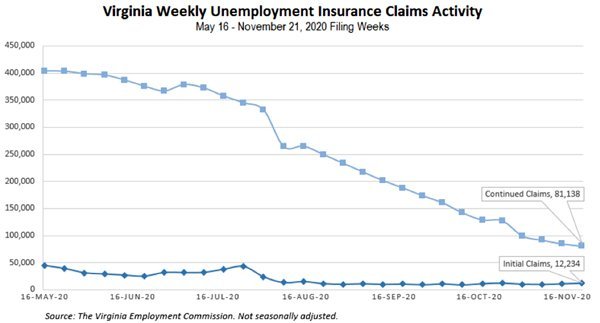 The improving unemployment rate over the past several weeks is encouraging but when compared with the unemployment numbers over the previous ten Octobers the chart below shows that job growth and labor force participation have been in decline.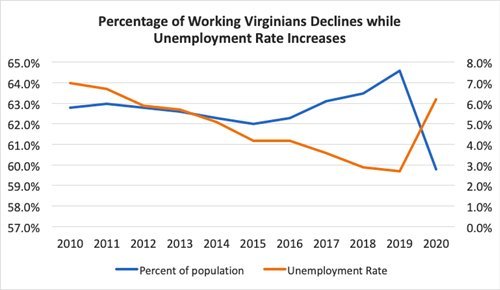 Although the Commonwealth is not meeting past job growth figures, payroll employment is stronger here than in the country at large. September's decline in payroll jobs was 5.1 percent in Virginia and 6.4 percent in the U.S.  September's unemployment rate in Virginia and the U.S. was 6.2 percent and 7.9 percent, respectively. Virginia's better performance was due in large part to the state's employment mix. Job losses in the construction, information and transportation sectors were significantly higher in the U.S.  Job losses in Virginia outpaced the nation's losses in the education and health care, manufacturing, finance, and government sectors.
As the country enters the winter months with the likelihood of even greater misery from the Coronavirus, it is increasingly clear that the economic recovery will depend on several factors. A safe and effective vaccine and a fair and efficient scheme to vaccinate the population are critical. And so too are the resources governments at all levels need to carry out essential public services.
Stay safe.
VML Contact: Neal Menkes, nmenkes@vml.org
Crystal ball shows improving state revenue situation
In less than two weeks, Gov. Northam will submit his budget proposal to amend the budget bill (HB 5005) he signed into law on November 18. The new spending plan to be submitted on December 16 will be based on a set of new revenue assumptions and projections.
To prepare for the new budget bill, the Joint Advisory Board of Economists met on November 4 to review the latest economic assumptions. The Governor's Advisory Council on Revenue Estimates (GACRE) met on November 23. The Council is comprised of business leaders, General Assembly leadership, economists, and the Virginia Department of Taxation. The Council's job is to react to the forecast put together by the state tax agency and provide input on the proposed revenue forecast and economic climate. In effect, the revenue forecasting process has been compressed into a month's timeline rather than the usual 6-7 months it takes to develop.
Since March when the impact of the COVID-19 pandemic resulted in a plunge of economic activity, state revenue projections have resembled the uncertainty and reversals of a squirrel attempting to dart across a road. In April, the Administration anticipated that revenues would drop by roughly $1 billion in each year of the 2020-22 biennium. However, by the end of June, revenue collections for Fiscal Year 2020 had fallen just $234.2 million or 1.1 percent behind the forecast.
For the Special Session that began in August, Gov. Northam's introduced budget reduced general fund resources by more than $2.5 billion over the biennium.

A developing consensus on revenue?
In his most recent revenue report to Gov. Northam, Secretary of Finance Aubrey Layne noted that on a fiscal year-to-date basis, total revenue collections in FY21 have increased by 6.7 percent through October, which is substantially higher than the forecast predicting a 1.8 percent decline. That additional cash in the bank translates roughly into $555.6 million. However, $250 million of that additional revenue would have been typically remitted in FY20.
The boost in revenue collections is coming from several sources, including sales taxes, corporate income taxes and recordation taxes. All of them are running higher than the official projections. Non-withholding collections are also far ahead of the forecast. Year-to-date collections through October were $1.1 billion compared with $800.5 million in the same period last year, growing by 41.3 percent and well ahead of the annual estimate of a 3.6 percent decline. However, as mentioned earlier, most of the growth is attributable to payments due on June 1 being received in July.

In their respective retreats, the House Appropriations Committee and the Senate Finance and Appropriations Committee presented information about their views of the upcoming December revenue forecast.
The House expressed some degree of caution about payroll withholding taxes, which account for about 64 percent of the general fund revenue. The concern over continued and future job losses cannot be overlooked. Their 2.6 percent growth in individual income taxes in FY22 is less than the 3 percent estimated by the Senate Finance and Appropriations staff. The House growth number of 2.2 percent for sales tax is also smaller than the Senate's 2.6 percent figure.

The Senate Committee's adjustments to the biennial general fund revenue forecast is a boost of some $1.5 billion for the biennium. However, they did couch their estimate by pointing out that "much depends on the course of the virus, the timing of a vaccine, and the public's response to changing circumstances."
The House money committee's estimate recognizes almost $1.3 billion in additional revenue and cash transfers to the state general fund.
With an unappropriated balance of just over $300 million already "baked in" to the state budget by the close of Fiscal Year 2022, the General Assembly's money committees are taking the position that Gov. Northam does have some flexibility in developing his budget for the 2021 Session. Will it be enough to handle the pressing challenges facing state and local governments?
Stay tuned.
VML Contact: Neal Menkes, nmenkes@vml.org
2021 General Assembly: A peek at the policy and spending challenges legislators will face
Short story: It's not pretty.
The usual suspects will include spending for education, both K-12 and higher, public safety, and public health. However, there will be wrinkles. The largest is the policy decision Gov. Northam and the General Assembly must make to conform with federal tax law changes embedded in the CARES Act.
Staff from the Senate Finance and Appropriations Committee pointed out to Senators at the November retreat that three business provisions of the CARES Act essentially reverse parts of the Tax Cuts and Jobs Act (TCJA), resulting in a significant reduction in general fund revenues if the Commonwealth elects to fully conform. In addition, the business provision excluding the Paycheck Protection Program (PPP) loan forgiveness would have an unknown negative impact on state revenues.
The CARES Act changes in federal tax policy would also affect individual income taxpayers, costing the state treasury an estimated $34 million in FY21 and less than $10 million in FY22.
If the state fully conforms with the individual and business changes, the biennial revenue slam would likely exceed $700 million.

The policy choices facing the state, according to the Senate money committee, are fourfold:
Completely conform (most expensive option);
Deconform from all tax provisions of the CARES Act (least costly option);
Conform only for Tax Year 2020 and deconform from the retroactive provisions of the federal legislation for tax years 2018 and 2019; or
Deconform from select provision of the federal tax law.
It is critical for the General Assembly to resolve this policy question. The impact of that decision will determine the amount of resources available for state-mandated and state-high priority programs and services.
Additional spending in 2021 Session?
In October, the Governor's Office sent out guidance to state agencies with these directives regarding budget requests:
No requests for new initiatives or discretionary spending increases.
Requests must address at least one of the following criteria:

Addresses state mandated costs
Responds to court orders or federal mandates
Responds to emergency needs including the COVID-19 pandemic
Addresses unavoidable caseload changes in current services

No requests to partially or fully restore previous reductions that do not meet criteria above.
Even with this guidance agency requests totaled almost $3 billion for the biennium. This total does not include across-the-board salary increases, statewide requests related to the increase in the minimum wage, or the state Medicaid forecast.
In their respective retreat presentations, the House and Senate identified spending believed to be mandatory and high-priority.
The House identified $25.8 million in FY21 and $115.1 million in FY22 as mandatory budget drivers.  Adding the high-priority budget drivers of $87.6 million in FY21 and $495.3 million in FY22 results in a grand total of $113.4 million in FY21 and $610.4 million in FY22 or $723.8 million for the biennium.
House staff reminded the delegates that HB5005 includes $1.75 billion for the biennium in reductions to new spending items the General Assembly endorsed in the 2020 Regular Session before the pandemic struck.

The House Appropriations table proves the adage musically espoused by the Rolling Stones that "you can't always get what you want." There is simply not enough money to pay for all the mandates, high-priority spending, and restorations.
As pointed out by the House Appropriations Committee, the state budget is structurally imbalanced, meaning without past cash surpluses and expenditure savings the budget is not balanced. Current revenues cannot support current spending levels. The House presentation projects that "the first 2 percent of revenue growth in FY 2023 and FY 2024 will be required simply to support pre-existing program levels prior to addressing any programmatic growth."
Senate staff projections differed from the House but reached similar conclusions. Like the House, the Senate projected available resources above major budget pressures and commitments. However, the Senate's "must do" list is much lower.

The Senate presentation acknowledged that its projection of net available resources could be strained by additional funding needed to address the COVID-19 impacts on state government operations as well as on services related to K-12 and higher education. Also, their scenario did not factor in additional salary actions for state employees, state-supported local employees, and teachers.
As articulated by the House staff, the Senate presentation recognized that the budget's structural balance in FY 2022 is a concern and must be considered because it is the starting point for budget development in the 2022 Session.
The Senate presentation advised the senators that it may be wise to put together additional funding for reserves, use cash for capital outlay or designate one-time cash for deposit to the Unemployment Insurance Trust Fund.
All this means the budget work done in the Special Session does not preclude heavy lifting in January's upcoming session. The hard work will begin December 16 when Gov. Northam introduces his budget bill.
VML Contact: Neal Menkes, nmenkes@vml.org
NLC survey reveals struggles faced by localities
Earlier this week, the National League of Cities (NLC) released the results of a new survey of over 900 Cities, Towns and Villages which showcases the widespread effect COVID-19 is having on American Municipalities.
The survey found that 71 percent of cities, towns and villages believe their government's condition will worsen if Congress does not pass another stimulus.
 Of the over 900 municipalities surveyed, approximately 70 percent indicated their financial health has been negatively impacted by COVID-19, with 90 percent of those experiencing decreased revenues and 76 percent having to take on additional expenses.
This affects cities of all sizes – 89 percent of large cities, 71 percent of mid-sized cities, and 52 percent of small cities indicated their governments will face significant challenges in providing necessary services to their residents.
On average, cities have seen revenues decline by 21 percent since the beginning of the pandemic, while additional expenditures – including PPE, remote work technology and overtime pay for essential employees – have increased 17 percent over the same time period. This adds up to a budget gap of about $90 billion for 2020 alone. As COVID-19 cases continue to rise and overwhelm local resources around the country, 71 percent of cities indicated their government's condition will worsen if Congress does not pass another stimulus package that includes aid to cities.
These results compliment the findings of a recent report NLC released, with researchers from Princeton University and Marquette University, which looks back at the financial distress cities faced during The Great Recession.
Additionally, the latest NLC survey found that:
29 percent, or an estimated 6,000 cities, towns, and villages, did not receive any aid or funding from the CARES Act Coronavirus Relief Fund based on the survey results.
Only 7 percent of cities that received CRF funds indicated that the funds adequately addressed their revenue shortfalls and unforeseen expenses.
37 percent of cities indicated they've had to make cuts their municipal workforce, including hiring freezes, wage holds, layoffs, furloughs, reduced hours or forced early retirement of municipal employees.
To dig deeper into the survey, take a look at NLC's infographic summarizing the results of the latest survey and a legislative one-pager.
For more information on the survey's methodology, click here. 
For NLC's statement on the introduction of a new bipartisan COVID emergency relief package, click here.
NLC Contact: Bryan Griffith, Manager, State Leagues Services – Member and Partner Engagement, griffithb@nlc.org
Elections
Legislators appointed to Virginia Redistricting Commission
Application open for remaining seats until December 28
The General Assembly has released the names of the eight legislators designated to serve on the 2021 Virginia Redistricting Commission. Following the November referendum establishing the Commission, each party caucus from each body was empowered to select two representatives to serve. House Democrats named their appointees Monday, with the remaining caucuses adding theirs Tuesday.
Designees include:
House Democrats: Delegates Delores McQuinn and Marcus Simon
House Republicans: Delegates Les Adams and Margaret Ransone
Senate Democrats: Senators Mamie Locke and George Barker
Senate Republicans: Senators Steve Newman and Ryan McDougle
Together, these designees represent half of the Commission's total membership. The role of these four two-panel caucuses received significant attention during the 2020 Session, as the approval of any new map will depend upon the cooperation of all four. The remaining eight seats will be filled by citizens who are selected via an application process by the five-person Selection Committee, made up of retired judges from the circuit courts of Virginia:
The Honorable Pamela Baskerville
The Honorable Joanne F. Alper
The Honorable William C. Andrews III
The Honorable Larry B. Kirksey
The Honorable David Pugh
Applications are due December 28 and can be found on the Virginia Redistricting Commission website.
VML Contact: Jessica Ackerman, jackerman@vml.org