eNews December 18, 2020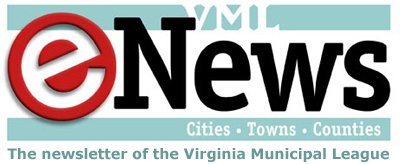 Friday, December 18, 2020 - 05:35pm
In this issue:
Editor's Note: This will be the last regular edition of eNews until Friday, January 8, 2021. Of course, VML will continue to communicate items to our members via email or special editions of eNews should events warrant. Happy New Year everyone!
VML Events & News
State Budget Overview Session just announced for January 11
VML members are invited to join VML staff and subject matter experts for an overview and discussion of the budget amendments introduced by Governor Ralph Northam that are of greatest interest to local governments, along with other budget issues and potential amendments to be addressed by the 2021 General Assembly.
This virtual session is being offered free of charge.
More information and a link to register are available here >.
Items to be covered include:
Update on the state's revenue picture
Overview of the Governor's proposals
Details on some of items of greatest interest to localities being monitored/pursued by VML staff, including (but not limited to):
K-12 education
VDH funding formula
Stormwater
599 funding
Broadband
…and more!
VML Contact: Janet Areson, jareson@vml.org
Newly Elected Officials Conference coming January 6
Registration is now open for the next VML Newly Elected Officials Conference being held virtually on January 6, 2021 from 10:00 AM – 3:00 PM.
This event is being offered free of charge to officials and staff of VML member localities.
Registration and details are available here >.
Topics and speakers for the Jan. 6 event continue to be added to include (but not limited to) FOIA, COIA, Community and Media Engagement and "Ask Me Anything" sessions with experienced elected officials.
VML's Newly Elected Officials Conference provides a valuable opportunity for both new and seasoned public officials to learn from speakers with extensive experience working with local government officials. Furthermore, the conference offers an excellent opportunity to learn what it takes to succeed and how to avoid common pitfalls as an elected official.
VML Contact: Jessica Ackerman, jackerman@vml.org
Registration open for 2021 Local Government Day happening January 28
Join VML, VACo, VAPDC and the Virginia Rural Center for the 2021 Local Government Day at 9-11 am on Thursday, January 28. This is our day to advocate for local governments at the 2021 General Assembly Session.
Information and registration are available here >.
Registered attendees will receive the "2021 VML Local Government Day Bulletin" before the event.
Governor Ralph Northam has been invited to speak about how his legislative agenda will strengthen Virginia's communities. In addition, legislators have been invited to join the discussion. VML and VACo Staff also will provide legislative reports on the major issues facing local government in the 2021 General Assembly Session.
Current social distancing and meeting restrictions make it challenging to get time with legislators during the session, so it is more important than ever to participate in this event and to engage your representatives year-round. The "Working with Legislators – A Year-Round Guide" (created for the 2021 General Assembly session) provides useful advice on this topic.
VML Contacts: Rob Bullington, rbullington@vml.org (for event registration questions); Janet Areson, jareson@vml.org (for legislative policy questions)
VML Legislative Committee approves guidance on marijuana legalization
During its December 18 meeting, VML's Legislative Committee endorsed general guidance for VML staff to use during the 2021 General Assembly Session on the issue of marijuana legalization. Governor Ralph Northam has signaled support for legalization and included items in his budget amendments addressing components of the issue. The Governor has signaled his intention to have legislation introduced for the 2021 Session.
As background, two reports, one from the Joint Legislative Audit and Review Commission (JLARC) and one from an executive branch work group provide a thorough overview of the many elements to consider if the General Assembly decides to not only legalize marijuana possession but commercial sales as well.
Some of the policy and regulatory issues identified include:
Regulatory Structure – Single Agency vs. Multiple Agencies – Does the same agency regulate medical and recreational? Does this agency regulate hemp as well?
Industry Structure – Will vertical integration be required or allowed? Note: It is prohibited for alcohol.
Licensing – Separate licenses for growing, processing, transporting, distribution, retail, social equity licensing (MA & IL), what are the requirements for licensing? Who is not eligible? Restorative justice concerns will likely play prominent role in discussion around licensing.
Taxation – Rates (high rates carry risks)

Local option rates – Similar to tobacco?
Who collects, state vs. local?

Local Control – Zoning, location, setback, hours of operation, advertising, building and fire code compliance, inspections.
Licensing – Local control of facility licensing in a locality and within given areas.
During the 2020 Special Session, the Legislative Black Caucus also endorsed creating a legal path for commercial marijuana sales in the Commonwealth. There are multiple reasons for this endorsement with the disparate impact of criminalization on minority communities across the Commonwealth being among the most apparent. Indeed, this concern has motivated many legalization supporters and is included in both the Governor's work group report and the JLARC report which both lay out many different options to address these concerns.
Further complicating this already very complicated issue, the General Assembly's upcoming potentially very short session (possibly 30 days versus the usual extension to 45 days) will challenge legislators to address legislation and budget amendments addressing the path to legalization.
Guiding principles for the 2021 Session
VML's Legislative Committee endorsed the following general principles for the 2021 Session:
Broadest Amount of flexibility possible for Localities
Authority to decide if a locality wants recreational sales/cultivation/distribution, etc.
Zoning
Local control over location of marijuana-related facilities, advertising, etc.
Land Use – zoning, setbacks, signs, etc. up to locality.
Public Safety
Training needs to adapt to and be provided by the state for public safety and first responders.
Resources for distracted/impaired driving enforcement.
Taxation
Should be subject to local taxation (similar to tobacco products).
Businesses subject to all relevant licenses and fees including BPOL, M&T for processing/cultivation.
Substance Use
Communities require additional resources to deal with substance abuse education and treatment of disorders.
VML Contact: Mitchell Smiley, msmiley@vml.org
Housing
Housing Commission hears about evictions; considers legislation for study
The Virginia Housing Commission met on Thursday to hear an update on evictions. According to the presentation given by the Department of Housing and Community Development (DHCD), by the end of December $62M of the CARES Act money will have been used on the rent and mortgage relief program with 63 percent of the beneficiaries having children under the age of 8.
View/download DHCD presentation here >.
The Commission also had a discussion of two bills by Senator Surovell and Delegate Keam respectively. Both bills were introduced during the 2020 regular session and sent to the Housing Commission for further study.
SB638 (Surovell) deals with Affordable Dwelling Units near metro stations and would require 10 percent of housing units be affordable within ½ mile of a planned or existing metro station. This bill was NOT endorsed by the Housing Commission.
HB1338 (Keam) would have prohibited smoking in any multi-unit residential building, including a condominium building or apartment building. The version that was endorsed by the Housing Commission does not prohibit smoking but does provide an easier process for amending Homeowner's Association documents to prohibit smoking. The language is not yet available.
VML Contact: Michelle Gowdy, mgowdy@vml.org
Broadband
Commonwealth Connect Coalition considers broadband and related issues
The Commonwealth Connect Coalition met this week and discussed the $50M for the VATI grants in the Governor's introduced budget. They also discussed potential legislation for the upcoming session related to broadband, including the following:
Code cleanup to make broadband references accurate
Pilot to establish a broadband affordability subsidization program for SNAP recipients
Pole attachment fees
Railroad crossings for broadband
Broadband mapping
More tools for municipalities to provide broadband
There was also discussion on the rural digital opportunity fund and how that will interplay with the VATI grants. Those discussions will continue.
The awards for the CARES Act $30M for broadband (which can be found here) were able to connect over 30,000 locations to broadband with 71 projects in 50 localities.
VML Contact: Michelle Gowdy, mgowdy@vml.org
Health & Human Services
Reminder: December 21 briefing on Marcus Alert implementation
VML emailed members earlier this week about a webinar scheduled for Monday, Dec. 21, at 1 p.m. during which staff from the Department of Behavioral Health and Developmental Services (DBDHS) and Department of Criminal Justice Services (DCJS) will provide a briefing for local government officials and local government staff on the implementation of the Marcus Alert legislation approved during the 2020 Special Session and signed into law earlier this week by Governor Ralph Northam.
The legislation will require all cities and counties to implement a "Marcus Alert" system and create community response teams to respond to behavioral health crisis calls.
This legislation will begin rolling out in 2021 and continue until 2026; the first CSBs/localities will be phased into the program by December 2021. Other facets of the legislation will go into effect for all localities beginning next fiscal year.
The new law seeks to ensure that individuals experiencing a behavioral health crisis are served by a local or regional response team of behavioral health specialists with very limited or no law enforcement back-up, depending on the situation. If law enforcement plays a role in response, their presence will be modified (e.g., unmarked vehicle, no typical uniform) unless a situation otherwise dictates. Experience from cities/counties in other states that have used a similar model indicates that a behavioral health-focused response leads to a more positive/treatment-focused outcomes for individuals experiencing a crisis.
The Virginia Departments of Behavioral Health and Developmental Services (DBHDS) and Criminal Justice Services (DCJS) will lead the implementation of the legislation with the assistance of a stakeholder group and others. State funding has been identified for the first phase of the implementation.
VML Contact: Janet Areson, jareson@vml.org
Update: Proposed budget amendment addressing health department local match
An amendment to Item 302 in Governor Ralph Northam's proposed budget amendments would adjust existing rate formula for the cooperative health budget. The local match rate ranges from 18 to 45 percent. That range would mean the budget remains the same. What would change for many localities is their individual local match rate.
The budget amendment proposes one-year "hold harmless" funding to localities for whom the local match would increase, and for those whose local match would decrease, and additional state funding would be necessary to fill the gap. This "hold harmless" funding would apply to the FY2022 budget year beginning July 1, 2021. The amendment states that the hold harmless funding is intended only for that fiscal year, meaning localities with rate increases would experience the full impact of that increase in FY2023.
The local match rates have not been adjusted in decades. The Joint Legislative Audit and Review Commission (JLARC) recommended changes in a 1986 study, but the General Assembly did not adopt those recommendations. Therefore, the changes proposed in the Governor's budget amendment may be a bit of a shock to localities for whom the match rate would increase or decrease by more than a few percentage points. Many cities, particularly those experiencing significant fiscal stress, will see a decrease in their rates. The General Assembly will determine if these amended rates will go forward in the budget.
The current (FY21) and proposed (FY22) local match rates for VML communities are listed below:
| | | | |
| --- | --- | --- | --- |
| DISTRICT/ LOCALITY | Local Match Percent | Revised Match Rate | Rate Change |
| Buena Vista | 20.599% | 18.000% | -2.599% |
| Harrisonburg | 37.826% | 22.775% | -15.051% |
| Lexington | 22.567% | 25.787% | 3.220% |
| Staunton | 39.136% | 30.020% | -9.116% |
| Waynesboro | 40.607% | 28.741% | -11.866% |
| Winchester | 43.042% | 39.808% | -3.234% |
| Stafford County | 45.000% | 45.000% | 0.000% |
| Fredericksburg | 37.963% | 45.000% | 7.037% |
| Albemarle County | 45.000% | 45.000% | 0.000% |
| Charlottesville | 40.559% | 45.000% | 4.441% |
| Alexandria | 45.000% | 45.000% | 0.000% |
| Arlington County | 45.000% | 45.000% | 0.000% |
| Fairfax Co./City, Falls Church | 45.000% | 45.000% | 0.000% |
| Falls Church | 45.000% | 45.000% | 0.000% |
| Loudoun County | 45.000% | 45.000% | 0.000% |
| Manassas | 44.682% | 45.000% | 0.318% |
| Manassas Park | 23.486% | 45.000% | 21.514% |
| Alleghany County | 32.300% | 30.732% | -1.568% |
| Roanoke County | 45.000% | 45.000% | 0.000% |
| Covington | 29.294% | 23.842% | -5.452% |
| Salem | 43.853% | 38.436% | -5.417% |
| Bedford County/City | 43.923% | 45.000% | 1.077% |
| Danville | 38.771% | 18.000% | -20.771% |
| Martinsville | 35.655% | 18.000% | -17.655% |
| Norton | 39.698% | 20.084% | -19.614% |
| Bristol City | 36.997% | 22.406% | -14.591% |
| Galax City | 24.731% | 19.564% | -5.167% |
| Radford | 26.872% | 18.000% | -8.872% |
| Roanoke | 40.360% | 25.315% | -15.045% |
| Colonial Heights | 36.192% | 42.158% | 5.966% |
| Prince George County | 36.091% | 39.400% | 3.309% |
| Emporia | 28.478% | 19.360% | -9.118% |
| Hopewell | 37.844% | 19.332% | -18.512% |
| Petersburg | 37.624% | 18.000% | -19.624% |
| Richmond City | 41.610% | 33.596% | -8.014% |
| Halifax County/South Boston | 37.694% | 27.431% | -10.263% |
| Chesapeake | 44.216% | 45.000% | 0.784% |
| Hampton | 41.653% | 28.695% | -12.958% |
| Norfolk | 37.897% | 25.053% | -12.844% |
| James City County | 45.000% | 45.000% | 0.000% |
| York County | 45.000% | 45.000% | 0.000% |
| Newport News | 41.470% | 28.246% | -13.224% |
| Poquoson | 32.545% | 45.000% | 12.455% |
| Williamsburg | 39.569% | 42.961% | 3.392% |
| Franklin City | 24.267% | 19.461% | -4.806% |
| Suffolk | 40.629% | 45.000% | 4.371% |
| Virginia Beach | 45.000% | 45.000% | 0.000% |
| Portsmouth | 38.708% | 24.362% | -14.346% |
VML Contact: Janet Areson, jareson@vml.org.
Local input on walkability, active transportation, and health equity requested by VDH and VDOT
On November 20th, the Virginia Department of Health (VDH) and Virginia Department of Transportation (VDOT) came together to present a webinar on ongoing work addressing walkability, active transportation, and health equity in our communities. The purpose of this webinar was to engage local/regional transportation and public health agencies to continue to collaborate. If you were not able to attend the webinar, you can watch a recording here.
Whether you were able to attend the webinar or not, VDH would appreciate feedback from local governments and regional agencies.
The deadline for the surveys has extended to January 8, 2021.
VDH Contact: Mona Burwell, Arthritis Program Coordinator, mona.burwell@vdh.virginia.gov
New Resources
FEMA January 2021 toolkits – Winter Weather / Holiday Safety & Home Mitigation
Just in time for winter, FEMA is making available these newly updated resources:
January 2021 Home Mitigation Toolkit
Flooding is the most common and costly disaster in the United States and can happen anywhere. At any time, floodwaters can cause millions of dollars in damage across FEMA Region 3. There are many ways homeowners can minimize their home's potential risk of flooding and not all of them are difficult or expensive. The following toolkit offers pre-disaster mitigation tips relevant for homes and businesses.
Download/view the January 2021 Home Mitigation Toolkit >.
January 2021 Winter Weather Toolkit
This toolkit is designed to provide you and your organization with easy-to-use tools to promote this campaign and help you to support your own stakeholders to take action against winter weather.
December also plays host to several holidays. COVID-19 has put a damper on many of our travel and gathering plans, but there are still ways to celebrate safely. In this extended version of our Winter Weather Toolkit, we will note enhanced safety recommendations currently in place due to COVID-19.
Download/view the January 2021 Winter Weather Toolkit >.
VML Contact: Rob Bullington, rbullington@vml.org
Photo speed enforcement device webinar available
Conduent, a firm providing photo enforcement, violations processing, and data analytic solutions, recently recorded a webinar with Virginia Association of Counties staff detailing how photo speed and red-light monitoring services and devices work.
Interested VML members are invited to view the webinar here >.
Discussed in the webinar are two types automated photo speed monitoring systems:
Outfitted in or on vehicles that can be driven to where they are most needed, in portable camera units ("PCUs" or Box Cams) that are moved by Conduent field service technicians at the locality's direction to enforcement locations.
Outfitted on fixed poles, which are permanent, stationary county locations where constant enforcement is necessary.
Conduent Contact: Dan Seid, Daniel.seid@conduent.com or 202.345.7131.