eNews December 11, 2020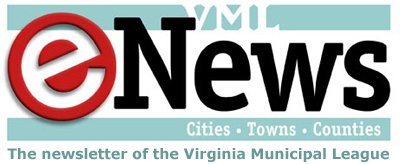 Friday, December 11, 2020 - 04:29pm
In this issue:
VML Events
VML 2021 Local Government Day to be held remotely Jan. 28
Registration is now open
Join VML, VACo, VAPDC and the Virginia Rural Center for the 2021 Local Government Day at 9-11 am on Thursday, January 28. This is our day to advocate for local governments at the 2021 General Assembly Session.
Information and registration are available here >.
Registered attendees will receive the "2021 VML Local Government Day Bulletin" before the event.
Governor Ralph Northam has been invited to speak about how his legislative agenda will strengthen Virginia's communities. In addition, legislators have been invited to join the discussion. VML and VACo Staff also will provide legislative reports on the major issues facing local government in the 2021 General Assembly Session.
Current social distancing and meeting restrictions make it challenging to get time with legislators during the session, so it is more important than ever to participate in this event and to engage your representatives year-round. The "Working with Legislators – A Year-Round Guide" (created for the 2021 General Assembly session) provides useful advice on this topic.
VML Contacts: Rob Bullington, rbullington@vml.org (for event registration questions); Janet Areson, jareson@vml.org (for legislative policy questions)
VML Newly Elected Officials Conference happening January 6
Registration is now open for the next VML Newly Elected Officials Conference being held virtually on January 6, 2021 from 10:00 AM – 3:00 PM.
This event is being offered free of charge to officials and staff of VML member localities.
Registration and details are available here >.
Topics and speakers for the Jan. 6 event continue to be added to include (but not limited to) FOIA, COIA, Community and Media Engagement and "Ask Me Anything" sessions with experienced elected officials.
VML's Newly Elected Officials Conference provides a valuable opportunity for both new and seasoned public officials to learn from speakers with extensive experience working with local government officials. Furthermore, the conference offers an excellent opportunity to learn what it takes to succeed and how to avoid common pitfalls as an elected official.
VML Contact: Jessica Ackerman, jackerman@vml.org
Economy & Budget
Holiday season brings little employment cheer for many Virginians
The Virginia Employment Commission (VEC) reported yesterday the latest unemployment claims numbers showing an increase of 8,048 claimants from the previous week. The continued weeks claimed totaled 73,804, which was 2.1 percent higher than the previous week and 54,728 greater than continued claims a year ago. The continued claims total is mainly comprised of those recent initial claimants who continued to file for unemployment insurance benefits during the COVID-19 pandemic. With the new surge of cases underway the unemployment situation is likely to deteriorate further.
Compounding the misery for unemployed Virginians is the VEC's five-month backlog in processing unemployment claims. Currently roughly 70,000 people are still waiting to collect their unemployment benefits! As of October, the pandemic has pushed the unemployment number to over 218,000 Virginians – about double the number of unemployed from last year. Officials point to staff shortages as well as the difficulty of working with a 35-year-old computer system as contributors to the snail-like processing of many claims.
Swift congressional action could replace the lump of employment coal for many Virginians. However, with each passing day the likelihood that Democrats, Republicans, and the White House will reach a compromise agreement slips further away.
A proposed $908 billion bipartisan package is in danger of collapsing. The stumbling blocks include $160 billion for state and local governments (opposed by Senate Majority Leader McConnell), limited liability protection from COVID-19 lawsuits for businesses (generally opposed by Democrats), and renewed unemployment benefits (opposed by the White House, which supports another round of stimulus checks).
How all these events may affect Gov. Northam's proposed budget bill, which will be submitted next Wednesday, is unknown at this time. Stay tuned.
VML Contact: Neal Menkes, nmenkes@vml.org
Governor to present his budget amendments on Dec. 16
Governor Ralph Northam will present his proposed budget amendments to House and Senate budgeteers on Wednesday, Dec. 16, at 9:30 a.m. in Richmond. The event will be virtual and can be seen through the General Assembly's website.
VML staff will report on the issues of interest to local governments in the days following the budget release and provide links to the budget document and related materials.
VML Contact: Janet Areson, jareson@vml.org
Transportation
Commonwealth Transportation Board approves reallocation of funds
This week the Commonwealth Transportation Board (CTB) acted on several anticipated items. Specifically, the CTB approved the reallocation of previously provided revenue sharing state funds for FY20-FY24. This action removes funding from the latter years of funding as provided for in the budget passed by the General Assembly during the 2020 Special Session.
Individual project allocation adjustments can be found beginning on page 10 of the "COVID-19 Six-Year Improvement Program and Rail and Public Transportation Allocations for Fiscal Years 2021 – 2026 and Authorization Relating to Federal Funding".
These actions were taken as part of a cash management approach and are intended to reduce the impact felt by ongoing projects. The CTB anticipates reallocating these funds after the current fiscal crisis passes and transportation revenues stabilize.
VML will continue to update members on the actions of the CTB regarding these actions.
VML Contact: Mitchell Smiley, msmiley@vml.org
Health & Human Services
Deadline to indicate interest to be part of the first Marcus alert/community teams is Jan. 4
The Department of Behavioral Health and Developmental Services (DBHDS) has set January 4, 2021, as the date for community services boards (CSBs) and their communities to relay their interest in being part of the first cohort of communities rolling out the Marcus alert/community crisis team program.
Interested communities should talk to their CSB executive director.
This program is stipulated in legislation approved during the 2020 special session of the Virginia General Assembly (HB5043/SB5038).  The first cohort is expected to go on-line with program in December 2021.
The legislation's aim is to provide a mental health-focused (as opposed to strictly law enforcement) response for individuals experiencing a crisis due to mental health/substance abuse/developmental disability-related condition. The goal is to implement this response system on a statewide basis between 2021 and 2026 and to build up crisis-related services so that individuals receive help and lessen the chance they become unnecessarily involved with the criminal justice system.
This complex legislation will require participation by several sectors, including law enforcement, 911, fire/EMS, community mental health providers, and others. VML will provide additional information about the work related to the plan development as it becomes available.
VML Contact: Janet Areson, jareson@vml.org
Broadband
Rural Digital Opportunity Fund auction results released
The Rural Digital Opportunity Fund auction results have been released and Virginia providers received $238 million to connect 186,475 locations. Please note that winners have several years to build out these locations and these numbers will likely change. Here is a map of the results and you can see the full results here.
Office of the Governor Contact: Kyle Rosner, Deputy Broadband Advisor, kyle.rosner@governor.virginia.gov
Events & Resources
New resources from the U.S. Department of Labor's Wage and Hour Division now available
Payroll Audit Independent Determination (PAID) program report
The Wage and Hour Division's (WHD) new nationwide program, the Payroll Audit Independent Determination (PAID) program, facilitates resolution of potential overtime and minimum wage violations under the Fair Labor Standards Act (FLSA). The program's primary objectives are to resolve such claims expeditiously and without litigation, to improve employers' compliance with overtime and minimum wage obligations, and to ensure that more employees receive the back wages they are owed—faster.
Under PAID, employers are encouraged to conduct audits and, if they discover overtime or minimum wage violations, to self-report those violations. Employers may then work in good faith with WHD to correct their mistakes and to quickly provide 100% of the back wages due to their affected employees.
Resources:
For more information about the laws enforced by the Wage and Hour Division, contact the toll-free helpline at 866-4US-WAGE (487-9243). Employers who discover overtime or minimum wage violations may self-report and resolve those violations without litigation through the PAID Program. Information is also available at Wage and Hour Division, including a search tool to use if you think you may be owed back wages collected by the division.
Family and Medical Leave Act employee guide
As part of the Department's continuing effort to spread the word about the FMLA and make the FMLA more accessible, WHD is releasing an Employee Guide to the FMLA, a 16-page, plain language booklet designed to answer common FMLA questions and clarify who can take FMLA leave and what protections the FMLA provides.
Resources:
For more information about the Family and Medical Leave Act enforced by the Wage and Hour Division, contact the toll-free helpline at 866-4US-WAGE (487-9243).
U.S. Department of Labor Contact: Cindy C. Maish, Community Outreach & Resource Planning Specialist, Maish.Cindy@dol.gov
ZenCity offering COVID-19 vaccination resources for localities
VML Community Busines Member ZenCity has created the following COVID-19 vaccination resources for localities. VML members may find them of interest.
Informational Webinar: Wednesday 12/16:
Join the National Association of Counties' legislative director of health, officials from Cameron County, TX, and Zencity for "Ready, Set, Vaccinate – Best Practices for Cities & Counties on Vaccine Operations and Communications." This webinar will discuss insights and clear action items on how local governments can support their vaccination efforts with data, strategic and effective messaging, and other expert tips.
The webinar will be held on December 16 at 12:00 PM EST. Register Here >.
Vaccine Communication Guide:
As local government agencies across the US begin rolling out vaccination strategies, skepticism about the vaccine is on the rise. Take control of the conversation by understanding what your residents are really saying about vaccines. Read the Full Guide Here>.
ZenCity Contact: Assaf Frances, Director of Urban Policy & Partnerships, frances@zencity.io
Grant workshops coming in January
The Metropolitan Washington Council of Governments and Grant Writing USA will present two classes covering the complete lifecycle of grants.
January 12-13, 2021 – Grant Writing Training
January 27-28, 2021 – Grant Management Training
Attend both classes and receive $70 off your combined tuition. Groups of 5 or more receive a $50 discount per person. Discounts for Grant Writing USA alumni are also available.  City, county, and state agencies have 30 days after the live class to pay.
Grant Writing USA Contact: Janet Darling, janet@grantwritingusa.com