eNews Dec. 6, 2019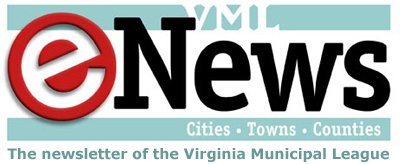 Friday, December 06, 2019 - 03:13pm
In this issue:
Finance
State budget release and public hearings approaching
Governor Ralph Northam will present his proposed 2020-2022 biennial state budget and amendments to the FY20 budget to the General Assembly's budget and finance committees at 9:30 a.m. on Tuesday, Dec. 17 in Richmond. This presentation will likely be available to view from the General Assembly's website; check the morning of the meeting to see if it will be streamed.
On Thursday, Jan. 2, 2020, the House Appropriations and Senate Finance Committees will hold regional public hearings on the Governor's proposed budgets. Two hearings will be held at 10 a.m. and two at 12 noon. These hearings will be held as follows:
10 a.m.
Northern Virginia
George Mason University
Hylton Performing Arts Center
10960 George Mason Circle
Manassas, Virginia 20109
Blacksburg
Virginia Tech
Classroom Building, Room 206
1455 Perry Street
Blacksburg, Virginia 24060
12 noon:
Hampton Roads
Old Dominion University
Virginia Modeling, Analysis and Simulation Center
1030 University Blvd.
Suffolk, Virginia 23435
Richmond
Sergeant Reynolds – Parham Road Campus
Workforce and Conference Center
1651 E. Parham Road
Richmond, Virginia 23228
These public hearings are usually very crowded, and speakers' comments are limited to three minutes. However, comments may also be submitted in writing to the chairs of the House Appropriations and Senate Finance Committees. The new chairs for these committees are:
Delegate Luke Torian
P.O. Box 406
Pocahontas Building
Richmond, VA  23218
Senator Jaet Howell
P.O. Box 396
Pocahontas Building
Richmond, VA 23218
VML Contact: Janet Areson, jareson@vml.org
Health and Human Services
Oversight committee gets Child Services Act update
Special education private day services continue to grow (in both size and scope) and comprise the largest percentage of total expenditures for the Children's Services Act (CSA) program. However, they grew at a lower rate in Fiscal Year 2019 than in previous years. CSA Director Scott Reiner presented this information to the Joint Subcommittee for Health and Human Resources Oversight on Dec. 2 in Richmond.
Reiner told the committee that special education private day services now comprise 47 percent of the total expenditures for the CSA but serve only 26 percent of the CSA population. In FY 2019, special education private day expenditures reached $185.01 million statewide. The next highest expenditure was foster care non-congregate services at $109.3 million (45 percent of total CSA expenditures).  However, foster care is the largest component of CSA, with 62 percent of the total population served.
Reiner said that the CSA census overall has been essentially flat over the last four years while expenditures continue to grow; with private day special education leading the growth. In addition, the foster care census and costs grew for the first time in five years, with four percent census growth and 11 percent increase in costs. The growth in foster care may be fueled by the opioid and meth epidemic, which has resulted in more children being removed from their homes because of parental drug addiction.
Reiner gave the committee an update on the private day special education outcomes study and the cost study for private day programs.
The Virginia Department of Education (DOE) is now responsible for collecting outcome data from private day programs (during the current school year if possible, but no later than the 2020-21 school year) and reporting annually on the data.
The outcome measures to be collected include graduation rates, individual student progress, standardized test scores, return to public school setting, suspension and expulsion, and restraint and seclusion.
The private day cost study on rates paid by localities for placements and services had participation by only about 40 percent of the private day special education schools (64 percent of the students served overall). Only 11 programs provided complete information requested by the study contractors; the contractors have recommended a secondary round of data collection to get a full set of information to calculate program-specific rates and to account for some "lessons learned" about specific costs methodology. The contractors also provided a tentative rate setting approach.
VML Contact: Janet Areson, jareson@vml.org
Commission on Youth adopts foster care recommendations
A total of 19 recommendations for legislative/budget actions regarding foster care were adopted by the Virginia Commission on Youth at its final meeting of 2019 on Dec. 4 in Richmond.
The commission provided a comprehensive examination of foster care, particularly the findings of the Joint Legislative Audit and Review Commission's (JLARC) study of the system last year.
The adopted recommendations include:
An increase to the minimum salary for Family Services positions and adjustments to current employee compensation to increase retention (as well as other items related to workforce recruitment and retention)
Codifying the Fostering Futures Program (currently in the Appropriations Act)
Actions to further support and expand kinship care in Virginia (including creation of a statewide kinship navigator program and a state-funded kinship guardianship assistance program)
Bolstering foster care family recruitment and retention (including creation of a grant program as an incentive for recruitment and retention of foster families within communities as well as help training and supporting these families).
All 19 of the recommendations can be seen on the VCOY's website.
The commission also elected its leaders for the coming year. Senator Dave Marsden was elected as the chair for 2020; Delegate Emily Brewer was elected vice chair.
VML Contact: Janet Areson, jareson@vml.org
Transportation
Future transportation funding options being explored
We all want to "Get around, 'round, 'round, we get around"…but how will it be paid for?
For those waiting for the future to arrive so they can zip around running errands via jetpacks like George Jetson or be driven about in an autonomous vehicle like David Hasselhoff in Knight Rider, tomorrow must seem like it will never arrive. While we do not know if these innovations will ever become mainstream, we do know that changes in how we move ourselves and goods are coming (and fast). We also know that they will change how we fund transportation.
Transportation revenues impact all Virginians. Whether you drive a car, buy products online, or take a bus to work, Virginia's transportation revenues and expenditures play a role. The state's funding for roads, public transit, rail, and other modes of transportation relies on various federal funds, state, local, and regional taxes and fees. State transportation revenues (totaling more than $3 billion) are primarily drawn from the retail sales and use tax and motor vehicle registration fees.
How will we pay for our future transportation needs? Will our current transportation revenues be up to the task? The 2019 General Assembly asked Transportation Secretary Shannon Valentine, via budget language, for a report by December 10, 2019 on whether existing transportation revenue sources are sustainable.
To this end, Transportation Secretary Valentine is conducting a study to find answers. The Secretary's report and a recent Senate Finance Committee presentation showed that Virginian's are driving more miles but over the same time period the state is generating less fuels tax revenue. A presentation from the Secretary's office to the Commonwealth Transportation Board (CTB) in October explained that between 2016-2018 vehicles in Virginia travelled 3.2 percent more miles, but gas tax revenue declined 0.4 percent. Senate Finance Committee staff last month proclaimed: "Transportation funding [is] at a crossroads." This is evidenced by the fact that more than seven dollars are requested for each dollar available via Virginia's SMART Scale.
New technologies, such as improved batteries for electric cars and busses, have already changed how we use our transportation system (i.e. electric car charging stations) and created new considerations for other systems (i.e. our electrical grid). It makes sense, then, that Virginia will need to consider new ways to fund our changing transportation needs. A good overview of the strains on this system can be found in last month's Senate Finance Committee presentation on transportation revenues.
If Virginia is facing this problem, maybe we aren't alone and there will be some assistance from the Federal Government? No such luck, Federal transportation funding is in the all too familiar pattern of the continuing resolution cycle (i.e. maintain the status quo, no new funding).
It will not be at all surprising if the administration floats some proposals for consideration at the upcoming legislative session. Transportation Secretary Valentine is likely to provide a clue in the forthcoming report about transportation revenue sustainability. The Governor's Budget may include additional ideas for transportation revenues, but it will up to the General Assembly to determine what, if any, action will be taken.
VML Contact: Mitchell Smiley, msmiley@vml.org
VML News
VML now accepting entries for our 2020 "If I Were Mayor" essay contest
The Virginia Municipal League (VML) invites all eligible Virginia 7th Graders to join its "If I were Mayor" essay contest.
Regional winners selected from around the state will each receive a $150 cash prize and plaque. One statewide winner chosen from the regional winners will receive a $250 cash prize and plaque. The runner-up from the region that receives the statewide award will become that region's winner.
Visit the Essay Contest page on our website for a full description what students need to write about, eligibility requirements, rules and regulations, a sample essay and instructions for submitting essays online or by mail.
All entries must be received by end of day on Friday, January 31st.
VML Contact: Rob Bullington, rbullington@vml.org
VML events in early 2020
January 6 – Finance Forum
Cosponsored by VML and VACo, the finance forum provides an excellent opportunity for local elected officials and staff to receive important information about the budget and legislative issues for the 2020 session.
Details and registration available here >
January 10 – Newly Elected Officials Conference
VML's Newly Elected Officials Conference provides a valuable opportunity for both new and seasoned public officials to learn from speakers with extensive experience working with local government officials. Furthermore, they offer an excellent opportunity to learn what it takes to succeed and how to avoid common pitfalls as an elected official.
Details and registration available here >
February 6 – Legislative Day
This year, VML is partnering with the Virginia Association of Counties and the Virginia Association of Planning District Commissions for Local Government Legislative Day in Richmond. This program will feature briefings on issues of greatest importance to localities during the 2020 General Assembly from state officials and staff. All attendees will then be encouraged to visit General Assembly members and committee meetings at the Pocahontas Building and the Capitol, before returning to the Omni Hotel for a brief reception and meet-up time with their delegation members.
Details and registration available here >