eNews Dec 16, 2016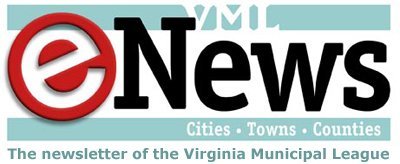 Friday, December 16, 2016 - 03:30pm
Important dates in General Assembly session
In addition to VML Day at the Capitol on Jan. 25, here are other important dates and information that you should note:
January 11
General Assembly convenes at noon
Deadline for filing VRS bills or bills/resolutions continuing or creating a study.
January 13
5 p.m. deadline for requests for drafts or redrafts of bills and budget amendments.
January 20
3 p.m. deadline for filing bills and resolutions.
January 25
VML Day at the Capitol
February 7
Cross-over day: Each house completes work on its own legislation, except for the budget.
February 20
Last day for committee action on legislation.
February 25
General Assembly scheduled to adjourn.
April 5
Reconvened (veto) session.
Gov. McAuliffe submits his budget amendments for 2017 session
Gov. Terry McAuliffe addressed the House Appropriations and Senate Finance Committees on Dec. 16.  He submitted his budget amendments for fiscal years 2017 and 2018.  According to the staff of the two legislative money committees, the Governor is facing a budget shortfall ranging from $400.0 million to $800.0 million in FY18.  Without an influx of new revenue, the budgeteers in the Virginia Department of Planning and Budget would have had to rely on spending cuts to balance the state budget.
VML staff will prepare a high-level summary on the Governor's budget proposal to send to members shortly. A more in-depth review will be issued before the end of the year.  In addition, the implications of the McAuliffe budget plan on local governments will be highlighted at the VML-VACo Finance Forum.
Retirement commission promotes salary increases
Funding for the previously scheduled state employee pay raises in FY18 should be a priority for the General Assembly in the upcoming session, according to recommendations adopted by the Commission on Employee Retirement Security and Pension Reform at its Dec. 12 meeting. The recommendation included support for state-funded local employees and teachers.
A half-year 3% raise was included in this year's budget, with the full 3% funded in FY18 under the budget adopted by the General Assembly last session. The raises were contingent on revenues, however, and falling state revenues meant that the raises didn't take place as scheduled.
Gov. Terry McAuliffe revealed Tuesday that he is including funding for bonuses of 1.5 percent for state employees, state-supported local employees and teachers.
The commission also recommended that the General Assembly should consider creating an optional defined contribution plan for new hires beginning in 2018.
Another recommendation is to increase the default level of contributions to the current defined contribution portion of the hybrid retirement plan and to speed up the automatic periodic increases in worker contributions. VRS and legislators have shown concern over the low voluntary contributions that hybrid plan employees are making to the DC component.  These changes would:
Change allocation of member contribution from 4% to the defined benefit/1% defined contribution to 3% DB / 2% DC
Set the default member voluntary contribution to the DC portion at 0.5% at the date of hire, with ability to opt-out.  Currently, there is no default voluntary contribution.
Accelerate auto-escalation to 0.5% increase in voluntary contributions every 2 years for members not at the maximum voluntary level.  Currently, auto-escalation is 0.5% every three years.
A complete copy of the recommendations adopted at the meeting are posted here. 
VML contact: Mary Jo Fields, mfields@vml.org
Transportation Board ponders changes to VDOT revenue sharing program
In a December 6 presentation to the Commonwealth Transportation Board (CTB), the Local Assistance Division outlined potential changes to the road revenue sharing program.  The General Assembly has altered the program over the years, changing priority tiers and available allocations.
The current maximum allocation per locality was increased from $1.0 million to $10.0 million in 2011 and the maximum statewide allocation leaped from $50.0 million to $200.0 million a year.
But in implementing the SMART Scale Program approved by the General Assembly in the 2014 legislative session (HB 2), the CTB decided to reduce the statewide allocation for revenue sharing.  The Six-Year Implementation Program for the next few years tentatively allocates $100.0 million per year for revenue sharing.
Several options were floated last week to the CTB for their consideration.  The idea behind the presentation is to fund a wider distribution of projects.  The options included:
Limit total annual allocations to $5.0 million per locality with a $10.0 million limit per two-year funding cycle.
Limit maximum allocation per project to $10.0 million.
Require any local funds committed on application as part of prior Revenue Sharing allocation to be spent before additional allocations are approved.
Any combination of above options.
The CTB wants feedback on the options from local governments.  VDOT has put together a short survey.  The survey results will be shared with the CTB at its January meeting.
Legislative panel holds hearing on solar energy issues
A special subcommittee comprised of senators and delegates from the General Assembly's two committees dealing with electric energy legislation met last week to learn about a mediation effort on solar energy issues.
The mediation group is made up of representatives from Virginia's major electric utilities as well as advocates for the solar industry and environmental groups.  The group members do not include local government representation.
The 11-member panel was chaired by Delegate Ware.  In addition to Delegate Ware, Senator Dance, Delegate Jackson and Delegate Ransone attended the meeting with Delegate Kilgore participating via telephone.  The mediation group provided a status update that focused on large-scale solar projects, mid-sized solar projects and small-scale solar projects.
For large-scale solar, the workgroup discussed proposed changes they would like to see approved to expedite construction and increase the allowed rate of return (from zero return) on Power Purchase Agreements between utilities and third parties.  The mediation group spokesperson said the recommendations would provide better value for ratepayers.
The discussion on mid-sized solar centered on the development of a three-year pilot program that would have utilities seek subscribers to purchase power from third parties whose projects are primarily under two megawatts.  The legislators expressed concern that these Power Purchase Agreements would require subsidization from ratepayers who do not subscribe to these projects.  There was also concern about the amount of land that could be tied up in such projects.  The rule of thumb is that a 25 megawatt facility needs roughly 200 acres.
The efforts of the mediation group on small-scale solar targeted agricultural net energy metering.  Utilities would enter into agreements to purchase output from on-site solar at market price.  The group's recommendation would increase the number of facilities that small agricultural generators may install.  Of particular interest to localities is a provision in the recommendation that is designed to ease local approvals of these facilities.  And, the recommendation allows for growth in agricultural self-generation as a farm's energy needs increase.
The panel did not set before adjourning a future meeting date.
Grants go forward for jail mental health pilots
Six local or regional jails will receive grant funding for pilot projects to provide services to inmates with mental illness.  The grants were approved Dec. 8 by the state's Criminal Justice Services Board.  The funding was appropriated by the 2016 General Assembly ($1 million for the period of Jan. 1 – June 30, 2017; and $2.5 million for July 1, 2017 – June 30, 2018).
A total of 19 proposals were submitted to the Board. The six jails receiving the grants for 18-month long pilot programs beginning Jan. 1, 2017, are:  Richmond City Jail ($670,813); Hampton Roads Regional Jail ($939,435); Prince William-Manassas Jail ($410,898); Chesterfield County ($416,281); Middle River Regional Jail ($536,384); and Western Virginia Regional Jail ($526,185).
Deeds subcommittee approves legislative proposals for 2017
On Dec. 6, the Joint Subcommittee to Study Mental Health Services in the 21st Century approved several pieces of draft legislation to move forward for the 2017 Session of the General Assembly.  The Subcommittee also voted to ask for a two-year extension of its work.
Proposed legislation includes:
a bill to establish a single screening tool for jails to use when assessing mental health needs of inmates (jails currently use a variety of screening instruments) and establish timelines for accessing services if necessary;
a bill to give the Virginia Board of Corrections the authority to review the death of any inmate incarcerated in a local/regional jail at the time of their death;
a bill directing certain state agencies working with stakeholders to develop a model for the use of alternative transportation providers to provide transport for individuals involved in emergency custody or involuntary admission as an alternative to transport by local law enforcement;
a study resolution directing the Joint Commission on Health Care to study options for increasing the use of telemental/telemedicine health services in Virginia; and
a bill to increase the mandated services to be offered by community services boards/behavorial health authorities to include same-day mental health screening services and outpatient primary care screening and monitoring services and follow-up services for individuals identified as needing assistance with overcoming barriers to accessing primary health services.
There are also proposals to ask for $10 million to create more slots for supportive housing for people with persistent mental illness as a means to provide more stable housing and decrease the incidence of incarceration and hospitalization.
JLARC reports on state SOQ funding
State per-pupil spending on the Standards of Quality in FY16 was 0.1 percent more than in FY15, according to a report presented Dec. 12 to the Joint Legislature Audit and Review Commission.
The report concludes that growth in state K-12 SOQ spending per student has not kept pace with inflation. Compared to FY07, state SOQ spending in FY16 was $673 less per student (adjusted for inflation).
The report shows that in FY16 the state spent about $5.68 billion on the SOQ, or about $4,585 per student.
Lee County, which has the lowest composite index in the state, received the highest level of SOQ funding per student: $7,275.  Falls Church received the least state SOQ funds per student: $2,285.
The state SOQ spending report is presented each year to JLARC. In January, the state Department of Education will release an updated report on local support of the SOQ.
JLARC's report is posted here.
VML contact: Mary Jo Fields, mfields@vml.org