eNews Dec. 14, 2018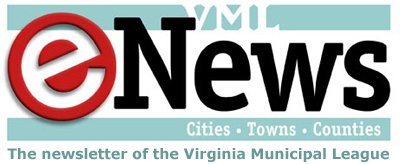 Friday, December 14, 2018 - 03:53pm
In this issue:
Volunteers needed for Opioid data sharing pilot program
Participation is encouraged for all VML members
The Data Sharing and Analytics Advisory Committee, which was created to support the new Chief Data Officer as part of the state law establishing the officer (Chapter 679), met on Wednesday, December 12 to discuss the report that they are required to submit to the General Assembly. The committee determined that it will ask the General Assembly for an extension on the deadline, so they can provide a more robust and detailed assessment on how to proceed with merging data from across the state; particularly data related to the Opioid Pilot program.
The pilot program will look for ways that state agencies and local partners in the health, behavioral health, corrections, law enforcement and other domains can collect data and share information related to opioid addiction while addressing concerns related to confidentiality.
To this end, the committee asked VML to solicit contact information from our member localities who would be able to participate in the pilot program. If you are interested in participating, please send me your contact information so you can help with this important work that promises to benefit all.
VML Contact: Michelle Gowdy, mgowdy@vml.org
Stretching pennies to meet transportation needs
SMART SCALE requests dwarf available funding.
At the Commonwealth Transportation Board's December workshop, staff presented a SMART SCALE Update on the Round Three requests. The Board's task over the coming months will be to 1) share the scores of the requested projects with the public, 2) develop a new Six-Year Improvement Program incorporating the approved requests between the months of February and April, and 3) adopt a new improvement program by next June.
As the table below shows, this will be no easy assignment. SMART SCALE is about investing limited tax dollars in the right projects that meet the most critical state transportation needs. Total SMART SCALE requests hover just below $7 billion and available resources to meet the demand are estimated at $800 million.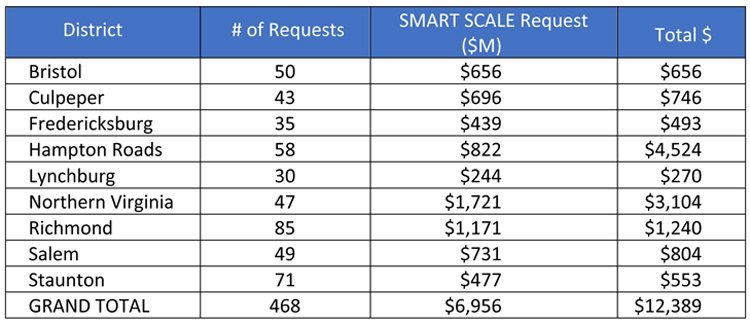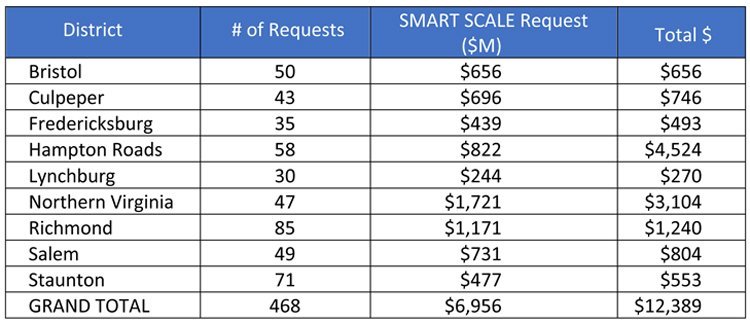 Transportation staff expect that 23 of the total requested projects (4.9%) will be screened out: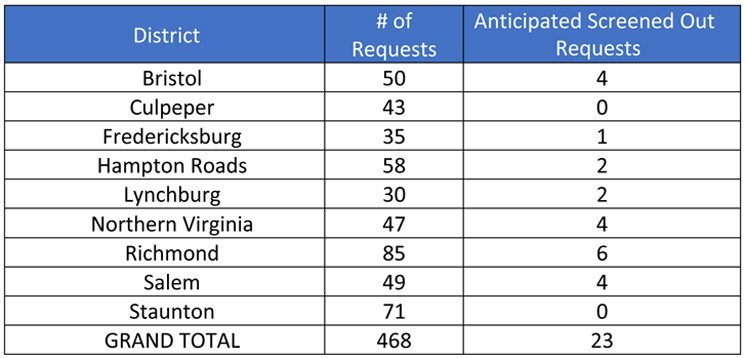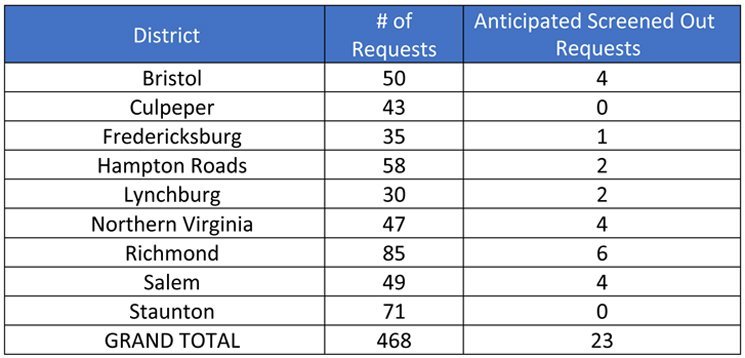 Almost 60% of the 23 anticipated rejections were due to project readiness concerns (VDOT views project readiness as critical to minimize risks for major project changes and cost overruns).
However, by the end of the process most of the 468 projects will face being scrubbed because estimated resources barely cover 10% of the project applications. Despite funding actions taken by the General Assembly in recent legislative sessions, it seems that the goal of maintaining the Commonwealth's transportation infrastructure while meeting increasing, new demands remains out of reach.
VML Contact: Neal Menkes, nmenkes@vml.org
Governor proposes additional 2% salary increase for teachers
Salary increase would bring Virginia closer to the national average
Governor Northam's Tuesday announcement of $268.7 million in proposed new spending for education included an $88 million outlay for increasing teacher's salaries. Virginia has consistently ranked between 29th and 34th in a comparison of annual average teacher salaries among states for the past six years. Currently, statewide teacher salaries are nearly $8,000 (or 13%) below the national average (see chart below) but are scheduled to increase by 3% effective July 1, 2019. The additional $88 million proposed by Governor Northam would support an additional 2% increase statewide.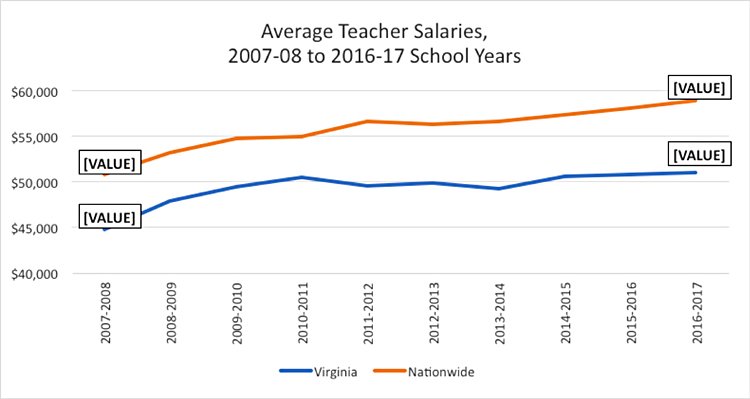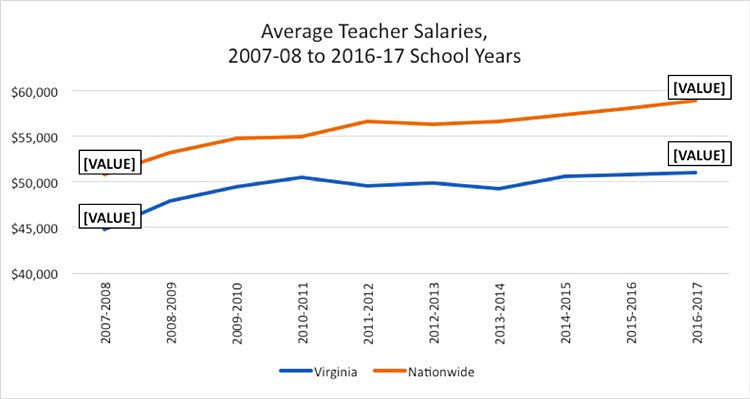 (Source: National Center for Education Statistics, 2008-2017)
The larger raise would bring Virginia one step closer to meeting the national average. Under the proposed budget amendment, Virginia teachers could see an average increase ranging between $2,552 and $2,843 per year.1
Governor Northam's proposal would also increase the state's per-student allocation. A $35 million enhancement to the Supplemental Lottery Per Pupil Allocation would help address the 9% overall reduction in state support for K-12 education since 2008. An additional $35 million would support the At-Risk Add-On Program which serves school districts with higher populations of low-income students by providing dropout prevention initiatives, afterschool programming and specialized instruction. Finally, a one-time allocation of $80 million would support school capital spending (discussed further below).
In a separate press release Thursday, the Governor also proposed increasing state funds for school safety. A proposed $36 million allocation would represent the first phase of a three-year process to hire additional school counselors across the state, with the hope of reducing the average counselor-student ratio to 1:250. This aligns with presentations made to the Administration's Children's Cabinet and the House Select Committee on School Safety over the past several months. Additionally, the Governor's proposal includes a $3.3 million enhancement for the Virginia Center for School Campus Safety to support staffing needs, school grant programs, and increased training opportunities.
The Administration's full budget proposal will be outlined on Tuesday, Dec. 18 in a joint address to the House Appropriations Committee and the Senate Finance Committee.
1The Virginia Department of Education reports an average budgeted teacher salary for Fiscal 2018 of $56,861. However, this figure does not include wages for substitute teachers, which are included in data reported by national institutions.
VML Contact: Jessica Ackerman, jackerman@vml.org
Recent developments presage big news on state and federal budgets next week
Gov. Ralph Northam introduces budget initiatives while Congress and President Trump spar over conditions to avoid a partial federal government shutdown on Dec. 21
Gov. Northam held press briefings this week to announce budget initiatives in public education and in environmental cleanup and conservation.
Northam's K-12 amendments are expected to boost spending by nearly $269 million to increase teachers' pay, address school construction needs, enhance state funding support on a per-pupil basis, and provide more fiscal muscle for at-risk-student programs.
The governor also rolled out a plan to increase funding by $90 million a year for controlling agricultural runoff and other water-quality programs. The plan includes dedicating $50 million a year to capitalize a storm-water assistance fund for localities in order to reduce pollution coming off parking lots, roads and other impervious surfaces.
Northam's five-year plan would raise total water quality spending to $773 million through 2024.  Gov. Northam also proposed an additional $11 million for land conservation efforts.
The news on the federal budget front is clouded by politics and theatrics.  If there's a script to explain how President Trump's demands for $5 billion to build a wall along the southern border of the United States can be reconciled with the Democrats' insistence that they will go no higher than $1.6 billion for border security, the time to share is now.
The evaporating House Republican majority is struggling to finalize a position that fulfills the president's funding demand. The internal strife within the House Republican Caucus makes achieving a consensus position problematic and even if a partisan-only proposal passes the House of Representatives, it is unlikely to survive Senate consideration.
In the new congressional session, the Democrats will be the majority party in the House of Representatives. It is possible that Republican Congress may end up adopting a temporary stopgap measure and give the Democrats a "holiday surprise" to figure out in January.
Perhaps Congress and the president should make use of these tips from the Mayo Clinic to help handle holiday stress.
VML Contact: Neal Menkes, nmenkes@vml.org
Dueling school capital funding plans to be considered this session
Proposals from Gov. Northam and Sen. Stanley differ on state's projected windfall from internet sales tax
The General Assembly will consider at least two proposals this session to address funding needs for school capital improvements across Virginia. Governor Northam's proposed increases for education spending will include a one-time, $80 million allocation to revive the Literary Fund, the state's low-interest loan program for school construction projects. This plan contrasts with one anticipated from Senator Stanley, head of the Senate Local Government Subcommittee on School Facility Modernization, who has spent the past six months stumping for a plan to raise up to $2.5 billion to fund similar projects.
Both plans rely on anticipated internet sales tax revenue as a result of the recent Wayfair decision; however, projections of the resulting revenue vary greatly. For example, the U.S. Government Accountability Office (GAO) in 2017 estimated that Virginia would receive between $190 million and $300 million annually – a broad range. Consultants for Senator Stanley project even loftier earnings in the $500 million range. Moreover, the Virginia Division of Legislative Services reported that 19 of the country's 20 largest internet retailers, such as Amazon, Walmart and Apple, began collecting sales tax before the Wayfair decision was issued, which means those taxes are already included in the state's annual revenue.
Governor Northam's proposal takes a conservative approach, anticipating that Virginia will see an increase of approximately $150 million total; he plans to divert roughly half of that for school capital loans. Senator Stanley, on the other hand, proposes that $300 million (out of his total $500 million projection) be committed to finance school reconstruction bonds. According to his plan, the bonds could generate as much as $2.5 billion in revenue to support capital projects across the state. While the latter plan would come closer to meeting an estimated $5 billion needed statewide, questions remain as to its feasibility.
Neither plan assumes a need to adhere to the stipulations of HB 2313, passed in 2013, because that bill assumed action by Congress (not the Supreme Court) no later than January 1, 2015. As a reminder, HB 2313 would have allocated the bulk of any internet sales tax revenue to transportation projects.
VML Contact: Jessica Ackerman, jackerman@vml.org
Senator Deeds' mental health joint subcommittee seeks continuation; approves draft bills for 2019 session
Local funding will be a topic for coming year's workplan
Facing a December 2019 expiration, the members of the Joint Subcommittee to Study Mental Health Services in the Commonwealth in the 21st Century voted on Dec. 4 to seek continuation of its work for an additional two years. The Subcommittee, headed by Senator Creigh Deeds, began its work in 2014 and has been tackling mental health issues related to public safety and criminal diversion, housing, crisis and emergency services, and system structure and financing.  Questions about the mental health system's structure and financing, including issues related to the local government contribution to the system through the local match to community services boards, will be on the agenda for the subcommittee's workplan in the coming year.
At the Dec. 4 meeting, the joint subcommittee also approved several draft bills to be introduced during the 2019 General Assembly Session:
A bill to direct the Board of Corrections to establish minimum standards for behavioral health care services in local correctional facilities (including regional jails) and procedures for enforcing these standards. The standards would address the sharing of medical and mental health information and records, as well as procedures by which a community services board (CSB) that provides behavioral health services in the jail to bill the sheriff or superintendent for provision of services. Several jails already have such service contracts with their CSB.
A bill to clarify the ability of jails, CSBs, and other health providers to share, with an individual's permission, medical and mental health information and records of an individual in order to improve health/mental health oversight and treatment.
A bill to amend the Department of Criminal Justice Services training standards and to model policies for law enforcement for sensitivity to, and awareness of, persons experiencing mental health or substance abuse crises, including chronic homeless inebriates.
A bill to direct the Supreme Court of Virginia to develop a statewide evaluation model and conduct continuing evaluations of the effectiveness and efficiency of all local specialty dockets (such as mental health dockets). This would include a requirement that each local specialty docket submit evaluative reports to the Supreme Court; the Supreme Court would submit annual reports to the General Assembly.
An additional bill regarding mandatory outpatient treatment was deferred for the year.
The committee also approved moving forward with legislative proposals regarding temporary detention orders (TDOs), including a bill to ensure that custody of a person held under an emergency custody order (ECO) is maintained until the temporary detention order (TDO) that has been issued in a timely manner is served. This will give law enforcement assurance that they are acting within the law to maintain custodial authority during the transition between an ECO and a TDO.  This was an issue highlighted by the Virginia Chiefs of Police this past year during VML's Human Development & Education Policy Committee meeting.
The Deeds Subcommittee also is recommending to the Joint Legislative Audit and Review Commission (JLARC) that it review and provide information regarding the structure/financing of Community Services Boards (CSBs). JLARC recently created a special workgroup to address human services issues. This examination will include the issue of the local government match to CSBs.
Structure and financing of the public system will be more fully addressed by the Deeds Subcommittee in the coming year, with assistance from its system and financing workgroup and an expert panel led by Dr. Richard Bonnie, Director of the Institute of Law, Psychiatry and Public Policy, at the University of Virginia School of Law.
VML Contact:  Janet Areson, jareson@vml.org
Wireless deployment FCC update
League petition referenced in recent FCC Order
As you may recall, the FCC Declaratory Ruling and Third Report and Order entitled "Accelerating Wireless Broadband Deployment by Removing Barriers to Infrastructure Investment" deals with local requirements that effectively prohibit the deployment and provision of wireless services. No one filed in opposition and the time to do so has run out. However, earlier this year VML (in conjunction with several other municipal leagues) filed a petition for reconsideration of the Order.
This week we received some news (albeit through indirect means) regarding our petition. The National League of Cities had filed a Motion for Stay of the Order which was denied. However, in the Order Denying the Motion for a Stay there was a footnote which stated "In addition, one petition for reconsideration of the Order has been filed. The present order should be not construed as expressing any view on the merits of that petition."
There are also several lawsuits outstanding regarding the Order, but unless other action is taken by the FCC or the courts, the Declaratory Ruling and Third Report and Order becomes effective on January 14, 2019 and the aesthetics standards associated with the Order take effect 180 days after the Federal Register publication date (Oct. 15, 2018).
We will continue to monitor the status of this order and our petition in the weeks and months to come.
VML Contact: Michelle Gowdy, mgowdy@vml.org