eNews August 7, 2020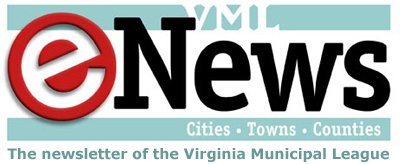 Friday, August 07, 2020 - 04:41pm
In this issue:
General Assembly
General Assembly sets meeting sites for special session
The House and Senate have released meeting sites for the special session of the General Assembly, which begins August 18.
The House will hold its floor sessions at the Siegel Center at Virginia Commonwealth University. There will be no public access to this meeting site other than through live streaming.
The Senate will hold its floor sessions at the Science Museum of Virginia, where it met for the April reconvened session. No public access will be given to this meeting site either, other than through live streaming.
Live streaming can be accessed through the General Assembly's legislative website.
VML Contact: Janet Areson, jareson@vml.org
Housing
DHCD asking for input from localities regarding rent and mortgage relief activity
The Virginia Department of Housing and Community Development (DHCD) would like to identify any localities that have local rent relief programs across the commonwealth.
To ensure coordination between the state and local response and find out where the state can target resources and outreach to maximize the positive benefit of housing resources, the agency is asking localities to complete a short survey.
DHCD recently launched the Rent and Mortgage Relief Program (RMRP) to support and ensure housing stability across the commonwealth during the coronavirus pandemic. More details on the Virginia program can be found here: https://www.dhcd.virginia.gov/rmrp
DHCD Contact: Kristen Dahlman 804-371-7017 or kristen.dahlman@dhcd.virginia.gov
Transportation
Local Assistance Division training for federal project administration update
As VML member localities are aware, prior to the end of 2020 any locality seeking to administer a federal project must have a full-time staff member who has completed training provided by VDOT's Local Assistance Division. Training courses are available to localities first and consist of online modules and hybrid classroom courses. The online courses must be completed before registration for the hybrid course.
These courses are necessary for certification and are offered free of charge, registration can be found on the Local Assistance Division website.
A list of qualified localities that have already met these requirements maintained by the Local Assistance Division can be found here.
VML Contact: Mitchell Smiley, msmiley@vml.org
Virginia Breeze bus service adds new routes
The Virginia Department of Rail and Public Transportation is starting two new intercity passenger bus routes as part of the "Virginia Breeze" bus service. Beginning today, the "Piedmont Express" and "Capital Connector" will begin operating in addition to the existing "Valley Flyer" route which runs from Christiansburg to Dulles Airport.
The "Piedmont Express" will service the Route 29 corridor from Danville to Union Station with stops in Altavista, Lynchburg, Amherst, Charlottesville, Culpeper, Warrenton, Gainesville, Dulles Airport, and Union Station.
The "Capital Connector" will run daily servicing stops between Martinsville and Richmond with stops in Danville, South Boston, Farmville, and Richmond and express service from Richmond to Union Station in Washington D.C.
This expanded intercity bus service is expected to build on the success of the "Valley Flyer" route which had an annual ridership of nearly 25,000 riders during 9 months of operation in FY2020 (including months impacted by the COVID-19 pandemic).
In addition to the new routes, the Virginia Breeze now has a new website where more details about fares, schedules and route information: https://virginiabreeze.org/
VML Contact: Mitchell Smiley, msmiley@vml.org
Health & Human Services
Mental health commission hears about response and needs
The General Assembly's Joint Subcommittee to Study Virginia's Mental Health Services in the 21st Century is now in its sixth year. The Subcommittee, chaired by Senator Creigh Deeds, held its first meeting of the year on August 5.
In normal times, the Subcommittee could have taken some satisfaction that the additional system funding it recommended was acted on by the 2020 General Assembly. In normal times, the Subcommittee could have spent its first meeting mapping out its course to building on the progress it has made thus far.
But the times are far from normal, and the Subcommittee spent much of its meeting receiving reports on the funding that was unallotted to programs and initiatives, and on the impact that the COVID-19 pandemic has had on publicly funded hospitals and facilities and the community system.
Subcommittee member Janet Howell, chair of the Senate Finance and Appropriations Committee, told her subcommittee colleagues that she did not have high hopes that the General Assembly would restore the new spending that was subsequently unallotted. Howell made this observation after attending the meeting of the Governor's Advisory Council on Revenue Estimates held earlier in the week.
The subcommittee received a detailed report from Department of Behavioral Health and Developmental Services (DBHDS) Commissioner Alison Land on hospital census, particularly the impacts on geriatric units that are operating beyond capacity. She reported that while the Community Services Board/Behavioral Health Authority system had successfully adapted to using telehealth platforms and other strategies to conduct client meetings and sessions, the loss in revenue from appointments and additional costs to obtain PPE were a part of the altered environment.
Land said that her agency hoped to see the following restored by the General Assembly:
Funds for statewide discharge assistance plans (Item 321 C.1.) to continue to discharge individuals from state hospitals (Re-allot GF $7.5 million in FY 2021 and $12.5 million in FY 2022).
Restore funds for VHHA Provider Pilots (Item 320 CC.1.) for alternative patient options to state hospitals to reduce census pressures (Re-allot GF $7.5 million in FY 2021 and $7.5 million in FY 2022).
Retain current appropriation of $6.3 million in FY2021 and $8.4 million in FY2022 for children's outpatient services (Item 321 G); modify current language to provide more flexibility to treat children who would otherwise be placed at Commonwealth Center for Children and Adolescents (CCCA).
The Subcommittee also received a comprehensive update on Medicaid behavioral health services during the pandemic from Alyssa Ward of the Department of Medical Assistance Services (DMAS) and Alexis Aplasca of DBDHDS that included the greater use of telehealth and outreach to providers to train and support them in delivering services during this time.
VML Contact: Janet Areson, jareson@vml.org
Route Fifty holding virtual town hall to discuss healthcare trends
On Tuesday, August 11, the publication Route Fifty is offering a free "Vital Signs" town hall webinar. The event will run from 12:00 PM – 3:15 PM EDT.
During the program, healthcare and state and local government speakers will come together to discuss the telehealth transition, using technology to increase communication and best practices to increase public healthcare capacity and care for patients and quarantine workers.
Event topics will include:
The telehealth revolution
Leveraging technology to promote mental health and wellness
Strategies for boosting communication between residents and local government
Innovating to increase public healthcare capacity and care for patients and quarantine workers
More information, including a list of speakers and a link to register for the event, is available here: Route Fifty Virtual Town Hall Series: Vital Signs
VML Contact: Michelle Gowdy, mgowdy@vml.org
Equity & Diversity
National League of Cities event to focus on diverse leadership and equitable solutions
The National League of Cities (NLC) will host a two-day gathering specifically for local leaders and those serving communities of Black, Indigenous and People of Color.
The conference theme is "Equitable Solutions for the Future of the City" to be held August 13 at 11:00AM EST and August 14 at 2:00PM EST.
This summit will focus on diverse leadership and equitable solutions for the future of cities in the wake of COVID-19. Participants will engage around topics that are timely and highlight intersectionality across race, gender, sexual orientation, and gender identity.
Additional information and registration are available here>.
NLC Contact: Lenna Wilson, lwilson@nlc.org
COVID-19 Resources
VDEM holds briefing on 2020 hurricane season during COVID-19 for local governments
This afternoon, the Virginia Department of Emergency Management (VDEM) State Coordinator for Emergency Management Curtis Brown led a group of VDEM staff in an hour-long webinar for local governments.
Curtis began the presentation by noting that the National Weather Service predicts an unusually active 2020 storm season with a 60 percent chance of above normal activity and the potential for 12-19 named storms. The heart of the hurricane season in Virginia runs from late August through mid-October.
Curtis cited local governments as an essential partner in dealing with the unprecedented combination of a busy hurricane season coupled with a pandemic and asked that local emergency managers to do everything possible to support VDEM by working closely with their VDEM regional planner
Things to be aware of for the 2020 season
Deputy State Coordinator for Disaster Services John Northon then spoke about the role of the regional planners and provided several items for local emergency managers to take into consideration when preparing for this year's hurricane season:
Use WebEOC to place resource and supply requests prior to an emergency event.
Have staff trained and using Crisis Track software (VDEM provides training on the system).
Know your neighboring jurisdiction's resources and have MOUs in place.
Understand your local evaluation clearance times to allow adequate time for residents to evacuate.
Inland regions need to be aware of the potential for flooding from tropical storms.
Northon also outlined several planning assumptions that will be unique this season due to the strain of the pandemic:
Personnel and resource limitations are likely
The economic impact of the pandemic will increase dependence on government services during a hurricane
Traditional sheltering strategies are not preferred (more on this below)
Coordination with public health services is essential at every level of response
Partnership with local businesses may help fill gaps (a new VDEM portal allows businesses to register; to receive info directly from state to help inform their decisions, provide donations, etc.)
Many aspects of response and recovery will have new impacts (i.e. power outages will impact remote workers)
Non-congregate sheltering
Next up, Emergency Planner Michelle Pope from the Virginia Department of Social Services (VDSS) discussed sheltering considerations. She noted that since the State Health Commissioner issued an Order of a Public Health Emergency which directs localities to use non-congregative sheltering that allows for the separation of individuals and family groups. The non-congregate sheltering policy is for evacuees (general population) and public assistance funding support is available through FEMA. More information is available by accessing the Emergency Non-Congregate Sheltering during the COVID-19 Public Health Emergency (Interim) FEMA Policy 104-009-18.
VDSS, the Virginia Department of General Services, and VDEM are working to establish non-congregative sheltering but are aware that congregate sheltering may be necessary in the interim.
VEST exercise
Chief of VDEM's Virginia Emergency Support Team (VEST) Michelle Oblinsky outlined her team's role and recent growth and noted that in late July VEST held a hurricane emergency exercise for major hurricane in COVID environment. This exercise resulted in 35 follow-up items needing attention.
Diversity Equity and Inclusion efforts
State Coordinator Brown spoke to the agency's diversity equity and inclusion efforts which included the establishment of the Health Equity Task Force and Health Equity Working Group, Access and Functional Needs Working Group, and the Overarching Communications Working Group. The work being done by these groups extends to readiness for hurricanes with more direct outreach to vulnerable populations.
External Affairs Director and Chief Agency Spokesperson Lauren Opett followed Brown's remarks by outlining recent progress made, including:
ASL interpreter for all press conferences
ASL translation for all Executive Orders
Translation of Executive Orders and guidance into Spanish, Korean, Mandarin, Arabic, Vietnamese, and Tagalog
Live Span translation of administration press conferences (hosted on VDEM's Facebook page)
Partnership with Capital One to review the accessibility of state digital properties supporting COVID-19 response by vulnerable populations
Meetings with local Public Information Officers meetings before, during and after disaster starting (beginning with Hurricane Isaias)
Exploring partnerships with non-profits so residents receive information from sources they trust in their communities
Resources
Virginia residents are reminded that the tax holiday this weekend can be used for emergency preparedness products.
VML Contact: Janet Areson, jareson@vml.org
Virginia is the first state to roll out a contact tracing mobile app
On Wednesday, Governor Northam announced the creation of a new COVID-19 contact tracing smartphone application, COVIDWISE.
According to the press release, "COVIDWISE works by using random Bluetooth keys that change every 10 to 20 minutes. iOS and Android devices that have the app installed will anonymously share these random keys if they are in proximity for at least 15 minutes. Each day, the device downloads a list of all random keys associated with positive COVID-19 results submitted by other app users and checks them against the list of random keys it has encountered in the last 14 days. If there is a match, COVIDWISE may notify the individual, taking into account the date and duration of exposure, and the Bluetooth signal strength which is used to estimate proximity."
Although use of the app is voluntary, the administration is encouraging as many Virginians as possible to download and use the app to increase its effectiveness. COVIDWISE is available for free through Apple's App Store and Google's Play Store
VML Contact: Josette Bulova, jbulova@vml.org
Community surveys available for COVID-19 recovery
Community recovery from COVID-19 is no small task. So POLCO, a VML partner, is providing essential public engagement services and surveys that are eligible for CARES Act funding. These CARES surveys can provide reliable insights with no new strain on your budget.
As part of your COVID-19 recovery planning efforts, it is important to understand and track local impacts to inform decisions. A major component of guiding your community forward is understanding and considering the needs and preferences of residents, businesses, and other stakeholders. So Polco's survey science team, National Research Center (NRC), created a suite of CARES Community and Business surveys to assist local governments in this endeavor.
Because these services will help create an effective, evidence-based recovery plan, they are eligible for CARES funding. According to Section 601(d) of the Coronavirus Aid, Relief, and Economic Security Act, (the CARES Act) expenses associated with conducting a recovery planning project / operating a recovery coordination office are eligible for CARES funding.
Learn more about this opportunity here.
POLCO Contact: Matt Fulton, matful@polco.us
VML Announcements
VML introduces new Community Business Member (CBM) program
VML is pleased to announce our new membership program for businesses and organizations. The Community Business Membership program (which replaces the Municipal Business Associate program that expired last month) has more options for membership with increased benefits across all levels.
Membership runs for a full year after registration.
Interested businesses or organizations can learn more here >.
VML Contact: Rob Bullington, rbullington@vml.org
VML Newly Elected Officials conference materials available; certificates mailed
Materials presented as part of VML's summer 2020 Newly Elected Officials (NEO) conference in July are now available on VML's website here.
Certificates of Completion have been emailed to all confirmed participants of this event. If you haven't received yours, or would prefer a printed certificate, please contact Jessica Ackerman at the below email address.
VML's Newly Elected Officials Conference provides a valuable opportunity for both new and seasoned public officials to learn from speakers with extensive experience working with local government officials. Furthermore, the conference offers an excellent opportunity to learn what it takes to succeed and how to avoid common pitfalls as an elected official.
VML Contact: Jessica Ackerman, jackerman@vml.org