eNews August 6, 2021

Friday, August 06, 2021 - 01:31pm
In this issue:

Special Session Updates
Virginia State Senate Budget Amendments
Budget amendment measures moving forward; conference necessary to reconcile differences
This week the General Assembly convened for the first in-person session in the Virginia State Capitol Building since 2019. A primary goal of this special session is to adopt amendments to the State Appropriations Act effectively allocating federal American Rescue Plan Act (ARPA) funds coming to the state government.  Governor Ralph Northam developed a roadmap for the use of ARPA funds, and a House and Senate bill containing amendments to implement the roadmap were introduced early this week.
While the House of Delegates passed HB 7001 without any amendments, the Senate voted to accept a number of floor amendments to its counterpart bill, SB 7001.  Of interest to local government are the following amendments adopted by the Senate; all of these will be subject to change when the House and Senate conferees take up the bills in the coming days:
Hazard pay bonuses and a series of "one-time" bonuses for sheriff's offices and regional jail officers
(Hackworth). Authorizes additional state ARPA money to provide a $5,000 one-time hazard pay bonus for sheriff's offices and regional jail officers in FY 2022.  This is an increase from the $1,000 one-time hazard pay bonus as proposed in the Governor's bill.  Hackworth's amendment also stipulates that funding for this enhanced bonus would be provided for the state's share of locally funded positions, dependent upon local sheriffs' offices and regional jails (i.e., local governments) satisfying a local match requirement of one-half of the total cost.
A related amendment authorizes the use of ARPA funds to provide a $5,000 bonus in each fiscal year of the 2022-2024 biennium for state-supported and locally funded staff of sheriffs' departments and regional jails.  Again, for the locally funded position bonuses, a local match of one-half of the total cost of the bonus is required.
Note:  Following the Senate's adoption of this amendment, Gov. Northam's office issued a press release on behalf of himself and the chairs of the House Appropriations and Senate Finance & Appropriations Committees (Delegate Luke Torian and Senator Janet Howell, respectively) stating their intention to convene a state workgroup to review and address the compensation structure for state correctional officers, deputy sheriffs, and regional jail officers.  This work group, consisting of staff from the Department of Human Resource Management, State Compensation Board, and the Department of Corrections as well as the General Assembly's Joint Legislative Audit and Review Commission (JLARC), will deliver recommendations addressing long-term solutions to continuing staffing challenges no later than Oct. 15, 2021.
Re-opening of DMV customer service centers for walk-in traffic
(Peterson).  Requires the re-opening of Department of Motor Vehicles (DMV) customer service centers for in-person services within 30 days of effective date of SB 7001.  It would still allow DMV to offer the option of appointments for customers but requires them to be open for walk-in customers in their customer service centers.
Eviction authority of landlords with four or fewer rental units
(Peterson).  Inserts a reference to Code of Virginia § 55.1-1245. F., which provides that for a landlord who owns four or fewer rental dwelling units, if rent is unpaid when due, and the tenant fails to pay rent within 14 days after written notice is served on him notifying the tenant of his nonpayment, and of the landlord's intention to terminate the rental agreement if the rent is not paid within the 14-day period, the landlord may terminate the rental agreement and proceed to obtain possession of the premises as provided in § 55.1-1251.
Alexandria CSO reference correction
(Barker).  A technical amendment corrects the reference for the public entity to receive Combined Sewage Overflow (CSO) repair money for the City of Alexandria as the Virginia Sanitation Authority.
Medicaid home & community-based service rates
(Hanger).   Extends the 12.5 percent rate increase for Medicaid Home and Community-based Services for six months until the end of fiscal year 2022. Currently, the rate increase is proposed to expire on Dec. 31, 2021, which would result in a reduction in provider rates on that date. The costs of extending the rates are covered by the state savings in Medicaid from the 12-months of enhanced federal match for Medicaid Home and Community-based Services included in ARPA.
Overtime provisions
(Stanley).  Provides for additional employers to assert exemptions to the Virginia Overtime Wage Act for employees who otherwise meet exemption criteria set forth in the federal Fair Labor Standards Act (FLSA), and to set overtime pay for certain employees at a rate consistent with the FLSA.
Absentee ballots reported by precinct
(Sutterlein).  Provides that notwithstanding § 24.2-712, § 24.2-709 of the Code of Virginia, or any other provision of law, absentee ballots processed at a central absentee precinct shall be sorted by the precinct to which the absentee voter is assigned and the resulting vote totals from such ballots be reported separately for each voter precinct.
VML Policy Staff:  Michelle Gowdy (mgowdy@vml.org); Jessica Ackerman (jackerman@vml.org); Janet Areson (jareson@vml.org); Josette Bulova (jbulova@vml.org); Mitchell Smiley (msmiley@vml.org)
Upcoming Conference
Resilient Virginia conference details now available
The 2021 Resilient Virginia Conference offers the opportunity to learn more about economic and social resiliency initiatives taking place in Virginia's rural areas. This year's theme is "From Recovery to Resilience: Moving to Vibrant, Healthy, and Equitable Communities." The virtual conference runs from August 25-27 with Governor Ralph Northam will providing opening remarks on the first morning
For more information about event sessions and speakers, view/download the flyer here >.
More information and registration are available online here >.
Resilient Virginia Contact: Managing Director Annette Osso, osso@resilientvirginia.org
National Civic Review
Summer edition of National Civic Review now available
Access code for VML members: VML21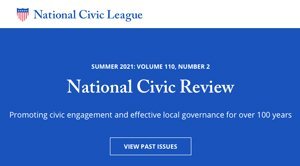 The summer issue of the National Civic Review celebrates cities that are making progress on addressing challenges such as racial equity, health equity and community resilience. Review authors offer insightful ideas on measuring the value of public participation, engaging urban residents through block clubs, promoting public trust with better service delivery and digital communication, and the most effective ways of seeking input from youthful residents. Former Missoula Mayor and Speaker of the Montana House of Representatives Dan Kemmis offers his ideas on what a small "d" democratic renewal movement might look like in the 21st Century.
You can access this edition by going directly to the table of contents and entering your access code: VML21.
VML Contact: Rob Bullington, rbullington@vml.org
VML News
VML Innovation Awards: Deadline to submit entries is August 16.
Don't miss this opportunity to spotlight programs and individuals that have made a big difference to your residents by creating innovative solutions to address emerging needs. The deadline to submit entries is 5:00 PM ET on August 16.
More information and a link to the entry form are available on VML's website here >.
About the 2021 Innovation Awards
Forty-five years ago, the Virginia Municipal League launched its "Achievement Awards" to recognize outstanding work being done by local governments across Virginia. The program went on to become Virginia's highest honor in local government creativity. In 2017 the name was changed to "Innovation Awards", but the purpose remains the same: To celebrate all that you do to make your city, town, or county a great place to live!
Appropriately this is the "sapphire anniversary" year for the awards as sapphire is often associated with healing and peace – two things we have good reason to welcome in 2021. The awards will be presented at VML's Annual Conference in Leesburg in October.
VML Contact: Manuel Timbreza, mtimbreza@vml.org
2021 Annual Conference: Business & Sponsor membership opportunities now available!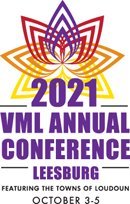 This year's VML annual conference at the Lansdowne Resort in Leesburg promises to be among the best in VML's history. Our members are looking forward to the opportunity to learn together and share stories in-person following an extended time apart. As in year's past, organizations and businesses are encouraged to join us at this important annual gathering.
However, please be aware that the Annual Conference will not have a traditional exhibit hall. Instead, VML looks forward to welcoming businesses and organizations to our conference as members of our Community Business Member (CBM) program.
For those businesses and organizations that would like to have a presence at our Annual Conference, becoming a VML Community Business Member is a great way to go! We have added conference-specific options to each level of CBM membership. Review the opportunities here >.
VML Contact: Rob Bullington, rbullington@vml.org