eNews August 28, 2020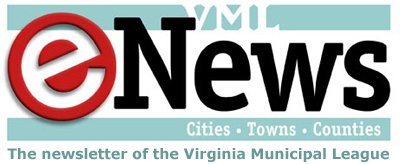 Friday, August 28, 2020 - 04:39pm
In this issue:
VML Events
2020 VML Mayors Institute registration now available
Please be aware that this year's event will be separate from the Annual Conference
From improving the current infrastructure to preparing for autonomous vehicles, local communities are moving toward the future. Learn how you can meet the needs of a new generation of citizens at the Virginia Mayors Institute. The program exposes mayors and vice mayors to issues essential to their roles as local government leaders.
The 2020 Mayors Institute will be held virtually on Thursday, September 24 from 10:00 AM – 3:15 PM.
More information, as well as a link to register, are available here >.
VML Contact: Jessica Ackerman, jackerman@vml.org
Governor Northam to address VML Annual Conference
Dr. Susan T. Gooden to speak on equity issues
VML is pleased to announce that the speakers at our 2020 Annual Conference (October 7-8) will include the Honorable Ralph Northam, Governor of Virginia as well as Dr. Susan T. Gooden, Dean of the Douglas Wilder School of Government and Public Affairs at the Virginia Commonwealth University.
We encourage those interested in attending to register as soon as possible. The deadline for refunds is September 10. Because we will be holding the conference virtually this year, we will be mailing registered attendees gift boxes ahead of the event. Early registration will ensure adequate mailing time.
A preliminary agenda and registration link are available here >.
Stay tuned for more details about this year's event as they are confirmed.
VML Contact: Sandra Harrington, sharrington@vml.org
Special Session Legislation
Updates on bills of interest to local governments
Transient Lodging
Thanks to everyone who assisted in opposing SB5089 (Locke); it was a win yesterday when Senator Locke asked the Senate General Laws Committee to pass the bill by indefinitely. This bill would have provided landlord tenant rights to persons who stay in a hotel for just 7 days and had the potential to affect transient occupancy tax.
VML urges our members to contact Delegate Jenkins to ask that he do the same with his H5119 which has similar language and is waiting on a committee referral.
Qualified immunity
Today HB5013 (Bourne) passed out of House Courts of Justice Committee on a party-line vote. VML has opposed this bill because it corrodes the concept of sovereign immunity for localities that employ or contract with law enforcement officers. VML has a long-standing position that states VML supports "strengthening and maintaining the principles of sovereign immunity for local governments and local officials." This bill also imposes a duty of care and oversight upon local governments of law enforcement officer's off duty conduct [emphasis added].
Senator Morrissey had a similar bill (SB5065) that was passed by indefinitely in the Senate Judiciary Committee earlier this week with a letter asking the Virginia State Bar to study the issue.
Workers' compensation
The Workers' Compensation presumption bills are both sitting in the finance/appropriations committees in their respective chambers. In the House, HB5028 (Jones) includes school board employees, health care workers, first responders, fire fighters and law enforcement officers as employees that are presumed to have contracted COVID-19 at work unless such presumptions are overcome by a preponderance of competent evidence to the contrary. The Senate version, SB5066 (Saslaw), includes firefighters, law enforcement officers, health care workers and correctional officers with the same presumption standard.
Collective bargaining
The following bills dealing with collective bargaining saw movement this week:
Broadband
Senator McDougle's SB5115 appropriates money to the Department of Housing and Community Development from July 1, 2020 through June 30, 2022 for sufficient funding to expand access to broadband service in unserved and underserved areas of Virginia. This bill has been referred to Appropriations!
FOIA
Reported out of House Courts of Justice this week, Delegate Hurst's HB5090 will require that criminal investigative files be added to the types of law-enforcement and criminal records required to be released in accordance with the provisions of the Virginia Freedom of Information Act. Currently disclosing these records is discretionary. There is a provision in the bill that allows for the Commonwealth or law enforcement to petition the court to withhold the records.
Paid leave
Referred to Appropriations from House Commerce and Labor, HB5116 (Guzman) would require public and private employers to provide paid quarantine leave until the State of Emergency ends. The bill also prescribes the employees that receive the leave and how much leave. You may recall that last week Senator Favola's SB5076 that also dealt with paid leave was passed by indefinitely in Senate Commerce and Labor.
Monuments
Delegate McQuinn's HB5030 passed out of House Rules this week. This bill that further loosens the ability of a locality to remove, alter or relocate a memorial or monument. The legislation does away with the current requirements for public hearings and notice.
Concealed weapons
passed by indefinitely in Senate Judiciary this week , SB5108 (Chafin) would have gutted local ordinances by allowing concealed weapon permittees to carry weapons despite a local ordinance prohibiting firearms.
Civilian review boards
The House has engrossed and passed to final reading HB5055 (Herring) that would require local governments with local law enforcement agencies to appoint a civilian review board. The bill includes the duties of such a board. A similar but not identical Senate measure, SB5035 (Hashmi), would authorize but not require localities to establish such boards. That bill was reported from Senate Judiciary and referred to Finance and Appropriations.
VML Contact: Michelle Gowdy, mgowdy@vml.org (for civilian review board legislation, contact Janet Areson, jareson@vml.org)
Problematic utility legislation advancing during the Special Session
Multiple pieces of legislation advancing through the Virginia General Assembly's Special Session will impact how, when, and under what circumstances all utilities, including municipally owned utilities and authorities, are able to recover costs from utility customers.
The introduced House and Senate Budgets contain provisions (§4-14.00 Sec. 7) that institute a statewide moratorium of customer disconnections by utilities for nonpayment of service. This provision will prevent disconnections from occurring until at least 60 days after the Governor's declaration of a state of emergency in response to a public health threat has ended. Utilities will be required to create and notify customers about a 12-month repayment plan for any balances accrued during the utility disconnection moratorium. To participate in a repayment plan, customers must demonstrate they have experienced financial hardship due to the COVID-19 crisis. Utilities will not be allowed to levy any fee, collect interest, or apply any penalty to participants in a repayment plan.
Issues and a solution
This legislation does not adequately specify which customers are eligible to participate, therefore commercial and industrial customers could halt payments without being disconnected under the introduced language. Discussions with the administration and legislators about how to improve the legislation's language to limit it to residential customers are underway.
VML believes that the State should use its share of unobligated CARES funding to assist customers directly. There is nearly $1 billion remaining in federal CARES act funds being held by the state that could be used to assist residential customers impacted by the pandemic in paying off their account balance. This approach would directly address the problem that this budget language is trying to solve.
Related legislation
Additional legislation, SB5118 (McClellan) and HB5117 (DAird), has been introduced to require utilities to create Emergency Debt Repayment Plans for residential customers. This legislation, which applies only to residential customers, requires that repayment plans of up to 24 months be offered to customers with account balances.
SB5118 has undergone significant revisions since it was first introduced, but still fails to provide utilities with the ability to recover lost costs. In addition, utilities must collect specific information about participation in the repayment plan and provide it to the legislature. This may be difficult (if not impossible) depending on what data is already being collected by utilities. This legislation was amended in committee today and while we have not yet seen the amendments, it is important to note that in concept municipal utilities are expected to be excluded from the repayment plan provisions and municipalities may end up being required to only report information about customers in repayment plans and the size and quantity of delinquent accounts.
SB5118 will be heard again by the Senate Finance Committee which is expected to conform the bill with the language in the budget. We will continue to keep members apprised of developments with the state budget and this legislation.
VML Contact: Mitchell Smiley, msmiley@vml.org
Bill to compel use of body-worn cameras by local law enforcement introduced
This unfunded mandate should concern localities
HB5135 (Bell, Cole M., Edmunds) would require that every local government with a law enforcement agency implement and operate a body-worn camera system. It would also stipulate the times and situations during which such cameras would be employed.
Localities currently have the option, but are not required, to purchase or use body-worn cameras. The Code currently does not stipulate the situations during which cameras are deployed – that has been up to the local government and its law enforcement agency to determine operational requirements for its program.
There is no budget amendment accompanying the bill, meaning that localities compelled to purchase and operate cameras would bear the full costs of such purchase and operation.
Costs associated with the purchase and use of body-worn cameras include training, operation, up-keep and replacement of equipment, and video storage. An additional substantial cost is the requirement in the Appropriations Act that a locality using body cameras either 1) pay for one full-time equivalent entry-level Assistant Commonwealth's Attorney at a rate of one position for up to 75 body-worn cameras employed for use by the local law enforcement agency and one position for every 75 cameras after that, or 2) to come to agreement with the Commonwealth's Attorney office for additional funding using a mutually agreed-upon formula to accommodate the additional workload for the Commonwealth Attorney's office.
The bill has not been assigned to a committee; the Speaker makes those assignments.
VML opposes any bill to mandate use of body-worn cameras by localities unless the state pays all the costs related to their use.
VML Contact: Janet Areson, jareson@vml.org
Economy
Economic Peek-a-Boo
Hints of improvement shaded by economic uncertainty
First, the good news: The Virginia Employment Commission (VEC) announced this week that the number of initial claims filed during the August 22, 2020 filing week fell to near the average weekly volume in 2009. The latest claims figure showed a decline of 3,715 claimants from the previous week, resuming the trend of steady decreases during August.
The continued weeks claimed totaled 249,745, which was a 5.8% decrease from the previous week but 230,488 higher than the 19,257 continued claims from the comparable week last year. The numbers had leveled off in mid-August before picking up recent months' declining trend in the most recent filing week. The continued claims total is mainly comprised of those recent initial claimants who continued to file for unemployment insurance benefits during the COVID-19 pandemic.
The July unemployment rate of 8 percent is less than June's 8.1 percent rate. The unemployment rate a year earlier was 2.7 percent.
According to the Federal Reserve Bank of Richmond, the July jobs report for the state was somewhat positive but showed a slowdown in the job recovery. However, the news was tempered by an uptick in the June jobs report which was revised upward by 15,200 to 78,700.
Nationwide, the employment situation is not as encouraging.  The U.S. Department of Labor reports that just over one million Americans filed new claims for state jobless benefits last week. In early August, new claims filed dipped below 1 million but then jumped to 1.1 million the following week. The new claims filed may indicate that job growth is losing momentum.
Now for the bad news…
July's national unemployment rate was 10.2 percent. The $600-a-week federal supplement to state unemployment benefits expired at the end of July, and efforts to replace it have stalled in Congress.  President Trump issued an executive action to boost the benefit by $300 a week (and encouraged states to chip in a separate $100 a week benefit), but few states have begun paying out the new benefit.
The President's plan authorizes spending up to $44 billion, which federal officials said last week would cover four or five weeks of payments if all states participate. However, the money does not come from the U.S. Department of Labor; it comes from the Federal Emergency Management Agency (FEMA). This likely means that several states would face significant challenges to adapt their labor departments' computer systems many of which are running on decades old platforms. In Virginia, the computer system dates to the 1980s (google "David Hasselhoff, Knight Rider" for context). Different requirements in the FEMA and the Labor Department programs make result in some Virginians being ineligible to receive the $300 a week benefit.
What's being done?
Virginia is applying for the federal funds to supplement state unemployment benefits by $300 a week.  State officials think it will likely be at least three weeks before the money begins to reach unemployed Virginians. Reprogramming the computer system has already begun. As for the state $100 a week supplement, the Northam Administration is still considering the option. Secretary of Finance Aubrey Layne said it would cost the state $45 million a week.
The bottom line: Unemployment and economic recovery issues will stay with us long after the Special Session of the General Assembly ends.
VML Contact: Neal Menkes, nmenkes@vml.org
Opportunities
Funding available for EPA brownfields assessment and cleanup
The U.S. Environmental Protection Agency (EPA) Brownfields grant program is seeking applications to address environmental contamination by providing funds to prevent, inventory, assess, clean up, and reuse vacant, underutilized, and contaminated sites. Grant funds may be used to address sites contaminated by hazardous substances, pollutants, or contaminants (including hazardous substances co-mingled with petroleum) and petroleum.
Opportunities in this cycle of brownfield grant funding are separated into three categories: ​
Assessment Grants provide funding for developing inventories of brownfield sites, prioritizing sites, conducting community involvement activities, conducting planning and site assessments, and developing site-specific cleanup plans and reuse plans related to brownfield sites. Community-wide Assessment Grants will award up to $300,000, Site-Specific Assessment Grants will award up to $200,000, and Assessment Coalition Grants will award up to $600,000. EPA anticipates awarding 87 proposals for a total of $32 million. Matching funds are not required.
Cleanup Grants provide funding to carry out cleanup activities on brownfield sites. An applicant may only submit one Cleanup Grant application in the FY21 cycle. The maximum award is $500,000. EPA anticipates awarding 26 proposals for a total of $13 million. A cost share of 20% is required.
Multipurpose Grantsprovide funding for project activities that encompass assessment and cleanup, such as developing brownfield site inventories, prioritizing sites, conducting environmental site assessments, and developing an overall revitalization plan. EPA anticipates selecting ten proposals for an estimated $800,000 per grant. Entities that were awarded an FY19 Multipurpose Grant may not apply for an FY21 Multipurpose Grant. Multipurpose grant recipients are required to provide a $40,000 cost share.
Units of local government, Land Clearance Authorities, or quasi-governmental entities, regional councils, redevelopment agencies, States, 501(c)(3) nonprofit organizations, limited liability corporations managed by 501(c)(3) nonprofit organizations, and qualified community development entities are all eligible to apply for Brownfield funding in any of the above categories.
The deadline for proposals in all three grant categories is October 28, 2020.
For more information about how Sustainable Strategies DC can help your community with Brownfields applications, please contact Ashley Badesch at ashley.badesch@strategiesdc.com
VML Contact: Janet Areson, jareson@vml.org
Grants available to support museum growth, development, and capacity
The Institute of Museum and Library Services (IMLS) is accepting applications for five grant programs to support museums. These IMLS grants enable museums and related organizations to strengthen their institutional capacities, expand staff professional development, explore innovative solutions to addressing relevant issues, and achieve positive outcomes for themselves and the people they serve.
Museums may be independent organizations or be administered by a governing body (e.g., university, tribe, state, or local government) that employs at least one staff member, whether paid or unpaid, and have tax-exempt status. The term "museum" includes a wide range of organizations that are organized on a permanent basis for educational, cultural heritage, or aesthetic purposes; owns or uses tangible objects; cares for these objects; and exhibits these objects to the general public on a regular basis through facilities that it owns or operates. Museums include, but are not limited to, aquariums, arboretums, art museums, botanical gardens, children's/youth museums, general museums, historic houses/sites, history museums, natural history/anthropology museums, nature centers, planetariums, science/technology centers, and zoological parks.
The deadline to apply for all the IMLS grants listed above is November 16, 2020.
VML Contact: Janet Areson, jareson@vml.org
Virginia Energy Efficiency Council (VAEEC) hosting free webinar
VML and MEPAV members are invited to attend the Virginia Energy Efficiency Council's (VAEEC) free webinar for municipal government staff on September 16 at 12:00 PM. Exploring Energy Management Software will focus on the capabilities and functions of both EnergyCAP and ENERGY STAR Portfolio Manager. Speakers will discuss the cross-utilization of both platforms, as well as new and exciting features. Additionally, two local government representatives will share their experiences with these platforms. A Q&A session will be held at the end.
Additional details and the registration link can be found here >.
Please share the above description with your networks as you see fit. I am happy to address any questions.
VAEEC Contact: Jessica Greene, Outreach Director, jessica@vaeec.org
Webinar now available for local governments to engage residents in COVID-19 recovery
A recently concluded Learning Lab Webinar from Polco outlined how local governments can unlock CARES Act Funding to engage residents in COVID-19 recovery. The webinar is now available for any interested local government officials and staff to review at their convenience.
View the webinar and learn more about Polco's services here >.
Polco, a VML partner, helps local governments across the nation maximize community engagement for effective strategic planning. The group's survey data can guide leaders to make effective, evidence-based decisions. And, as covered in the webinar, local governments can access those surveys without added financial burden since they may be eligible for CARES Act Funding.
Polco Contact: Matt Fulton, matful@polco.us