eNews August 25, 2017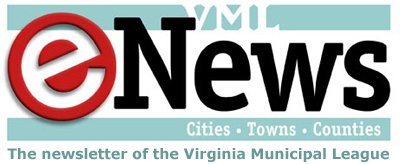 Friday, August 25, 2017 - 02:36pm
In this issue:
Register now to avoid conference rate increase
The registration fee for the 2017 VML annual conference will increase Sept. 15. VML staff are planning a variety of sessions to help you build healthier communities by increasing your knowledge of healthcare, the opioid crisis, drinking water concerns, and public recreation projects. Register today to lock in the current rate. Visit vml.org, Facebook, or the VML app regularly to view announcements about conference events and speakers.
VML contact: Leslie Amason, (804) 523-8528
Consider serving on the VML Executive Committee
Be part of leading statewide initiatives for Virginia cities, towns, and counties as a member of the VML Executive Committee. The 13-member VML Executive Committee is made up of local officials from across the Commonwealth and manages all affairs of the League, supervises the Executive Director and other staff and personnel of the League, and arranges for the Annual Meeting of the League.
The Executive Committee meets four times a year (at the VML annual conference, during VML Day at the Capitol, in May, and in August). VML pays all travel expenses for the May and August meetings. It is expected that the locality pays for VML Day and the VML annual conference as usual.
There are three ways to participate on the Executive Committee.
Serve as chair of the Urban, Cities, or Towns section. Seek a position as chair of a section applicable to the locality you serve and represent that section on the VML Executive Committee. This year's section meetings will be held at the conference in Williamsburg. Nominations for chair and vice-chair are made from the floor during each section's meeting, then the membership of that section votes on the slate.
Fill an "at-large" position. Each year, the Nominating Committee as appointed by the VML President considers candidates to fill two at-large seats. More at-large positions may be available if an individual serving in one becomes an officer.
Volunteer for Vice President and President-Elect. The Nominating Committee also recommends these officers. While they generally come from individuals with existing Executive Committee service, anyone may apply. By virtue of the VML Constitution, the President-Elect automatically moves into the President position.
To apply for an at-large or officer position, complete the application and email it with your letter of interest and resume to Michelle Gowdy. You also may mail the nominating materials to VML Nominating Committee, P.O. Box 12164, Richmond, VA 23241.
VML contact: Michelle Gowdy
Public/private partnerships: VML Leadership Academy webinar
Earn credit toward Leadership Academy certification from the convenience of your office. A one-hour webinar on Sept. 13 will provide an overview of Virginia's unique public-private partnership law, the Public-Private Education Facilities & Infrastructure Act (PPEA). The session will include the law's legislative history, types of projects that qualify for it, how projects are generated and procured, and the Act's pros and cons. Preston Bryant Jr. is the speaker for this VLA event.
VML contact: Mike Polychrones
Despite year-end surplus, McAuliffe urges caution
Virginia's total general fund collections exceeded the official forecast for fiscal year 2017, economic development efforts have netted 1,012 projects worth $16.4 billion in the last four years, and unemployment rates are down throughout the state. Despite the good news, the tone of Governor Terry McAuliffe's address to the General Assembly's budget and finance committees on Aug. 21 was one of caution.
McAuliffe's message focused on President Donald Trump's budget proposal, which cuts and eliminates funding for programs such as the Appalachian Regional Commission, Community Development Block Grants, the Chesapeake Bay Program, and other assistance for rural economic development and poverty alleviation programs.
He said that these cuts, along with proposals to gut workforce development programs, disability assistance, and children's health insurance, would threaten much of the progress made to regain solid financial footing in the state following the great recession.
While the President's budget promises increased defense spending, McAuliffe said it would take years for Virginia to realize any positive impacts.
Speaking to Virginia's budget performance, McAuliffe recalled the efforts to keep the fiscal year 2017 budget in balance that started in the fall of 2016. He gave credit to the General Assembly in working with him through the 2017 Session to enact an amended budget that was timely, on-time, and balanced.  He noted that this was not the case with nine other states this year, and speculated that several states, including some of Virginia's border states, would see revenue shortfalls.
As for the surplus, McAuliffe noted that much of it was already committed by law. The Water Quality Improvement Fund will get 10 percent of any revenue surplus (approximately $13.4 million), and the newly-enacted budget calls for at least 50 percent of any revenue surplus for FY17 to be placed in a cash reserve to help address any potential negative impacts from a downward turn in the national or state economies, or from future federal budget actions.
The creation of a cash reserve was prompted by a Standards & Poor announcement in April that affirmed Virginia's AAA bond rating, but changed Virginia's rating outlook status from "stable" to "negative." Its reasoning included budgeted withdrawals from the Revenue Stabilization Fund during the current biennium while the national economy was expanding, and potential impacts from federal fiscal policies. He said that Virginia's move to create the cash reserve was met with a favorable response from S&P Global Ratings.
McAuliffe also spoke of Virginia's two major issues to be dealt with in the upcoming budget deliberations: the re-benchmarking of the state's Standards of Quality (SOQ), and health care, or more specifically Medicaid.
Speaking of Medicaid, McAuliffe put in a pitch for Medicaid expansion. He noted that none of the proposals in Congress to repeal the Affordable Care Act (ACA) left the non-expansion states like Virginia better off. He vowed to put Medicaid expansion once again in his budget proposal for the coming biennium.
VML contact: Janet Areson
Call for VDOT revenue sharing allocations
Applications for VDOT's Revenue Sharing Program can now be submitted. Please note that the Revenue Sharing program begins its two-year application cycle this year, so allocations will be provided for FY 2019 and 2020. As with last year, applications will be accepted only through VDOT's Smart Portal from August 1 through November 1.
Also, the Commonwealth Transportation Board has developed and adopted a new revenue policy and guidelines that will make significant changes in the allocation ratio which affects how funds will be distributed. View the complete revenue sharing policy changes (PDF).
A major change caps all projects at $10 million. No matter the local project cost, the Commonwealth will match a maximum of $10 million at a ratio of 50/50. For a VDOT-approved project of $10 million, for example, the contribution of the city or town is $5 million with VDOT providing the same.
VML contact: Mike Polychrones
HB 1774 stormwater and erosion control workgroup holds first meeting
A stormwater and erosion control workgroup formed as a result of HB 1774 (Hodges) met for the first time July 11. Originally established to deal with flooding issues in the Middle Peninsula and Tidewater, the group's findings could affect localities across Virginia.
The group will concentrate on the following areas:
Creation of rural development growth areas
Development of a volume credit program (trading)
Creation of fee payments to support regional best-management practices
Use of stormwater in highway ditches to generate volume credits
Solving issues created by the 2016 passage of the Virginia Erosion & Stormwater Act is a primary objective of the workgroup. In particular, the act created different stormwater management requirements for coastal and non-coastal areas of Virginia.
The group is mandated to finish its work and report to the General Assembly by Jan. 1, 2018. Future meetings will be held on Aug. 30, Sept. 27, Oct. 18, and Nov. 29 at locations to be determined.
The August 30 meeting will focus on research by the Virginia Institute of Marine Science (VIMS) and Old Dominion University (ODU) and how it relates to the workgroup's mission.
The Virginia Coastal Policy Center at William and Mary Law School is the group's facilitator. Representatives from the Chesapeake Bay Commission, ODU, VIMS, Virginia Department of Transportation, Virginia Department of Environmental Quality, local governments, private industry, and environmental groups are members of the workgroup.
VML contact: Mike Polychrones
NLC seeks candidates for committees and leadership positions
Applications are now open for all 2018 leadership roles in the National League of Cities. The deadline to apply is Oct. 13, 2017. Openings are available on NLC's board or as an officer; federal advocacy committees, constituency groups, and member councils.
Regional group seeks locality input on clean energy program
The Mid-Atlantic PACE Alliance (MAPA) is a U.S. Department of Energy-funded initiative led by the Virginia Department of Mines, Minerals and Energy (DMME). MAPA stakeholders in Virginia, Maryland, and D.C. are working to harmonize and accelerate commercial property-assessed clean energy (PACE) across the region. Through PACE's private-public partnership, property owners receive long-term capital to make energy-related improvements to their properties with no upfront costs.
To better direct their education and outreach efforts, MAPA is conducting a survey of Virginia localities to understand your familiarity with and interest in commercial PACE and to identify resources that would be most helpful for your jurisdiction.
Share your feedback in the survey by Sept. 21.
Learn how to build healthy economies through healthy communities in a free webinar
Join the HEAL Cities & Towns Campaign and the Institute for Public Health Innovation for a free webinar Sept. 19 at 2:00 p.m. to learn how healthy eating and active living (HEAL) policies and practices promote economic development. Municipal leaders from the HEAL Cities and Towns Campaign will share how HEAL policies and practices can boost tourism, increase property values, and attract new business.
Speakers:
Pete Eshelman, Director of Outdoor Branding, Roanoke Regional Partnership, Roanoke, VA
Micah Runner, Director of Economic Development, Stockton, CA
Jenny Willoughby, Sustainability Manager, Department of Public Works, Frederick, MD
Sept. 13: Public/Private Partnerships: VML Leadership Academy Webinar
Sept. 18: Virginia Partnership for Out-of School Time 2017 Conference, Newport News
Sept. 19: Building Healthy Economies Through Healthy Communities Webinar
Sept. 30 – Oct. 1: Virginia Mayors Institute, Williamsburg
Oct. 1-3: 2017 VML annual conference, Williamsburg
Oct 4-5: Smart Cities Week, Washington, D.C.
Oct. 15-17: VBCOA school and conference, Virginia Beach
Nov. 15-18: NLC City Summit, Charlotte, N.C.