eNews August 21, 2020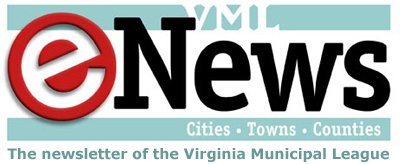 Friday, August 21, 2020 - 05:17pm
In this issue:
Legislation
Action Alerts: Oppose HB5013 and SB5089
HB5013
HB5013 (Bourne) corrodes the concept of Sovereign Immunity for localities that employ or contract with law-enforcement officers. The bill is currently in the House Courts of Justice Committee.  Note: Some localities may not agree with this position.
SB5089
SB5089 (Locke) places additional obligations and constraints on lodging establishments, including revoking the 90-day threshold for transiency at hotels and motels. The bill is currently in the Senate General Laws & Technology Committee.
VML Contact: Michelle Gowdy, mgowdy@vml.org
Water and wastewater utility disconnection moratorium legislation introduced
Local impacts anticipated; feedback requested
Introduced by Senator McClellan on August 19, SB5118 would require certain utilities to develop an Emergency Moratorium Debt Repayment Plan (EMDRP). Such EMDRPs would, at a minimum, set a statewide disconnection freeze during a state of emergency, require utilities to establish a 24-month repayment period for account balances with a maximum payment of $45.50/month or 4 percent of the customer's household income. Utilities are not allowed to require any deposit or fee for participation in the repayment plan and must coordinate with "relevant financial assistance programs". EMDRPs are designed to be offered to customers after "all other reasonably known available methods of debt mitigation or other deferred payment plans are exhausted or do not result in providing a sustainable and affordable payment plan for the customer."
The bill will impact municipally owned water utilities by requiring that they freeze disconnections of customers due to non-payment. Many utilities are already working with customers who are having difficulty keeping accounts current. However, the requirement that the disconnection repayment period extend for 24 months is a significant change for many municipal utilities.
Members should be advised that this legislation is likely to come before the Senate Commerce and Labor Committee next week. We anticipate companion legislation will also be introduced in the House of Delegates.
Language regarding utility disconnections and the creation of a repayment plan for customers is also on page 241, item 7 lines 1-20, of the Governor's budget bill HB5005. This language differs from Senator McClellan's SB511 on several key points. Notably, the language in HB5005 requires any repayment plan to occur within a 12-month period. Participation in the repayment plan proposed in the budget requires proof of hardship by the customer. Utilities are required to notify customers of the existence of the repayment plan, and utilities are not allowed to report details about customer participation in a payment plan to creditors.
VML believes that this budget language could be improved in several ways, but it is important that any budget language or legislation should specify that any repayment plan is intended only for residential customers and not commercial or industrial customers.
Contact your delegates and senators
Members should be aware that because this utility payment plan and disconnection moratorium concept appears in the Governor's introduced budget and legislation it is likely to succeed in one form or another. Therefore, we encourage members to communicate with your delegates and senators about how this legislation will impact your local utilities and ratepayers.
We understand that many customers are being impacted severely by the current economic climate and understand that many member water and wastewater utilities are working with their customers on payment plans without a mandate from the state to do so. We will continue to engage with all concerned parties.
VML wants to hear from members about their reaction to these proposals. Please share your thoughts with Mitchell Smiley using the email address below.
VML Contact: Mitchell Smiley, msmiley@vml.org
Crisis Intervention Team (CIT) bills reported and sent to Finance
Bills addressing new CIT requirements and training curriculum were reported by the Senate Judiciary Committee and re-referred to the Senate Finance and Appropriations Committee this week.
SB 5014: Law-enforcement officers to complete crisis intervention team training.
SB 5014 (Edwards) would require that crisis intervention training be included in compulsory minimum training/recertification standards for local law enforcement and would further require that every locality either operate or be a part of a crisis intervention team. Several localities have some type of CIT, but it is not currently a state requirement: not all law enforcement officers currently receive CIT training – the training until now has been focused on members of crisis intervention teams.
The Department of Criminal Justice Services (DCJS) would be required to develop curriculum for crisis intervention training in consultation with the Department of Behavioral Health and Developmental Services (DBHDS), the Department for Aging and Rehabilitative Services, and law-enforcement, brain injury, and mental health stakeholders. There would be two categories of curriculum: one for basic training and recertification requirements for law enforcement officers, and a more comprehensive curriculum as a part of the training for individuals involved in a crisis intervention team program.
The bill does not set a deadline for the training curriculum to be in place nor does it set the date for all localities to operate or be a part of a crisis intervention team.
SB 5038 (and SB 5084): Establish mobile crisis co-response team programs throughout the Commonwealth.
SB 5038 (McPike) incorporates SB 5084 (McClellan) and would do the following:
Set Jan. 1, 2021, as the date for the Department of Criminal Justice Services (DCJS) and the Department of Behavioral Health and Developmental Services (DBHDS), working with law-enforcement and mental health stakeholders, to support the development and establishment of a mental health first response and alert system that uses mobile crisis co-response team programs in areas throughout the Commonwealth.
Define areas to include one or more localities or institutions of higher education contained within the area that may have law-enforcement officers.
Require creation of mobile crisis co-response teams, consisting of specially trained mental health service providers and law enforcement officers to respond to crisis situations involving persons whose behaviors are consistent with mental illness, substance abuse problems, or both.
Require DCJS and DBHDS to establish criteria for the development of mobile crisis co-response team including assessment of the effectiveness of an area's plan for community involvement, training, and therapeutic response alternatives.
Set Nov. 1, 2021, as the date for DCJS and DBHDS to submit to the Joint Commission on Health Care a report outlining the status of the mobile crisis co-response team programs, including copies of any requests for proposals and the criteria developed for such areas.
Require DCJS in collaboration with DBHDS and other stakeholders to develop a training program for all persons involved in the mobile crisis co-response team programs; all team members would receive this training
Require DCJS and DBHDS to report to the Joint Commission on Health Care by Nov. 15, 2022, and for two years after that on the operation, impact and effectiveness of the mobile crisis co-response team programs in meeting the programs' goals to include the number of incidents, injuries to the parties involved, successes and problems encountered, and recommendations for improvement of the programs.
Concerns for localities
Localities should be concerned with the staffing and funding for such programs as well as the implications for current CIT programs operated by localities. None of the bills going forward were accompanied by member budget amendments because none were being accepted by the Senate Finance and Appropriations Committee for the Special Session. That said, Governor Ralph Northam's proposed amendments to the biennial budget included $3.6 million for a number of public-safety-related items, including training requirements for law enforcement training academies which could address some of the CIT training but none of the operation/staffing of these programs.
VML Contact: Janet Areson, jareson@vml.org
Comprehensive policing bill reported and sent to Senate Finance & Appropriations
A substitute for SB 5030 (Locke) addressing comprehensive changes for policing policies in the Commonwealth was reported from Senate Judiciary on Aug. 18 and re-referred to the Senate Committee on Finance and Appropriations. This comprehensive bill will include costs at the state and local level for training and data collection as well as potential penalties (i.e., loss of HB 599 funding if a police department doesn't comply with data submission, conducts biased-based profiling or does not become certified).
The bill includes the following provisions:
Prohibits any state or local law enforcement agency from purchasing or accepting certain items from the U.S. Department of Defense or its agencies for use in law enforcement activities, including bayonets and grenade launchers; tracked armored vehicles; weaponized aircraft, vessels, and vehicles of any kind; firearms of .50-caliber or higher; or ammunition of .50-caliber or higher.
Requires law enforcement/public safety standards to include adoption of statewide professional standards of conduct applicable to all certified law-enforcement officers and certified jail officers and appropriate due process procedures for decertification based on serious misconduct in violation of those standards.
Requires that compulsory training standards for basic training and the recertification of law- enforcement officers include training in de-escalation procedures/techniques.
Requires development of a uniform curriculum and lesson plans for the compulsory minimum entry-level, in-service, and advanced training standards to be employed by criminal justice training academies.
Adds members to the Criminal Justice Services Board to include representation by a civil rights organization and community-based organization; also applies to the Committee on Training.
Allows the Committee on Training to appoint curriculum review committees.
Requires an annual evaluation of each criminal justice training academy's compliance with the uniform curriculum and lesson plans. DJCS will assist to ensure compliance if deficiencies in employing the uniform curriculum and lesson plans are found, and may take whatever enforcement action it deems appropriate, including revocation of the Department's approval of the academy.
Allows any approved criminal justice training academy to petition the Department for a waiver from the uniform curriculum and lesson plans requirement if it has an alternative curriculum and lesson plans that meets/exceeds the compulsory minimum training. DCJS would evaluate such alternative curriculum/lesson every third year during the criminal justice training academy's recertification period.
Effective July 1, 2021, allows the state to withhold a locality's State Assistance to Local Law Enforcement (HB 599) funding in a succeeding fiscal year if (i) the locality's local law-enforcement agency has refused to report required data to the Department of State Police under §§ 15.2-1609.10, 15.2-1722.1, and 545 52-30.2 or (ii) a local law-enforcement agency in such city, county, or town has engaged in bias-based profiling as defined in § 52-30.1 and has failed to adopt or implement DCJS's recommendations to end such bias-based profiling.
Effective Jan. 1, 2024, DCJS would not increase funding to any local law-enforcement agency that is not an accredited law-enforcement agency. A local law-enforcement agency shall be considered an accredited law-enforcement agency if it obtains Virginia accreditation status or any equivalent accreditation status as determined by the Virginia Law-Enforcement Accreditation Center.
Requires any law enforcement agency or jail hiring an individual previously employed by another law enforcement agency or jail in the Commonwealth to request from the previous employer information* related to:

Any arrest or prosecution of that individual including any expunged arrest or criminal charge;
Any civil suit regarding that individual's employment or performance of duties; and
Alleged criminal conduct, use of excessive force, or other official misconduct obtained during the course of any internal investigation related to that.
*This information must be obtained before the individual is officially employed by a law enforcement agency or jail in the Commonwealth.
Requires all sheriffs, chiefs of police, and directors/chief executives of any law enforcement agency or jail in Virginia and the director of DCJS to disclose any pertinent information requested to any hiring agency or jail that makes such a request.
Allows a hiring law-enforcement agency or jail to require a candidate for employment to undergo a psychological examination conducted under supervision of a licensed clinician, subsequent to a conditional offer of employment.
Requires any sheriff, chief of police, or agency administrator to notify the Criminal Justice Services Board if any certified law-enforcement or jail officer currently employed by his agency (i) is terminated or resigns in advance of being convicted or found guilty of an offense that requires decertification, (ii) is terminated or resigns in advance of a pending drug screening, (iii) is terminated or resigns for a violation of state or federal law, (iv) is terminated or resigns for engaging in serious misconduct as defined in statewide professional standards of conduct, (v) is terminated or resigns while being the subject of a pending internal investigation involving serious misconduct as defined in statewide professional standards of conduct adopted by the Board, or (vi) is terminated or resigns for an act committed while in the performance of duties that compromises an officer's credibility, integrity, honesty, or other characteristics that constitute exculpatory or impeachment evidence in a criminal case.
Along with data required about investigatory traffic stops (as per HB 1250 passed during the 2020 regular session), requires all police departments to collect data pertaining to all stop-and-frisks of a person based on reasonable suspicion and for the chief of police to report such data to State Police for inclusion in the Community Policing Reporting Database established pursuant to § 52-30.3.
Requires the local chief of police to post the data that has been forwarded to State Police on a website maintained by the chief of police or on any other website on which the chief of police generally posts information and that is available to the public or that clearly describes how the public may access such data. (This may include a link to the State Police web page on which the data is posted.)
Forbids any sexual activity between a law enforcement officer/jail officer and someone in the custody of police or incarcerated in a local/regional jail.
Makes changes to the search warrant authorization requirements including providing audible notice of authority prior to execution of the search warrant and provides that such searches will be executed during the daytime unless a judge or magistrate, if a judge is not available, authorizes execution of such warrants at another time or without such notice for good cause shown or the search warrant is for the withdrawal of blood. A search warrant for the withdrawal of blood may be executed at any time of day.
States that any evidence obtained from a search warrant in violation of this subsection shall not be admitted into evidence for the Commonwealth in any prosecution.
Sets out a new section of the Code regarding conduct of law enforcement during an arrest or detention. This covers use of neck restraints, deadly force, and failure of an officer to intervene in a situation in which excessive or inappropriate force is used by another officer.
Updates on this comprehensive legislation will be provided as they become available.
VML Contact: Janet Areson, jareson@vml.org
Other Special Session bills of note for localities
The first week of the General Assembly's Special Session was a busy one. VML is tracking numerous bills coming before the committees. Below are a few of interest to localities.
Active:
SB5106 (Lewis) was reported from Senate Local Government this week.  This bill extends various land use approvals to July 1, 2022.
SB5066 (Saslaw) was referred to Senate Finance. This bill rolls together several workers' compensation presumption bills related to COVID-19. SB509 applies to firefighters, first responders, health care providers and correctional officer and presumes that COVID-19 causing any health condition of impairment resulting in total or partial disability or death to be presumed to have occurred at work.   The presumption can be overcome only by a preponderance of competent evidence to the contrary.
Died:
SB5076 (Favola) would require sick time during the pandemic. This bill died in the Senate Commerce and Labor subcommittee.
SB5027 (Newman) would have disallowed law enforcement to collectively bargain with a city, town, county, or governing body. This bill died in Senate Commerce and Labor subcommittee.
VML will continue to track all legislation with local impacts and will send alerts about any bills that require immediate attention from our members.
VML Contact: Michelle Gowdy, mgowdy@vml.org
Economy
Proposed budget changes will stress local finances
And that's before the General Assembly passes any new legislation.
Speaking August 18 to a near-empty, cavernous committee room in the Pocahontas Building, Gov. Ralph Northam spelled out his priorities and objectives for the August Special Session. House and Senate members from the General Assembly's "money committees" participated virtually, listening to the Governor and then to Aubrey Layne, Virginia's Secretary of Finance, and finally Dan Timberlake the Director of the Department of Planning and Budget.
Governor Northam linked the precarious state of the economy to the COVID-19 pandemic, remarking that "the only way to solve our economic crisis is to solve our health crisis first." To keep the state budget in balance, in March and April he began to freeze hiring, limit travel, clamp down on discretionary spending, and "unallot" most of the new spending approved by the General Assembly just weeks earlier. He acknowledged the $234 million shortfall in general fund revenue collections for Fiscal Year 2020 and announced that the Tax Department now projects a $2.7 billion revenue shortfall in this biennium (FY21 and FY22).
Speaking to the day when the state economy improves, Northam pledged to bring back his own top priorities:
Raise the salaries of teachers and state workers.
Invest more in behavioral health.
Address the impediment that the cost of tuition inflicts on students and their families.
Invest in Virginia's transportation system.
Improve access to affordable health care.
But all of that is for another, brighter day.
Northam outlines guiding fiscal principles and initiatives
Like the physician he is, Gov. Northam prescribed four "medicinal" principles to guide lawmakers during the Special Session:
"Cash is king." It is critically important to preserve the liquidity that will allow the government to operate, deliver services and pay its bills.
Don't use one-time money to fund expenses that re-occur every year. It is common sense, and it is an action that the bond rating agencies say is necessary every time Virginia's AAA Bond Rating is reaffirmed.
Use one-time money, when available, to invest in the future.
Virginia must preserve its financial options.
Gov. Northam also highlighted his immediate initiatives for the Special Session:
Provide dollars and new policy language to expand voting access for November's general election
Reform policing
Teach a more accurate version of the Commonwealth's history
Expand affordable housing
Increase access to high-speed broadband
Meet urgent dam safety needs
Support Virginia's public Historically Black Colleges and Universities
Whew. That is certainly an ambitious agenda in a tight-money Session. Let's see what the numbers have to say…
A quick trip to FY 2020
The $234.2 million revenue shortfall has been extensively publicized. Less widely known is that FY20 general fund taxes actually increased by 2.2 percent over FY19 collections. The official revenue forecast was 3.2 percent, meaning state coffers were greater than the previous year's but less than the amounts anticipated. Income tax withholding declined but actions taken by Congress to establish the Paycheck Protection Program (PPP) helped to cushion the blow. Also, while brick and mortar purchases fell 4.5 percent in FY20, online purchases soared 32.3 percent as "shop until you drop" was replaced by "shop until the carpal tunnel syndrome flares."
The Table below shows what was expected and what actually happened with the revenue sources that comprise the bulk of FY20 tax collections.
Revenue assumptions for the August Special Session
The revenue reforecasting process being used during the Special Session is similar to the one used for the General Assembly's regular sessions. The key differences between the two are scarcity of data to plug into the computer models and the time allowed to complete the process which usually takes months into a matter of weeks. The revenue assumptions used for HB 5005 and SB 5015 are somewhat more aggressive compared with the slightly more pessimistic conclusions of the Joint Advisory Board of Economists and the Governor's Advisory Council on Revenue Estimates. In any case, the process begins anew in the Fall.
The reforecast projects $44,741.6 billion for the biennium. This is from all revenue sources and transfers to the state general fund (e.g., A.B.C. Profits). The sum is $2.8 billion less than the revenue and transfer amounts approved in March.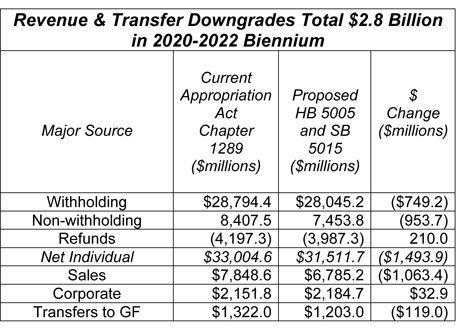 Balancing the revenue shortage
The Governor proposes to bring the revenues and spending into balance using broad stroke measures.
The first stroke is a shoutout to the federal government. Congress approved a revision to the federal match requirement for the Medicaid Program which reduces the amount of state general fund needed.  The reduction in state resources is matched by an increase in federal dollars. In other words, the federal match increases from 50 percent to 56.2 percent. This action will save the state some $336.8 million in Fiscal Year 2021. The "catch" is that the state must put up $89.1 million to fund the continuation of Medicaid and children's health insurance coverage through October 31, 2020, as required by the federal Families First Coronavirus Response Act.
The second stroke is a "technical" change in the amount of state sales tax money that is dedicated to K-12 education. When sales tax collections decrease, the amount of this aid is cut to the tune of $95.2 million in FY21 and $93.6 million in FY22.
The final stroke which is discussed in more detail in a separate article [LINK] is the action to convert the budget unallotments from April to permanent appropriation reductions. The net savings from this action are $754 million in FY21 and $1.3 billion in FY22.
Other than the $89.1 million proposed to continue health care services for children, new spending is sparse.

All these adjustments when considered in tandem with the unappropriated balances from Chapter 1289 result in a biennial $1.4 billion unappropriated balance, meaning the Governor proposes leaving a significant cash cushion to provide liquidity and financial options.
New spending Items
The overwhelming amounts of new spending are for existing services, specifically broadband funding and the Virginia Housing Trust Fund. It's not yet clear how, or if, these appropriations, assuming approval, will be used to fight the pandemic.

Other items of interest in (and not in) the budget bills
Money allocated to the Commonwealth from the federal Coronavirus Relief Fund (CRF) are NOT included for appropriation in HB 5005 and SB 5015.  All the dollars have been administratively allocated to state agencies and cities and counties under authority granted by the General Assembly to the Governor. (See Chapter 1289, Central Appropriations, Item 479.1.)
Gov. Northam has allocated almost $1.3 billion from the CRF to Virginia's cities and counties.  According to the House Appropriations Committee, roughly $1.3 billion remains uncommitted.  Some portion of this money could be used to help Virginians pay delinquent utility bills and overdue rent!
Tax changes in the budget bill
In what is often referred to as the "fine print" sections of the budget bill, there are two items dealing with tax matters.
The first extends the sunset date to January 1, 2023 on the $20,000 limit an individual taxpayer may claim under the Land Preservation Tax Credit. The limit overrides the amount set in the Code of Virginia which has been as high as $100,000 per taxpayer claim.
The second tax change regards the taxing of heated tobacco products. The budget amendment applies the Wayfair standard to remote sellers (Internet retailers) of these tobacco products. The amendment also sets the tax of such products at a rate of 2.25 cents per stick beginning on January 1, 2021.
Other policy changes
The proposed budget also includes language authorizing the Secretaries of Natural Resources and Agriculture and Forestry to study and develop a plan to require landfill operators pay a state tipping fee.  This fee would be in addition to any locally imposed tipping fee. The plan is to be submitted to the Governor and the General Assembly this coming November. VML has opposed past actions to impose a state tipping fee because, in essence, the state fee piggybacks on a local fee.
There are two transportation budget amendments of interest. The Commonwealth Transportation Fund suffered a collections shortfall in FY 2020 of $121 million. Revenues increased by 1.4 percent over FY19 collections but fell well-short of the official forecast calling for a 4.8 percent increase. The revenue reforecast for transportation in FY21 projects a 1.4 percent decline compared with FY20 actuals. That's a dollar hit of $400.8 million compared with the current official forecast. For FY22, the reforecast projects a decline of $348.9 million compared with the current official forecast for Fiscal Year 2022. The transportation taxes approved in the 2020 Regular Session are not sufficient.
Transportation revenue losses compared with the appropriations approved in March total almost $750 million for the biennium. Consequently, the Northam Administration proposes to empower the Commonwealth Transportation Board to redirect Road Revenue Sharing Funds allocated in FY20 and in prior years to other transportation programs to mitigate the revenue reductions. The amendment also includes transferring money designated for the State of Good Repair Program, High Priority Projects, and District Grant Programs. All the transfers are predicated on the assumption that cash for certain projects is not required in this fiscal year and next because of construction status. The language requires the state to replace the funding by 2025.
The second amendment concerns the Department of Rail and Public Transportation. Under the amendment, the Commonwealth Transportation Board may allocate an amount at least equal to the Department of Rail and Public Transportation's FY20 allocation to support costs identified in Item 444 for each year of the biennium. This will likely be used to support the operation of the newly established Virginia Rail Authority until the Authority is able hire an executive director and staff.
This is a considerable amount of information to absorb. Please contact VML Legislative Policy Staff if you have questions or concerns.
VML Contact: Neal Menkes, Consultant (finance and appropriations) –  nmenkes@vml.org
What happened to those "hot button" budget issues?
At its July 30 meeting, VML's Finance Policy Committee identified several state legislative and state budget issues that have potential financial implications for local governments.
599 Program and criminal justice reform
The VML Finance Policy Committee discussed the potential fiscal impacts tied to criminal justice reform in addition to the 599 Program.
State Aid to Localities with Police Departments (599 Program) had received an $8.6 million boost each year in the 2020 Session of the General Assembly, increasing the overall annual appropriation for the program to $200.4 million. However, the General Assembly in the April Veto Session froze the new spending. Gov. Northam proposes to strike the new spending in his two Special Session budget bills (HB 5005 and SB 5015).
The 599 Program may also end up in the criminal justice reform debate.
The Senate Judiciary Committee earlier this week passed a substitute for its policing reform bill SB 5030 and re-referred the bill to Senate Finance & Appropriations. Provisions in the bill (§ 9.1-168 E.) declare any locality ineligible for state funding in the succeeding year if the locality's law-enforcement agency refused to report required data to the State Police or engaged in bias-based profiling and failed to adopt or implement the state's recommendations to end such bias-based profiling.
The General Assembly rejected the Governor's criminal justice amendments during the 2020 Regular Session. Those amendments addressed more funding for public defenders; reducing incarceration by supporting and expanding pretrial and local probation services; adding more district court clerk positions to improve the criminal justice system's responsiveness; and developing release plans for offenders who are eligible for parole to provide stable support.
The Northam budget proposals for the Special Session also include criminal justice reform initiatives. The new amendments focus on different items and have a more modest price tag.
| | | | |
| --- | --- | --- | --- |
| Agency | Budget Initiative | FY21 | FY22 |
| DCJS | Expand Decertification | $94,825 | $113,790 |
| DCJS | Standards of Conduct – Decertification | $208,079 | $249,695 |
| DCJS | Civilian Review Boards | $200,000 | $0 |
| DCJS | Mandatory Curriculum | $1,504,321 | $605,185 |
| DCJS | Information Sharing about LEOs | $50,000 | $50,000 |
| St. Police | Mandatory Curriculum | $500,000 | $0 |
The proposed budget does not include new funding for other criminal justice issues like additional body cameras, more Commonwealth's Attorneys to review crime scene videos, civilian review boards, training dollars for local police departments, or local mental health crisis teams to name but a few. These and other items are included in legislative proposals now before the General Assembly.
Evictions and Payment Plans
VML's Finance Policy Committee also discussed the eviction crisis in Virginia. Gov. Northam's proposed budget includes a restoration of $23 million each year for the Virginia Housing Trust Fund, a separate $25 million supplement for the Virginia Housing Trust Fund, and another $3.3 million for an Eviction Prevention and Diversion Pilot Program. It is unclear how, or if, any of these dollars relate to the already $50 million CARES Act-funded Virginia Rent and Mortgage Relief Program.
Gov. Northam also included policy language imposing an eviction moratorium through April 30, 2021.  The language also requires landlords to offer tenants in arrears the right to enter into a payment plan for past due accounts. The payment plan must include the following provisions:
Provide monthly payments that amortize the principal over a period of time not less than 12 months.
Require tenants to document their financial or other hardship resulting from the public health emergency.
Require the landlord to take all reasonable steps to cooperate with the tenant's efforts to secure rental assistance in order to retire the COVID-19 arrearage.
Recognize the payment plan is not part of the ongoing rental agreement between the tenant and landlord, and a tenant's noncompliance with the payment plan does not constitute a breach of the rental agreement. The Payment Plan does not waive any of the tenant's rights apart from the payment plan.
Waive any requirement that a deposit or down payment is necessary to enroll in the payment plan and ensuring that no late fees will be imposed on the debt.
Prohibit the landlord from reporting to credit bureaus or other debt collectors on delinquent rent while the tenant is on the Payment Plan.
If the tenant refuses to enter into a mutually agreed payment plan, the landlord may terminate a tenancy or take action under certain actions to obtain possession of the dwelling unit.
The Senate already has two bills (SB 5044 and SB 5051) introduced and under consideration on the issue.
VML Contact: Neal Menkes, nmenkes@vml.org
The State giveth…Poof! The State taketh away.
On March 12, the General Assembly closed out the 2020 Regular Session. The last order of business that day was approving the state budget. The 140-members of the General Assembly passed a net spending increase of $2.7 billion above the biennial base budget.
The celebrating was short lived.
The Coronavirus pandemic sparked an economic nosedive from coast to coast and throughout Virginia.  State tax collections fell $234.2 million short of the FY20 official revenue forecast.
On April 22, the General Assembly returned and froze most of the new spending – $874.6 million in FY 2021 and $1.38 billion in FY 2022.
And now, it is August and we are in the midst of a Special Session. Gov. Ralph Northam's reasoning for calling the August Special Session, in part, was to recalibrate the state budget. To that end, Northam's budget bills, HB 5005 and SB 5015, propose to convert the vast majority of the un-allotments or freezes to permanent budget reductions. Doing so would bring savings of $754 million in FY21 and $1.3 billion in FY22. The Northam budget plan calls for the restoration of new spending of $99.6 million in FY21 and $44.9 million in FY22.
RESTORATION OF ONE-TIME SPENDINGS
 
 
 

Initiative

FY21

($millions)

FY22

($millions)

Virginia Housing Trust Fund
23.0
23.0
Va. Telecommunication Initiative
16.0
16.0
Eviction Prevention & Diversion Pilot Program
3.3
0
Water Quality Improvement Fund Supplement
3.8
0
Dam Rehabilitation Fund Projects
15.0
0
Land Conservation Fund Increase
5.5
5.5
Police Record Sealing Reform
0.1
0
Mental Health Capital Project Reviews
0.4
0
Va. Jobs Investment Fund Increase
2.0
0
New Office of Offshore Wind
0.4
0.4
Jobs for Virginia's Graduates Increase
1.7
0
Recruit & Retain Early Childhood Educators
3.0
0
Expedited Release of Gubernatorial Records
0.4
0
A complete list of the $2.7 billion spending items approved in March and now on the chopping block can be found here. The list is extensive.
VML Contact: Neal Menkes, nmenkes@vml.org
VML Announcements
VML accepting applications for Executive Committee
The Virginia Municipal League (VML) Nominating committee will meet on September 17, 2020. This committee will present a recommend a slate of officers to the membership during the VML Annual Conference, at the business meeting on Thursday, October 8, 2020.
The 13-member VML Executive Committee is made up of local officials from across the Commonwealth and manages all affairs of the League, supervises the executive director, and arranges for the annual meeting of the League.
The Executive Committee typically meets at least four times a year (at the VML annual conference, during VML Legislative Day, in May, and in August) in addition to an expectation of participation in Policy or Legislative Committees. VML pays travel expenses for the May and August meetings. It is expected that the locality pays for VML Legislative Day (held mid-way through the regular General Assembly session) and the VML Annual Conference (held every fall).
There are three ways to participate on the Executive Committee.
Serve as chair of the Urban, City, or Town section. Seek a position as chair of a section applicable to the locality you serve and represent that section on the VML Executive Committee. The section meeting elections will be during the Annual Conference on Wednesday, October 7, 2020. Nominations for chair and vice-chair are made from the floor during each section's meeting, then the membership of that section votes on the slate. The Urban Section of VML consists of those cities and counties that are regular members and have a population more than 35,000. The City Section of VML consists of those cities and counties that are regular members and have a population of 35,000 or less. The Town Section consists of all towns.
Fill an "at-large" position. Each year, the Nominating Committee considers candidates to fill two at-large seats. More at-large positions may be available if an individual serving in one becomes an officer.
Volunteer for Vice President and President-Elect. The Nominating Committee will recommend these officers. While they generally come from individuals with existing Executive Committee service, anyone may apply. By virtue of the VML Constitution, the President-Elect automatically moves into the President position.
To apply for an at-large or officer position, complete the application form and send, along with a letter of interest and resume. Letters of nomination should include appropriate biographical information and any other supporting documentation that would be helpful to the committee in considering potential nominees.
Application materials should be sent via email to Joni Terry at jterry@vml.org or you can mail the application materials to:
VML Nomination Committee
P.O. Box 12164
Richmond, Virginia 23241
The deadline for submitting all application materials is SEPTEMBER 10, 2020
VML Contact: Michelle Gowdy, mgowdy@vml.org
Annual Conference preliminary agenda available
Register soon!
A preliminary agenda for VML's 2020 Annual Conference (October 7-8) is now available on our website. Updated versions will be posted as speakers are confirmed and sessions are finalized. Because we will be holding the conference virtually this year, we will be mailing registered attendees gift boxes ahead of the event. Please register as soon as possible to ensure adequate mailing time.
The agenda and registration link are available here >.
Stay tuned for more details about this year's event. Although we regret not being able to get together in person, plans are the works to make the conference an educational, informative, and positive experience for everyone involved.
VML Contact: Sandra Harrington, sharrington@vml.org
Share your local pride with a handmade ornament for the Executive Mansion
A popular program returns for 2020!
Locally crafted ornaments at the Executive Mansion are back by popular demand. Please join us in celebrating what makes each Virginia locality special.
In prior years, nearly 200 localities contributed stunning handmade ornaments to adorn the holiday trees at the Executive Mansion. Thousands of visitors from across the world toured the mansion and viewed the ornaments, learning about the diverse heritage of the Commonwealth's cities, towns, and counties.
The program did not take place in 2019 but the tree was so popular that the Governor and First Lady have asked VML to again collect local heritage ornaments from Virginia cities and towns. (Our friends at the Virginia Association of Counties will be collecting ornaments from counties.)
Each locality may submit one hand-crafted ornament that uniquely represents their community. You also may reuse an ornament sent previously if the ornament is still in displayable condition. The guidelines for making and submitting ornaments are slightly adjusted to previous years. For example, this year the ornaments will be kept at the Executive Mansion for future use.
Review all the guidelines and instructions for submitting ornaments here >
With the health and safety of all in mind this year, the Executive Mansion not be physically hosting a holiday Open House. We encourage everyone to stay tuned to our social media pages to see their ornaments featured throughout the season. Please visit www.executivemansion.virginia.gov or follow @FirstLadyVA on Facebook and Twitter.
VML Contact: Manuel Timbreza, mtimbreza@vml.org
Events & Opportunities
Virginia American Cancer Society chapter hosting a state-wide luminary event
With face to face events being canceled, and fundraising opportunities diminished, the Virginia American Cancer Society chapter has decided to bring its signature ceremony and cancer information straight to the communities in neighborhoods across Virginia. Virginia Unites, Let's Shine On will take place on September 20. During the ceremony, participants will light luminaria at home and in their neighborhoods across the state to remember and to honor the people in our lives who have faced cancer.  Other states in the region (NC, SC, GA, FL) will also be participating in the Neighbors Unite campaign. This is something that has never been done before and can have a significant impact in the fight against cancer.
Help is needed recruiting Neighborhood Hosts across Virginia. Here is how you can help:
Sell 15-25 Luminaria (at a suggested donation of $10 each) by September 10.
Pass out promotional and sale flyers along your street or neighborhood.
Deliver Luminaria bags and encourage everyone to decorate them by September 14.
Remind donors to set out decorated Luminarias on September 20.
Track and collect Luminaria sales and distribute bags to your donors.
Set a fundraising goal: (example: 20 Luminaria averaging $10 donation each = $200)
Turn in your donations to your American Cancer Society.
Purchase Luminarias online and get more information at www.relayforlife.org, search your zip code for your local event.
Virginia American Cancer Society Contact: Natalie Jones, Senior Coordinator, Community & Administrative Support, natalie.jones@cancer.org
Future Cities event series coming in September
Route Fifty will be holding a Future Cities digital event series September 14 through 18 when leaders from across state and local government will discuss the roadmap to 2030. These speakers will cover a variety of pertinent topics including affordable housing, building future cities, transportation systems, election security, and case studies from cities and towns across the country. The program is completely free to attend.
More information and a link to register is available here: Future Cities Virtual Summit.
Featured speakers will include:
Nellie M. Gorbea, Secretary of State, RI Department of State
Eric Boyette, Secretary of Transportation, North Carolina
Nan Whaley, Mayor, City of Dayton
Marty Walsh, Mayor, City of Boston
Mitch Landrieu, Former Mayor, New Orleans
Dana Berchman, Chief Digital Officer, Gilbert, AZ
Karina Ricks, Director, Department of Mobility and Infrastructure, City of Pittsburg
Jordy Yager, Founder, National Mapping Inequality Project
Brooks Rainwater, Senior Executive & Director, Center for City Solutions, National League of Cities
Liz Beardsley, Senior Policy Counsel, U.S. Green Building Council
Zach Markovits, Director, City Progress, What Works Cities
Contact: Annie Bruce, Events Marketing Director – Government Executive Media Group, abruce@govexec.com