eNews August 18 2016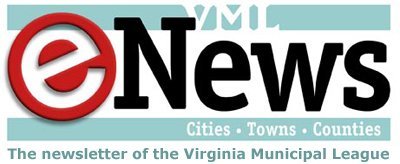 Thursday, August 18, 2016 - 02:45pm
VRS ups its investment return for FY16
Return rate still below assumption
The Virginia Retirement System announced on August 15 an investment return rate of 1.9 percent for fiscal year 2016, a slight uptick over the preliminary return rate of 1.5 percent announced earlier this summer. The underperformance will contribute to the unfunded liability of the system. Some of the underperformance could be offset by salary increases that are lower than forecast as well as other factors, such as how many and what types of employees retired in the past year.
That investment rate remains well below the assumed rate of return of 7 percent.
The fund had a 4.7 percent return rate in fiscal year 2015, but a 15.7 percent return rate in fiscal year 2014.
Go Green Challenge deadline of Sept. 25 is fast approaching
Property owner grant program available
It's not too late to register and compete in the 2016 Go Green Virginia challenge, but time is running short. Completed applications are due Sept. 25. The challenge is a friendly competition designed to encourage implementation of environmental policies and practical actions that reduce the carbon emissions generated by the local government and the broader community. Additional information is available at www.gogreenva.org.
More than 30 participants learned details about how to meet the challenge's action items at an Aug. 8 forum in Harrisonburg. Presentations from the forum are posted here.
One item of interest was a grant program run by local soil and water conservation districts through funding from the Department of Environmental Quality. The Virginia Conservation Assistance Program provides financial incentives and technical assistance to property owners installing eligible Best Management Practices (BMPs) in the Chesapeake Bay watershed. While the program is aimed primarily at homeowners and small businesses, some local government projects have been approved.  The program has about $250,000 available for the remainder of this year.
Best Management Practices that may be eligible include conservation landscaping, removing impervious surfaces, installing permeable surfaces, green roofs and harvesting rainwater.  Property owners may be eligible for reimbursement of up to 75 percent of the project; some practices are eligible for an incentive payment for installation.  Additional information is available through the Virginia Association of Soil and Water Conservation Districts at https://vaswcd.org/vcap.
VML contact: Mary Jo Fields, mfields@vml.org
Pension reform group to meet Aug. 22
League seeks your input
The state study group looking at potential changes in state and local government retirement and benefits will hear from a national expert at its upcoming meeting on Aug. 22 in Richmond.
Greg Mennis, the director of The Pew Charitable Trusts' Public Sector Retirement Systems project, is the scheduled speaker at the meeting, which will be held in House Room D in the General Assembly Building at 1 p.m.
The commission is made up of 19 members, with the majority being senators or delegates from the Virginia General Assembly. Henrico County Manager John Vithoulkas is the local government representative on the commission. Teachers, state employees and public safety officers also have a representative on the commission. The commission is set to expire in 2021.
Last week VML asked for volunteers from localities to help VML develop principles to guide League staff in working with the commission, which could meet for up to five years. The plan is to have the task force examine these types of issues:
The components of compensation plans that are important for recruitment and retention of public employees.
Support for retirement programs that include a defined benefit component, such as the hybrid plan currently available to new employees covered by VRS.
Conversely, local officials may want to support conversion of the current VRS retirement plan to a defined contribution plan.
Support or opposition for increasing the amount that employees are required to place in 401k or similar accounts.
Some local officials have volunteered to participate in this League work group, but it isn't too late to join in! Please let Mary Jo Fields (mfields@vml.org) know of your interest.
VML contact: Mary Jo Fields, mfields@vml.org
Joint Commission on Technology and Science – Digital Authentication Work Group
A 2016 bill patroned by Senator Surovell (SB531) directed the Secretary of the Commonwealth to establish digital document authentication standards for all public records of the Commonwealth. 
The bill resulted in a work group which met for the first time Tuesday.  The discussion centered around how to create standards and whether or not there are standards available for the Commonwealth to consider such as the Federal Authentication standards.   Types of records discussed include Department of Motor Vehicle transcripts, Department of Forensic Science Certificates of Analysis and manuals, Divorce Decrees, payment of taxes, etc.   From the technology perspective, there was discussion of encryption, a "key" or a broader standard given that technology changes so quickly.
The meeting ended with Legislative Services agreeing to look at other standards in the marketplace and working with the Senator to draft proposed legislation that the group can then work on.  Stay tuned!
VML contact: Michelle Gowdy, mgowdy@vml.org
Virginia Conflicts of Interest and Ethics Advisory Council considers new forms
The Conflicts of Interest and Ethics Advisory Council met on Wednesday to take a first look at the draft forms that are being considered for use in filing statements of economic interests, financial disclosure statements, disclosure of real estate holdings and lobbyist disclosure.
The COIA council will receive written comments on the various draft statements until September 18.  They ask that you put "Comments" in the subject line.  https://ethics.dls.virginia.gov/meetings.asp.
VML is currently looking into whether or not the local government relationships are properly documented in the forms, which real estate holdings have to be disclosed, the definitions and other issues. 
Please make sure that elected officials and staff review the draft forms that apply to them, and please write "comments" in the subject line and forward any copies to ethics@dls.virginia.gov.  It will be very helpful if you also copy the League's General Counsel Michelle Gowdy at mgowdy@vml.org.
As a quick reminder, under the COIA revisions adopted this session, the forms that were previously laid out in statute are removed, and the COIA council was given the charge of developing new forms.  The bill adopted in the 2016 session also changes the number of submissions to be filed with the Council, requiring the forms to be submitted annually rather than biannually.  The new forms and filing submissions will be effective for the January 2017 filing.
VML contact: Michelle Gowdy, mgowdy@vml.org
Update on FOIA officers annual training
The FOIA COUNCIL website now has a document outlining the training for local FOIA officers. On the home page, simply click the link titled "Annual Training for FOIA Officers."
VDOT pushes ahead on definitions and priorities for locally owned bridges
VDOT's Local Assistance Division met earlier in August with local government stakeholders to discuss updates to the State of Good Repair prioritization process for local bridges.  The Commonwealth Transportation Board (CTB) had approved earlier in the year a prioritization process for the state.
The State of Good Repair (SGR) process for locally owned assets will focus on the federal National Bridge Inventory (NBI) structure needs.  Only NBI structurally deficient bridges will qualify for state funding under the SGR program, and the data will reflect bridge inspection information from July 1, 2016.  The current schedule for SGR bridge selections on the locally owned system will combine funding for fiscal years 2017 and 2018.  Under legislation enacted by the General Assembly, the SGR program isn't slated to start until FY 2021. 
VDOT's tentative schedule calls for forms to be filled out by localities and returned by November 1, 2016 with the tentative bridge project selection list being shared with the CTB in December and approval in January 2017.
VDOT's Local Assistance Division is planning additional outreach efforts with localities in late August and September.
VML contact: Neal Menkes, nmenkes@vml.org.
VDH posting weekly mosquito surveillance reports
The Virginia Department of Health (VDH) is now posting weekly Mosquito Surveillance Reports on its Division of Environmental Epidemiology website.  The postings began the first week of August and
are updated every Friday afternoon.  The weekly report may be seen here under "Reports."
The report contains a table with data representing mosquito pool testing conducted by three different laboratories: Virginia's Division of Consolidated Laboratory Services (DCLS), the Fairfax County Health Department's Public Health Laboratory, and a laboratory at George Mason University. Tested mosquito pools are collected as part of mosquito surveillance efforts at sites throughout the state either by local mosquito control programs, or by the Virginia Department of Health mosquito surveillance personnel.
These results do not represent all statewide mosquito surveillance efforts.
VDH has encouraged all local health districts to share this information with their local officials, because the report posts the county or city of collection.