eNews August 14, 2020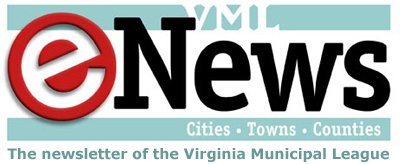 Friday, August 14, 2020 - 04:55pm
In this issue
General Assembly
General Assembly Special Session begins Tuesday, August 18
The General Assembly Special Session will begin next Tuesday, August 18.  We do not know how long it will last.
The Session will convene at 12 noon on August 18; at 9:30 a.m. that morning the General Assembly's budget and finance committees will hear a presentation by Governor Ralph Northam regarding FY2020 General Fund revenues and how the Virginia economy fared during FY2020, as well as the General Fund revenue reforecast and economic outlook for the 2020-2022 Biennium. He will also present his proposed amendments to the Biennial Budget.
This meeting will be streamed on the General Assembly's website. The General Assembly's floor sessions and meetings can also be seen on that website.
Bills have been introduced for the session; you can see introduced legislation on the General Assembly's website.
Share VML's legislative priorities with your delegation
VML's Legislative Committee met earlier this summer and approved principles for issues likely to be addressed during the special session. These recommendations will guide VML's policy staff during the session. We encourage our members to share them with their delegation. These recommendations include:
Civil liability – VML supports limiting the liability for civil damages for injury or death resulting
from or related to actual or alleged exposure to COVID-19 in the course of or through the
performance or provision of the localities business operations unless the government, or political
subdivision failed to substantially comply with applicable COVID procedures established by the
federal, state, or local agency which governs the business operations.
FOIA – any proposed changes to the Freedom of Information Act legislation be sent to the FOIA
Council for analysis and recommendations prior to General Assembly consideration or enactment.
Budget Principles –
VML supports a delayed enactment date of July 1, 2021 for any legislation that imposes
a partially-funded or an unfunded mandate for localities. (i.e. any action whereby a local
government must incur a cost as a result of an action by the General Assembly without
an appropriation to aid the locality in that action). Localities have neither the additional
revenue nor the budget flexibility to implement new or additional service requirements.
The impact on local government revenues reverberates for years after an economic
downturn or recession, slowing recovery long after federal and state revenues rebound.
Any state budget actions taken to address an economic downturn must take into account:

the immediate impact on communities and their ability to fund required services; and
the longer recovery time experienced by local governments and not allow temporary
state actions to turn into permanent state funding policy.

Local governments must be involved in any discussions related to local taxing authority
including legislation that exempts specific industries or groups from local taxes and fees.
Local governments must be involved in any discussions related to proposed state budget
reductions affecting services managed or delivered by local governments.
In times of revenue crises, state policy makers must review ways to increase revenues to
meet Constitutional and statutory obligations to Virginia citizens after all other actions have
been taken.
Local governments match more than is required for basic state education funding
requirements, pay the majority of public-school capital costs, and now are devoting
additional funds and efforts to paying for the technology and resources to pay for education
costs in a greatly altered landscape. State actions on education funding must account for
the unprecedented costs facing communities for safe and accessible K-12 education in the
current climate.
VML supports the release of additional CARES Act funding to local governments during FY2021.
Special Session access and alerts
There will be no public in-person access to any Special Session committee meetings or floor sessions; anyone can observe meetings through live streaming.  Contacting your members is still important; this link takes you to the General Assembly member listings with member email addresses and other contact information.
VML will keep our members updated on the progress of issues during the Special Session and issue Action Alerts as necessary. ​Because VML's access to legislators will be effectively cut off during the Special Session, it is vitally important that you, your councils and others reach out to your locality's delegation using the information and suggested messaging VML's policy team provides.
VML contacts
If you have questions about legislation, VML policy staff contact information is listed below.
Economy
Virginia's "Misery Index" improves?
The Virginia Health Department (VDH) reported today that the statewide COVID-19 positivity rate hovers at 7.2 percent.  What does that mean?
The positivity rate — the percentage of positive cases among those who are tested — is one of the main metrics the VDH uses to determine the state's progress in combatting COVID-19. The state also looks at hospitalization rates, new case growth and other variables; but the positivity rate indicates what to expect. The positivity rate hit 20.8 percent on April 21 and has receded since that high watermark. The improved positivity rate allowed the state to begin the re-opening of economic activity.
However, recent national and statewide infection surges exert significant consequences on families not just in terms of health but also in economic security. Let's take a closer look.
A "rebound" that pales
The U.S. economy shrank in the second quarter of the calendar year at a nearly 33 percent annualized pace. Personal consumption crashed by 34.6 percent while private domestic investment plunged 49 percent.
In July, the U.S. economy "rebounded", adding 1.8 million jobs, but this bounce was overshadowed by the 4.8 million jobs added in June. August job numbers may slip further according to some analysts. The Federal Reserve Bank of Richmond recently reported that Virginia employers added 63,500 jobs in June, but a year-over-year comparison shows payroll employment falling by 306,400 jobs (7.6 percent), on net.
Small businesses remain under siege
According to Yelp Inc., the online reviewer, some 80,000 businesses permanently shuttered from March 1 to July 25. About 60,000 were local businesses, or firms with fewer than five locations. Small business attrition is high even in "normal" times with only about half of them surviving for at least five years, according to the Small Business Administration.  But the swiftness and depth of the economic decline since the Spring is not normal. About 58 percent of small business owners say they are worried about permanently closing, according to a July U.S. Chamber of Commerce survey.
Unemployment claims paint a stark picture
Initial unemployment claims in Virginia fell 44.5 percent for the week that ended last Saturday, compared with the previous week, and is down 69 percent over the past two filing weeks. Some 13,265 claims were filed last week down 10,653 claims from two weeks earlier. The number of continued claims totaled 264,410 last week, down 66,991 from the previous week but still higher than the 19,985 continued claims from the comparable week last year. Virginia has paid out more than a billion dollars in benefits during the crisis and the state's unemployment insurance fund projects a $750 million deficit by the end of the year. (More than 25 million people in the U.S. are currently receiving jobless benefits, according to the U.S. Department of Labor, even as new unemployment claims fell below 1 million for the first time in months.)
June's unemployment rate in Virginia dropped 0.6 percentage point to 8.4 percent but this slight improvement was 5.6 percentage points higher than June 2019.

For Virginia's cities, the unemployment numbers are starker. The Virginia Employment Commission's most recent statistics from June reveal that the unemployment rate for 29 of the 38 cities in Virginia exceeded the statewide average and that 16 cities had unemployment rates greater than 10 percent.
The bottom line for local finances
High unemployment, reductions in economic activity and business closures are battering local finances.  In a VML survey focused on local revenues and use of CARES Act money, results showed the average percentage of lost revenue for FY 2020 was 4.4 percent, which exceeds the Commonwealth's revenue decline of 1 percent.
Transient Occupancy Taxes and Meals Taxes are especially vulnerable and FY21 has yet to show a rebound. These local taxes account for more than $800 million annually. Future revenues are likely to decline as the travel and restaurant industries struggle.

Localities are facing multiple challenges.  According to the VML CARES Act survey, localities are responding to various issues, spending these dollars for purposes beyond equipment needs and hazard pay for first responders. The federal money has been used to revive local businesses through loans and grants, meet the threat of homelessness through rent assistance, assist victims of the COVID-19 crisis overwhelmed by delinquent utility accounts, and provide broadband services to unserved and underserved areas for telemedicine and K-12. (According to the State Council on Higher Education for Virginia, more than 10 percent of Virginia's K-12 students do not have broadband access at home.)
However, the CARES Act money is one-time, and Congress is unable to find a way to fund another round for financially strapped states and localities and for the millions of unemployed who lost the additional federal unemployment supplement. An economist at Bank of America Merrill Lynch, said the loss of the additional unemployment aid will reduce Americans' incomes by $18 billion a week.
With the start of the General Assembly's Special Session next week, local governments will watch closely to learn if revisions to the state budget help or harm local budgets.
VML will keep our members informed of important developments. Stay tuned!
VML Contact: Neal Menkes, nmenkes@vml.org
Updated FAQs: Analysis of CARES Act Funding Questions now available
The VML CARES Act Working Group has posted an updated version of the FAQs: Analysis of CARES Act Funding Questions Raised by Local Governments about Eligible Spending Purposes (Version 7.0). This regularly-updated resource addresses questions frequently asked of VML regarding the use and tracking of CARES Act funds by localities.
Newly added topics are differentiated by color in the table of contents and include:
Treatment of Small Business Loans and/or Grants as Taxable or Non-Taxable Income
Use of CRF Dollars as Matching Funds
Elections
All content is clickable from the table of contents. Answers represent the reasonable judgement of a special VML Task Force and VML policy staff.
VML Contact: Jessica Ackerman, jackerman@vml.org
Reminder to complete JLARC survey
JLARC is surveying localities about potential legalization of marijuana, as part of a study for the Virginia General Assembly (HJR 130, SJR 67). The survey asks how local citizens might view legalization and if local governments should have the authority to prohibit, regulate and tax commercial cannabis businesses. The survey can be taken by the city manager or their designee, or an elected official such as the mayor or elected chair of the city council. JLARC can only accept one survey response for a locality.
The survey is open until August 31. If you have not received a survey, or have questions about it, please contact Mark Gribbin at (571) 217-0494 or mgribbin@jlarc.virginia.gov.
Health & Human Services
COVID-19 update from VDH
The Virginia Department of Health (VDH) continues to update its website and information about COVID-19 throughout Virginia.
An update on the number of cases identified in Virginia and testing numbers, including average days to get a test result from a commercial, hospital, or state lab as of August 13 can be seen here. The number of tests being performed recently declined, partly because the National Guard completed its work helping to perform testing in several venues across the state. VDH officials said that discussions are underway about bringing back the Guard for additional work in this area.
A project is underway to estimate the total number of adults that have been infected with COVID-19 at any time in the past; the state is conducting a serology project in cooperation with health systems across the state. The University of Virginia is providing project management and lab testing. The project will enroll 5,000 participants (more than 3,000 were enrolled as of late July) across the state to be tested. A summary and update on the project may be seen here.
A separate pediatric study will be conducted in Northern Virginia, which has seen the largest number of pediatric COVID-19 cases in Virginia.
Finally, VDH continues to stress the importance of vaccinations, including regularly scheduled pediatric vaccines, which plummeted after COVID-19 hit Virginia in March, as well as regular annual influenza vaccines. The time for seasonal flu vaccines is rapidly approaching; vaccines will be available from typical providers. For a FAQ sheet on seasonal flu, see the CDC fact sheet here. At the same time, the state is also planning for the roll out of a COVID-19 vaccine later in the fall/early winter. Planning includes messaging/communication and distribution plans. More on this as details become available.
VML Contact: Janet Areson, jareson@vml.org
Transportation
Declining transportation revenues likely to be considered during Special Session
COVID-19 has negatively affected revenues collected by the Commonwealth of Virginia. Secretary of Transportation Shannon Valentine announced this week that the expected impact to transportation revenues is between $800 million to $1 billion during FY21 and FY22.
Transportation revenue overview
Revenues have decreased across the major categories of transportation funding. These revenues are generated from transportation related consumer spending on motor fuels, vehicle sales and registrations. Since the advent of the coronavirus pandemic, revenues have fallen as spending in these areas has declined due to changes in commuting patterns and declining economic activity. This will result in significant shortfalls in statewide and regional transportation revenues. As a result Secretary Valentine made clear in a presentation to the Joint Commission of Transportation Accountability that the administration will seek increased authority for the Commonwealth Transportation Board (CTB) from the General Assembly during the Special Session to allow the CTB to manage existing cash flow to fund ongoing and planned projects.
What to expect
While we do not yet know how this will impact transportation projects across the Commonwealth, we expect this to be an issue that the General Assembly will deal with in the upcoming Special Session starting next week. VML members should be be prepared for legislative alerts regarding transportation funding during the Special Session.
VML Contact: Mitchell Smiley, msmiley@vml.org
VML Announcements
VML Local Champion Awards entry deadline extended to September 4
Thanks to everyone who has submitted their Local Champions so far. There are some truly inspiring things being done by localities all over the Commonwealth! To give everyone as much time as possible to submit their entries, we have extended the deadline to September 4.
Any interested local officials or staff may nominate local champions by submitting an entry in as many of the categories below as they like. However, please submit only one entry per category.
More information about the awards and a link to submit your entry are available here >.
VML Contact: Rob Bullington, rbullington@vml.org
VML accepting applications for Executive Committee
The Virginia Municipal League (VML) Nominating committee will meet on September 17, 2020. This committee will present a recommend a slate of officers to the membership during the VML Annual Conference, at the business meeting on Thursday, October 8, 2020.
The 13-member VML Executive Committee is made up of local officials from across the Commonwealth and manages all affairs of the League, supervises the executive director, and arranges for the annual meeting of the League.
The Executive Committee typically meets at least four times a year (at the VML annual conference, during VML Legislative Day, in May, and in August) in addition to an expectation of participation in Policy or Legislative Committees. VML pays travel expenses for the May and August meetings. It is expected that the locality pays for VML Legislative Day (held mid-way through the regular General Assembly session) and the VML Annual Conference (held every fall).
There are three ways to participate on the Executive Committee.
Serve as chair of the Urban, City, or Town section. Seek a position as chair of a section applicable to the locality you serve and represent that section on the VML Executive Committee. The section meeting elections will be during the Annual Conference on Wednesday, October 7, 2020. Nominations for chair and vice-chair are made from the floor during each section's meeting, then the membership of that section votes on the slate. The Urban Section of VML consists of those cities and counties that are regular members and have a population more than 35,000. The City Section of VML consists of those cities and counties that are regular members and have a population of 35,000 or less. The Town Section consists of all towns.
Fill an "at-large" position. Each year, the Nominating Committee considers candidates to fill two at-large seats. More at-large positions may be available if an individual serving in one becomes an officer.
Volunteer for Vice President and President-Elect. The Nominating Committee will recommend these officers. While they generally come from individuals with existing Executive Committee service, anyone may apply. By virtue of the VML Constitution, the President-Elect automatically moves into the President position.
To apply for an at-large or officer position, complete the application form and send, along with a letter of interest and resume. Letters of nomination should include appropriate biographical information and any other supporting documentation that would be helpful to the committee in considering potential nominees.
Application materials should be sent via email to Joni Terry at jterry@vml.org or you can mail the application materials to:
VML Nomination Committee
P.O. Box 12164
Richmond, Virginia 23241
The deadline for submitting all application materials is SEPTEMBER 10, 2020
VML Contact: Michelle Gowdy, mgowdy@vml.org
Baird completes VML internship
Tristan Baird, a rising third-year statistics student at the University of Virginia, recently completed his eight-week internship with VML. Working remotely under the guidance of VML's policy team, Baird authored an extensive report that drew upon 100 sources that examines the economic impact of COVID-19 at both the state and local level, and the steps required for recovery.
According to a press release from UVAToday, Baird said his research skills improved by leaps and bounds during his time with VML.
"While I had done research projects for University classes before, this project was unique in the fact that the data and relevant information coming out was changing week-to-week, day-to-day," he said. "As such, I really had to keep up my reading daily on the governor's announcements, any federal legislation passed, published research, recent analysis from think tanks and looking over data from The Bureau of Labor Statistics/Census Bureau. It was a lot, but it taught me consistency and allowed me to really be immersed in the field I was studying."
"Honestly, I think it's been the best experience I've [had] through UVA," Baird said. "It's just been really great to see the way that our government is run and how the groundwork and foundation is laid at the local level."
For their part, VML staff were glad to Baird as part of the team this summer and were impressed by his work.
Baird's study will be published in the September issue of Virginia Town & City.
VML Contact: Sandra Harrington, sharrington@vml.org
Community surveys available for COVID-19 recovery
Community recovery from COVID-19 is no small task. So POLCO, a VML partner, is providing essential public engagement services and surveys that are eligible for CARES Act funding. These CARES surveys can provide reliable insights with no new strain on your budget.
As part of your COVID-19 recovery planning efforts, it is important to understand and track local impacts to inform decisions. A major component of guiding your community forward is understanding and considering the needs and preferences of residents, businesses, and other stakeholders. So Polco's survey science team, National Research Center (NRC), created a suite of CARES Community and Business surveys to assist local governments in this endeavor.
Because these services will help create an effective, evidence-based recovery plan, they are eligible for CARES funding. According to Section 601(d) of the Coronavirus Aid, Relief, and Economic Security Act, (the CARES Act) expenses associated with conducting a recovery planning project / operating a recovery coordination office are eligible for CARES funding.
Learn more about this opportunity here.
POLCO Contact: Matt Fulton, matful@polco.us