eNews August 11, 2017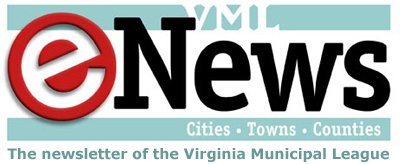 Tuesday, August 15, 2017 - 10:28am
In this issue:
Register today for 2017 VML conference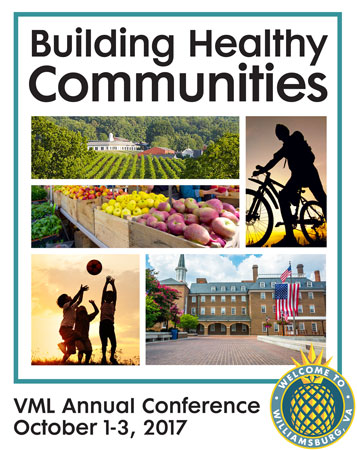 Network with hundreds of colleagues from around Virginia while learning about the latest issues facing local governments at the 2017 VML annual conference in Williamsburg, Oct. 1-3. Attend a variety of general sessions for valuable information from political leaders, nationally-known speakers, and local government experts. Visit the exhibit hall for the latest equipment, technologies, and services. Register today.
VML contact: Leslie Amason
The VML mobile app now has 2017 annual conference resources. As the conference approaches, find session descriptions, speaker bios, exhibitor info, schedules, maps, and more. Download the app from your device's app store.
VML contact: Kelley Hope
Last call for Innovation Award entries
The deadline for 2017 Innovation Award entries is 5:00 p.m., Monday, Aug. 14, 2017. Download the entry form and nominate your successes for consideration by the judging committee.
VML contact: Manuel Timbreza
VML legislative committee meets Aug. 18
The VML Legislative Committee will hold its second meeting on Friday, Aug. 18. Virginia Attorney General Mark Herring will speak to the Committee about the opioids crisis in Virginia. Senator Emmett Hanger will share information about the local government fiscal stress study.
VML contact: Janet Areson
APA developing fiscal distress warning system
The Auditor of Public Account's (APA) local government fiscal stress workgroup is developing criteria for identifying fiscal distress and establishing an early warning system. Led by Auditor Martha Mavredes, the workgroup met July 31 and reviewed results of a ratio analysis using a draft financial assessment model (FAM). The model has created scores using information from CAFRs for FY 2014 through FY 2016 from 171 Virginia localities. The APA will add FY 2017 data soon; the additional data will help APA determine trends in fiscal stress levels.
According to criteria set by the APA, localities receiving a FAM score of less than or equal to 15 percent would receive follow up by the APA in the form of a questionnaire that can identify other factors that may contribute to the FAM score. Based on the draft model, seven localities in Virginia fall under the 15-percent threshold.
The process of developing and refining the model's criteria is in the early stages and the APA is seeking input from localities on this process. At a meeting July 20, members of the VML Finance Policy Committee provided feedback which the APA used to update the questionnaire. In addition, Rachel Reamy, local government audit manager with the APA, shared copies of the FAM model and draft questionnaire with participants of the VML Leadership Academy budgeting seminar on Aug. 2. Next, Marvedes will present to the Special Joint Subcommittee on Local Government Fiscal Stress on Aug. 21.
The APA envisions making the questionnaire available on their website so that localities can use it as a self-assessment tool in the future.
The APA only includes information in the FAM scores for towns that are required to report to the APA. They will not include data for localities that do not report to the APA.
For more information or to request a copy of the draft FAM ratio model and APA questionnaire, email Rachel Reamy or call her at (804)-225-3350 ext. 360.
VML contact: Sandy Harrington
Technology and science commission considers online authentication
Online authentication of official documents was a main source of discussion at Wednesday's meeting of the Virginia Joint Commission on Technology and Science (JCOTS). Paradigm, Inc. presented a secure online source to authenticate official documents such as licensure, diplomas, and similar documents.
The group also discussed virtual currency, including a newly-created Uniform Regulation of Virtual Currency Businesses Act (PDF). The act attempts to ensure states are consistent in the regulation of virtual currency providers.
Also at the meeting, officials from Virginia Beach spoke about their landing location for transatlantic cable which will soon connect with cables from Bilbao, Spain and Fortaleza, Brazil. The landing location increases Virginia's economic development opportunities and expands broadband service.
JCOTS will continue discussing online authentication, regulation of virtual currency, and potential legislation and receive a formal presentation on the Virginia Beach cable landing at their Dec. 6 meeting.
VML contact: Michelle Gowdy
FOIA subcommittee considers use of "proprietary"
The Virginia Freedom of Information Advisory Council (FOIA) subcommittee on proprietary records and trade secrets met Aug. 1. The group continued discussion of a project concerning the term "proprietary" as used in FOIA.
At its last meeting, the committee proposed removing "proprietary" and "confidential" from all exemptions in Virginia Code §2.2-3705.6. However, the result for most exemptions would leave just the word "information" which the committee felt could be too widely construed and may expand exemptions unintentionally.
In addition, several state agencies felt that the word "confidential" had meaning that was defined in other parts of the code. Therefore, it became clear that this was not a workable solution.
The full FOIA Council meets on Monday, Aug. 14 and will receive the report of the subcommittee on the five-plus iterations that have been considered. The meeting's agenda also includes discussion of various court cases on FOIA.
VML contact: Michelle Gowdy
Opportunity to participate in health and human services data-sharing workgroups
In early 2017, several localities met with Secretary of Health and Human Resources Bill Hazel to discuss challenges with data access, use, and sharing between the Commonwealth and localities. With support of Secretary Hazel and state agencies, small work groups are now forming to look at identified issues, interests, and solutions moving forward. If you are interested in more information or would like to join a work group, contact Janet Areson.
VML contact: Janet Areson
Virginia Retirement System to hold benefits training sessions
The Virginia Retirement System (VRS) offers a two-day instructor-led benefits training session for new and experienced benefit administrators and payroll officers at locations throughout the state. Each session covers membership (including contributions and refunds), purchase of prior service, service retirement, and death benefits. Upcoming sessions will be held at the following locations:
Aug. 16-17: Abingdon
Aug. 29-30: Weyers Cave
Sept. 12-13: Hampton
Sept. 19-20: Daleville
Oct. 11-12: Winchester
Nov. 7-8: Midlothian
Visit the VRS website for more information.
Rabies clinic survey reminder
Aug. 31 is the deadline for local governments to respond to the Virginia Department of Health's survey regarding the fiscal impact of the state mandate/compulsory order SHHR.VDH033. The order requires cities and counties to ensure that a rabies clinic for dogs and cats is held at least once every two years to serve their jurisdiction.
This information gives state policymakers a better idea of the true impact of individual state mandates/compulsory orders on local governments.
VML sent the survey link to local governments at the end of June; so far only three cities have responded. VML has sent a follow-up email with the survey link to local managers.
Although local health departments must approve the clinics, they are not charged with ensuring that the clinics take place. As such, VDH believes that local government managers are in the best position to gather the information associated with the fiscal impacts of this mandate.
VML contact: Janet Areson
Calendar
Aug. 18: VML Legislative Committee meeting, Richmond
Sept. 18: Virginia Partnership for Out-of-School Time 2017 Conference, Newport News
Sept. 30-Oct. 1: Virginia Mayors Institute, Williamsburg
Oct 1-3: 2017 VML annual conference, Williamsburg
Oct. 15-17: VBCOA school and conference, Virginia Beach
Oct. 17: Virginia Leadership Forum, Richmond
Nov. 15-18: NLC City Summit, Charlotte, N.C.