eNews Aug 9, 2018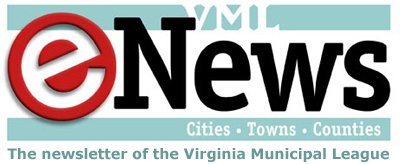 Thursday, August 09, 2018 - 10:55am
In this issue
VML's FOIA/COIA/Public Records Act guide available
Committee looks at possible alternate funding formulae for CSBs
Delegate raises possibility of "repurposing" VJCCCA funds
What does that state revenue surplus portend?
Housing Commission workgroup tables landscape cover
Localities urged to comment on annexation study
Racing Commission takes public comment
COIA council reports filing statistics
Workshops scheduled on mixed-income communities, affordable housing
VRS updates employer manual, GASB information to be mailed soon
Supreme Court changes analyzed
Applications open for serving on VML's Executive Committee
2018 Innovation Awards deadline is Aug. 13
Stairway to Success, Green Government Challenge application deadlines fast approaching
Handmade ornaments sought for 2018 Executive Mansion's holiday tree
FOIA/COIA/Public Records Act guide available
VML has released its 2018 guide to the Freedom of Information Act, Conflict of Interests Act, and Public Records Act.
Copies of the document were distributed at the recent Institute for Local Officials and is available for download here.
The guide is designed to help local government officials understand their responsibilities of these three acts, each of which require that local officials read and familiarize themselves with the laws.
The guide explains the laws in non-legal terms as much as possible. Updates, including changes in the law made by the 2018 General Assembly, were written by Danielle Powell, Esq., Hefty Wiley & Gore P.C.
Committee looks at possible alternate funding formulae for CSBs
How other states (and their local governments) organize and fund community based behavioral health services, and how Virginia's own public health and social services systems are organized and funded were topics addressed before a workgroup of the Joint Subcommittee on Mental Health in the 21st Century, which met at the Southwestern Virginia Mental Health Institute on Aug. 7.
The Subcommittee has been studying the state's publicly-funded behavioral health system for a number of years. This year, the Subcommittee has moved its meetings around the state to the various state mental health hospitals to allow members to tour the facilities.
Besides the hospitals, the Subcommittee has focused on how services in the community are organized and funding, primarily through the Community Services Boards (CSBs). They have also focused on mental health services in local and regional jails.
The full Subcommittee got a briefing on mental health standards for local and regional jails from Behavioral Health and Developmental Services Assistant Commissioner Michael Schaefer. The Department developed a workgroup that includes regional jail administrators, sheriffs, CSB representatives, state agency representatives (Corrections, Compensation Board, and Criminal Justice Services), and advocates. The workgroup met throughout the spring and summer to come up with ways to address the challenges to treating inmates with mental health issues due to inconsistent practices and availability of services.
Schaefer pointed out that local governments furnish 76 percent of the funding for behavioral healthcare services in jail, and only six percent comes from the state. He discussed the minimum standards that the workgroup is developing to ensure uniform procedures for access to care, communications of patient needs, training for correctional officers, screenings, assessment, emergency services, and discharge planning.
VML contact: Janet Areson jareson@vml.org
Delegate raises possibility of "repurposing" VJCCCA funds
Delegate Chris Peace raised the possibility of "repurposing" existing funds under the Virginia Juvenile Community Crime Control Act (VJCCCA) to support preemptive intervention for students who could potentially pose threats to schools at the July 12th meeting of a House select subcommittee on school safety. While Peace described the plan as "no-cost," it could potentially stretch the existing funding stream for services statewide targeting youth who come to the attention of the courts.
Peace is the chair of the Subcommittee on Prevention and Response Protocol of the full House Select Committee on School Safety. The subcommittee also heard testimony from the Virginia Association of Sheriffs, the Virginia Fire Prevention Association, the Virginia Association of Chiefs of Police and New Kent County Schools. Representatives placed particular emphasis on the need for increased state support for capital improvements and mental health staff, recommendations which were also heard at preceding day's meeting of the full committee.
On July 20th, the Subcommittee on Infrastructure and Security heard from a variety of security industry representatives, as well as staff from the Virginia Department of General Services and the Virginia State Police. Chaired by Del. Nick Rush, the subcommittee reviewed existing services and products in use both in Virginia and across the country, with a focus on mobile technology.
The Subcommittee on Student Behaviors and Interventions met July 24th at a meeting hosted by the University of Virginia Law School to receive presentations from faculty of both the Curry School of Education and Virginia Tech. Professors Dewey Cornell, Gerard Lawson and Laura Welfare stressed the importance of school prevention via increased student supports, highlighting the need for teacher and staff training in areas like trauma-informed care, classroom management and the role of school safety and resource officers beyond law enforcement. Each of these, they argued, will contribute to more equitable treatment of students of color and students with disabilities, and to increases in overall student success.
Upcoming Meetings, House Select Committee on School Safety:
Friday, August 17: Subcommittee on Infrastructure and Security (Richmond)
Tuesday, August 21: Subcommittee on Prevention and Response Protocol (Richmond)
Tuesday, August 28: Subcommittee on Student Behaviors and Interventions (Weyers Cave)
VML contact: Jessica Ackerman, jackerman@vml.org
What does that state revenue surplus portend?
Gov. Ralph Northam announced last month a whopping revenue surplus of more than a half-billion dollars ($551.9 million). Total revenue collections jumped by 6.3 percent in fiscal year 2018, ahead of the official revenue forecast of 3.4 percent growth.
What, if anything, does this mean for fiscal years 2019 and 2020? Will last fiscal year's strong finish push Northam and the General Assembly to open the spending spigot or opt for a tax relief package in the next legislative session? Or, will state decisionmakers stand pat, waiting for more information before acting?
Virginia's revenue surplus was driven by growth in payroll withholding and non-withholding income tax collections. The increase in payroll withholding was 5.4 percent, which was almost 2.0 percent greater than the official forecast. Virginia employment rose 1.1 percent from June 2017 to June 2018 with Education and Health Services adding 9,100 jobs; Leisure and Hospitality adding 7,800 jobs; Trade, Transportation and Utilities adding 7,600 jobs; Professional and Business Services adding 6,600 jobs; and Construction adding 6,300 jobs. (The Government Sector lost 5,500 jobs.) The growth in payroll taxes translated into $227.2 million above the forecast, but half of the amount is attributable to quirks in the number of deposit days at the end of the fiscal year and business tax payers submitting their payments early.
The real oomph behind the surplus was in non-withholding income tax collections. The 15.1 percent revenue growth far exceeded the forecasted 4.3 percent increase. (Non-withholding includes payments on capital gains, dividends, partnerships, and interest income. State officials consider this a volatile revenue source subject to swings in taxpayer behavior and changes to the federal tax code.)
Virginia's revenue surplus was not unusual. According to a survey done by the National Association of State Budget Offices (NASBO), most states saw stronger revenue growth led by high income tax payments from non-withholding income sources. Some 39 states saw fiscal 2018 revenues above projections as the national economy continues to chug along.
What happens next? The governor and General Assembly decided during the Special Session that any excess cash from FY18 will be deposited into the Revenue Stabilization Fund ("Rainy Day" Fund) and the newly-created Revenue Reserve Fund to buffer state finances in case of a general fund revenue shortfall. (Deposits will also be made into the Water Quality Improvement Fund as required by state law.) Pumping the cash into reserve accounts bolsters the state's AAA bond-rating status, providing greater comfort to Wall Street bond-raters.
As to the question about the impact of the surplus on the next legislative session, the surplus will not "rollover" into FY 2019 for new spending. And, it's unlikely that the Northam Administration will make significant changes to the official revenue forecast for the 2018-2020 biennium based on the surplus. Because so much of the surplus is tied to non-withholding revenues, state officials will likely be governed by caution and not want to gamble balancing the budget on another year of stellar non-withholding tax collections.
In any case, Gov. Northam will officially reveal his plans for the surplus on August 17 when he addresses the House Finance, House Appropriations, and Senate Finance Committees. Stay tuned.
VML contact: Neal Menkes, nmenkes@vml.org
Housing Commission workgroup tables landscape cover
The Housing Commission's Workgroup on Affordable Housing, Real Estate Law and Mortgages on Aug. 7 issued a standing recommendation to the Virginia Housing Commission that House Bill 1595, regarding vested rights around the use of landscape cover, be tabled. If the full commission accepts the recommendation, that would mean that mulch would not be a discussion item for this year.
The action follows a more than two-year battle between state legislators, local officials and fire safety experts over the ability of localities to regulate the use of combustible land cover near buildings with flammable siding, ending this past May with a veto by Governor Northam of HB1595 and SB972. Localities including the City of Harrisonburg and the Counties of Loudoun and York have stressed the need for flexibility to implement additional fire safety precautions, particularly around high-occupancy residences. With the veto of HB1595/SB972, localities may continue to pass and enforce "mulch ordinances" as needed.
VML contact: Michelle Gowdy, mgowdy@vml.org
Localities urged to comment on annexation study
The Commission on Local Government will hold its final public hearing on the Annexation Study in Staunton on September 4th (2:00 pm, Central Shenandoah Planning District Commission Board Room 112, Mactanly Place). Written comments will be taken until September 3rd and should be sent to david.conmy@dhcd.virginia.gov.
VML's Policy Statement says that "The Virginia Municipal League supports the General Assembly's provision of financial incentives to promote consolidation of local government services and cooperative agreements among local governments."
We recognize that our members have diverse views on annexation, consolidation and reversion and that it is an incredibly complex topic. What we all may agree upon is this: the status quo isn't working.
The draft report identifies 9 matters for consideration:
Modify reversion and consolidation statutes to remove obstacles.
Make reversion and consolidation more cost-effective through incentives.
Grant additional powers to counties through reversion and other interlocal agreements
Evaluate mandated service delivery methods to identify appropriate service level.
Relax the requirements for the establishment of joint authorities and special districts.
Provide planning grants to explore interlocal agreements and other operational efficiencies.
Evaluate adequacy of local fiscal resources to identify enhancements.
Create or expand programs to reduce local fiscal stress.
Incentivize additional regional cooperation and regional programs.
The draft report also includes a good summary of the history of the evolution of the system of independent cities. Cities have traditionally been the economic engines of their areas; however, with increased urban sprawl over time, their ability to grow and be successful has been stymied. One local manager pointed out that as the State has expanded its presence with more buildings that are exempt from real estate taxation the fiscal stress for localities increases and places a significant burden on residents. Other localities may observe that these inherent limitations on taxing authority negatively impact their ability to raise necessary school funding. This poses a particular challenge as other local taxes, like the Communication Sales and Use Tax, which fails to include mobile devices, become progressively obsolete (Note: Although VML advocated for adding prepaid phone cards and streaming services under the Communication Sales and Use Tax during the 2018 Session, the concept found little momentum within the General Assembly). The tendency for the State to pass costs onto local governments, as in the case of benefits under the Line of Duty Act and health insurance credits for teachers, puts additional pressures on local governments.
These represent only a few of the issues that have been identified and discussed. Our request is this: VML asks that your locality take the time to review the draft report and consider making comments. It is imperative that the State take some definitive action so that localities can move forward with certainty and in a manner that enables them to be successful. At stake is the fiscal viability of local governments to deliver the public services mandated by the Commonwealth and expected by our citizens.
VML contact: Michelle Gowdy, mgowdy@vml.org
Racing Commission takes public comment
Over 40 groups and individuals gave public comment on July 31 on the historical horse racing proposed regulations put forth by the Virginia Racing Commission.
Concerns were expressed regarding the number of historical horse racing machines and the lack of local control up to a certain threshold of machines. The current regulations list the maximum number of machines in a jurisdiction; when a jurisdiction has 35 percent of the total maximum limit, then–but not before–formal approval from the locality must be obtained. The maximum number of machines statewide is listed at 3,000. Localities also asked for clarity so that the regulations were clear that machines are subject to all local government permits and approvals as may be required.
The proposed regulations are in response to HB1609 (Webert), enacted during the 2018 session of the General Assembly. The bill established historical horse racing as a form of horse racing in Virginia.
VML contact: Michelle Gowdy, mgowdy@vml.org
COIA council reports filing statistics
The Conflict of Interest and Ethics Advisory Council (Council) met July 31st to receive a presentation presenting statistics and information on the filing of forms required under the Conflict of Interests Act.   Currently the Council reports that 95 counties, 38 cities, 36 towns and 134 school boards file with the clerk of the governing body or school board. The overview statistics showed that the Council expects to receive more than 11,800 electronic filings by state officers and employees, members of the General Assembly and constitutional officers. Looking ahead, the Council plans to develop training for localities on the filing process.   You can view the presentation here.
VML contact: Michelle Gowdy, mgowdy@vml.org
Workshops scheduled on mixed-income communities, affordable housing
Housing Virginia is offering a series of half-day morning workshops that will demonstrate how localities can use old and new tools at their disposal to create vibrant, mixed-income communities. In the afternoon, the series will feature workshops on overcoming resistance to affordable housing.
The workshops are scheduled as follows:
Richmond: August 30. To see more information and to register, click here.
Hampton: Sept. 4. To see more information and to register, click here.
Charlottesville: Sept. 5. To see more information and to register, click here.
Fredericksburg: Sept. 6: To see more information, and to register, click here.
VRS updates employer manual, GASB information to be mailed soon
The Virginia Retirement System has updated its employer manual to reflect legislative and administrative changes, according to the August issue of its newsletter for employers. In addition, VRS has several checklists to assist with counseling employees.
The August issue of Employer Update also contains links to assist VRS-participating employers that prepare annual financial statements in accordance with Governmental Accounting Standards Board (GASB) standards. The GASB Statement No. 68 Report 2017 for Virginia Retirement System , which includes detailed information on all the local plans, is now available in the Financial Reporting section of the VRS employer website. Individual reports for political subdivisions will be mailed shortly. Most VRS employers will also be required to implement GASB Statement No. 75 as part of financial reporting for the fiscal year ending June 30, 2018. VRS will share more information about the reports and supporting materials in the coming weeks.
You can subscribe to the electronic newsletter at https://employers.varetire.org/.
Supreme Court changes analyzed
For states and local governments, Justice Anthony Kennedy will be forever remembered as the Justice who championed allowing online sales tax collection. If Judge Brett Kavanaugh is appointed to the U.S. Supreme Court, will have more freedom to rule how he wants on the Supreme Court and can vote to overturn precedent he deems incorrect. Read more from the State and Local Legal Center about Justice Kennedy's effect on the court and the potential effect of Judge Kavanaugh in terms of state and local government.
Applications open for serving on VML's Executive Committee
Be part of leading statewide initiatives for Virginia cities, towns, and counties as a member of the VML Executive Committee! The 13-member VML Executive Committee is made up of local officials from across the Commonwealth and manages all affairs of the League, supervises the executive director, and arranges for the annual meeting of the League.
The Executive Committee meets four times a year (at the VML annual conference, during VML Day at the Capitol, in May, and in August). VML pays all travel expenses for the May and August meetings. It is expected that the locality pays for VML Day and the VML annual conference as usual.
There are three ways to participate on the Executive Committee.
Serve as chair of the Urban, City, or Town section. Seek a position as chair of a section applicable to the locality you serve and represent that section on the VML Executive Committee. This year's section meetings will be held at the during the Annual Conference in Hampton. Nominations for chair and vice-chair are made from the floor during each section's meeting, then the membership of that section votes on the slate. The Urban Section of VML consists of those cities and counties that are regular members and have a population in excess of 35,000. The City Section of VML consists of those cities and counties that are regular members and have a population of 35,000 or less. The Town Section consists of all towns.
Fill an "at-large" position. Each year, the Nominating Committee considers candidates to fill two at-large seats. More at-large positions may be available if an individual serving in one becomes an officer.
Volunteer for Vice President and President-Elect. The Nominating Committee also recommends these officers. While they generally come from individuals with existing Executive Committee service, anyone may apply. By virtue of the VML Constitution, the President-Elect automatically moves into the President position.
To apply for an at-large or officer position, complete the application form and email it with your letter of interest and resume to Michelle Gowdy. You also may mail the nominating materials to VML Nominating Committee, P.O. Box 12164, Richmond, VA 23241. The deadline is September 10, 2018.
If you have questions about serving on the Executive Committee or the application process, contact Michelle Gowdy at (804) 523-8525 or mgowdy@vml.org.
2018 Innovation Awards deadline is Aug. 13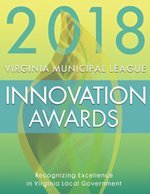 The 2018 VML Innovation Awards celebrate your hometown successes and all that you do to make your city, town or county a great place to live.
The Innovation Awards recognize outstanding achievements in local governments across Virginia. This program-and its successor Achievement Awards- is 40 years old and is recognized as Virginia's highest honor in local government creativity.
Don't miss this opportunity to spotlight programs that have made a big difference to your residents – to celebrate innovative solutions that address emerging needs. The awards are presented at a banquet at VML's Annual Conference in early October in Hampton.
View the full details on how to enter here. All entries must be received via e-mail by 5 p.m. Monday, Aug. 13, 2018.
For questions about your entry contact Manuel Timbreza at mtimbreza@vml.org or call 804-649-8471.
Stairway to Success, Green Government Challenge application deadlines fast approaching
Applications for the Stairway to Success awards program are due to VML by Aug. 24. Stairway to Success encourages local government involvement in early childhood education (birth to pre-school), which in turn, builds a qualified, well-educated workforce. The competition recognizes specific actions that enhance the early childhood experience. Participants will be recognized with a plaque during VML's annual conference in Hampton, Sept. 30 – Oct. 2. Additional information and the application form are here.
Applications for the Green Government Challenge are due Sept. 3. The Green Government Challenge encourages implementation of specific environmental policies and practical actions that reduce the carbon emissions generated by both the local government and the broader community. Cities, towns and counties can become a certified "Green Government." Many of these actions can save local governments money. The challenge application form is here.
VML contact: Patrick Ford, pford@vml.org
Handmade ornaments sought for 2018 Executive Mansion's holiday tree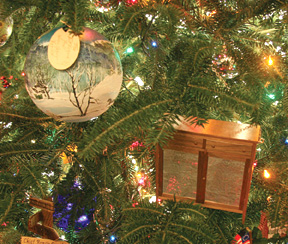 In the past three years, nearly 200 localities contributed stunning handmade ornaments to adorn the holiday tree at the Executive Mansion. Thousands of visitors from across the world toured the mansion and viewed the ornaments, learning about the diverse heritage of the Commonwealth's cities, towns, and counties.
The tree was so popular that the Governor has asked VML to again collect local heritage ornaments from Virginia cities and towns. (Our friends at the Virginia Association of Counties will be collecting ornaments from counties.)
The mansion will officially open for the holiday season the evening of the Capitol Tree Lighting. The tree will be available for viewing during our open house as well as during normal tour hours. For more detailed information on specific event dates and tour times, please visit Virginia Governor's Executive Mansion website.
For more information on how your locality can participate and to read about the new ornament guidelines click here. The deadline to receive your ornament is Nov. 16, 2018.
VML contact: Manuel Timbreza, mtimbreza@vml.org.