eNews ARPA – April 28, 2021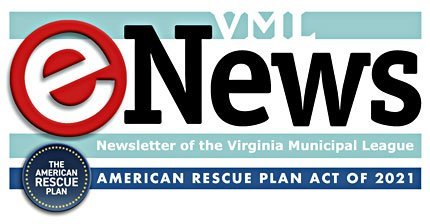 Wednesday, April 28, 2021 - 01:03pm
Hello and welcome to the first of what we know will be many ARPA eNews communications! This is the primary method that we will use to keep you informed as we get guidance from the U.S. Treasury, conduct analysis, create and distribute resources to our members, and generally keep you up to date on all things ARPA. So, while we all wait for guidance from the U.S. Treasury, please see below for a couple preliminaries from our ARPA experts and communications team.
ARPA is coming!
There's lots of money…which means it's going to be complicated.
The American Rescue Plan Act (ARPA) was signed into law by President Biden on March 11, 2021. It appropriates $1.9 trillion to aid states and local governments in ongoing economic recovery from the year-long pandemic.
States will receive about $220 billion and local governments will get about $130 billion. The state and local government appropriations are made up of numerous funds, each with its own purpose and restrictions.
Moreover, states and local governments are still waiting for the U.S. Department of Treasury and other federal agencies to issue detailed guidance for each of the many state and local funds. Treasury should issue this guidance within 60 days of ARPA's March 11 enactment, or by May 10 (or so we hope).
It is expected that the guidance will give additional instructions on how the funds can be used, establish timelines for their use, and outline the steps that the states and localities must take to comply with ARPA's requirements.
Overall, Virginia and its local governments will receive some $6.9 billion. The ARPA "Coronavirus State Fiscal Recovery Fund" will send to the Commonwealth nearly $3.8 billion, and ARPA's "Coronavirus Local Fiscal Recovery Fund" will send to Virginia's local governments about $2.9 billion. Additionally, Virginia's K-12 public schools will receive some $2.1 billion. Yet another fund will provide about $222 million for broadband and other infrastructure.
There also will be other federal funds (grants and loans) to which local governments, non-profits, or individual residents can apply for more specialty assistance in agriculture, education, low-income energy and water/wastewater payments, disease control and vaccination centers, child care, behavioral health, SNAP, emergency food and shelter, rental assistance, fire-prevention and training programs, small businesses and payroll assistance, community theaters and entertainment venues, aviation and airports, and (so very much) more!
VML is here to help
The Commonwealth and our towns, cities, and counties are in a holding pattern. The additional federal guidance – to come before May 10 (or so we hope) – is needed so that all governments can begin focusing on detailed planning for the billions coming our way.
ARPA offers an extraordinary opportunity for Virginia's local governments to provide relief to residents and businesses and to invest in infrastructure. In the days, weeks, and months to come, VML will be providing useful information so that you can begin planning, know what to do when the time comes to act, and then make well-informed spending decisions with your ARPA funds.
VML has set up a dedicated ARPA Resources page on our website. Check back often and look for updates about new resources in eNews.
VML Contacts:
McGuireWoods Consulting:
VML members: Be ready to get your "members only" ARPA help
In January of this year, VML sent a communication to the clerks (or equivalent position) in each of our member localities letting them know that they could begin registering their local officials and staff for access to the new, "members only" portion of VML's website. At that time, this secure portion of our site only housed the VML Forum. However, we have now added an "ARPA Resources" section which we will use to post valuable American Rescue Plan Act information being produced by VML's staff and consultants. We anticipate beginning to add content to the "ARPA Resources" section soon after the U.S. Treasury Department announces guidelines for ARPA (expected on or just before May 10).
When we add resources, we will provide links and information using this ARPA branded eNews email. To access these resources, you will need to login using your email and enter your password. You will only need to do this the first time you access the site from a particular device.
These resources, as well as those for the general public, will also be listed on VML's ARPA Resources page. However, the secured content will only be accessible by registered officials and staff from VML member localities.
Are you registered?
While many of the officials and staff from our member localities have already been registered and set up passwords for themselves, we know that there are plenty who still need to do so. We encourage you to use this time (before May 10) to get set up.
Here's what you need to do to see if you're registered and/or get registered:
Visit https://www.vml.org/arpa-resources/ and try logging in using your .gov email address (or email you use for local government communications).
If this is the first time or you don't know your password, you can try resetting your password using the onscreen link.
If you're not registered, don't worry! Please send an email to your local government's clerk to see if they've already set up your locality on VML's secure site.
Or, if you prefer, contact Rob Bullington, rbullington@vml.org to find out the status of your locality's registration and to help get you access.
Please allow some time for either your clerk or Rob to get you set up as we anticipate a large volume of requests between now and May 10.
Looking forward to helping you help your locality with ARPA!
VML Contact: Rob Bullington, rbullington@vml.org