eNews April 3, 2020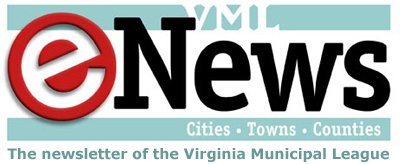 Friday, April 03, 2020 - 03:59pm
In this issue:
Announcements
A message to our members from VML President Thomas R. Smigiel, Jr.
As President of the Virginia Municipal League, I want to take a minute and acknowledge that in these alarming times I take comfort in all the encouraging signs I see from Virginia's local governments and leaders. If we felt that we were resilient, strong and adaptable before this crisis hit, now we know it! We are greater than the sum of our parts.
Never has it been more vital that we stay connected through our shared membership in the league. To this end, your VML Executive Committee and staff have been working hard to provide information both to you – our members – as well as to state leaders. We know that as orders are issued and guidelines are published, it can be frustrating to see gray areas and unanswered questions for localities. I truly believe that these are the result of a fast-changing situation that requires quick action at the state level and not a disavowal of local considerations. Rest assured; we are working on getting those answers and are keeping the concerns of local governments at the forefront of conversations with state and federal officials. Last week, along with VML staff and Executive Committee members, I participated in conversations with Senator Kaine and the Governor and will continue to talk with officials on local issues.
Moreover, we don't miss an opportunity to remind state and federal leaders that localities are the first responders and the hardest hit economies! The National League of Cities has been working closely with us to monitor the various federal stimulus packages and the impacts on Virginia's localities. Recent discussions with the Department of Housing and Community Development included how to ensure that the necessary funding reaches all localities of all sizes.
VML's COVID-19 Resources page is a compilation of various resources for our localities. It is being updated continually so please check it often as we bring clarity to the questions local government leaders are grappling with. If you have items to add, please let us know.
Finally, a quick word on our upcoming policy committee meetings: The Governor has told us to stay home, so we will meet virtually in the coming months and we will assess other events as needed.
While the times are uncertain, I am absolutely certain that we will look back on this time with pride in our shared purpose and ultimate success. As VML's Executive Director Michelle Gowdy observed in her recent message to our members: "While VML works to make it possible for you to do your jobs, you are the ones doing the jobs!"
I can think of no more capable, dedicated and passionate local government leaders that I would rather share the burden of this work with. It is an honor to be your VML President at this – or any – time. Thank you!
VML Contact: Thomas Smigiel, president@vml.org
Just announced: COVID-19 case information can be shared with 911/PSAPs and first responders
Communities need to coordinate with their health department
On this morning's Virginia Department of Health (VDH) weekly partner call, it was announced that the Virginia Department of Health Commissioner has determined that this type of information can be shared with 911/PSAPs and thus with first responders; the arrangement for doing this is done by the local health department and the 911/PSAP in that health district.
Localities and first responders have been greatly concerned about tracking COVID-19 cases in a locality/region and providing information through 911 centers to first responders about the location of a known case of COVID-19 so that these responders know what to expect as they go out on calls during the health emergency.
Here are two examples of guidelines developed by communities (this information is also available on VML's COVID-19 Resources page):
While this may be helpful, VDH staff said that given the spread of the virus, the fact that people may be infected but asymptomatic, and the fact that testing is not as widely available as would be ideal, first responders should not assume that a person is not infected and should take precautions.
VML Contact: Janet Areson, jareon@vml.org
VML 7th grade "If I Were Mayor" essay contest winners announced
With so much bad news dominating the headlines these days, the Virginia Municipal League (VML) is pleased to announce some good news: the statewide winner and eight regional winners of our annual "If I Were a Mayor" contest! This contest, hosted by VML, drew in over 1,000 entries from seventh graders in member localities across the state. The challenge for the student was to define a local problem, solicit solutions from at least three community members, decide which, if any, of the solutions they should use, and then outline what they would do about the problem.
The 2020 winners are:
Statewide Winner: Preston Lieu of Mary Ellen Henderson Middle School in Falls Church
Region 1: Josiah Krumtum of Virginia Middle School in Bristol
Region 2: Ava Grant of Martinsville Middle School in Martinsville
Region 3: Caity Campbell of Shelburne Middle School in Staunton
Region 4: Katelyn Prue of Central Middle School in Charlotte Court House
Region 5: Samantha Grooms of Mary Ellen Henderson Middle School in Falls Church
Region 6: Elle Crosley of Culpeper Middle School in Culpeper
Region 7: Amya Seaborne of Saint Joseph Catholic School in Petersburg
Region 8: David Davenport of John Yeates Middle School in Suffolk
Read all the 2020 winning essays here >
Of the statewide winning entry from Preston Lieu, VML President Thomas Smigiel said: "Preston Lieu's essay expressed the positive feelings that many residents of Virginia have of their towns, cities and counties. But he also recognized an issue with pedestrian and bike safety and took a proactive approach like many of our elected officials do to find a solution. I hope VML's annual essay contest will inspire Preston and others to be future leaders of our localities."
As one of the judges for the contest said: "All of the regional winners demonstrated a remarkable level of maturity in their essays! I was extremely impressed with their concerns for their communities and how thoughtful they are in developing well organized, considerate solutions. They should be proud."
Furthermore: "The regional winners and statewide winner make up a very impressive group of young people – our teachers and parents should be proud! Our state is in good hands with our young people today!"
In addition to a framed certificate, each regional winner will receive a check for $150. The statewide winner will receive a certificate and a check for $250. All winning essays will be featured in the May issue of VML's Virginia Town & City magazine.
VML Contact: Rob Bullington, rbullington@vml.org
Economy
Budgeting in the age of COVID-19
A tool to measure sinking local revenues
By James Regimbal, Fiscal Analytics, Ltd.
The COVID-19 pandemic crisis has created the "Great Cessation" with service industries such as restaurants, entertainment, hotel, travel and other small businesses bearing the brunt of the slowdown. As a result, the mix of revenue sources that Virginia's local governments depend upon will be significantly reduced.
While the recently enacted federal "Cares Act" legislation provides cash and loans to business and expands unemployment benefits for furloughed employees it does very little to fill the tax revenue holes that local governments are soon to encounter.
Virginia's localities rely heavily on business and consumer-related tax sources (see Table 1). It's worth noting that cities and towns have an even greater reliance on sales, meals, hotel/motel, and BPOL business gross receipts license taxes than counties. The situation appears even more dire when one considers that real and tangible personal property overlap, to some degree, with businesses in areas such as commercial and industrial property, equipment, and vehicles.
Table 1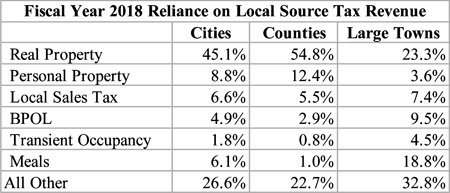 How big will the revenue holes be?
To help answer this question, Fiscal Analytics, Ltd. has constructed a model to demonstrate the potential revenue loss that local governments will experience in both the current fiscal year 2020 and the upcoming fiscal year 2021.
Table 2 presents the tax loss assumptions for the largest and most affected categories of local revenue.
Table 2

* The "All Other" category of local revenues likely to be significantly affected include service charges, permit fees, and admission taxes. Other revenues in the "All Other" category, such as public service corporate taxes, consumer utility, and tobacco taxes probably will be less affected.
To arrive at these numbers, these tax loss assumptions were derived from fiscal year 2018 local revenue data – the latest full year available from the Virginia Auditor of Public Accounts Comparative Report on Local Revenues and Expenditures. Additionally, the tax loss assumptions presume that a "U" shape recovery in the economy begins this summer, but full recovery does not occur until fiscal year 2022.
Using the data in Table 2, we then developed a base case for revenue impact on Virginia's local governments for the current and upcoming fiscal year. As shown in Table 3, we estimate that in the current fiscal year, localities will absorb over $500 million in revenue losses or 3.5 percent of revenue for cities, 2.3 percent for counties, and 2.6 percent for towns. In fiscal year 2021 it is quite possible that over $1.4 billion in local revenue will be lost: 8 percent for cities, 6.2 percent for counties, and 6.5 percent for towns.
Due to their heavier reliance on the most directly affected taxes – sales, BPOL, transient occupancy and meals taxes – cities and towns will absorb a relatively larger hit to their revenue base through the next budget year than counties.
Table 3

Get the COVID Local Revenue Reduction Tool
Government officials and staff from VML member localities are invited to request a copy of the COVID Local Revenue Reduction Tool – a workbook used to model the revenue losses – by contacting VML Director of Communications Rob Bullington, rbullington@vml.org.
Using the workbook, you can see the breakdown for each of Virginia's localities and by altering the loss of revenue percentages you can see how this will affect each locality's revenue for FY20 and FY21 (presented both as a percentage and in total dollars).
The case for a "Virginia Local Relief Act"
State officials must be made to understand the gravity of what this lost revenue means to local jurisdictions. Localities are the prime delivery point for numerous state-mandated services such as public education, public safety, and health and welfare. In fiscal year 2018, the Commonwealth provided just over 30 percent of local government resources, so local government revenues provide the bulk of resources used to support these services.
When state legislators re-craft the Commonwealth's 2020 budget to take account of the swiftly changing economic environment, it is imperative that they help protect these core state services provided by localities. School funding needs to be maintained. State funding for law enforcement and first responders is more critical than ever. More – not less – funding for health and human services will be needed. Finally, additional help for local economic recovery efforts should be at the forefront of state policy making. Like the federal government's "Cares Act," the state needs to create its own "Local Relief Act" to help fill the holes in local government budgets that will inevitably occur during this crisis.
VML Contact: Rob Bullington, rbullington@vml.org
The economic impact of COVID-19 on Virginia's local governments
A new working paper authored by Ron Carlee and Robert McNab from ODU's Strome College of Business titled An Incoming Shock: A First Estimate of the Impact of COVID-19 on Virginia's Local Governments is now available. In the paper, the authors conclude that if the downturn in economic activity lasts for a full business quarter, the collective loss to Virginia local governments will exceed $180 million. Carlee and McNab fear that their estimates are low as they do not include reduced funds for transportation and transit (or other activities supported by these taxes) or reduced collections of real estate taxes and business personal property taxes. Furthermore, without state and federal support, local governments will be confronted with the need to increase tax rates and make service reductions. It is hoped by the authors that as localities report such actions, the case for state and federal support will grow stronger.
Methodology
Carlee and McNab examined the local taxes that are most sensitive to diminished economic activity, especially in the hospitality, tourism and retail sectors. They identified five vulnerable taxes: sales and use, business and franchise license, hotel and motel, restaurant and food, and admissions. These taxes generated $2.9 billion annually for local governments in Virginia in Fiscal Year 2018.
Most affected localities
Overall, towns are the most vulnerable of those types of localities considered:
| | | |
| --- | --- | --- |
| Category | Vulnerable Taxes as a Percentage of Total Revenue | Mean |
| Cities | 3.38% to 38.29% | 11.77% |
| Counties | 0.99% to 13.45% | 6.51% |
| Towns | 5.47% to 47.10% | 31.76% |
The below graph illustrates the degree to which each category of locality has depended upon these vulnerable taxes as a percent of all local revenues.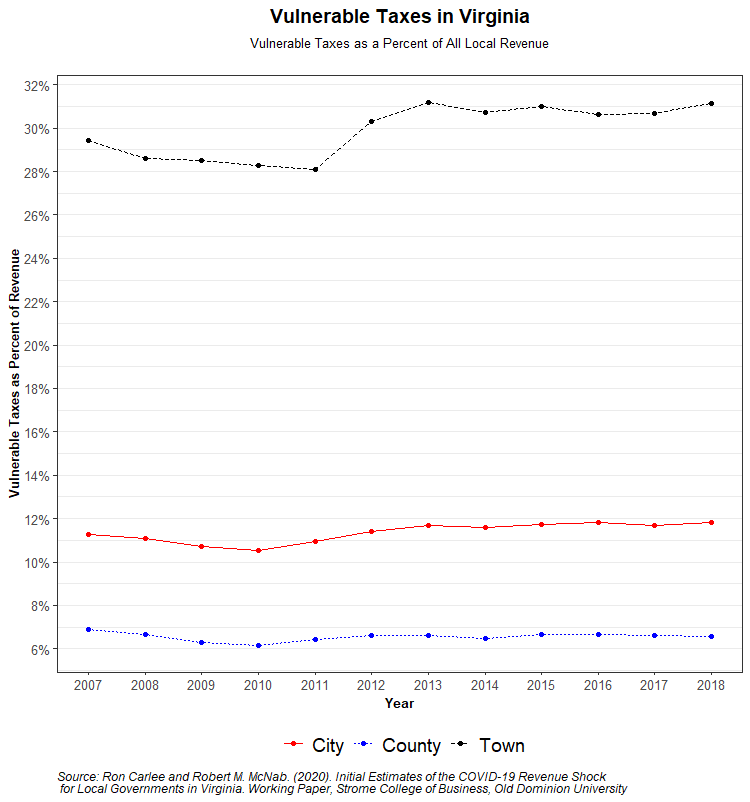 These cities, which generated $142 million annually from vulnerable taxes in FY 2018, are deemed the most dependent on vulnerable revenues:
Williamsburg (38% of local revenues)
Colonial Heights (24%)
Fredericksburg (23%)
Norton (21%)
Harrisonburg (21%)
Emporia (20%)
Winchester (20%)
These cities, which generated almost $1.4 billion from the vulnerable taxes in FY 2018, will lose the most revenue:
Fairfax County
Virginia Beach
Arlington County
Henrico County
Loudoun County
Richmond
Norfolk
Chesapeake
VML Contact: Janet Areson, jareson@vml.org
Is this the "New Normal?"
Like a punch-drunk boxer who dropped his guard and fell for the old one-two combination, Virginia is staggering from a surging health crisis body blow and an economic right-cross to the head.
President Trump earlier in the week issued a major disaster declaration for Virginia, providing individual and public assistance when funding becomes available.
The Coronavirus has infected some 2,000 Virginians with more than 300 new cases being added each day. Across the country, more than 200,000 Americans have tested positive for the virus, and 37 states have ordered residents to stay at home.
Medical facilities throughout the Commonwealth are straining to keep up with the sick. Medical professionals wrote two weeks ago to Gov. Ralph Northam, begging the state to solve the desperate medical supply shortage.
On the economic front, Virginia is shedding jobs at an alarming rate. In the first three months of 2020, more Virginians have filed claims for jobless benefits than in all of 2019! The Virginia Employment Commission (VEC) chart below provides a comparison of past economic downturns and the current one.  However, the chart is out of date in terms of recognizing the speed of job losses today.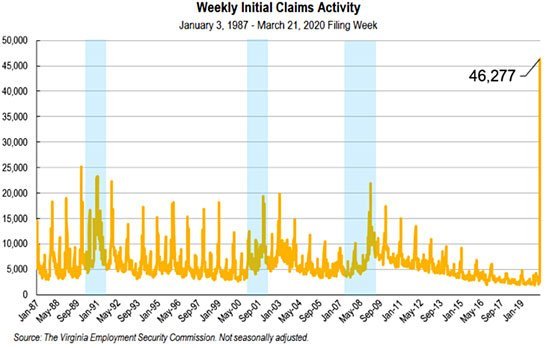 The news media reports that the "Virginia Employment Commission has experienced what it calls an 'unprecedented deluge' in calls and warns those trying to file jobless claims by phone that they will experience wait times of two hours or more. The Commission plans to be open Saturday to take calls to try to deal with the volume, but those who have lost their jobs are urged to file their claims online if possible."
To put a face on the Coronavirus-driven job situation, as of last week, the lodging and hotels industry in Virginia has lost more than 23,000 jobs. The American Hotel and Lodging Association recently released a study estimating that Virginia's lodging industry could lose a total of more than 78,000 direct and indirect (i.e., food and laundry services, travel agencies, supply companies, construction companies, etc.) jobs before the pandemic is over. Some 59 percent of the 192,936 people directly employed in the hotel industry face losing their employment while hotel and motel occupancy rates plunge.
The Federal Reserve Bank of Richmond says today's economic crisis will exceed the business losses the nation experienced in 9/11 or in the Great Recession. The Federal Reserve's assessment is in line with the 200-member strong Central Virginia Council of CEOs who in the course of four-months from December to March reported that business optimism about future sales, employment and capital spending plummeted from more than 70 percent of its executives to just 7 percent.
It should be clear to decision makers in Washington, D.C. and Richmond that the U.S. economy will meet by the end of June the technical definition for a recession. Two quarters of negative growth in the nation' gross domestic product are very, very likely as consumers cut their purchases, businesses curb capital spending and global trade continually weakens.
How long will the recession last?
No one knows. This is not an ordinary economic or financial problem but rather a frightening non-economically driven phenomenon with enormous destructive economic impacts. The estimates of the pandemic's overall cost to the nation's economy are all over the board but all are pessimistic.  Bridgewater Associates, a hedge fund manager, says the economy will shrink over the next three months at an annual rate of 30 percent. Goldman Sachs pegs the drop at 24 percent. JPMorgan Chase predicts a 14 percent loss. In a country where only 39 percent of people have enough savings to cover an emergency of $1,000, the economic storm's consequences will worsen.
The uncertainty of what the future will bring and sense of powerlessness that many people are experiencing add to the country's malaise. As Jerome Powell, the Chairman of the Federal Reserve Bank, is quoted as saying "(t)he virus is going to dictate the timetable here."
What happens to Virginians as Coronavirus infects the state's and locals' budgets?
Gov. Northam's budget amendments will be introduced April 11 along with his amendments (and vetoes?) to legislation enacted by the 2020 Session of the General Assembly.
If history offers any insight, we should expect at the state level hiring freezes and possible furloughs, elimination of funded but unfilled state positions, the breaking open of the two state "piggy banks" (Cash Reserve Fund and Revenue Reserve Fund), the transfer of non-general fund cash to the state general fund, and reductions in state financial assistance to localities for state-mandated and state high-priority programs.
If certain bills from the Session are signed into law, then localities can "enjoy" higher costs to go along with the reduced state aid.
At the local level, belt-tightening measures like hiring and spending freezes have already been put into practice by several local governments. Local elected officials who thought just a few short weeks ago that their budget development assignments were drawing to a close are now taking up their pencils and calculators to rethink next fiscal years' budgets.
Earlier projections for business taxes, sales taxes, meals taxes, and transient occupancy taxes are no longer valid. Commercial real estate taxes and business personal property taxes may also be subject to revision.
Governing in these troubled times is not for the faint of heart. Localities will have to innovate; to figure out new and different ways to deliver services; to experiment with these new ways and succeed (and sometimes fail); and to provide the leadership that our citizens need.
For Virginia's localities, the boxing match bell has rung.  It's time for all of us to shake off the cobwebs and get back into the fight.
VML Contact: Neal Menkes, nmenkes@vml.org
Health & Human Services
VDOE issues special education day program guidance
Communities and schools told to coordinate on CSA-related cases
A number of local governments have received questions and requests from providers of private day special education programs about continuing services to children enrolled in such programs while public school systems are closed for the remainder of the academic year. The children in question have individual education plans (IEPs) developed by their local school system and are referred to the local Children Services Act (CSA) program for funding approval and placement in a private day special education program.
Earlier this week the Virginia Department of Education posted guidance on this issue. Bottom line:  VDOE is leaving it up to each community/school system to decide how it will proceed on this issue; the Virginia Department of Education (VDOE) has advised local school divisions to work with their local Community Policy and Management Teams (CPMT), local CSA office and partnering private schools to discuss this matter. VDOE has also provided guidance to school divisions to carefully consider the provision of equitable access, services, and support for a variety of students including students who may be served by private providers.
The normal state reimbursement share is available for those cases served by the Children's Services Act (CSA). Dr. Daniel Carey, Secretary of Health and Human Resources, stated that there is no issued guidance from VDOE or the Office of Children's Services (OCS) that would serve as a barrier for providing services to children served in a private setting. Again, each school division would have to carefully consider issues of equitable access, services, and support for the universe of students it serves, including students served by private providers.
The guidance announcement from VDOE and related FAQs are posted to its website.
This information is also available on the "Online Resources" page of VML's COVID-19 Resources page.
VML Contact: Janet Areson, jareson@vml.org
Protocols developed for Temporary Detention Order (TDOs) screening and COVID-19
Late last week VML received a question about the potential for spread of COVID-19 by individuals being transported from one part of the state to another as a part of a Temporary Detention Order (TDO) placement into a state facility.
The Virginia Department of Behavioral Health and Developmental Services (DBHDS) responded to VML that it has developed protocols for COVID-19 screening as part of the pre-admission process. The Community Services Board (CSB) or medical provider doing the medical screening and clearance that is part of the Emergency Custody Order (ECO)/Temporary Detention Order (TDO) process performs the screening recommended by the Centers for Disease Control (CDC). If a person scores positive for one of the risk factors, further evaluation is conducted.
DBHDS has worked with the Virginia Hospital and Healthcare Association (VHHA) on this issue; the Association has agreed that if a patient screens positive and has symptoms that could represent COVID-19 infection, that person will be admitted to a private hospital for possible testing/treatment since hospitals have resources to address any emerging medical issue.
One of the issues with this virus is that someone may be carrying it and be asymptomatic. As such, anyone TDO'd to a state facility is screened upon their arrival and are monitored for any signs/symptoms.
VML will share any additional guidance on this issue as it comes available. DBHDS has some information on its website about COVID-19 issues.
VML Contact: Janet Areson, jareson@vml.org
VCEF webinars for childcare providers during COVID-19 coming next week
The Virginia Early Childhood Foundation (VECF) will host three webinars next week to provide information, resources and tools to support childcare providers in navigating decision-making and the financial and business implications for them resulting from COVID-19. Each webinar will target information specific to the type of childcare organization. Please use the links below to register for the call most appropriate for you.
After registering, you will receive a confirmation email containing information about joining the webinar. We encourage webinar participants to send their questions in advance to info@vecf.org.
Each webinar will feature information from these Virginia experts:
Jody Keenan, State Director, Virginia Small Business Development Centers
Lauren Small, Early Education Business Consultants
Gary Thomson, Thomson Consulting and Virginia Society of CPAs Chairman
To contribute additional perspective, information and answer questions, state leaders and a bench of national experts will also join the call including:
Jeff Capizzano and Kelly Etter, Policy Equity Group
Christine Johnson-Staub and Rebecca Ullrich, Center for Law and Social Policy
Grace Reef, Early Learning Policy Group
Note, capacity for this webinar is limited to the first 250 registrants. The session will be recorded, and we'll make the recording available widely.
Contact: info@vecf.org
COVID-19 Resources
Facebook "Local Alert Tool" available for local governments
The Facebook Local Alerts Tool is now available to the following Facebook Pages in communities across the country responding to COVID-19:
At City, Town and County Level: primary government page ("City of …" / County of …"), law enforcement and emergency responder pages, and public health agency pages.
At State Level: public health agency pages, law enforcement and emergency responder pages.
By using the free "Local Alert Tool" on Facebook, law enforcement, emergency services, and local government posts to Facebook will automatically be elevated to the top of the page for those following the agency on Facebook. About 1 in 6 public entities in VA use this tool and are using it to update citizens on COVID-19 issues.
(Note: the tool is not available to elected officials or public figures, only government organizations listed above)
The tool allows local government, public health agency and first responder Pages to broadcast essential updates to people in their community via Facebook by marking a page post as Local Alert, which sends out a notification to page followers who live in a community. Learn more here.
If you manage a city government, county government, fire / emergency services, or law enforcement Page on Facebook, you should find instructions on how to sign up in an email that was sent to your Facebook Page admins. We recommend doing this as soon as you can to ensure you have full ability to send Local Alerts when you need them. If you did not receive an email, please complete this form.
Facebook has also launched the COVID-19 Information Center, featured at the top of News Feed, to provide a central place for people to get the latest news and information as well as resources and tips to stay healthy and support their family and community. They are now also sharing Local Alerts to the top of the Information Center – giving them additional distribution.
Recent additions to VML's COVID-19 Resources page
Visit our COVID-19 Resources page regularly as we are updating as we receive information. The following are some recent additions to bring to your attention.
New page: Video Meeting Resources
Visit our new Meeting Resources page for a list of platforms and services localities may want to consider using when conducting electronic meetings and/or engaging their residents. Resources include platforms to perform the following:
Video Streaming
Video Meetings
Conference Calls
Emergency Remote Work Kits
Communications Package
Electronic Voting
Screen Recording Utilities
Note: VML does not endorse any specific resources listed on the page; they are for informational purposes only. Localities should perform due diligence to ensure that a streaming resource will meet their needs.
Announcements:
Office of Secretary of Veterans & Defense Affairs: Overview of COVID19 Posture
Education / Special Education:
Executive Orders:
Actions:
Online Resources: Webinars:
COVID-19: How to Support People Experiencing Unsheltered Homelessness| Monday, April 6, 2:00 PM ET
Shelter in place orders have brought to light a glaring problem with the US housing system: that many people do not have a place to shelter. People experiencing unsheltered homelessness may be at a greater risk for infection during community spread of COVID-19. It is imperative for local leaders to provide for their unsheltered population – to help flatten the curve and stymie the growth of a population that has been systematically underserved. Register now.
During the Coronavirus Outbreak: Investing in Neighborhoods Where Young Children and Families Thrive| Wednesday, April 15, 2:00 PM ET
Join NLC and our city and community partners for a conversation on how cities are supporting the infrastructure in neighborhoods during times of business and school closures and increasing social isolation. Learn how city agencies and community partners are promoting public health, bolstering small businesses, and creating innovative new ways to foster community connection – all through the lens of young children and families. Register now.
VML Contact: Rob Bullington, rbullington@vml.org