eNews April 29, 2022

Friday, April 29, 2022 - 11:57am
---
This edition of eNews is sponsored by:

 As the market leader in making government data discoverable, usable, and actionable, Tyler Technologies empowers public servants to create safer, smarter, and more vibrant communities that operate efficiently and connect transparently with internal and public stakeholders. Read more >
---
In this issue:
General Assembly
Reconvened session? Yes. Budget action? No.
Duly elected members of the Loudoun school board will not see their terms artificially truncated by a year and sales of cannabis products shaped like animals, etc. that may attract children will continue without prohibition (for now) following action by the General Assembly during its reconvened session on April 27.
The General Assembly addressed a full plate of proposed gubernatorial amendments and vetoes affecting bills passed during the regular session which ended in early March. Typically, the reconvened session would include action on gubernatorial amendments proposed to the budget, but this year both the caboose and the new biennial budget remain in a House-Senate conference committee. We do not know when the compromise budget bills will come before the General Assembly for action.
Along with the budget bills, several bills that were sent to a special session that began in early April were not subject to gubernatorial amendments/vetoes and therefore were not taken up either.
Gov. Glenn Youngkin saw all his 26 proposed vetoes of bills upheld by the General Assembly, but not all his 100 or so proposed bill amendments prevailed. Further, SB591 (Hanger), a bill addressing the sale of certain cannabis products that Youngkin extensively amended, was killed by the Senate when members voted to re-refer the bill to a committee that was not going to meet during the course of the reconvened session.
Also of interest yesterday was the House Democratic Caucus vote to remove Minority Leader Eileen Filler-Corn from that position. A vote on who will succeed her in that role will be taken at a future meeting of the Caucus.
VML Contact: Janet Areson, jareson@vml.org
Action on bills of interest to localities during the reconvened session
Use the links below to review VML staff summaries of actions taken by the General Assembly on bills of interest to local governments.
Health and Human Resources
The Senate rejected the Governor's amendments:
SB192 (Mason) – Qualifications of local health directors. The bill expands the pool of potential candidates to serve as a local health director. Current law allows only physicians licensed to practice in Virginia; this bill broadens the pool to include individuals with a master's or doctoral degree in public health and at least three years of full-time experience in a related job and any person deemed qualified by the state health commissioner. The failed amendment would have eliminated the language about the masters/doctoral degree and experience while allowing the commissioner to appoint anyone he/she deemed qualified to serve.
Status: The bill goes back to the Governor, who can sign it without his amendments or veto it. If the Governor vetoes the bill, the veto will stand, and the bill will not become law. If the Governor does not act on the bill within thirty days after the adjournment of the reconvened session, the bill will become law without his signature.
The House failed to override the Governor's vetoes:
HB1197 (Hope) – Study of placement of Department of Juvenile Justice. The bill would have required the Secretaries of Health and Human Resources and Public Safety/Homeland Security to study the idea of moving the Department of Juvenile Justice from the Public Safety secretariat to the Health and Human Resources secretariat.
Status: The veto was sustained so the study will not happen.
HB1270 (Sickles) – Workgroup study of SNAP applications for inmates prior to release for custody. The bill would have directed a workgroup convened by the Department of Social Services to analyze and develop a proposal to request a waiver from the U.S. Department of Agriculture to allow individuals in the custody of state or local correctional facility to apply for Supplemental Nutrition Assistance Program (SNAP) benefits prior to release from custody.
Status: The veto was sustained so the study will not happen.
VML Contact: Janet Areson, jareson@vml.org
Marijuana
The Senate killed the bill with Governor's proposed amendments:
SB591 (Hanger) – Marijuana product regulations and definition. This bill proposed prohibiting the sale of marijuana products in the shape of humans, animals, vehicles, or fruit and broadening the definition of marijuana to include products with tetrahydracannabinol (THC) concentrations above a certain level which would include products with THC derived from hemp as well as cannabis plants. The Governor offered amendments to SB591 that would have established a new criminal offense for possessing more than 2 ounces of marijuana publicly, redefined marijuana to ban delta-8 THC products, required CBD products only be sold to persons 21 or older and would have directed the Attorney General's office to enforce some of these provisions while also directing the Cannabis Control Authority to hire law enforcement officers and study regulations in other states necessary for the operation of an adult use recreational market. The amendments and SB591 both failed with the bill being re-referred to back to a committee which will not meet again preventing the passage of the Governor's amendments and the underlying bill.
Status: During the floor debate in the Senate there was bipartisan interest in continuing to work on this proposal either during the special session the Governor has already convened or during budget negotiations. Comments from Sen. Howell, the lead Senate budget negotiator, tossed cold water on the prospect of addressing marijuana related issues during the already arduous budget negotiation process. While SB591 and the Governor's amendments failed news that the Governor and the General Assembly are continuing to debate the future of marijuana in constructive terms is perhaps the most noteworthy event this year on this issue.
VML Contact: Mitchell Smiley, msmiley@vml.org
Education
The Senate accepted the Governor's amendment:
HB873 (Greenhalgh) – School resource officer employment. This bill would require a school resource officer to be employed in every public elementary and secondary school. If the school does not employ a school resource officer, then a local law-enforcement officer must receive school safety training and serve as that division's law-enforcement liaison. Governor Youngkin proposed an amendment to this legislation which clarifies that a law-enforcement liaison will be in a public elementary or high school if a school resource officer is not already employed.
Status: The Governor's amendment was accepted and will go into effect with the legislation on July 1, 2022.
VML Contact: Josette Bulova, jbulova@vml.org
The Senate rejected the Governor's amendment:
HB1138 (Reid) – Staggered school board elections for Loudoun County. The bill as approved by the General Assembly outlined the process by which the Loudoun County Electoral Board would create staggered terms for its elected school board beginning in 2023.  It was a proposal supported by the local government and school board. The gubernatorial amendment would have instead shortened the terms of four board members by a year and require a special election in Nov. 2022 to potentially replace those members for the remainder of the term to which they had been duly elected to serve. The House accepted the amendment on party lines; the Senate rejected the amendment. The proposed amendments were the subject of lengthy debate in both chambers regarding the precedent it would create in overturning terms of office of duly elected school board members – and potentially other elected officials – and the constitutionality of such a proposal.
Status: The bill goes back to the Governor, who can sign it without his amendments or veto it. If the Governor vetoes the bill, the veto will stand, and the bill will not become law. If the Governor does not act on the bill within thirty days after the adjournment of the reconvened session, the bill will become law without his signature.
VML Contact: Janet Areson, jareson@vml.org
Finance
The Governor's amendment was adopted:
HB746(Bell) – Volunteer fire department training fund. Delegate Bell's bill establishes the Volunteer Fire Department Training Fund, with the funds to be dedicated to assisting or reimbursing volunteer fire departments or volunteer fire companies with the costs of training and certifying volunteer firefighters. The House of Delegates included $25,000 in each year from the general fund for their proposed FY2023-2024 budget (Item 419 #1h).
The bill also directs the Secretary of Public Safety and Homeland Security to establish a workgroup to "study the accessibility and availability of training programs with a specific focus on providing training programs to volunteer fire departments, volunteer fire companies, and volunteer firefighters in a cost-efficient and effective manner."
Status: Governor Youngkin's amendment was adopted by the General Assembly and the legislation will go into effect on July 1, 2022. Given Secretary Mosier's background in local law enforcement, VML is encouraged that he will establish a workgroup pursuant to HB746 that includes local government voices at the table.
HB911(Orrock) – Local option to provide credit against taxes & fees to volunteers. Delegate Orrock's bill permits any county, city, or town to provide a credit against local taxes and/or fees imposed by that locality to individuals who provide approved volunteer services in the locality. The bill specifies that the credit shall not be applied against any property taxes or payments in lieu of property taxes.
Critically, the bill gives localities the discretion to determine which taxes or fees are permissible uses of the credit and which services the locality wants to make eligible for such credit.
Status: Governor Youngkin's amendment was adopted by the General Assembly and the legislation will go into effect on July 1, 2022.
VML Contact: Carter Hutchinson, chutchinson@vml.org
Opportunities & Events
Broadband Together Conference – May 18-19 in Richmond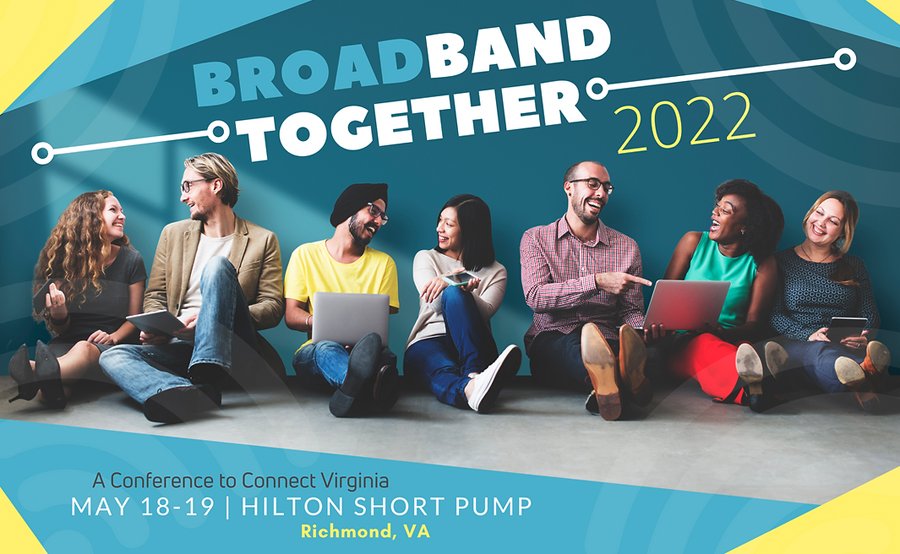 Local government leaders and staff are encouraged to attend this two-day conference highlighting important opportunities, developments and trends happening with broadband in Virginia. Attendees will hear from state and national legislators, industry experts, and educators on the topics that matter most to local governments, including how the expansion and adoption of broadband in the Commonwealth will affect:
Workforce Issues
Economic Development
Reaching the Unserved
Home Ownership and Valuation
Smart City and Smart Home Creation
…and much more!
A full agenda and event registration/hotel information are available here >.
This event will be held at the Hilton Short Pump and is hosted by the Virginia Municipal League, the Virginia Association of Counites, and the Broadband Association of Virginia.
VML Contact: Rob Bullington, rbullington@vml.org
Webinar: "Handling Contentious Issues and Potential Disruptions at Council/Board Meetings"
The Virginia Municipal League is pleased to be a co-sponsor of George Mason University's Regional Elected Leaders Initiative upcoming spring 2022 governance webinars.
These webinars are designed for elected leaders currently serving in public office and local government staff.
The topic of both webinars is "Effectively Managing Council/Board Meetings: Handling Contentious Issues and Potential Disruptions."
Facilitated by the Hon. Jay Fisette.
Webinar #1 – NOVA Focused Panel: Friday, May 6: 12–1:15
Babur Lateef, Chair, Prince William School Board
Phyllis Randall, Chair, Loudoun County Board of Supervisors
Roger Wiley Esq., Legal Counsel, Virginia Municipal League
Webinar #2 – Virginia-Wide Panel: Friday, May 20: 12–1:15
D. Michael Barber, Mayor, Town of Christiansburg
James Coleman, Chair, Lynchburg City School Board
Katie Cristol, Chair, Arlington County Board
Walter Erwin, Esq., Retired Attorney for the City of Lynchburg
Key questions addressed in both webinars…
How have political polarization and citizen activism appeared in Council/Board rooms?
What strategies have others used to effectively manage their meetings?
Is Roberts Rules of Order an obstacle to managing disruptions or a useful tool?
What are the powers of the presiding officer?
What are your options in setting the rules for public comment?
Are there Codes of Conduct or agreements that help member-to-member dynamics stay civil?
What role do professional staff play when meetings are contentious?
VML Contact: Rob Bullington, rbullington@vml.org
Commonwealth Transportation Board regional meetings coming in May
The Commonwealth Transportation Board (CTB) is conducting public meetings through May 12 2022 on the FY2023-FY2028 Six Year Improvement Program (SYIP) which will be adopted in June. A good overview of the draft FY23-28 SYIP from the most recent CTB meeting can be found here >.
Meeting materials including overviews of the Commonwealth's state of good repair program, the statewide bridge repair formula, a list of projects greater than $25 million, and other materials regarding plans for transportation projects included in the Six Year Improvement Program that are the subject of the 2022 meeting including how to comment online can be found here >.
Meetings will be held in person at the following locations:
Monday, May 2
4:00 pm
Staunton District
Blue Ridge Community College
Plecker Center
1 College Lane
Weyers Cave, Virginia 24486
Tuesday, May 3
4:00 pm
Lynchburg District
Virginian Hotel
712 Church Street
Lynchburg, Virginia 24504
Wednesday, May 4
5:30 pm
Northern Virginia District
Northern Virginia District Office
Potomac Conference Room
4975 Alliance Drive Fairfax, Virginia 22030
Monday, May 9
4:00 pm
Hampton Roads District
Hampton Roads District Auditorium
7511 Burbage Drive
Suffolk, Virginia 23435
Wednesday, May 11
4:00 pm
Bristol District
Southwest Virginia Higher Education Center
One Partnership Circle
Abingdon, Virginia 24210
Thursday, May 12
4:00 pm
Salem District
Holiday Inn Valley View
3315 Ordway Drive NW
Roanoke, Virginia 24017
More information about the meetings and resources is available here >.
VML Contact: Mitchell Smiley, msmiley@vml.org
National Civic Review spring edition now available
Communities succeed when they leverage the power of civic engagement and take collaborative approaches to local challenges such as the lack of affordable housing. This issue of the National Civic Review borrows some old ideas—organizing local civic leagues and publishing local monthly newsletters—and explores some newer ones— community-oriented real estate development and the use of public housing agencies to promote literacy.
To access this edition, go to the table of contents where you will be prompted to enter your unique access code: VML22.
VML Contact: Rob Bullington, rbullington@vml.org
VML now accepting entries for 2022 Innovation Awards
It's time again to celebrate local government achievements!
It's time again for our local government members to spotlight programs and individuals that have made a big difference by creating innovative solutions to address emerging needs.
Award-winning projects typically demonstrate innovative ways of delivering services, addressing community needs, or significantly improving an existing service.
One winning project from the category winners will be selected for the top prize – the coveted President's Award!
All entries must be received via e-mail by 5:00 p.m., Monday, Aug. 15, 2022. The awards will be presented at VML's Annual Conference in Richmond in October.
More details and a link to the official entry form are available here >.
VML Contact: Manuel Timbreza, mtimbreza@vml.org
Get published in VML's magazine! Tell us about your favorite outdoor recreation location in Virginia
For our 2022 "Virginia You Love" magazine issue this summer we want our readers to tell us their perfect place to have fun outside. It could be a favorite hiking trail or the stadium bleachers of the hometown ball team. Perhaps you can be found in a mountain lake with family or at the dog park with your furry friend. Maybe you like the challenges of long fairways and fast greens or the peace and quiet of a bench under a shady tree. Vita courses, ropes courses, pump tracks, brewery decks…Wherever, whatever, we want to hear about it!
Have your place featured in our magazine!
If you tell us about your favorite place for outdoor fun, we will put it on the list of possible places to feature in the July/August issue of Virginia Town & City. You can nominate any place you like…just so long as it's outdoors and in Virginia.
It's super easy to participate
Learn more and complete the short online survey here >.
VML Contact: Manuel Timbreza, mtimbreza@vml.org