eNews April 26, 2019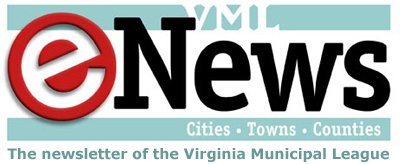 Friday, April 26, 2019 - 03:29pm
In this issue:
VML conference and regional dinner in Southwest Virginia a success
Council members, mayors, and local staff met in Abingdon Tuesday for a VML Newly Elected Officials conference with a distinctly regional focus. VML staff coordinated with members of the Executive Committee, staff from the Mount Rogers Planning District Commission, and current and former officials from across the region to share both standard tools for public servants and insights into issues unique to Southwest Virginia localities.
Later that evening, VML staff and the Marion Town Council greeted members from across Southwest Virginia for the year's first regional dinner and summary of League activities during the 2019 Legislative Session. Marion Town Manager and VML Executive Board member Bill Rush took a personal hand in ensuring the dinner's success by grilling the ribeye steaks and lemon pepper chicken. VML Executive Board members City of Galax councilmember Willie Green and Town of Pennington Gap councilmember Jill Carson were also in attendance and worked with VML staff to contribute to the evening's success.
VML was pleased to host Delegate Israel O'Quinn, along with representatives from the offices of both Congressman Morgan Griffith and Delegate Todd Pillion. These guests were able to offer the legislators' perspectives on the latest General Assembly session.
VML will host its next regional dinner for the Tidewater area in Portsmouth in May 21st. Please see the VML website for more details.
VML Contact: Jessica Ackerman, jackerman@vml.org
VML policy committee nominations still being accepted – meetings set for July 18
Don't miss out on being a part of VML's policy process! VML has received several local government nominations for committees, but many more communities remain to be heard from.
VML has six policy committees:
Community & Economic Development
Environmental Quality
Finance
General Laws
Human Development & Education
Transportation
All six of these committees will meet on Thursday, July 18, at the Richmond Marriott Hotel. The General Laws, Human Development & Education, and Transportation Committees will meet from 9:30 a.m. to 12 noon; the Community & Economic Development, Environmental Quality, and Finance Committees will meet 1:00 to 3:30 p.m.
Each VML member community may nominate two individuals to serve on each committee. Nominations forms and information were sent to city and town clerks and chief administrative officials in March.  If your community needs the nominations information, please email Janet Areson.
VML Contact: Janet Areson, jareson@vml.org
VML 2019 Annual Conference registration coming next week
Keep an eye out for a special eNews announcement early next week that will provide a link to the online registration portal for our 2019 Mayors Institute and Annual Conference. This years' Mayors Institute will be October 5-6 and the Annual Conference will be October 6-8. Both events will be held at the Hotel Roanoke in Roanoke, VA. FAQs will be available on our website to assist with the registration process.
VML Contact: Rob Bullington, rbullington@vml.org
State revenues stumble in March
Will a strong fourth quarter to save the year?
When it was reported that total general fund revenues fell 1.4 percent last month, state officials blamed delayed individual income tax filing for suppressing collections. The filing delay was caused, in part, by the political difficulties that needed to be overcome to enact tax relief legislation before the 2019 filing season began. In fact, roughly one million tax returns waited in tax limbo and could not be processed until the General Assembly passed (and Gov. Ralph Northam signed) the tax measures (SB 1372 and HB 2529).
On a fiscal year-to-date basis, total state general fund revenues have increased 3 percent, significantly trailing the annual forecast that calls for 5.9 percent growth. In his monthly revenue report to Gov. Ralph Northam, Finance Secretary Aubrey Layne wrote that he expects revenues to jump in the last quarter because of the federal Tax Cuts and Jobs Act.
Unfortunately, hitting the revenue forecast may be further hampered by the slow growth in payroll employment. Job growth rose just 0.9 percent in February compared with the same month last year whereas Secretary Layne said in his December presentation to the General Assembly's money committees that employment was expected to grow 1.6 percent in FY 2019. It's important to remember that individual income tax withholding makes up over 60 percent of general fund revenues. Although year-to-date collections of 3.3 percent are close to the official forecast of 3.8 percent growth, third quarter payroll withholding taxes only increased by 1.2 percent.
Individual income tax non-withholding is a volatile revenue stream, yet it comprises almost 20 percent of state general fund taxes. Year-to-date collections have dropped 10.3 percent, lagging well behind the annual estimate of 15.2 percent growth. If the state is to make the 5.9 percent forecast, this is the revenue source to watch.  It has been critical in past years when the accuracy of the official forecast depended on fourth quarter performance.
The Virginia Department of Taxation reports that to attain the official estimate, $7 billion must be collected in the final quarter. In FY18, $6.3 billion was collected over the last three months of the fiscal year.
March State General Fund Collections
 

Revenue Source

Percent of GF Budget
Year-to-Date
Official Forecast
Individual Income Tax Withholding
62.0%
3.3%
3.8%
Individual Income Tax Non-withholding
19.0%
(10.3%)
15.2%
Sales Tax
17.0%
3.5%
3.7%
Corporate Income Tax
4.0%
0.3%
5.6%
Recordation Taxes
2.0%
(4.6%)
(6.7%)
ABC Taxes
1.0%
2.8%
3.5%
All Other Revenue
2.0%
8.9%
1.5%
VML Contact: Neal Menkes, nmenkes@vml.org
Number of unemployed and employed Virginians increased in February
Virginia's seasonally adjusted unemployment rate ticked upwards by 0.1 percentage point to 2.9 percent, but the slight upswing was 0.3 percentage point below last February. The number of out-of-work Virginians increased by over 2,000 to 124,559, which was the fourth consecutive monthly increase.
At the same time, the labor force expanded for the eighth consecutive month, setting a record high of 4,354,967 workers. One caveat: the U.S. Bureau of Labor reported that Virginia's labor participation still lags pre-Great Recession figures.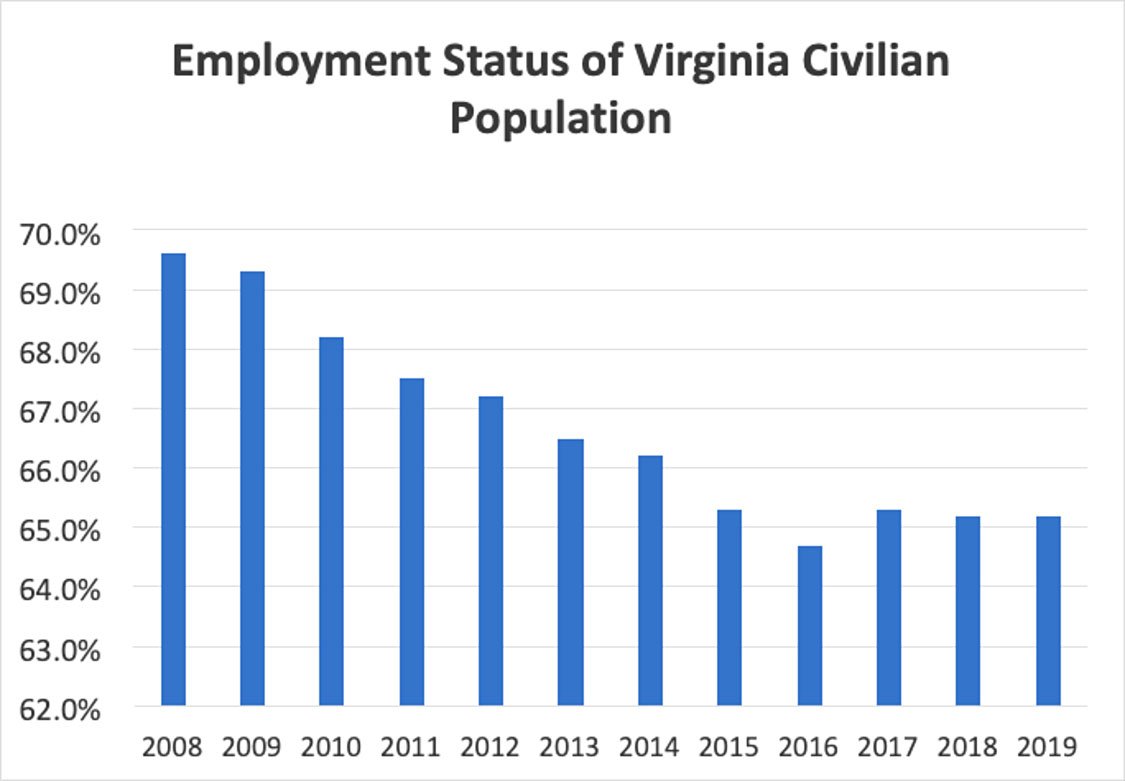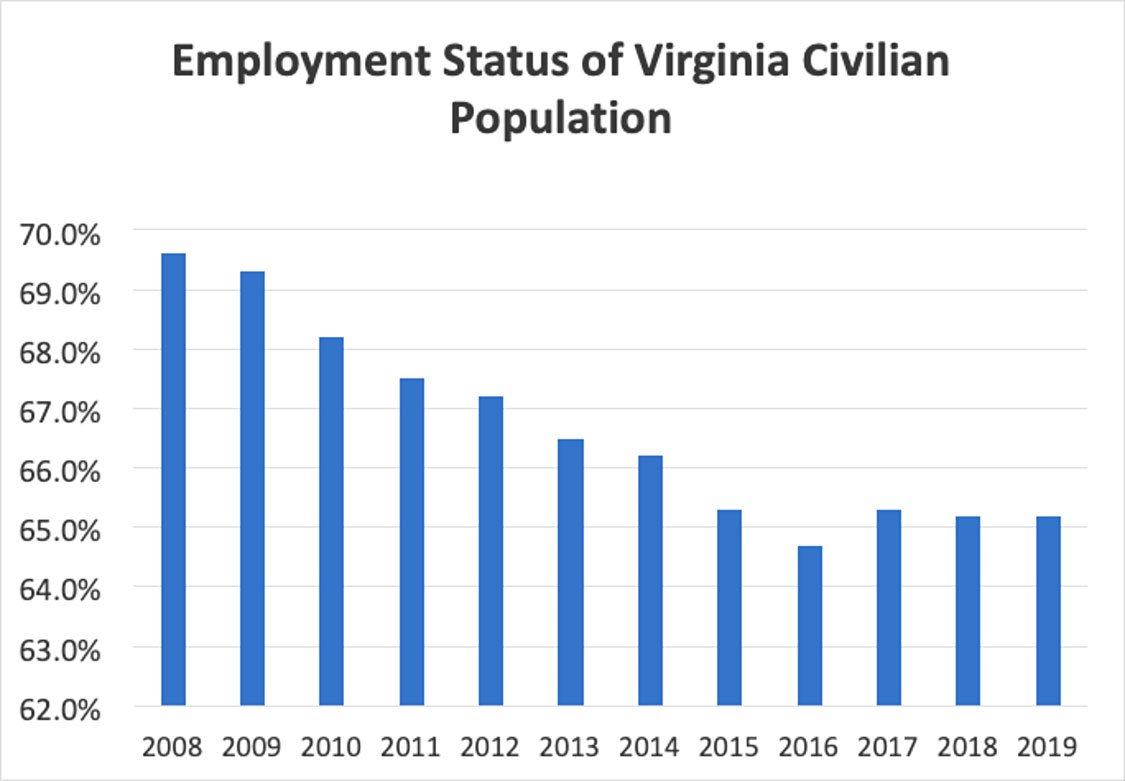 From February of last year to February 2019, the state's seasonally adjusted total nonfarm employment was up 31,500 jobs, or 0.8 percent.  Virginia's job growth trailed the nation's 1.7 percent job growth rate.
The chart below identifies the major employers by industry as reported by the Virginia Employment Commission.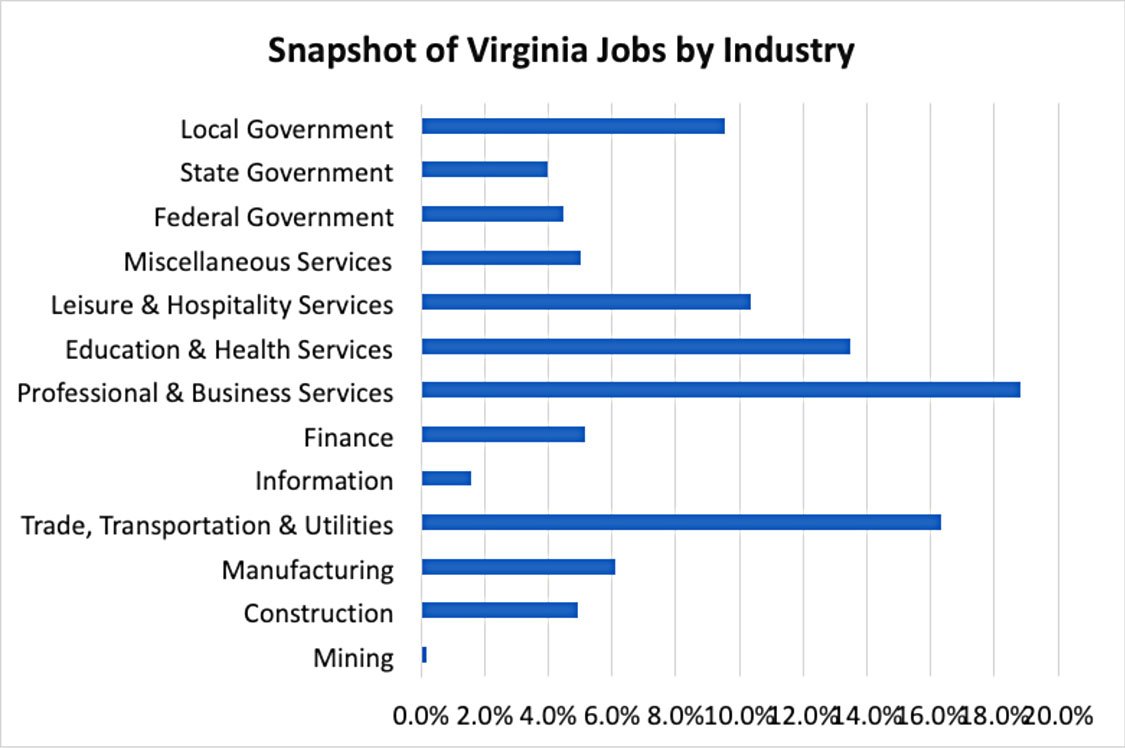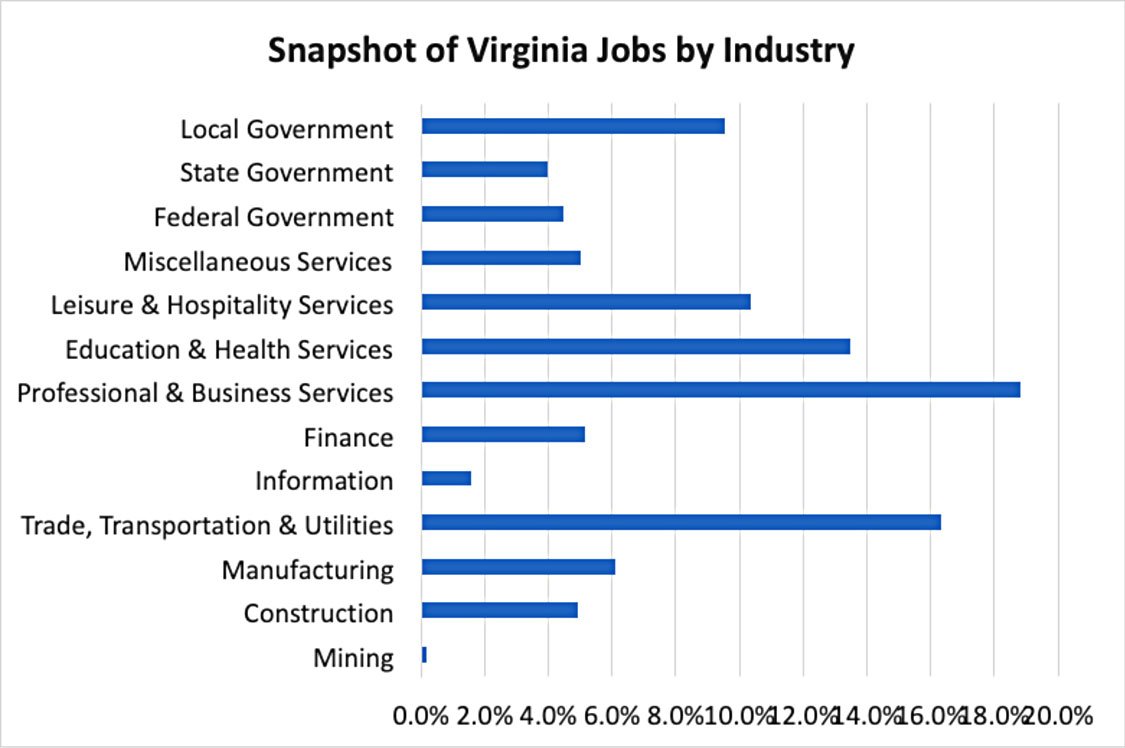 As would be expected, the greatest job numbers and growth skew towards the Metropolitan Statistical Areas (MSAs) along the I-95 and I-64 corridors.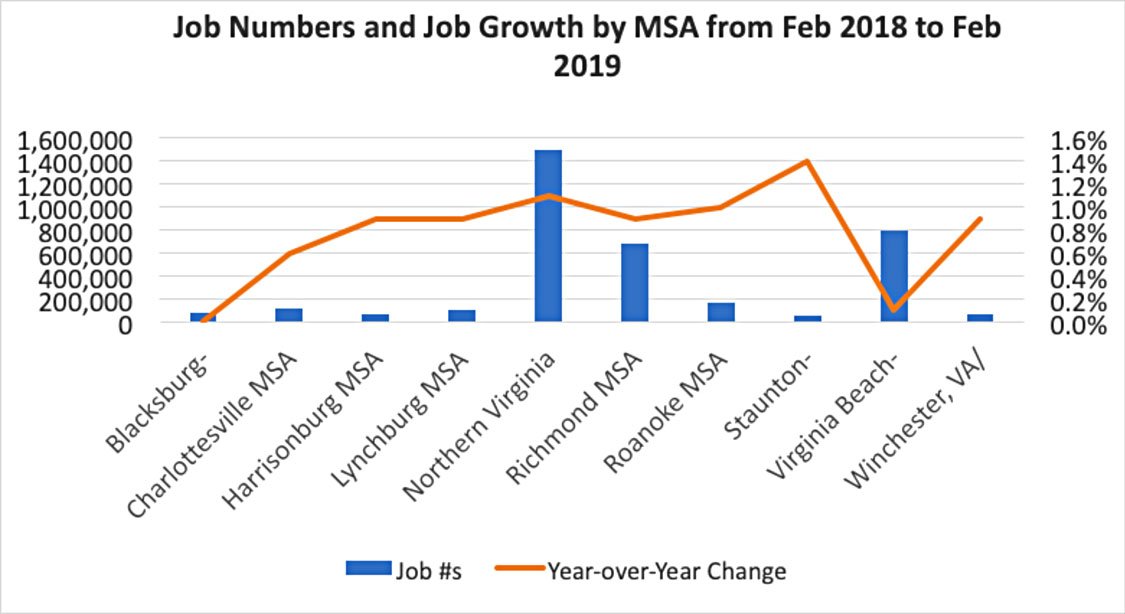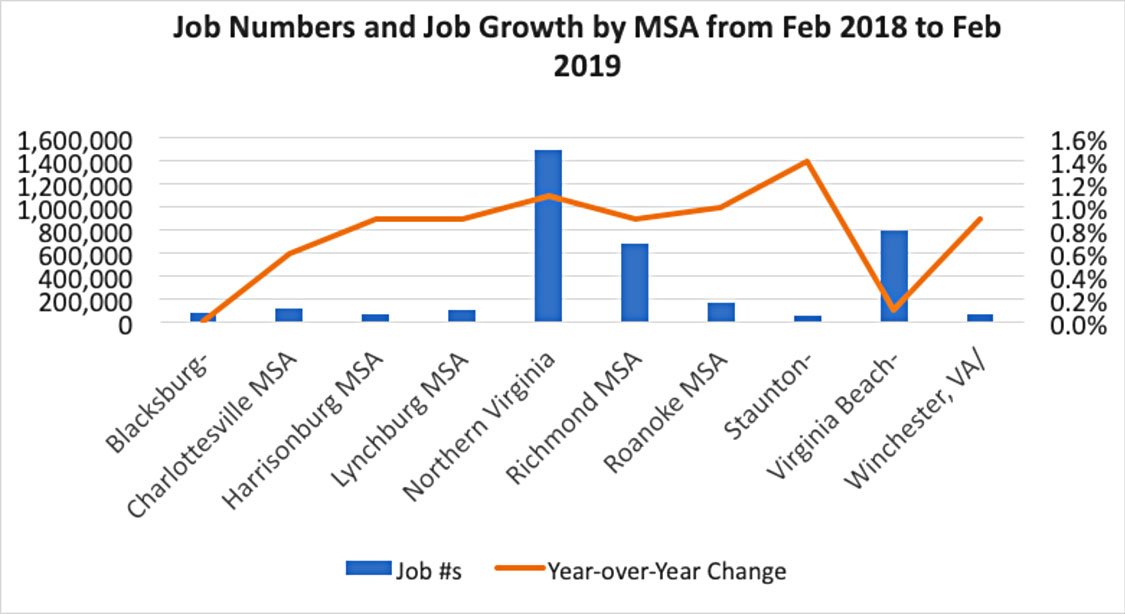 When considering all these numbers, it's important to remember that job performance has a direct affect on state finances since individual income tax withholding account for over 60 percent of general fund revenues.
VML Contact: Neal Menkes, nmenkes@vml.org
Measles outbreak information available from Health Department
The Centers for Disease Control and state and local health departments are monitoring the recent measles outbreaks in areas across the country. Virginia has not been as deeply affected as some states, but since the Commonwealth hosts many travelers, vigilance is needed to ensure the disease does not spread within the state.
The Virginia Department of Health's website is a good source for basic information and includes links to the CDC. The immunization page on the VDH's site is particularly helpful.
VDH's website also has information about severe weather preparedness and other timely public health and safety topics.
VML contact: Janet Areson, jareson@vml.org
Draft six-year transportation improvement program begins public hearings
On April 9, the Commonwealth Transportation Board (CTB) kicked off development of the six-year transportation plan for fiscal years 2020 through 2025. VDOT presented an overview of the process and outlined available resources for road projects.
A total of nine public hearings will be conducted throughout the state with one meeting set for each VDOT construction district: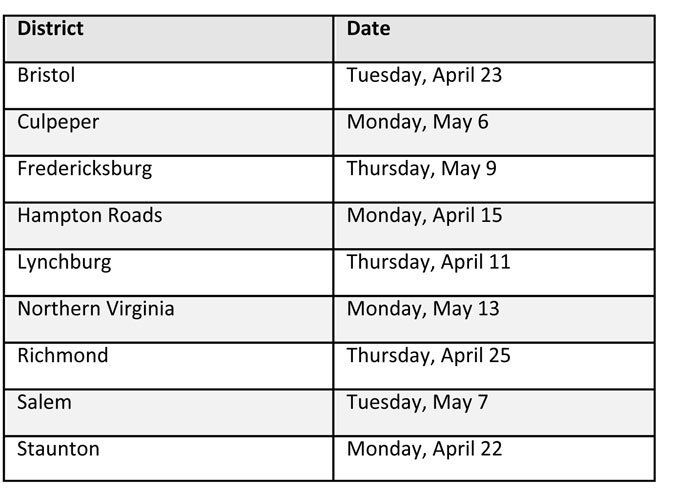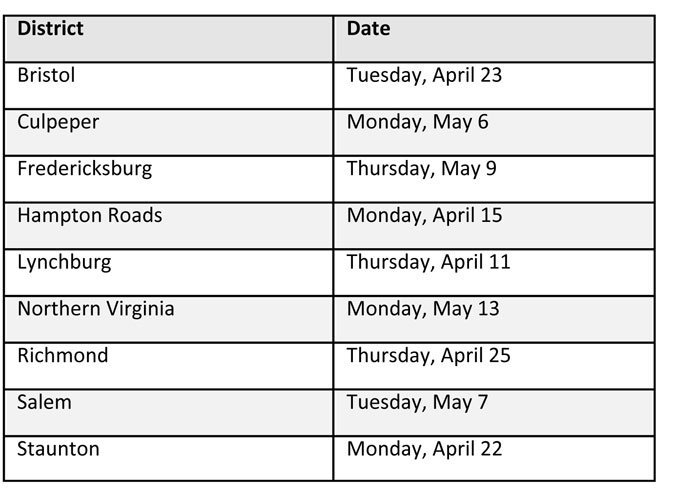 The draft under the CTB's consideration proposes $21 billion for the six-year period with $16.4 billion allocated for highways and $4.6 billion for rail and public transportation. The draft does not include debt service amounts in those totals.
The proposed $21 billion is $200 million less than the current six-year program. Specifically, the highway portion is $400 million less than the current program while rail and public transportation are $200 million higher.
FY 2020 – 2025 Draft SYIP: Highways       Amount (millions)   Percent of total
SMART SCALE
$2,273
15.2%
State of Good Repair
$1,481
9.0%
Other VDOT Construction
$3,543
20.2%
P3/Local/Other Construction
$7,343
44.7%
Maintenance—Federal
$1,670
10.2%
TOTAL
$16,310
99.3%
VDOT estimates that the draft highway construction program will support more than 3,800 projects.  Some $404 million will be available for allocation in Round 3 for the Construction District Grant Program and another $404 million for allocation in Round 3 for the High Priority Projects Program.
The state's portion of the Revenue Sharing Program will be maintained at $100 million. And, the draft construction program anticipates that the Optional CTB Formula will sunset in FY20. Under this formula, localities had almost no voice in the allocation of state funding for road construction, including local roads.
Changes to the Six-Year Improvement Program can be brought to the CTB at its May meeting. The final Program will be approved by the CTB in June.
VML Contact: Neal Menkes, nmenkes@vml.org
Environmental update: Are we talking about politics or climate change?
Chesapeake Bay watershed plan springs funding leak; Fate of carbon cap-and-trade control is up in the air
On April 5, Gov. Ralph Northam released for public review and comment a new restoration plan for the Commonwealth's portion of the Chesapeake Bay and its tributaries. The plan, written largely in bureaucratize, is best described by its title, the Phase III Watershed Implementation Plan. It's stated purpose is to guide local, state and federal actions through 2025 to reduce nutrient and sediment pollution.
The governor writes that "[we] know that simply maintaining our current level of efforts will not get us across the finish line in time—that's why my administration is committed to putting the Commonwealth on a solid path toward cleaner water and a fully restored Chesapeake Bay. Our plan identifies the additional deliberate, focused, and science-based actions necessary to meet our shared goals and will serve as a roadmap for addressing pollution and cleaning up the Bay. Together, we can take specific steps to ensure that future generations of Virginians have the opportunity to enjoy our waterways, and build a healthier, more diverse economy with improved recreation and tourism opportunities, additional water-based industries, and more sustainable land uses."
All of which sounds nice, but how will this push be financed through 2025? To his credit, the governor proposed providing $50 million a year for a period of five-years beginning in FY 2020. The money would have been deposited to the Stormwater Local Assistance Fund. However, the budget passed by the General Assembly slashed the proposed $50 million cash appropriation in FY20 and replaced it with $10 million in bond proceeds for the next fiscal year. No additional funding commitments were made for the future, meaning local governments and local water and wastewater rate payers might have to plug the money gap.
What do you think of the plan?
Written comments on the draft Phase III Watershed Implementation Plan can be submitted by any of the three methods listed below. DEQ asks that you include the name and mailing address (or e-mail address) of the commenter.
E-mail: chesbayplan@DEQ.Virginia.gov
Postal mail: DEQ, ATTN: Chesbayplan, P.O. Box 1105, Richmond, VA 23218
Hand-delivery: DEQ, ATTN: Chesbayplan, 1111 East Main Street, Richmond, Virginia 23219 (Monday through Friday, 8:30 a.m. – 5:00 p.m., except on state holidays and any other days on which state offices in the Richmond area are closed.)
Also, a webinar will be held on May 13, 2019 at 9 a.m. and again later in the day at 6 p.m. to share information about the plan and to answer questions.
Carbon cap-and-trade
The State Air Pollution Control Board voted last week for the state to join a regional carbon cap-and-trade program. The effort could lead to a 30 percent reduction in carbon emissions from the state's largest power plants.
The issue to join or not to join morphed into a political football last session. Republican lawmakers succeeded in passing legislation (HB 2611 and HB 2269) prohibiting the Governor or any state agency from adopting any regulation establishing a carbon dioxide cap-and-trade program or participating in a regional market for the trading of carbon dioxide allowances, or participating in a regional Transportation and Climate Initiative. The bills would permit the state to participate only if the House of Delegates and the Senate of Virginia each adopted a resolution by a two-thirds vote.
HB 2611 and HB 2269 passed the House and the Senate along party lines. Gov. Northam vetoed the measures, and the House of Delegates sustained his vetoes. The governor cited as his reasons for vetoing the legislation the need for tools to mitigate the impacts of climate change. He also said that the cap-and-trade program would lessen costs to producers and consumers while generating revenue that could be spent to make Virginia more resilient to extreme weather events, sea level rise, and flooding.
The Republicans also inserted language into the budget to accomplish the aims of the two bills.  Northam's attempts to dislodge the language from the budget bill during the Veto Session failed, setting up a possible showdown between the two branches of government.
The governor has until May 3 to decide if he will accept or reject the prohibition language in the budget.  If he acts to reject the language, the Air Pollution Control Board's action will go into effect.
VML Contact: Neal Menkes, nmenkes@vml.org
Appropriations Act places cap on certain CSA placements
A provision in the Virginia Appropriations Act effective July 1, 2019, places a cap on rate increases for private day special education services funded through the Children's Services Act (CSA). This temporary cap means that rates paid by localities to providers of private day special education services cannot increase more than two percent over the rates paid for the same services in Fiscal Year 2019.
CSA coordinators are required to submit their contracted rates for private day education services to the Office of Children's Services.
The rate cap was put in the Appropriations Act at the direction of a joint legislative subcommittee overseeing human services issues. The subcommittee received presentations and data documenting the increases in the placements of children in private day special education, and the growth in rates paid for these services. The rate cap is a way to ensure that costs for these services do not grow too much during FY 2020 while a study of private day services, costs, and rates is conducted.  That study was originally due by July 1; an amendment to the budget this year pushed the due date to Oct. 1, 2019.
VML contact: Janet Areson, jareson@vml.org
Grants training in Roanoke, VA
The Roanoke Police Department and Grant Writing USA will present a two-day grants workshop in Roanoke June 20-21, 2019.  This training is for grant seekers across all disciplines. Attendees will learn how to find grants and write winning grant proposals.
Beginning and experienced grant writers from city, county and state agencies as well as nonprofits, K-12, colleges and universities are encouraged to attend.
Virginia Municipal League members and their staff are eligible for a special tuition rate of $425 which includes everything: two days of instruction, workbook, and access to the group's Alumni Forum with tools, helpful discussions and more than 200 sample grant proposals.
Use discount code "VAASSN" to receive this $30 discount off full price at registration.
Complete event details including learning objectives, class location, graduate testimonials and online registration are available here.
Contacts: Janet Darling – Grant Writing USA, janet@grantwritingusa.com or Lt. Bill Breedlove – Roanoke Police Department, bill.breedlove@roanokeva.gov