eNews April 23, 2021

Friday, April 23, 2021 - 05:51pm
In this issue:
Community Business Member updates
Economy & Budget
American Rescue Plan: Updated resources available
Today the While House Office of Intergovernmental Affairs made the following updated resources available:
VML Contact: Michelle Gowdy, mgowdy@vml.org
Pre-award ARP guidance from Treasury
Localities do not have to hire someone to sign up and record their funds – just follow these instructions:
The U.S. Department of the Treasury has released updated pre-award requirements for localities ahead of its release of more formal guidance for funding under the American Recovery Plan. As soon as possible, Treasury encourages localities to do the following:
Ensure the entity has a valid DUNS number.A DUNS number is a unique nine-character number used to identify an organization and is issued by Dun & Bradstreet. The federal government uses the DUNS number to track how federal money is allocated. A DUNS number is required prior to registering with the SAM database, which is outlined below. Registering for a DUNS number is free of charge.
If an entity does not have a valid DUNS number, please visit https://fedgov.dnb.com/webform/ or call 1-866-705-5711 to begin the registration process.
Ensure the entity has an active SAM registration. SAM is the official government-wide database to register with in order to do business with the U.S. government. All Federal financial assistance recipients must register on SAM.gov and renew their SAM registration annually to maintain an active status to be eligible to receive Federal financial assistance. There is no charge to register or maintain your entity SAM registration.
If an entity does not have an active SAM registration, please visit, SAM.gov to begin the entity registration or renewal process. Please note that SAM registration can take up to three weeks; delay in registering in SAM could impact timely payment of funds. Click here for a quick overview for SAM registration
Gather the entity's payment information, including:

Entity Identification Number (EIN), name, and contact information
Name and title of an authorized representative of the entity
Financial institution information (e.g., routing and account number, financial institution name and contact information)
Eligible Non-entitlement Units of Local Government will receive a distribution of funds from their respective state government. "Non-entitlement units of local government" are defined in 42 U.S.C. 5302(a)(5) that are not metropolitan cities. For these Non-entitlement units of local government, Treasury will allocate and pay funds to state governments, and the state will distribute funds to non-entitlement units of local government in proportion to population. Non-entitlement units must have a valid DUNS number to meet reporting the requirements under the program. If an entity does not have a valid DUNS number, please visit https://fedgov.dnb.com/webform/ or call 1-866-705-5711 to begin the registration process.
Treasury has stated that program guidance for Coronavirus State and Local Fiscal Recovery Fund will be released in the coming weeks. VML will forward all guidance, including instructions regarding the submission of certificates of need, as it becomes available.
VML Contacts: Neal Menkes, nmenkes@vml.org; Jessica Ackerman, jackerman@vml.org.
Feds suit up for the American Rescue Plan
The U.S. Treasury announced plans last week to create a new office to oversee the Coronavirus Recovery Funds. The Office of Recovery Program will be distributing roughly $420 billion in assistance approved by Congress and President Biden in March as part of the American Rescue Plan Act. The Office's portfolio includes state and local government aid, rental and homeowner relief and small business assistance.
The new Treasury initiative will also manage existing aid programs set up as part of the CARES Act and other coronavirus relief legislation passed last year. The Internal Revenue Service will still primarily manage direct payments and the expanded child tax credit, among other major relief provisions.
The Biden administration created the office amid concerns about oversight of the mammoth government spending programs and the efficiency of payments. Republicans have also criticized the fact that some aid programs will not expire for months or more.
VML Contact: Neal Menkes, nmenkes@vml.org
Taking stock of Federal relief efforts: Why is it taking so long to help?
Tom Barkin who is President, Federal Reserve Bank of Richmond published an article last week pointing out that despite the appropriation of trillions of federal dollars there are millions of persons who continue to struggle. For example, $47 billion has been allocated specifically for emergency rental assistance, yet the Philadelphia Fed estimates that 1.8 million renter households in arrears still owe $11 billion in rent.  As for broadband, between 18 million and 42 million people are without access to high-speed service despite more than $13 billion being made available to expand access and help consumers pay their bills. That is in addition to the $10 billion provided by the American Rescue Plan and the some $30 billion dedicated to broadband before the pandemic. The Fed estimates that less than half of the prior funding has been distributed because of challenges with application approvals, map definitions and the like.
So why is it taking so long to make a difference? According to Mr. Barkin's article, his discussions with community leaders in the Richmond Bank's district revealed four challenges that are present for both short-time emergency aid and long-term infrastructure aid programs.
Challenge #1: Awareness
No one is going to apply for help if they don't know the aid exists. In a February survey, for example, the rental management company Avail found that almost 48 percent of landlords and 69 percent of renters didn't know government rental assistance was available. Even if people were aware that these programs existed, they might not know how to find a local program or how to apply. Similarly, many adults did not know that there's an emergency broadband benefit coming to help them pay their internet bills.
Barkin writes that the solutions to raise awareness don't have to be complicated — but they require knowing who you're serving and what they need. For example, when the Fed talked with Hispanic business and community leaders in Manassas last month, they heard that reaching immigrant populations has been especially challenging. Providing translation assistance and sharing information through trusted local groups can go a long way.
Challenge #2: Capacity
Another challenge is that many communities don't have the capacity — either in terms of people or in terms of technology — to distribute funding. Looking again at rental assistance, state and local governments have been responsible for administering these programs from beginning to end. This means getting the word out, determining eligibility, reviewing applications, distributing payouts, and all the tasks in between. That's a lot to do in a short time, especially amid an unprecedented public health crisis. As a result, many local governments have partnered with nonprofit organizations to increase their capacity and try to meet the demand, but these nonprofits are themselves trying to adapt their operations and increase their bandwidth.
Similar capacity challenges were seen with nutrition assistance. The U.S. Department of Agriculture (USDA) has bought billions of dollars of produce, meat and dairy products from farmers who have lost business due to closed schools and restaurants and distributed the food to local food banks nationwide. But especially at the beginning of the pandemic, many food banks were overwhelmed by the logistics — not to mention the storage space — to manage the increase in supply and demand. It's been a race ever since to keep up.
Capacity was a challenge before COVID-19 as well. Take broadband funding, which is traditionally distributed to local groups through grants from national entities such as the FCC. But applying for these grants is a complicated process and requires a community to have the capacity to research eligibility, to understand and compete for various available grants, to fund technical support for successful proposals and partnerships, and to measure and record actual broadband access (or lack thereof).
Challenge #3: Bureaucracy
During the Fed's listening tour, they were told about the complicated constraints that accompany government funding. Stipulations about when and how the money must be spent do not necessarily align with local needs. One school superintendent shared that CARES Act funding has been valuable to help pay for digital resources and other supplies but can't be used for operations. This means if the school district wants to extend the school day or provide extra tutoring to help students address pandemic-related learning loss, the money has to be taken from other places in the school division's budget. Simplifying restrictions and giving local jurisdictions more autonomy could help get the money to where the need is greatest.
Challenge #4: Teamwork
What does it take to increase awareness, build capacity, and navigate complicated waters? When the Fed looked at the success stories, the common theme is effective alignment through partnerships — nonprofits, local governments, and private companies pulling in the same direction. Working together creates a sense of shared investment, shared cost, and enables groups to come up with more creative solutions. For example, in Virginia, Commonwealth Connect hosts regular calls between public and private entities to help them be on the same page as advocates for broadband. This model allows groups with different focus areas and resources to clarify what funding is available, where the needs are, and which solutions are working.
The massive fiscal support that has been mobilized since last March helped prevent the U.S. economy from falling off a cliff and continues to support households and businesses. But Congress allocating funds is only the first step. Making real progress requires concentrated work to raise awareness, build capacity, simplify processes, and keep us marching in the same direction.
That is a lesson VML hopes the state understands and will commit itself to do by working with local governments. Stay tuned.
VML Contact: Neal Menkes, nmenkes@vml.org
State revenues soar above official forecast
Total general fund revenue collections grew 18.5 percent in March. Most of the increase is due to an additional deposit day for payroll withholding and strong growth in sales and recordation taxes. On a fiscal year-to-date basis, total revenue collections rose 9 percent through March, ahead of the annual forecast of 3 percent growth.

Individual income tax withholding accounts for 60 percent of state general fund revenue. It is driven by job creation and job pay. Although the state economy has yet to generate substantial new jobs, the increase in collections is likely attributable to income growth, particularly the push for a higher minimum wage.
The chart below shows the pandemic's effects on labor force participation and the rise and fall of unemployment. The number of Virginians working in March of this year is almost 310,000 fewer than in March of 2020 when the pandemic seized the state's economy.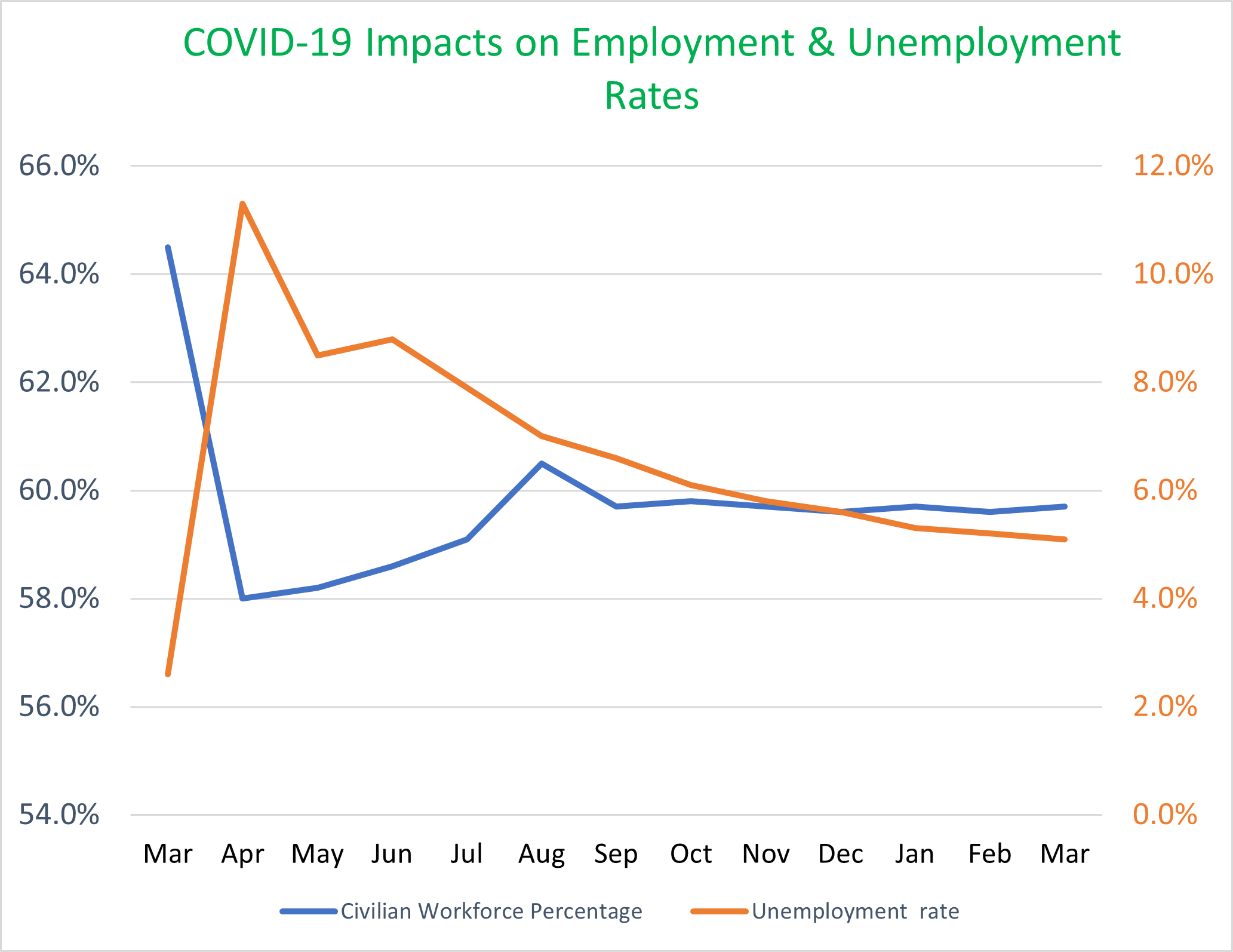 According to the Virginia Employment Commission for the filing week ending April 17, the figure for seasonally unadjusted initial claims in Virginia was 13,751. The latest claims figure was an increase of 8,717 claimants from the previous week. This brought the total number of claims filed since the March 21, 2020 filing week to 1,601,480, compared to the 477,600 averages filed during the previous three economic recessions since 1990.
For the most recent filing week, continued weeks claimed totaled 55,273, which was a drop of 2,098 claims from the previous week, and 242,720 fewer than the 297,993 continued claims from the comparable week last year.
The impressive growth in individual income tax non-withholding is tied to the explosive upswing in the stock market beginning late in 2020 and continuing through this year. Almost 20 percent of the state general fund is derived from this source.
Sales taxes comprise some 17 percent of general fund collections. The binge in online shopping likely spurred by the pandemic also reflects a change in consumers' spending patterns that emphasize the purchase of goods rather than services.
Recordation takes make up roughly 3 percent of general fund revenue. Homeowners taking advantage of low interest rates to refinance their mortgages and a strong housing market make up almost all of the increase.
When the General Assembly returns for another special session to appropriate federal American Rescue Plan dollars the members may want to take a second look at items left in the March cold. For example, the budget bill signed into law by Gov. Northam on April 7 includes pay raises for State Police troopers and deputy sheriffs. No additional funding was provided for state financial assistance to local police departments through the 599 Program.
VML Contact: Neal Menkes, nmenkes@vml.org
Transportation
2022 Six Year Improvement Program (SYIP) comment period has begun
The comment period on the 2022 Six Year Improvement Program (SYIP) has begun and virtual meetings for each VDOT district are being held. The SYIP is the guiding document that determines how Virginia will use public funds on a range of transportation projects from highway, road, and bridge projects to public transportation, rail, bicycle, and pedestrian projects. The SYIP will be voted on by the Commonwealth Transportation Board (CTB) at their June 2021 meeting.
Members have the opportunity to comment on the proposed SYIP prior the plan's approval at the June 2021 CTB meeting.
Resources:
To make a comment:
Meeting information and schedule:
Note – Details for some meetings will be posted as the date of the meeting approaches
| | | |
| --- | --- | --- |
| VDOT District | Date | Time |
| Culpeper | 4/22/21 | 4:00 pm |
| Bristol | 4/27/21 | 4:00 pm |
| Fredericksburg | 4/27/21 | 6:00 pm |
| Staunton | 4/29/21 | 4:00 pm |
| Lynchburg | 4/29/21 | 6:00 pm |
| Richmond | 5/3/21 | 4:00 pm |
| Northern VA | 5/3/21 | 6:00 pm |
| Salem | 5/5/21 | 4:00 pm |
| Hampton Roads | 5/5/21 | 6:00 pm |
VML Contact: Mitchell Smiley, msmiley@vml.org
Housing
Meetings held by Housing Commission and Affordable Housing advisory group
At its April 14 meeting, the Housing Commission heard presentations from the Brookings Institution and the Virginia Association of Realtors regarding Virginia's housing market and housing challenges/opportunities post-COVID. The Brookings Institution pointed out that factors affecting low-income Virginians are higher cost burdens and housing quality. They also were quick to state that "local governments have made it hard to build moderately-priced housing" citing local zoning limitations on where multi-family dwellings can be built.
The Virginia Association of Realtors provided data on employment trends including types of jobs that were lost during the pandemic. According to the group's presentation, Virginia's statewide home sales surged in the second half of 2020 and in March 2021 sales were up 9.6 percent compared to March 2020. The group pointed to a lack of inventory and a widening racial homeownership over that last 20 years as causes for concern.
The Virginia Association of Realtors presentation included many helpful charts showing the explosive growth of home sales in certain regions and comparing Virginia to the nation as a whole.
Both presentations can be accessed here >.
Affordable Housing group hears from subgroups
The HB854 stakeholder advisory group also met this week; this is the housing study that was authorized in the 2020 General Assembly Session with the final report due later this year. The various subgroups reported on their progress and most will meet again before providing draft language for the report.
The final recommendations for the report are due at the end of May.
VML Contact: Michelle Gowdy, mgowdy@vml.org
FOIA
FOIA Council to meet on April 28
The Virginia Freedom of Information Council will meet on April 28th at 3:00 p.m. virtually. The agenda is available here. Of interest to local governments, it appears that the Meetings Issues Subcommittee formed last year will continue. It is expected that HB1997 (Murphy) will be sent to that committee to study the definition of "meeting." Delegate Murphy's bill defines "meeting" as four people rather than the current three.
Also of interest, the proposed Records Issues Subcommittees will most likely study HB2000 (Roem) which proposes changes to the charges for the production of records as well as HB2196 (Mullin) which proposes to require the release of law-enforcement disciplinary records.
VML Contact: Michelle Gowdy, mgowdy@vml.org
Health & Human Services
VDH encourages local officials and residents to become "Community Ambassadors"
The Virginia Department of Health (VDH) has begun a "Community Ambassador" program to help raise awareness of measures to mitigate the covid-19 virus specifically and increase awareness of opportunities to increase community health in general.
VDH has set up a Community Ambassador site to function as a hub for resources and tools for their Ambassadors. The site is designed for anyone willing and able to volunteer a few minutes each week to help keep Virginians safe.
The site has important news and updates on covid-19, vaccinations, and executive orders. It also has short "missions" that Ambassadors can complete in their community. These include assignments such as "Show or Tell: Reasons for Hope" which asks Ambassadors to show a video VDH has created that highlights the path back to doing all the things we love or to share stories of the good work being done by public healthcare workers in their community. Another mission "Let's Get Back in the Game" asks Ambassadors to share the video created by the Ad Council in which Willie Nelson and major sports leagues encourage people to get ready for the full return of sports by getting vaccinated.
Want to become a Community Ambassador? More information is available here >.
VDH Contact: Communications Coordinator Rachel Ellick, rachel.ellick@vdh.virginia.gov
Statewide Interoperability Executive Committee hears update on FirstNet
The Statewide Interoperability Executive Committee met this week to receive an update on FirstNet and its deployment in Virginia. FirstNet is a network by AT&T (the nation's chosen provider) designed specifically for first responders.
More information about FirstNet is available here >.
During the meeting, there was also discussion about the Commonwealth Link to Interoperable Communication "COMLINC" program that the Virginia State Police provides to localities at no charge provided the locality enters into a memorandum of agreement. COMLINC is a service delivery system for radios to communicate between the Commonwealth's Statewide Agencies Radio System and public safety radio communications systems maintained and/or managed at the local level.
Please be on the lookout for the memorandum of agreement
Interoperable communication is vital to the safety of our first responders and our citizens. As soon as the memorandum of agreement is available, it should be executed and returned to the state police.
VML Contact: Michelle Gowdy, mgowdy@vml.org
Deadline extended for new grant program to combat hate crimes
Local governments now have until May 3 at 5:00 p.m. to apply for the new grant program to combat hate crimes. This application extension was announced this week by the Department of Criminal Justice Services (DCJS), which is administering the new grant program.
This program is intended for local governments that have established a partnership with institutions or non-profit organizations that have been targets or are at risk of being targets of hate crimes. A total of $1.5 million in grant funds will be made available through this program.
The goal of the program is to minimize bias-motivated incidents by providing funding that supports institutions or nonprofit organizations that may be at risk based on race, religious conviction, color, gender, disability, gender identity, sexual orientation, or national origin.
Information about the program, application process, and contact information may be found here >.
VML Contact: Janet Areson, jareson@vml.org
Deeds subcommittee approves workplan; hears from law enforcement about ER issues
The pandemic's impact on the state's behavioral health system continues to be felt by state mental health hospitals as well as by law enforcement officers who must supervise individuals under emergency custody orders while they wait in in emergency rooms for a placement for treatment.
On April 20, sheriffs addressed the Joint Subcommittee to Study Mental Health Services in the Commonwealth (commonly referred to as the Deed's Subcommittee for its chair, Senator Creigh Deeds). The sheriffs reported sometimes multi-day waits in emergency rooms with individuals in crisis awaiting placement for treatment. The state now has a statewide network of specialized transportation providers to help individuals in crisis and to relieve law enforcement from this role. However, unlike local law enforcement, such providers do not serve every person and are not required to stay with an individual in an emergency room until a treatment placement is found.
Senator Deeds noted that he had been unsuccessful in obtaining funding in the state budget this year to expand the contract to include custody before transport and to reimburse some law enforcement for overtime. He vowed to make this issue a priority for the subcommittee.
The joint subcommittee, which began in 2014, approved its workplan for the coming year which includes the framework for the group's transition from an interim study to a more permanent commission with full-time staff. Other issues continuing for the subcommittee are community services board/behavioral health authority funding, including local funding shares; and mental health services within the criminal justice system, including local and regional jails (the state's jail board is currently working on new mental health regulations for jails).
VML Contact: Janet Areson, jareson@vml.org
Health care commission executive subcommittee recommends deferring Auxiliary Grant study to 2022
Earlier this week the executive subcommittee of the Joint Commission on Health Care reviewed the bills referred to it by the 2021 General Assembly and determined a course of action for each.
Of interest to local governments is SJR293 (Spruill) which is a study resolution requesting the Commission to evaluate the state's Auxiliary Grant program and develop a blueprint to address housing and care needs. This state and local-funded program provides financial assistance to help pay for assisted living for certain elderly or disabled individuals. The subcommittee agreed to consider this study during the fall work plan development as a top study priority for 2022, given the full agenda for studies in the current year.
The Commission is currently conducting a study of strategies to support Virginians to age in place, which could help inform the work on the Auxiliary Grant study in 2022.
VML Contact: Janet Areson, jareson@vml.org
VML News
Winners of 2021 VML "If I Were Mayor" state essay contest announced
The Virginia Municipal League (VML) announced today the statewide winner and five regional winners of the "If I Were Mayor" Essay Contest. The contest, hosted by VML, drew hundreds of entries from seventh graders throughout the state. The challenge to the students was to describe what worked (and did not work) for them during the past year of schooling during a pandemic. They were also asked to explain how they would, as mayor of their community, make the lessons they have learned work for everyone.
The winners* are:
Statewide winner: Laila Beck-Covington of Spratley Gifted Center in Hampton
Region 2: Marjorie Davis of Martinsville Middle School in Martinsville
Region 5: Claire Weatherly of Mary Ellen Henderson Middle School in Falls Church
Region 6: Matthew Ezrre of Culpeper Middle School in Culpeper
Region 7: Erin Moore of Liberty Middle School in Ashland
Region 8: Dallas Barringer of Montross Middle School in Montross
*VML did not receive any entries from students in Regions 1, 3, or 4 this year.
All the regional winners used their essays to clearly identify the issues they faced with schooling during this difficult year. However, they were also able to find things that worked well for them. Moreover, they used their personal experience to craft thoughtful suggestions to help their fellow students and community members.
Of the statewide winning entry from Laila Beck-Covington, VML President and Mayor of Galax Willie Greene said: "Laila identified two major issues and came up with some particularly good solutions to solve them.  She has her priorities in order. And a genuine concern for all the students in her community. So, congratulations to Laila for a very well written essay!"
In addition to a plaque, each regional winner will receive $150. The statewide winner will receive a plaque and $250.
All winning essays can be read here >.
VML Contact: Rob Bullington, rbullington@vml.org
Outreach beginning for 2022 Census of Governments
The U.S. Census Bureau is beginning its Census of Governments outreach and promotion effort and they need your help to increase awareness, participation, and response rates. The Census Bureau conducts a Census of Governments of all state and local government organization units every five years, for years ending in two and seven, as required by law under Title 13, U.S. Code, Section 161. The collection of these data will be part of a three-phase effort to document the size, structure, and finances of all state and local governments.
Click here for a flyer with more information.
Phase 1, Government Organization, will be underway shortly.  Here are a few ways that you can help promote the Census of Governments:
Invite us to participate in an upcoming meeting and/or conference.
Post, publish, or email blast the attached flyer to your members.
Include information about the Census of Governments in your newsletter.
For more information about the Census of Governments, please see their website at Census of Governments.
VML Contact: Jessica Ackerman, jackerman@vml.org
Spring edition of National Civic Review now available
Access Code: VML21
As the communities all over the country grapple with questions of racial equity, public safety, health and democracy, the Spring issue of the National Civic Review explores examples of what one of the authors describes as "civic democracy." Articles explore efforts by public managers, non-profit organizations, foundations, elected officials, and members of the public to build trust, create safe spaces for productive dialogues, defuse potential conflicts, find common ground on challenging problems, and inspire a sense of community belonging.
The issue was published in collaboration with the Kettering Foundation.
You can access this edition by going directly to the table of contents and entering your access code VML21 when prompted.
VML Contact: Rob Bullington, rbullington@vml.org
Community Business Member updates
ZenCity program to explore how residents feel about Covid-19 vaccines
VML Community Business Member Zencity is collaborating with the Harvard Kennedy School's Ash Center, with the support of The Robert Wood Johnson Foundation (RWJF) and Bennett Midland, to launch a program across 19 US cities and counties, including VML member locality Arlington County, as well as Los Angeles, Philadelphia, New Orleans, Newark, and more, to help them understand how their residents feel about Covid-19 vaccines.
ZenCity Contact: Director of Urban Policy & Partnerships Assaf Frances, frances@zencity.io
VML welcomes Virginia Association of Assessing Officers as newest member
The Virginia Municipal League is pleased to have the Virginia Association of Assessing Officers (VAAO) as our newest Community Business Member.
Established in 1949, the VAAO is a professional organization of assessors and appraisers from state and local governments throughout the Commonwealth of Virginia.
More information about organization is available here >.
For information on becoming a CBM member of VML, please contact Rob Bullington, rbullington@vml.org.