eNews April 3, 2018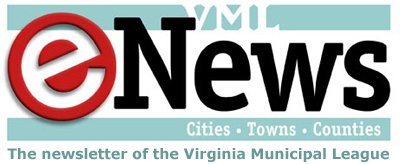 Tuesday, April 03, 2018 - 01:07pm
Inside this issue
Sign up now for emergency response seminar on May 4
Pretrial services program group starts work
Latest curveball for CSA – parental consent affecting access to funding
Statewide interoperability planning continues
By right solar legislation signed
Potential options for ammonia mitigation allowed
Please respond to brief "med cottages" survey
Energy conference to be held April 26
Don't forget to turn in nominations for policy committees
Sign up now for emergency response seminar on May 4
Register here to attend the May 4 seminar on emergency responses at the local level to natural or man-made disasters. The discussion will focus on emergency management procedures, a review of tactical operations, outside support available and, post-event, the process for federal and state financial reimbursement.
This panel discussion will be led by Dr. Tonya Neaves, the managing director for the Centers on the Public Service with George Mason University Schar School of Policy and Government. Panelists will include Maggie DeBoard, chief of police in Herndon, and other invited speakers.
The seminar will be held May 4, 10 a.m. to noon at the VML Insurance Programs, 11243 Nuckols Road, Glen Allen, VA 23059. The fee to attend is $50.
VML contact: Mike Polychrones, mpolychrones@vml.org
Pretrial services program group starts work
A review of how pretrial services are administered and recommendations to improve service delivery is the task of a stakeholder group recently convened by the Department of Criminal Justice Services (DCJS) and the State Crime Commission (VSCC). VML is a participant in this group, which held its first meeting on March 26 in Richmond.
In 2016-2017, the Crime Commission conducted a review of how pretrial service agencies are managed, operated, and evaluated. Late last year the Commission presented DJCS with recommendations intended to advance the administration of pretrial services.
Recommendations for further action by the General Assembly and DCJS included:
Amending the Code of Virginia to require DCJS to report annually on the status of each pretrial services agency (including funding amounts and sources; average daily caseload; success rates; and compliance with standards set by DCJS) – the 2018 General Assembly approved HB 996 (Gilbert) to set this in place;
Conducting a needs assessment of stakeholders to identify strengths and weaknesses of program;
Convening a stakeholder group to develop specific recommendations to improve services;
Monitoring the implementation of instruments used by agencies to determine participation in pretrial programs;
Working with localities, pretrial directors, and other stakeholders to determine a funding formula for grant disbursements to pretrial services agencies;
Exploring options to improve to replace the case management system used by pretrial services agencies; and
Monitoring the use of the case management system to ensure that comprehensive definitions are developed and used, and necessary data is consistently and uniformly entered.
At the March 26 meeting, the Crime Commission presented results of a needs assessment survey of stakeholders (including local government managers as well as judges, magistrates, jail administrators, and pretrial services directors) conducted earlier this year to gauge awareness and understanding of the program; perceived value of the services and supervision; the working relationship among stakeholders; and adequacy of training.
Commission staff reported that stakeholders overall possessed good awareness and understanding of the program, and responded positively regarding the value of the program, working relationships, and overall training. Stakeholder concerns included notification of bail condition violations; the case management system; and the credibility of the risk assessment tools used to assess potential participants. Also of concern were funding and resource levels, including allocation of resources; funding formula for allocation of state funds; and stability of state funding.
The stakeholder group has been broken down into three workgroups: risk-based magistrate decision making; pretrial services investigations and resources; and data and outcomes. These groups will meet separately during the spring and summer. The whole stakeholder group will meet again on July 11 in Staunton, and on September 19 in Richmond.
In addition to this stakeholder group, DCJS is convening additional workgroups to delve into specific issues, including overall funding and funding allocations.
VML contact: Janet Areson jareson@vml.org
Latest curveball for CSA – parental consent affecting access to funding
The Children's Services Act (CSA) never seems to be without controversy; the latest issue concerns parental consent to share information about a child and his/her Individualized Education Plan (IEP) with a local Family Assessment and Planning Team (FAPT) and Community Policy and Management Team (CPMT) in order for CSA funding to be used for a private special education placement. In short, if a parent does not consent for a school division to share a child's information with the FAPT/CPMT, the teams cannot verify that a child is eligible for CSA funding, and no CSA pool funds can be used for that placement.
The Virginia Office of the Attorney General and Office has advised the Office of Children's Services that a local school division is responsible for the costs of that placement (i.e., no state funds would be available because state special education funds for such placements are folded into the CSA pool of funds). The Code of Virginia does allow a school division to appeal to the State Executive Council (SEC) if a parent refuses to sign a consent form, but the SEC must abide by federal and state privacy laws as well as requirements to verify eligibility for funding under CSA.
The Office of Children's Services is working with the Virginia Department of Education to alert school divisions and CSA coordinators to the situation and requirements under the law, and to try to find ways to clarify how consent requests are communicated to parents. If the situation cannot be cleared up, it may mean revisiting the consent process and even the inclusion of the special education funding in the CSA pool so that school divisions have access to the state share of funding even if parental consent for CSA involvement is denied.
VML contact: Janet Areson jareson@vml.org
Statewide interoperability planning continues
The statewide interoperability executive committee continued with its planning process at its first meeting in 2018, which was held March 27.
The goal of the Statewide Interoperability Executive Committee is and has been to ensure that emergency communications are seamless throughout the various jurisdictions of the Commonwealth. While this sounds simple, it is a daunting task given all the variables; i.e. types of radios, system requirements, different groups of people, etc. Of course, as with all initiatives, money is an obstacle that has not yet been overcome.
Deputy Secretary of Public Safety and Homeland Security Ryant Washington attended the meeting for the first time (he was appointed to his position in December) and provided support from the Governor's office for the group's mission. Also in attendance was Marty McClain from the Office of Emergency Communications in the Department of Homeland Security, who offered federal assistance in providing training and updates to some of Virginia's interoperability plans. The committee was informed that the state interoperability coordinator position is currently vacant; the goal is to fill this position in the next 60 days so that this group can use federal assistance and work to update their plans.
This group will meet again when the new Coordinator is hired and continue discussing interoperability.
FirstNet is a public safety broadband system that the Federal government has contracted. FirstNet provided an update on its roll-out on the AT&T network while Verizon has just offered a similar product.   While Virginia was the first state to agree to use FirstNet, localities are not mandated to use it. Richmond and Fairfax County are in the early stages of using FirstNet; more information on the effort in Richmond is posted at https://bit.ly/2q63p3A.
VML contact: Michelle Gowdy, mgowdy@vml.org
By right solar legislation signed
SB429 (Stanley) and HB508 (Hodges), the "by right" solar bills, have been signed by Governor Northam. The bills have a delayed enactment of January 1, 2019. The bills allow, by right, property owners to install certain solar facilities subject to very limited conditions. The bills were amended to include the following "…Any other proposed solar facility, including any solar facility that is designed to serve, or serves, the electricity or thermal needs of any property other than the property where such facilities are located, shall be subject to any applicable zoning regulations of the locality."
Staff Contact: Mike Polychrones mpolychrones@vml.org
Potential options for ammonia mitigation allowed
Two bills that direct the Virginia Department of Environmental Quality to allow municipal wastewater systems more time to comply with proposed Federal clean water regulations and ammonia mitigation improvements – should they take effect — have been approved by the Governor and will go into effect on July 1, 2018.
HB1475 and SB344 were introduced to have DEQ oversee compliance should EPA regulations that were proposed in 2016 are finalized. It is not clear, however, if the current administration will continue with the process in the first place. If EPA does move for compliance, then the legislation will allow the Commonwealth to oversee compliance and allow localities more time to comply.
Staff Contact: Mike Polychrones mpolychrones@vml.org
Please respond to brief "med cottages" survey
The Virginia Housing Commission is gathering information on "temporary family health care structures," also known as med cottages. You can help by sending your answers to the brief survey that follows to Joni Terry at VML (jterry@vml.org).
Have any temporary family health care structures (as defined under Code of Virginia § 15.2-2292.1) been erected in your locality?
If so, have any actually been removed?
Your name & locality:
Thank you for your help!
Energy conference to be held April 26
The Virginia Renewable Energy Alliance's (VA-REA) is holding a conference on leveraging recent legal and regulatory changes to increase renewables in Virginia on April 26 at McGuireWoods Consulting, 800 E Canal St., Richmond, VA 23219.
This one-day event brings together key players and industry experts to discuss the many significant developments in renewable energy policy that are coming to Virginia. Learn from the best how recent legislative, executive, and regulatory actions will affect organizations. Local issues and best practices for deploying renewables in Virginia's communities also will be discussed.
These topics will be covered:
Recent legislative and executive branch catalysts for renewable energy in Virginia;
The current and future regulatory landscape for renewable energy in the Commonwealth; and
How Virginia's renewable energy industry can partner with localities to increase wind and solar adoption.
Additional information can be found at https://bit.ly/2q1k8F5.
Don't forget to turn in nominations for policy committees
Please act now to submit your nominations to serve on VML's six policy committees! Nominations are due April 18 (if your locality has elections in May, a revised form can be submitted after the elections). The form for submitting nominations is posted at https://vml.org/wp-content/uploads/pdf/2018VMLPolicyNominationsForm1.pdf.
The six policy committees are 1) Community & Economic Development; 2) Environmental Quality; 3) Finance; 4) General Laws; 5) Human Development & Education and 6) Transportation. Information on the role of the policy committees is posted at https://vml.org/advocacy/policy-committees/.
The policy committees meet in late July in the Richmond area. The date and meeting location are being confirmed; that information will be sent to committee members, local government managers and clerks.
Please email or call Janet Areson at VML with any questions (jareson@vml.org; 804-523-8522).
VML contact: Janet Areson, jareson@vml.org
---
VML legislative staff and assignments
Michelle Gowdy – Local government authority, planning and zoning, legal matters, housing, Freedom of Information, telecommunications and technology. mgowdy@vml.org; 804-523-8525
Janet Areson – Health and human services, and the state budget. jareson@vml.org; 804-523-8522
Mike Polychrones – Environment, land use, natural resources, elections and transportation policy. mpolychrones@vml.org; 804-523-8530
Neal Menkes (under contract) – Taxation and finance, the state budget, transportation funding, retirement, education funding and community and economic development. nmenkes@vml.org; 804-523-8523
Roger Wiley (under contract) – Courts, criminal law, civil law, and procurement. roger@heftywiley.com; 804-780-3143
Chris LaGow (under contract) –Insurance and workers' compensation. chris@lagowlobby.com; 804-225-8570