eNews April 12, 2018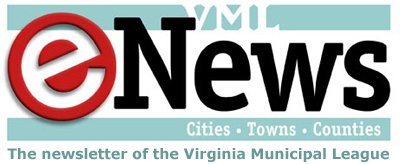 Thursday, April 12, 2018 - 01:37pm
In this issue
Golf course bill hits rough patch: Support the veto!
Support amendments to mulch bills
Don't forget: Support amendments to wireless bills
Northam takes a different route on transit bills
Northam veto supports cap-and-trade plan
Living wage, sanctuary cities bills vetoed
Special session on state budget now underway
Federal deficit goes up; Infrastructure program falls down
Register now for emergency response seminar on May 4
Golf course bill hits rough patch
Support the veto!
Gov. Northam vetoed a House measure (HB1204) that would turn upside down the assessments of open-space properties that are 20-acres or more in Arlington and Loudoun Counties. VML urges its members to contact their delegates and senators to uphold Gov. Northam's veto. The votes on the bill as it worked its way through the legislature suggest that an override could succeed. Follow these links for the Richmond and home district telephone numbers for the delegates and senators. As always, please keep us informed of the results of your phone calls or visits.
The bill mandates that the assessment of properties qualifying for open-space use would be assessed as such regardless of whether the two counties have passed ordinances to participate in open-space use assessments. (Loudoun already participates in open-space use assessments. Arlington does not.)
The precedent-setting legislation pushed by two privately owned golf courses in Arlington is questionably unconstitutional and unquestionably a major state intrusion into local tax matters. The bill also specifically waived tax penalties for open-space property owners, a tax "goodie" not available to owners of farm, forest or horticulture lands who participate in locally-approved land use tax programs.
The governor based his veto on the fact that the bill was trying to address "a local dispute over a local government's method of assessing land for property taxation. As such, the solution to this dispute should be reached on the local level without the involvement of the state."
VML contact: Neal Menkes, nmenkes@vml.org
Support amendments to mulch bills
Governor Northam has proposed amendments to the mulch bills (HB1595 and SB972) that narrow the scope of the bills. The upshot is that local governments would retain the authority to regulate the placement of landscape materials in state residential care facilities; assisted living facilities; student residences owned or operated by a public institution of higher education; buildings containing one or more dwelling units; and hotels, motels and rooming houses.
Please call your delegates and senators to urge support of the amendments to HB1595 and SB972.
Just as a reminder: Fire departments across Virginia have experienced significant fires in recent years caused by improperly discarded smoking materials igniting mulch that in turn ignited the combustible siding on buildings.  According to the Virginia Fire Incident Reporting System, 835 mulch fires occurred during 2016 and 2017. In an effort to address the increased fire risk, localities have exercised authority outlined in §27-97 to adopt a nationally accepted standard to protect structures and citizens from fires involving outside combustible material. The Governor's amendments would allow localities to continue adopting local regulations that provide a higher-level fire protection in residential structures.
As always, please keep us informed of the results of your phone calls or visits. Follow these links for the Richmond and home district telephone numbers for the delegates and senators.
VML contact: Michelle Gowdy, mgowdy@vml.org
Don't forget: Support amendments to wireless bills
As reported in the April 10 eNews alert, Gov. Ralph Northam has sent down amendments to the wireless public rights-of-way fees bills (HB1427 and SB823) and to the wireless infrastructure bills/zoning (HB1258 and SB405).
Please urge your delegates and senators to support these amendments. Additional information is posted here.
VML contact: Michelle Gowdy, mgowdy@vml.org
Northam takes a different route on transit bills
Gov. Northam sent the General Assembly a suite of changes to amend legislation (SB856 and HB1539) enacted to rescue the cash-strapped and operationally-challenged Washington Metropolitan Area Transit Authority (WMATA).
The eighteen amendments incorporate major funding actions as well as technical changes and language changes to clarify legislative intent.
As originally passed by the General Assembly, the two bills would remove some $100.0 million annually from the Northern Virginia Transportation Authority (NVTA), effectively diverting money designated for road projects throughout the region to WMATA. Local governments in the region opposed the action, insisting that the state find new revenue sources for transit.
Northam's funding amendments would raise the grantor's tax from 15 cents per $100 of assessed value to 20 cents per $100. Half of the revenue would be allocated to the NVTA and the remaining half designated to WMATA. The tax increase would be called the Regional and Local Transportation Fee.
The amendments would also increase the rate for the Transportation District Transient Occupancy Tax from two percent to three percent.
Variations of these funding amendments were included in the Budget Bill submitted by former Gov. Terry McAuliffe in December to the General Assembly. The legislature rejected the tax increases. Northam's grantor's tax increase is half of the rate increase proposed by McAuliffe.
The two bills passed by relatively comfortable margins. It will not be easy to put together a majority in each chamber to enact Gov. Northam's proposed amendments.
VML contact: Neal Menkes, nmenkes@vml.org
Northam veto supports cap-and-trade plan
Gov. Ralph Northam vetoed legislation (HB1270) which would have prohibited him from establishing through regulation a carbon dioxide cap-and-trade program or from participating in a regional market for trading carbon dioxide allowances. The bill would have also reserved for the General Assembly the right to approve agency regulations proposed for adoption on the issue. The veto is likely to be sustained because the measure passed each chamber by razor-thin margins. The veto explanation is here.
Related to the cap-and-trade issue was legislation (SB696 and HB1273) supported by the Northam Administration that died in House and Senate subcommittees by party-line votes. Those bills would have directed the Department of Environmental Quality (DEQ) to establish a carbon dioxide cap-and-trade program to reduce emissions from electric generation facilities. The regulations would have mirrored standards required to comply with the Regional Greenhouse Gas Initiative (RGGI). Revenue derived from the auction of carbon allowances would have been directed for the Virginia Shoreline Resiliency Fund; for energy efficiency and renewable energy programs; and for economic development, education and workforce training programs in Southwest Virginia to revitalize communities hurting by the decline of fossil fuel production. DEQ had estimated potential annual revenues of $174.9 million in FY19 and $208.5 million in FY20.
VML contact: Neal Menkes, nmenkes@vml.org
Living wage, sanctuary cities bills vetoed
Two other vetoes by Gov. Northam are of interest to local governments.
HB375 prohibits local governments from requiring contractors to provide compensation beyond the levels required under state and federal law. In his veto statement, Northam said that "Decisions regarding municipal contracts should be made by local leaders who fully understand local needs, and the needs of their workforce."
HB1257 prohibits localities from adopting any ordinance, procedure, or policy that restricts the enforcement of federal immigration laws. The veto statement said that the bill imposes an unnecessary and divisive requirement upon localities.
Special session on state budget now underway
House Speaker Kirk Cox announced earlier this week that the House Appropriations Committee will meet this Friday to prepare the House amendments to Gov. Northam's proposed budget (HB 5002).
The House of Delegates will convene next Tuesday afternoon (April 17) to pass the two-year budget and send it to the Senate ahead of the Reconvened Session slated to begin April 18.
The House action will cut through legislative procedure to put HB 5002 into conference as quickly as possible.
The amount of time needed to reach a budget compromise between the two chambers will depend on resolution of the Medicaid Expansion issue. Knowing that two Republican Senators are willing, under the right conditions, to vote for a budget bill that includes Expansion could weaken the Senate Republican's resolve to resist Expansion.
However, the willingness expressed by Senators Hanger and Wagner to support Expansion does not guarantee either a speedy conference or a budget bill that includes the initiative. And, the impact of including or excluding Medicaid Expansion on local government priorities in the state budget is unknown.
VML will closely monitor the budget conference and asks you to stay ready to contact your delegation as events unfold.
VML contacts: Janet Areson, jareson@vml.org and Neal Menkes, Neal Menkes@vml.org
Federal deficit goes up; Infrastructure program falls down
The Congressional Budget Office (CBO) estimates that the federal budget deficit will top $804.0 billion this fiscal year, climbing even higher to $981.0 billion in federal fiscal year 2019 and to an eye-popping $1.0 trillion in 2020. Last fiscal year's deficit was $665.0 billion.
CBO also estimates the national debt will soar to $15.7 trillion in this federal fiscal year, and will continue to grow, hitting $28.7 trillion or 96.0 percent of the economy's size in 2028. If the debt ceiling reaches 96.0 percent of the Gross Domestic Product in 2028, it will mark the highest percentage level in any year since the end of World War II.
CBO cites last year's federal tax reform package, the two-year congressional budget deal raising spending caps for this year and next, and the $1.3 trillion fiscal 2018 omnibus spending bill as the main contributors to the country's worsening fiscal picture.
The "silver lining" is that CBO forecasts that economic growth will pick up from 2.6 percent in 2017 to 3.3 percent in 2018, falling to 2.4 percent in 2019 and 1.8 percent in 2020. The faster economic growth in 2018 eclipses earlier forecasts made by many economists who predicted economic growth of less than 3.0 percent.
As for President Trump's Infrastructure Plan to use $200.0 billion in federal money to leverage $1.5 trillion from all levels of government and the private sector over 10-years, Congress appears to have lost interest, concluding that the Plan does not have much chance to pass this election-year. Instead, congressional committees are working on traditional authorization bills and waterway and port projects. Conventional D.C. wisdom is that no major infrastructure initiative can pass without bipartisan support and that support is too difficult to achieve.
An example of Congress choosing to follow a path different from Trump's is the omnibus $1.3 trillion spending bill passed earlier this year. The measure includes more than $10.0 billion added to previously authorized federal programs that the president's plan wanted cut or eliminate.
VML contact: Neal Menkes, nmenkes@vml.org
Register now for emergency response seminar on May 4
Register here to attend the May 4 seminar on emergency responses at the local level to natural or man-made disasters. The seminar will focus on the human, physical, and fiscal challenges for localities created by manmade and natural disasters. The tragedies of Hurricanes Harvey and Irma alone totaled in the hundreds of billions of dollars, and the event in Charlottesville last summer had wide-reaching effects. Prior planning is the key in maintaining order and protecting life and property during these times of crisis. Proven methods of preparation will be part of a panel discussion with Dr. Tonya Neaves, managing director for the Centers on the Public Service with George Mason University Schar School of Policy and Government; Maggie DeBoard, chief of police in Herndon; and Will Flagler, deputy director for emergency management for Arlington County.
The seminar will be held May 4, 10 a.m. to noon at the VML Insurance Programs, 11243 Nuckols Road, Glen Allen, VA 23059. The fee to attend is $50.
VML contact: Mike Polychrones, mpolychrones@vml.org
---
VML legislative staff and assignments
Michelle Gowdy – Local government authority, planning and zoning, legal matters, housing, Freedom of Information, telecommunications and technology. mgowdy@vml.org; 804-523-8525
Janet Areson – Health and human services, and the state budget. jareson@vml.org; 804-523-8522
Mike Polychrones – Environment, land use, natural resources, elections and transportation policy. mpolychrones@vml.org; 804-523-8530
Neal Menkes (under contract) – Taxation and finance, the state budget, transportation funding, retirement, education funding and community and economic development. nmenkes@vml.org; 804-523-8523
Roger Wiley (under contract) – Courts, criminal law, civil law, and procurement. roger@heftywiley.com; 804-780-3143
Chris LaGow (under contract) –Insurance and workers' compensation. chris@lagowlobby.com; 804-225-8570