eNews April 10, 2020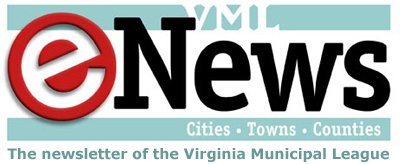 Friday, April 10, 2020 - 05:01pm
In this issue:
VML letters to DHCD and U.S. Congress delegation sent this week
CARES Act needs of Virginia's localities highlighted
At the request of Governor Northam and Secretary Layne, VML Executive Director Michelle Gowdy sent a letter to Director Johnston on March 26 in support of delayed enactment of certain new unfunded mandates from the 2020 General Assembly. Following a subsequent conversation with Director Johnston, VML has followed up with a new communication regarding CARES Act distribution and flexibility. You may view/download the April 9 letter here >.
On April 7, VML sent a letter to Virginia's Congressional delegation asking them to support Virginia's Independent Cities and metropolitan areas by allowing them direct access to federal funds allocated as part of the CARE Act. The CARE Act stipulation that only localities with a population greater than 500,000 will receive direct access to the funds means that Virginia's cities, which are independent of its counties, have been unintentionally excluded. Additionally, VML asked for greater flexibility for localities using those funds.
We encourage Virginia's policy makers to also contact their delegation. For reference, you can view/download VML's example letter here >.
VML Contact: Michelle Gowdy, mgowdy@vml.org
VML communicates position on moving May elections to Governor
On April 9, VML's Legislative Committee held a phone meeting to discuss the league's response to Governor Northam's announcement that he intends to ask the reconvened General Assembly to move the date for local elections from May to November. Committee members and participants voiced strong opposition to moving the date.
Today, VML President Thomas R. Smigiel, Jr. sent a letter to Governor Northam iterating VML's position and requests related to the elections.
VML Contact: Michelle Gowdy, mgowdy@vml.org
Call with VDEM State Coordinator Stern scheduled next week
VML will be hearing from VDEM State Coordinator Dr. Jeffrey Stern on Tuesday, April 14 at 2:00 p.m. Interested parties are welcome to dial in. All participants will be in listen only mode for the message from Dr. Stern. No questions will be taken. Please be aware that due to technical limitations, the call will be able to accommodate no more than 200 listeners.
Call-in Number: 877-601-1725
Participant passcode: 7223413
VML Contact: Michelle Gowdy, mgowdy@vml.org
Federal funding – what's out there now; what you need to do
Congress has passed three federal bills that provide funding lifelines to individuals, businesses, and government. Another bill that includes components for health systems, worker protections, and assistance to state and local governments is reportedly in the works and may be up for a vote this week.
The International City-County Management Association (ICMA) held a webinar earlier this week with its partner Sustainable Strategies DC that offered a useful overview of the federal legislation thus far and provided many links to summaries and federal websites that of interest to local governments.
A major point for local governments – if you haven't already done so, you need to be documenting your expenses related to COVID-19 that began March 1 and that will run until December. These expenses may include (but are not limited to):
Direct spending on first responders (including overtime, additional supplies such as PPE, and equipment). Other essential personnel costs should be tracked as well.
IT expenses related to staff working away from the office and maintaining essential operations
Communications costs
Cleaning and disinfection services for municipal buildings and facilities as well as vehicles and equipment (including public works vehicles and transit buses)
You also need to track lost revenue (taxes, fees, service charges, etc.). This is important for telling your community's story to state and federal officials.
A recording of the webinar and the accompanying presentation may be accessed here >.
Legislation, Resources & Programs
Among the links provided to federal legislation and resources were the following:
Specific federal programs of interest:
VML Contact: Janet Areson, jareson@vml.org
Local government finance discussions now a weekly event
Each Wednesday morning at 9 a.m., local government management and finance staff from cities, counties, and towns from across Virginia are convening for presentations and discussions regarding the rapidly changing financial situation of their communities as the economic impacts of COVID-19 descend on local government operations and more specifically, budgets. These sessions cover items such as potential resources, strategies, and ideas to explore
The local government finance discussions are hosted by Virginia Tech and organized and moderated by Stephanie Davis, Ph.D. program director, Virginia Tech Graduate Certificate in Local Government Management and Graduate Certificate in Public and Non-profit Financial Management. Davis is a former local government budget and finance official.
The first webinar took place April 1 with more than 50 local government staff in attendance; this week's session included more than 100. The webinars will continue for the next several weeks as local government staff continue to assess and respond to the budget impacts on their communities both in the short and long term.
One of the issues discussed at the April 8 meeting was the development of a spreadsheet for localities to enter specific budgetary information/actions underway. Dr. Davis encouraged localities to post information to the spreadsheet so that colleagues can see how different communities are assessing and responding to these impacts.
You may access the spreadsheet online here >.
Additionally, Virginia Tech has established a web page for local government finance resources that includes information about joining future webinars.
VML Contact: Janet Areson, jareson@vml.org
Weekly update from VDH
Detailed information now available by region/health district
The Virginia Department of Health (VDH) continues to add and improve information on its COVID-19 website. Most recently, it added a weekly report with more detail broken down by region or health district.  The new information breaks down cases by age, sex, ethnicity, region/health district. Users can now also see the rate of cases by locality/region and case timing or epidemic curve, such as is done for influenza tracking.
As the number of cases grow in Virginia, VDH is able to break down the numbers into more detail because there is less chance that an individual's privacy will be compromised as per Code of Virginia privacy requirements.
Information is reported to VDH by health care systems and hospitals. VDH validates the information sent by these health care partners.
Looking at the new data, one promising sign is that the rate of the increase in cases in Virginia has slowed a bit; social distancing is credited with this decrease. Please note, however, this is not the same as an actual decrease in cases; the number of cases overall continues to climb.
If you do not want to check the website each week, you can use the form on the page to "Sign-up to Receive the COVID-19 Weekly Report."
Other takeaways
State agency partners continue to work on alternate medical facilities in Northern Virginia, Central Virginia, and Hampton Roads. These are sites that would be used if a surge of cases outstrips the ability of hospitals to serve patients in their facilities.
During this week's phone call a question was posed about antibody testing to allow essential workers to come back to work. VDH State Epidemiologist Dr. Lilian Peake responded that work to develop tests in continuing, but none have been through the validation process and are therefore not yet recommended for use by federal health officials.
VML Contact: Janet Areson, jareson@vml.org
Housing Virginia explores impact of COVID-19 on affordable housing
Housing Virginia has unveiled a toolkit that shows how the pandemic has affected affordable housing. The toolkit shows confirmed COVID-19 cases, measures of housing instability and economic status by locality. The dashboard is updated every Tuesday and Thursday.
OneVirginia2021, LWV produce census webinar
OneVirginia2021 and the League of Women Voters hosted a webinar this past week regarding questions about the census and COVID-19.  The slides are available here and you can also watch a recording of the webinar.