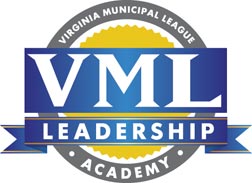 The VML Leadership Academy, formerly Virginia Elected Officials Leadership Academy (VEOLA), is a continuing education program designed for both elected and appointed officials. Appointed officials must be employed by a locality in Virginia to participate in the Academy. The program offers courses located in cities across the state.
The purpose of the Academy is to provide an interactive curriculum of specialized instruction that will develop the knowledge and enhance the leadership abilities of those who serve the localities of the Commonwealth of Virginia.
There are three levels of achievement in the Leadership Academy. Level 1 is the Local Government Basics level and focuses on attendance at various training events offered by the League and other organizations. Level 2 is the Advanced Training level and focuses on continuing education as well as participation in various government-related activities, such as serving on a regional board or task force. Level 3 is the Leadership level focusing on leadership activities and leadership positions held in various organizations.
For more information about the VML Leadership Academy call (804) 649-8471 or e-mail@vml.org.