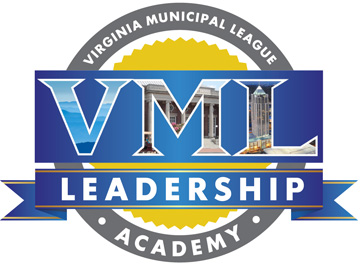 The VML Leadership Academy, formerly Virginia Elected Officials Leadership Academy (VEOLA), is a continuing education program designed for both elected and appointed officials. Appointed officials must be employed by a locality in Virginia to participate in the Academy. The program offers courses located in cities across the state.
The purpose of the Academy is to provide an interactive curriculum of specialized instruction that will develop the knowledge and enhance the leadership abilities of those who serve the localities of the Commonwealth of Virginia.
There are three levels of achievement in the Leadership Academy. Level 1 is the Local Government Basics level and focuses on attendance at various training events offered by the League and other organizations. Level 2 is the Advanced Training level and focuses on continuing education as well as participation in various government-related activities, such as serving on a regional board or task force. Level 3 is the Leadership level focusing on leadership activities and leadership positions held in various organizations.
Level 1: Local Government Basics
Level 1 focuses on education and the basics of local government. Courses are designed to develop and enrich expertise in fundamental areas of local governance.
Level 1 of the Leadership Academy requires 40 credits. Participants must complete 25 credits of core courses and 15 credits in elective courses.
Core Courses (25 credits needed)
Institute for Local Government (ILO) – all-day instructional conference, offered yearly, that provides the necessary basics for Virginia local government officials (10 credits).
Freedom of Information Act (FOIA) (5 credits)
Conflict of Interests Act (COIA) (5 credits)
Paying for municipal services: Revenue & Budgeting (5 credits)
Elective Courses (15 credits needed)
Each year, the VML Leadership Academy will offer a variety of elective courses. Credit for each course will be granted based upon the subject matter and the number of hours of training offered. Typical subject matter is not limited to but will include the following:
Comprehensive Planning, Capital Improvement Programs, and Zoning
Community Image/Reputation
Public Engagement/Purpose
Level 2: Advance Training
Participants must complete Level 1 before entering Level 2. This level of the VLA focuses on continuing education and enhancing the participation of local officials in League and other government-related where you represent the locality on a regional basis.
After achieving the 40 credits required for Level 1, participants must complete 40 additional credits to complete Level 2. Level 2 includes 15 credits of required participation and 25 credits of elective courses.
Required Courses / Participation (15 credits needed, choose three)
Transportation (mobility)
Education
Economic Development
Workforce Development
Aging Infrastructure
Sustainability/Resiliency
Elective Courses (25 credits needed)
Each year, the VML Leadership Academy offers a variety of elective courses. Credit for each course will be granted based upon the subject matter and the number of hours of training offered. Also, attendance at League events such as VML Day at the Capitol, Finance Forum, Regional Suppers will offer an opportunity for elective credit.
Level 3: Leadership
Level 3 of the VLA focuses on developing effective partnerships and serving as a leader in the local government professionals' community.
In addition to the 80 credits required to achieve Level 1 and Level 2, participants must complete 30 additional leadership credits to complete Level 3.
Leadership Positions (30 credits required)
Serve as an officer of a League-affiliated association
Attend Virginia Mayors Institute
Testify before the Virginia General Assembly
Publish an article on a local government issue
Attend NLC national conference
Serve on an NLC policy/steering committee
Exchange program with other local government
Present to local school children
Facilitate a joint meeting between city and county or school
Conduct a training/workshop
Upon request, credit may be accepted for prior League participation on a case-by-case basis. Also, fees will be charged for each of these various training opportunities to assist with the costs associated to provide this much-needed training for all member localities.
2017 Training Calendar
January 4
Finance Forum – Richmond
January 25
VML Day at the Capitol – Richmond
March 3 – 4
Institute for Local Officials – Richmond 
March 29
Legislative Review Webinar
April/May
Spring Regional Suppers 
– April 5, Marion
– April 6, Appomattox
– May 3, Culpeper
– May 4, Onancock
– May 10, Emporia
– May 11, Williamsburg
June 14
FOIA/COIA – Richmond 
June 15
FOIA/COIA – Roanoke
July 12
Ask the Lawyer Webinar
August 2
Budgeting – Richmond 
August 3
Budgeting – Hampton – canceled
September 13
Public/Private Partnerships – Webinar
Sept. 30
FOIA/COIA – Williamsburg (pre-conference event)
Sept. 30 – Oct. 1
Virginia Mayors Institute – Williamsburg (pre-conference event)
Oct. 1 – Oct. 3
VML Annual Conference – Williamsburg  Register >
November
Fall Regional Suppers (dates and locations to be announced)
December 13
Transportation Webinar
For more information about the VML Leadership Academy, contact:
Michael Polychrones
VML Director of Member Services
(804) 523-8530
mpolychrones@vml.org