Local ornaments for Governor's mansion are back by popular demand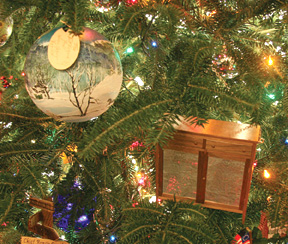 DEADLINE EXTENDED to NOV. 20
In the past two years, nearly 200 localities contributed stunning handmade ornaments to adorn a holiday tree at the Executive Mansion. Thousands of visitors from across the country toured the mansion and viewed the ornaments, learning about the diverse heritage of Virginia's cities, towns, and counties.
The tree was so popular that the Governor has asked VML to again collect local heritage ornaments from Virginia cities and towns. (Our friends at the Virginia Association of Counties will be collecting ornaments from counties.)
Each locality may submit one hand-crafted ornament that uniquely represents their community. You also may reuse an ornament sent previously if the ornament is still in displayable condition. The guidelines for making and submitting ornaments are below.
The mansion will officially open for the holiday season the evening of the Capitol Tree Lighting. The tree will be available for viewing during our open house as well as during normal tour hours. For more detailed information on specific event dates and tour times, please visit www.executivemansion.virginia.gov.
---
To participate
Step 1:
Email Kelley Hope. In the body of your e-mail, note the name of your city or town along with the contact person who will be coordinating the project. Also include whether you will be sending a new ornament or are requesting VML reuse an ornament from one of the two prior years.
Step 2: 
Submit your handmade ornament to VML by November 20, 2017. Mail to:
Virginia Municipal League ATTN: Kelley Hope P.O. Box 12164    Richmond, VA 23241  
---

Ornament guidelines 
Each participating locality may submit one ornament.
The theme of the ornament is up to the locality; however, the Executive Mansion's staff suggests a depiction of some unique feature that is specific to your community, such as a historic home, a noted person, a natural feature, an animal or plant from the region, etc.
The Executive Mansion prefers hand-made ornaments as opposed to purchased ornaments.
Examples of materials that could be used for creating the ornament include clay, glass, shells, fabric, wood, found objects, and objects from nature.
The ornament should be no larger than 6 inches in any dimension. Be mindful that the ornament is not too heavy to hang on the tree.
The finished ornament should include the name of the locality and artist on the back or bottom.
The artist/artisan should reside in or near the locality. Seek artists in your community at local colleges or societies or guilds for arts, woodworking, glass making, etc.
Deadline for submitting the ornament is extended to Nov. 20, 2017.
---