2020 "If I Were Mayor" Essay Contest winners

The Virginia Municipal League (VML) announced the statewide winner and eight regional winners of the annual "If I Were a Mayor" contest. This contest, hosted by VML, drew in over 1,000 entries from seventh graders across the state. The challenge for the student was to define the problem, listen to at least three community members, decide if they should use community member ideas, and then put it all together. The winners are:
Statewide Winner: Preston Lieu of Mary Ellen Henderson Middle School in Falls Church
Region 1: Josiah Krumtum of Virginia Middle School in Bristol
Region 2: Ava Grant of Martinsville Middle School in Martinsville
Region 3: Caity Campbell of Shelburne Middle School in Staunton
Region 4: Katelyn Prue of Central Middle School in Charlotte Court House
Region 5: Samantha Grooms of Mary Ellen Henderson Middle School in Falls Church
Region 6: Elle Crosley of Culpeper Middle School in Culpeper
Region 7: Amya Seaborne of Saint Joseph Catholic School in Petersburg
Region 8: David Davenport of John Yeates Middle School in Suffolk
Read all the 2020 winning essays here >
Of the statewide winning entry from Preston Lieu, VML President Thomas Smigiel said: "Preston Lieu's "If I Were Mayor" essay expressed the positive feelings that many residents of Virginia have of their towns, cities and counties.  But he also recognized an issue with pedestrian and bike safety and took a proactive approach like many of our elected officials do to find a solution.  I hope VML's annual essay contest will inspire Preston and others to be future leaders of our localities."
As one of the judges for the contest said: "All of the regional winners demonstrated a remarkable level of maturity in their essays!  I was extremely impressed with their concerns for their communities and how thoughtful they are in developing well organized, considerate solutions. They should be proud"
"The regional winners and statewide winner make up a very impressive group of young people – our teachers and parents should be proud!  Our state is in good hands with our young people today!"
In addition to a framed certificate, each regional winner will receive a check for $150. The statewide winner will receive a certificate and a check for $250. All winning essays will be featured in the VTC magazine.
About VML's "If I Were Mayor" Essay Contest
The annual "If I were Mayor Contest" invites seventh graders from throughout Virginia to submit essays describing what they would do if they were mayor of their hometown.  Entries are due around December 1 each year. The essay contest is a key component of VML's civic education programming, which seeks to teach schoolchildren and adults how local government works and how they can become involved in making their communities better places to live, work and play.
For more information, contact Rob Bullington at rbullington@vml.org.
---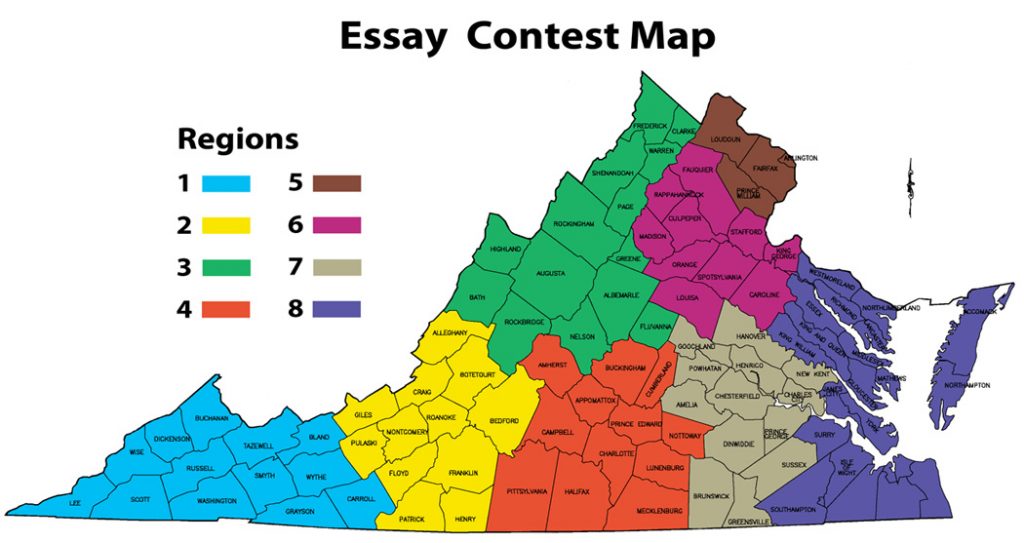 ---
2019 "If I Were Mayor" Essay Contest winners
Statewide winner: Maci Mitchell of Hamilton Holmes Middle School in King William
Region 1: Virginia Elizabeth Stockner of E.B. Stanley Middle School in Abingdon
Region 2: Maria Angle of Clifton Middle School in Covington
Region 3: Kaitlyn Hull of Kate Collins Middle School in Waynesboro
Region 4: Sadie Henshaw of Kenston Forest Middle School in Blackstone
Region 5: Lily Konopka of Ronald Regan Middle School in Haymarket
Region 6: Haylee Burnett of Auburn Middle School in Warrenton
Region 7: Samera Blowe of James S. Russell Middle School in Lawrenceville
Region 8: Luz Pinto Consuelo of Academy for Discovery at Lakewood in Norfolk
---
2018 "If I Were Mayor" Essay Contest winners
Statewide winner: Jalia Hardy of Binford Middle School in Richmond (also Region 7 winner)Region 1: Bryleigh Middleton of Pennington Middle School in Pennington Gap
Region 2: Kaydence Addison of Dalton Intermediate School in Radford
Region 3: Will Schwantes of Daniel Morgan Middle School in Winchester
Region 4: Catherine Selfridge of Buckingham Middle School in Buckingham
Region 5: Gideon DeMarco of Lanier Middle School in Fairfax
Region 6: Maeve Myers of Louisa County Middle School in Mineral
Region 8: Tina Li of the Academy for Discovery at Lakewood in Norfolk
---
2017 "If I Were Mayor" Essay Contest winners
Statewide winner: Jerry (Trey) N. Mitchell III of Lawrenceville
Region 1: Dillon McReynolds of Abingdon
Region 2: Andrew Middleton of Covington
Region 3: Sadie Dryden of Buena Vista
Region 4: Skyla Rain of South Boston
Region 5: Liv Scappa of Falls Church
Region 6: Maha Laiq of Warrenton
Region 7: Jerry (Trey) N. Mitchell III of Lawrenceville (statewide winner)
Region 8: Terrence Massenburg of Portsmouth
---
2016 "If I Were Mayor" Essay Contest winners
Region 1: Sumer Grace Lloyd of Bristol
Region 2: Simran Kaur Gill of Salem
Region 3: Lily McClung of Fishersville (statewide winner)
Region 4: Grace Coover of Petersburg
Region 5: Evan Lankford of Falls Church
Region 6: Brynley Meadows of Culpeper
Region 7: Alexander Elstun of Chesterfield County
Region 8: Alyssa Levy of King William County
---
2015 "If I Were Mayor" Essay Contest winners
Region 1:  Bailey Nash of Lee County
Region 2:  Kendryek Wheeler of Roanoke
Region 3:  Macalister Gordon of Winchester
Region 4:  Garrett Love of Buckingham County
Region 5:  Logan Kurtz of Manassas Park
Region 6:  Adele Masson of Culpeper
Region 7:  Na'Seem Hopson of Hopewell (statewide winner)
Region 8:  Sophie Freiling of Williamsburg