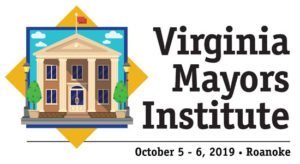 NOTE: As in past years the Mayors Institute immediately precedes the Annual Conference. Both events use the same registration form however if you only wish to attend the Mayors Institute only select that event on the form.
About the Mayors Institute
From improving current infrastructure to preparing for autonomous vehicles, local communities are moving toward the future. Learn how you can meet the needs of a new generation of citizens at the Virginia Mayors Institute. The two-day program exposes mayors and vice mayors to issues essential to their roles as local government leaders. The Virginia Mayors Institute is held every fall in conjunction with the VML Annual Conference.
Pricing List
Mayors Institute Registration  – $250
Mayors Institute Spouse/guest Registration – $100
Main conference hotel:
Hotel Roanoke and Conference Center
110 Shenandoah Ave
Roanoke, VA 24016, US
866-594-4722
Participating nearby hotels:
Home2Suites by Hilton
4830 Valley View Blvd
Roanoke, Virginia 24012
(540) 581-1000
Allows small dogs
SpringHill Suites by Marriott
301 Reserve Avenue
Roanoke, Virginia 24016
(540) 400-6226
Includes breakfast, will provide shuttle to Hotel Roanoke and Downtown Trolley Stop
Hyatt Place
5040 Valley View Blvd North, NW
Roanoke, Virginia 24012
(540) 366-4700
Hampton Inn and Suites
27 Church Avenue, S.E.
Roanoke, Virginia 24011
400-6000 or 1-800-426-7866
---
For additional information about the Virginia Mayors Institute, please contact Sandra Harrington at (804) 523-8524 or sharrington@vml.org.