September 30 – October 1, 2017
From improving current infrastructure to preparing for autonomous vehicles, local communities are moving toward the future. Learn how you can meet the needs of a new generation of citizens at the 2017 Virginia Mayors Institute, Sept. 30 and Oct. 1. The two-day program exposes mayors and vice mayors to issues essential to their roles as local government leaders. The Virginia Mayors Institute is held in conjunction with the VML Annual Conference, Oct. 1-3.
Agenda
Mayors roundtable

Share your success story or ask for advice about a problem during this interactive session.

FOIA

Making sure that your name is not the one that shows up in the media for violating the Freedom of Information Act

Lola Rodriguez Perkins, Hampton Senior Deputy City General

COIA

The most important things officials need to know about the Virginia Conflict of Interests Act. You need to know this law!

Andrew R. McRoberts, Attorney, Sands Anderson PC

 
Good Governance

It is crucial that local government elected and appointed leaders keep their governance arrangements up to date and relevant. This session will define the principles that should underpin the governance of each local government organization and will provide a structure to help individual authorities with their approach to governance.

Russell A. Jones, Onancock Mayor
Brannon Godfrey, Warrenton Town Manager
Eric H. Monday, Martinsville City Attorney

 
Delivery Bots

Virginia became the first state in the nation to pass state-wide legislation allowing autonomous vehicles (robots) on sidewalks. Join us as we talk about the legislation, how autonomous vehicles will shape deliveries in the future, and the economic opportunities associated with these unmanned systems.

Michele Satterlund, Partner, McGuireWoods LLP & Senior Vice President McGuireWoods Consulting

 
Budgeting 101

If you understand the money, governing the locality will flow smoother. This workshop will focus on budgeting considerations, techniques, and processes. Financial monitoring and danger signals will be explored with tips for elected leaders who want to stay out of stormy financial seas.

Dr. Edwin C. Daley, Emporia Assistant City Manager
Sheryl Bailey, Springsted Senior Vice President

 
Natural Disasters and the Cost to Local Governments

In this session, we will discuss the human, physical, and fiscal challenges for state and local leaders created by natural storms and disasters—Hurricanes Harvey and Irma alone will be in the hundreds of billions of dollars. These natural disasters cost numerous lives. All too much of the costs to states and local governments were not covered by insurance—raising the issue of whether that should be an unfunded state/local mandate.

Tonya Neaves, Managing Director for the Centers on the Public Service with George Mason University Schar School of Policy and Government

 
Planning for the future

A facilitated discussion of the topics that should be covered at future Institutes
View Mayors Institute Agenda (PDF)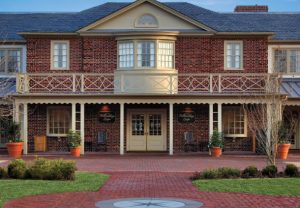 Conference Hotel
The Williamsburg Lodge, at 310 South England Street, is the host facility for the Virginia Mayors Institute and VML Conference. All conference activities, including general sessions, break outs and the exhibit hall, will take place at this hotel located steps from the heart of the Revolutionary City.
Download the VML app
to your phone or mobile device for conference information
---
For additional information about the Virginia Mayors Institute, please contact Leslie Amason.