Join VML
Set your organization apart in the local government marketplace of product, services and ideas by joining the VML Municipal Business Associate (MBA) program.  As a Municipal Business Associate, not only will you hold a sustaining membership in VML, you will keep your firm or organization connected with the issues that are important to municipalities around you.  Being a Municipal Business Associate places your organization at the forefront in the minds of VML members, ensuring you the visibility, access and awareness that will help move your organization forward.
View the Municipal Business Associates Listing >
2018 Prorated Basic MBA membership registration – $500>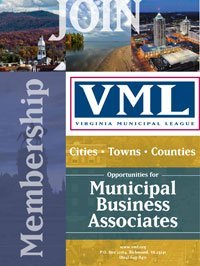 ---
VML offers three membership packages that provide you the opportunity to engage with the league in the way most important to you.
2018 MBA Membership Opportunities
Sustaining Membership in VML
Member rates for all VML activities including conferences, seminars and training programs
Subscription to the league magazine, Virginia Town & City
Subscription to the biweekly newsletter, eNews
Member profile on the VML website
One complimentary 1/4 page ad in Virginia Town & City ($400 value)
Listed in Virginia Town & City as an MBA member
$100 discount on 2019 MBA Membership for every new member the existing member brings to MBA
Listed in the Annual Conference Program as an MBA member
For more information Contact Leslie Amason, Events and Corporate Relations Coordinator, at (804) 523-8528 or lamason@vml.org.