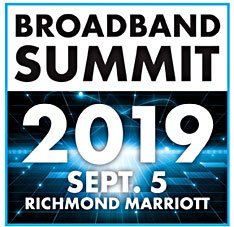 Download Agenda  | Speakers' Bios


VML and VaCo – in conjunction with the VCTA (Virginia Broadband Association) – are pleased to offer this opportunity to hear from municipal officials and industry leaders about broadband in Virginia.
Topics to be covered include:
Grant programming and assistance opportunities
New technologies made possible with broadband (i.e. tele-health, 10G technology)
Successful municipal industry partnerships
Opportunities for expanded broadband access for school children
How broadband enhances economic development opportunities across Virginia
Individuals who will benefit from the summit include:
Local government officials
Local government staff
Those interested in broadband deployment
When: The summit will be held Sept. 5, 2019. Summit registration will open at 9 a.m., programming will run 9:30 a.m. – 3:30 p.m.
Cost: $50 through Aug. 23, $65 beginning Aug. 24  [registration is closed]
Parking: Discount parking vouchers will be available for those who park in the garage on 5th and Marshall (located on the side of the Marriott and connecting to the hotel via the 3rd floor garage).
Lodging: There is a secured block at the Marriott, call 1-800-228-9290 or make your reservation here. Hotel reservation deadline is Aug. 23, 2019.