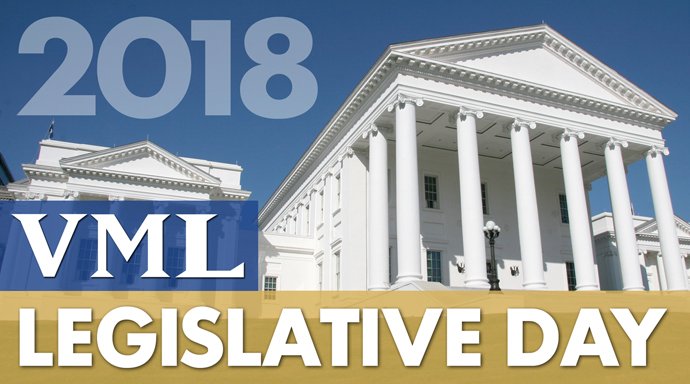 Wednesday, Jan. 31, 2018
Library of Virginia, 800 East Broad Street, Richmond, VA 23219
The Hilton Richmond Downtown is offering special room rates for attendees.
Click here to reserve your room.
VML Legislative Day, formerly known as VML Day at the Capitol, will be held on January 31st, 2018 at the Library of Virginia adjacent to Capitol Square.  Local officials will attend the VML staff briefing on important legislation at 3 p.m. This prestigious event will be followed by a reception for legislators from both chambers of the General Assembly in the foyer of the Library of Virginia.  Local officials are urged to call on their legislators prior to the legislative briefing and remind them to attend the reception.  Informational packets and name badges should be picked up before visiting delegates at 11:30 a.m. in the Library of Virginia foyer.
The cost is $50.  Cancellations must be made in writing by Jan. 19, 2018.
Parking:    Map of Downtown Richmond public parking lots  |  Map of Richmond on street parking
Event details and preliminary agenda coming soon.
2017 information
Agenda >  | Webinar power point >  |  Webinar recording >