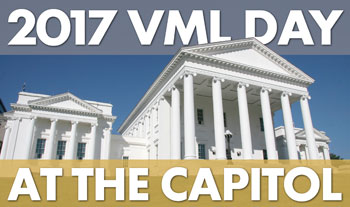 Wednesday, Jan. 25, 2017
An outstanding opportunity for local government officials to interact with members of the General Assembly.  
View Agenda >  |  Register now >
Webinar power point >  |  Webinar recording >
Location:   Library of Virginia, 800 East Broad Street, Richmond, VA 23219
Schedule:  3:00 p.m.     Keynote address by Governor Terry McAuliffe
5:30-7:00 p.m.     Reception
Parking:    Map of Downtown Richmond public parking lots  |  Map of Richmond on street parking
Quality reception.  We will once again host a high quality reception that will facilitate members of the General Assembly meeting with local elected officials. All legislators from both chambers will be invited by VML to attend the reception, which will be held in the foyer of the Library of Virginia adjacent to Capitol Square.
Make appointments with state legislators.  By conducting the program at 3:00 p.m., local officials will have time to meet with their delegates and senators earlier in the day.  (Briefing materials on specific issues will be distributed the week prior to the event).  Also, for those attendees who spend the night in Richmond, you may choose to make appointments for the following morning as well.
Registration.  You can register yourself and others here.  The cost will be $50.  Cancellations must be made in writing by Jan. 18, 2017.