Sponsor, Exhibit and Market at the VML Annual Conference
Each fall about 1,000 local government officials, speakers and exhibitors attend the VML Annual Conference. The gathering presents a forum for municipal officials to meet and discuss issues, share ideas and solve problems. The annual conference is where Virginia's local government officials shop for the latest equipment, technologies and services for their municipalities. Corporate sponsorship of the VML Annual Conference contributes to the successful outcome of each year's conference.
2017 Annual Conference Sponsor & Exhibitor Prospectus details
2017 Annual Conference Sponsorship Agreement
Sponsorships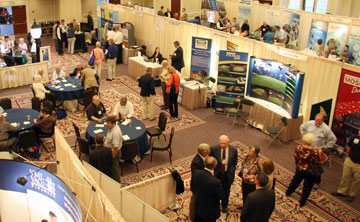 Gold – $6,500
Company flyer (up to 8 ½ X 11) inserted into conference folder
Social ad in conference mobile app
All sponsorship benefits of Silver and Bronze levels
Silver – $5,000
Complimentary exhibit booth, which includes two convention registrations
All sponsorship benefits of Bronze level
Bronze – $2,500

10% discount on exhibit booth OR 10% discount on conference mobile ad
Recognition on sign boards in prominent locations
Company listed on the conference website and mobile app
Company listed in the conference program
Company listed on the banquet menu Monday evening
Exhibitor Fees
Member Non-Member
1 Booth – $800 1 Booth – $1,000
2 Booths – $1,500 2 Booths – $1,800
Exhibit booth includes 2 exhibitor registrations, additional representatives are $200 per person.
*Members must be current on 2016 MBA dues to qualify for member pricing.
Marketing – Conference Mobile App Advertising
Splash/Title $2,000
Social $250
Marketing – Solution Sessions
Solution Sessions offer a unique education and marketing opportunity for organizations to reach elected officials and senior staff. These sessions provide your organization with a forum to share products and solutions for cities, demonstrate thought leadership and provide industry analysis important to city officials, deliver case studies and best practices in your industry, or create dialogue and the exchange of ideas on a topic important to elected officials.
Non Member – $2,000
VML MBA Member – $1,000
Applications must be received by VML by 5 p.m. ET on Friday, July 1, 2017.
Questions about how to increase your company's presence at the VML Annual Conference? Contact Contact Leslie Amason, Events and Corporate Relations Coordinator, at (804) 523-8528 or lamason@vml.org. .