Entry submittals to the 2017 VML Innovation Awards are now closed. Best of luck to all who have entered.
The 2017 VML Innovation Awards celebrate your hometown successes and all that you do to make your city, town or county a great place to live.
The Innovation Awards recognize outstanding achievements in local governments across Virginia. Formerly known as the VML Achievement Awards, the program is 40 years old and is recognized as Virginia's highest honor in local government management.
Don't miss this opportunity to spotlight programs that have made a big difference to your residents – to celebrate innovative solutions that address emerging needs.
The awards are presented at a banquet at VML's Annual Conference in early October.
Criteria
Projects and programs are judged on how well they demonstrate the following:
Innovative problem solving
Improved quality of life
Excellence in management
Making the most of local resources
Increased citizen participation
Commitment to higher levels of service
Long-term value to the community
Adaptability to other communities
Award-winning projects typically demonstrate innovative ways of delivering services, address a community need, or significantly improving an existing service.
Categories
Award categories are based on the field of work with local governments of all size populations competing within these categories. Our panel of judges have years of experience in local governments of all sizes and will judge the scope and impact of the project in relationship  and proportion to the community's size, thereby putting localities of all sizes on a level playing field.
We recognize that many projects relate to more than one category. When deciding what category best fits your project, consider what the primary goal of the project is and what aspect of it demonstrates the greatest innovation.
Localities may submit in as many categories as they like. The categories are:
Community Health: Includes building healthy community environments through active lifestyle programs, nutrition education and improving access to healthier food choices.
Infrastructure: Includes public works, transportation, public utilities, stormwater, customer service enhancements, environmental preservation, sustainability, resiliency planning, structures and facilities, libraries and other projects.
Economic Development: Includes business development, historic preservation, tourism, workforce development, housing, community events, strategic planning and visioning, public-private partnerships, consumer and financial literacy, public art, museums and similiar projects.
Public Safety: Includes police, fire, rescue services, emergency planning and coordinated response, building code enforcement, jails, health and mental health related to public safety.
Working with Youth: Includes civics education, pre-k-12 education, summer programs, parks and recreation, and literacy programs.
Communications: Includes promotional campaigns, branding campaigns, crisis plans, events, customer service programs; media can include online, video, print, social and other formats.

President's Award for Innovation
One winning project from the category winners will be selected for the top prize – the President's Award – and will receive this top honor in addition to the award in their category. The President's Award can come from any of the categories.
Deadline
All entries must be received via e-mail by 5 p.m., Monday, August 14, 2017.
Rules for entering
New this year, all entries must be submitted electronically via email. Localities must download the entry form here and fill in all of the requested information directly on the form. The completed form must then be e-mailed to mtimbreza@vml.org.
The competition is open to all VML local government members.
Entries must cover new projects or programs completed between Jan. 1, 2016 and May 1, 2017, or – for existing projects – entries must cover major enhancements that occurred between Jan. 1, 2016 and May 1, 2017.
Each entry form must be fully completed and must be signed by the local government's chief administrative or elected official.
A local government can submit entries in all of the six categories. The President's Award is not a separate category.
Supporting materials totaling no more than 10 pages, including photos, brochures, charts, or other information, can be included in a separate document. This document must also be e-mailed. If you wish to submit one video as part of your supporting materials, contact mtimbreza@vml.org and we will send you the link to a secure FTP site where you can upload your video. Maximum length of video is five minutes.
Questions?
For more information about completing your entry or other details, contact VML's Manuel Timbreza at mtimbreza@vml.org or call 804-649-8471.
The judging
Entries are screened by VML staff and judged by a panel of three judges chosen for their expertise in local and state government. They generally represent a variety of communities — from small towns to large cities and state agencies.
The winners
Awards will be presented at the VML annual conference in Williamsburg, October 9-11. All winning entries will also be featured in articles in the VML magazine Virginia Town & City.
Don't miss this premiere opportunity to spotlight innovative programs that make your town, city or county a great place for people to call home!
---
2016 Winners
The Virginia Municipal League is pleased to announce the winners of the 2016 Innovation Awards for excellence in local government. We wish to thank all of the localities who submitted entries. The projects and programs were all inspiring examples of strong local government in action.
The awards were presented at the VML Annual Conference banquet on Monday, October 10 in Virginia Beach.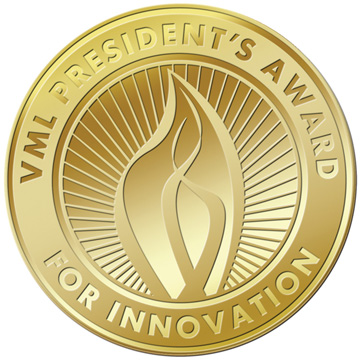 Economic Development Award AND President's Award
The Town of Bridgewater for Generations Park
Bridgewater's Generations Park is an example of a small town thinking bigger than its size. Completed just last year, the park provides a first class destination for visitors and locals – the Shenandoah Valley's only public ice skating rink. In warm weather, the rink is used for farmers' markets, concerts, movies and other events. The town provided space for a restaurant which is projected to generate enough meals tax to nearly pay for the park. More retail spaces are in the works. Generations Park has given this small community a great place to gather while also drawing crowds from beyond its borders.
Infrastructure Award
The City of Norton for Community Gateway and Walking Trail  
The City of Norton turned a community threat into an opportunity when an abandoned mining highwall began to deteriorate. In the process of replacing the wall, the city not only ensured a safe route between schools and downtown, but also created a beautiful entrance to the city and added a multi-use walking and biking trail.
Public Safety Award
The City of Newport News for the Summer Training and Enrichment Program
As part of the city's Youth and Gang Violence Prevention initiative, the STEP program has provided summer employment training and placement for hundreds of at-risk youth ages 16-24. The city budgeted general fund dollars to secure all of the wages and partnered with 64 private sector businesses, non-profits and other groups to provide the summer jobs for youth.
Working with Youth Award
The Town of Warrenton for the Student Postcard Project
Warrenton's Student Postcard Project was based on the simple principle that students of today are the community leaders of tomorrow. Through the project, the town meaningfully engaged children from kindergarten through high school in planning for its future as part of the public input process for its comprehensive plan. In civics, art and English classes, students were asked to identify their favorite places in town and what they hoped their town could be like in 25 years. More than 1,000 students contributed to a stunning display. The project succeeded in educating the next generation about their role in local government and gave them a voice in planning for its future.
Communications Award
City of Harrisonburg for the Safety Sally Campaign
Creative minds within the Harrisonburg Fire Department capitalized on the popularity of the "Elf on the Shelf" holiday tradition and introduced Safety Sally last December. In 24 days of mischief, Sally was featured on social media showing the troubles she had gotten into along with tips on how to avoid danger and prevent injuries. The campaign targeted children and their parents with these fun safety lessons. In addition to the social media sensation, Sally was interviewed by all of the local media and captured a following among young and old alike.
---
2015 Winners
The League is pleased to announce the winners of the 2015 Achievement Awards for excellence in local government. The awards were presented at VML's Annual Conference banquet on Tuesday, October 6, 6:30 p.m. Full press release with descriptions of the award-winning projects
This year's winner are:
President's Award (top honor)
The Town of Halifax for the Banister River Gateway Project
Population under 5,000
The Town of Shenandoah for its Community Computer Center
Population 5,000 – 10,000
The Town of Marion for Pop Up Marion – a downtown economic revitalization program
Population 10,000 – 35,000
The City of Fredericksburg for its Gun Give-Back Program
Population 35,000 – 90,000
The Town of Leesburg for Dept. of Utilities customer service enhancements
Population 90,000 +
The City of Portsmouth for an Area Report Card
The Communications Award
The City of Virginia Beach for rebranding of the Virginia Beach Landfill and Resource Recovery Center